What's the most important aspect of a perfect baby costume? Comfort! Hands down. If your baby isn't comfortable in their costume, they're not going to have any fun. And neither are you.
So, along with creating an adorable, cute and easy-to-make costume for your baby, you're going to want the costume to cuddle your baby so that they don't even know they've dressed up. Below you'll find our hand-picked selection of the coolest, easy-to-make, and most comfortable homemade costume ideas for babies.
1. Little Old Lady Baby Costume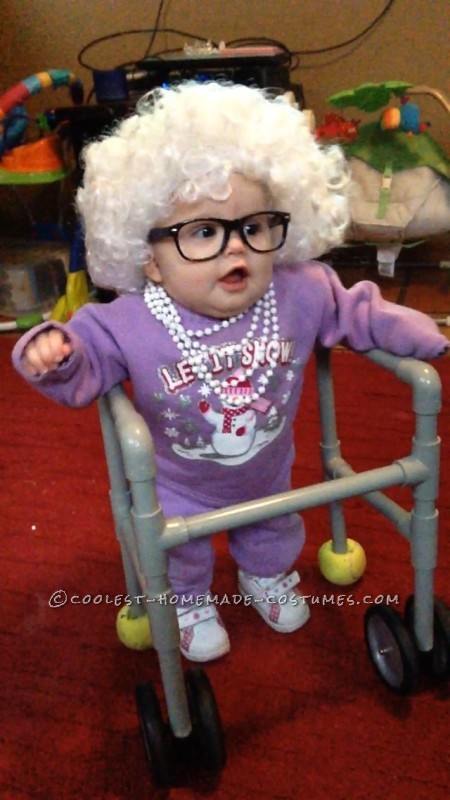 Babies in a lot of ways are like elderly and I couldn't think of anything cuter than this Old Lady baby costume, especially since she is seven months old and just started standing up by herself.
2. Baby Peacock Costume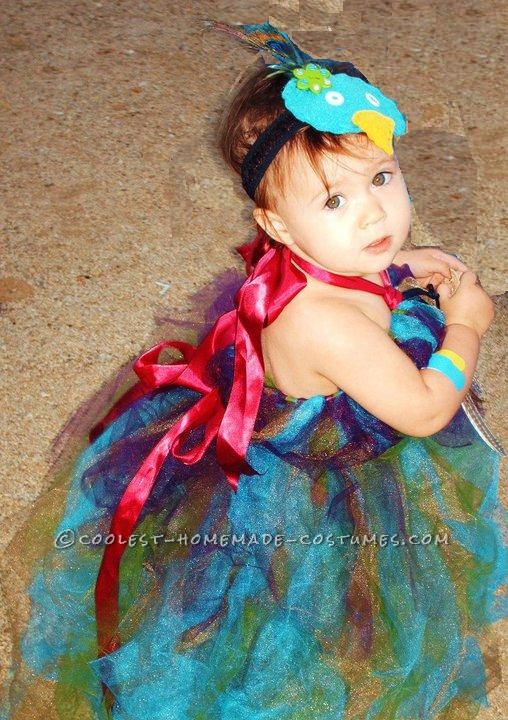 My sisters, Shiloh and Fontanna, made this beautiful Halloween original baby Peacock costume for my daughter, Bella, a couple of Halloweens ago. Everyone loved it!
3. Struck By Lightning Costume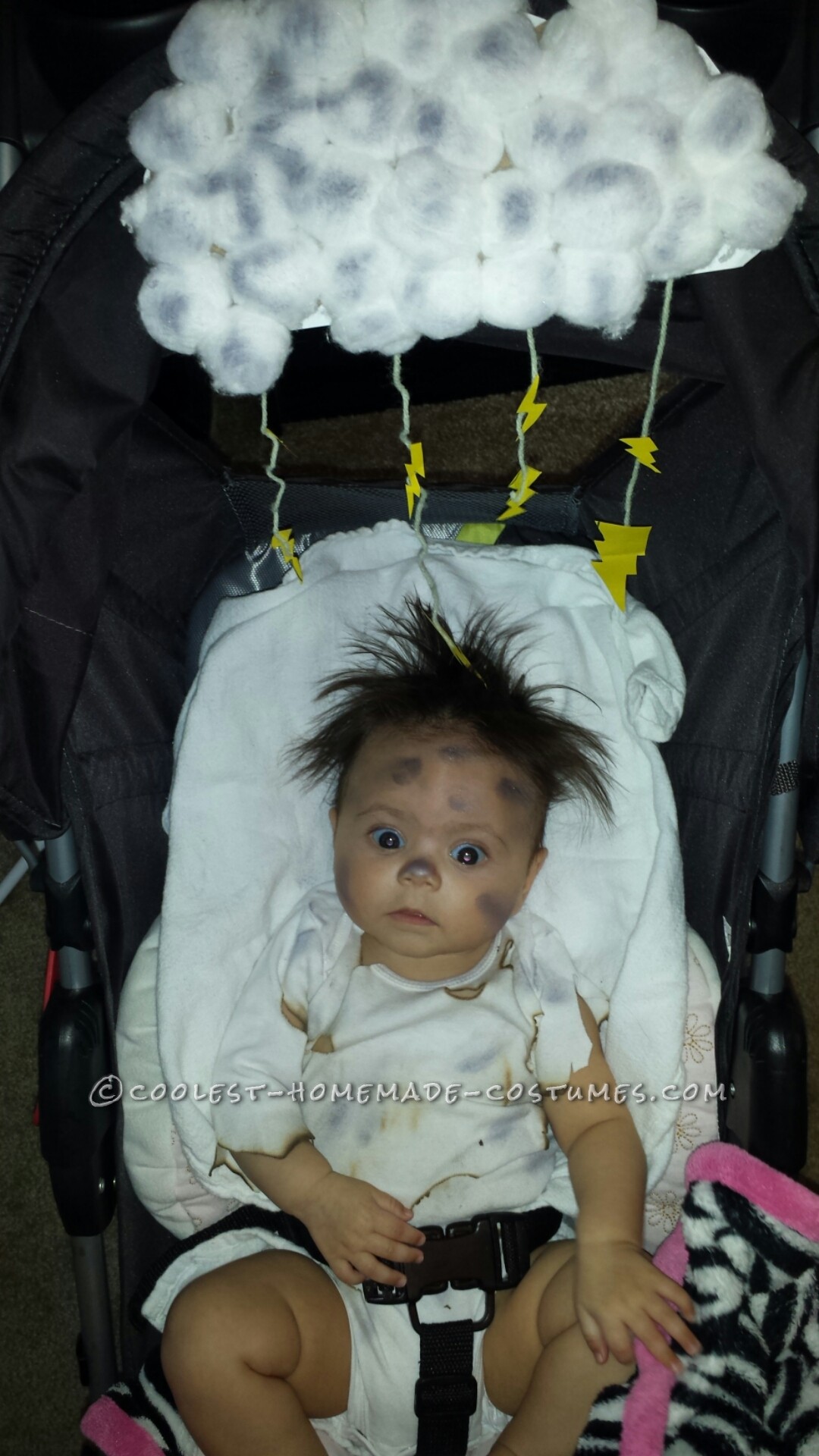 My daughter has naturally crazy hair so I wanted to use that to my advantage and came up with the idea of this Struck by Lightning costume.
4. Little Lumberjack Costume
I looked for weeks for the perfect costume for my 8 month old little boy's first Halloween costume! I wanted something that was not common and wanted him to stand out! And that's how this Little Lumberjack costume was born.
5. Baby Maggie Simpson Costume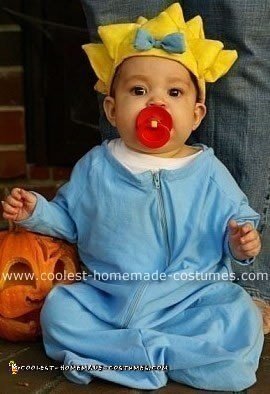 We are huge Simpsons fans and here's our  Maggie Simpson baby costume.
6. Cabbage Patch Twins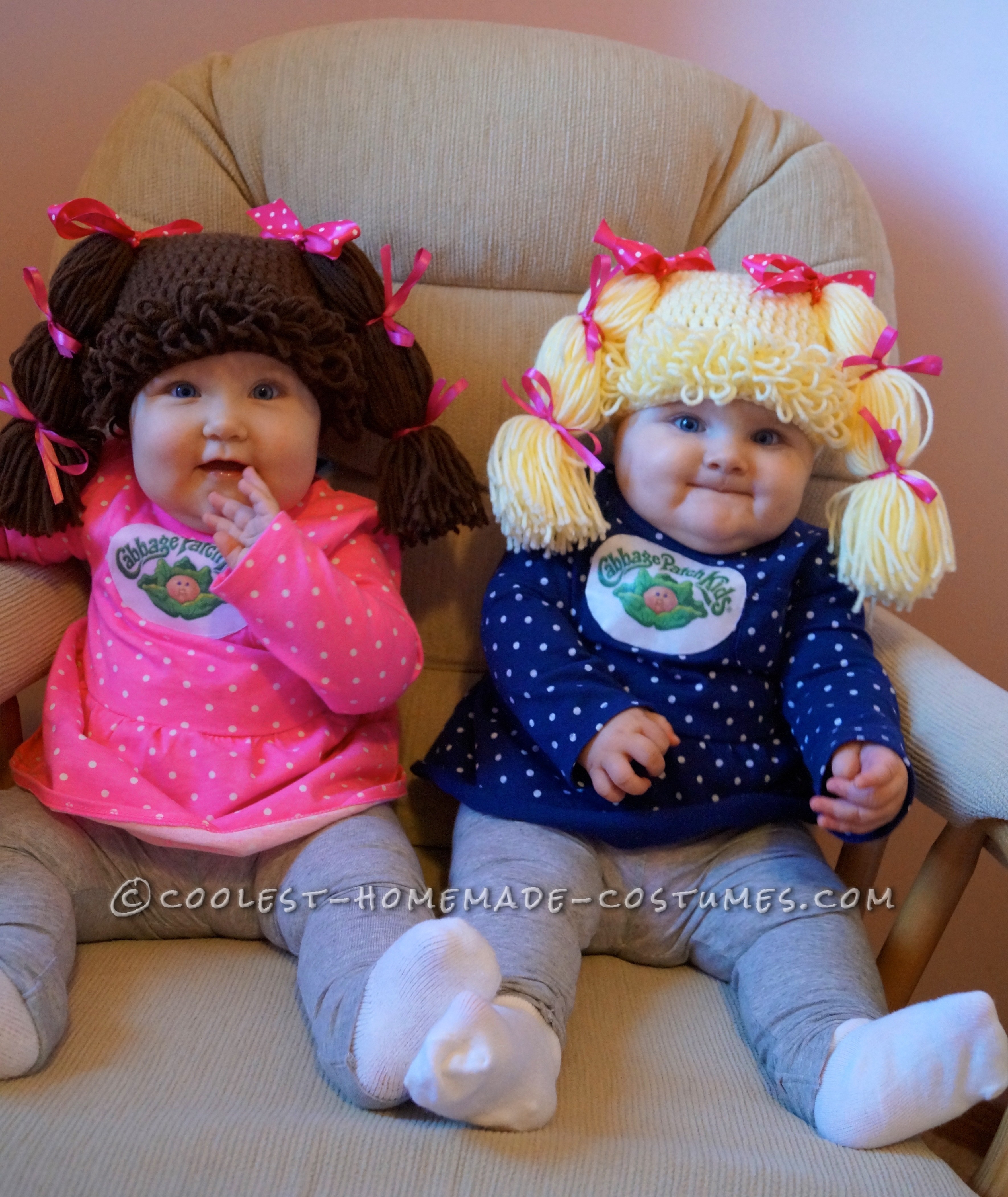 We have been blessed with healthy, chubby twin girls. Therefore, it seemed like a natural choice to dress them as Cabbage Patch Dolls for Halloween as they bear such a likeness to the famous toy.
7. Dobby the House Elf Costume from Harry Potter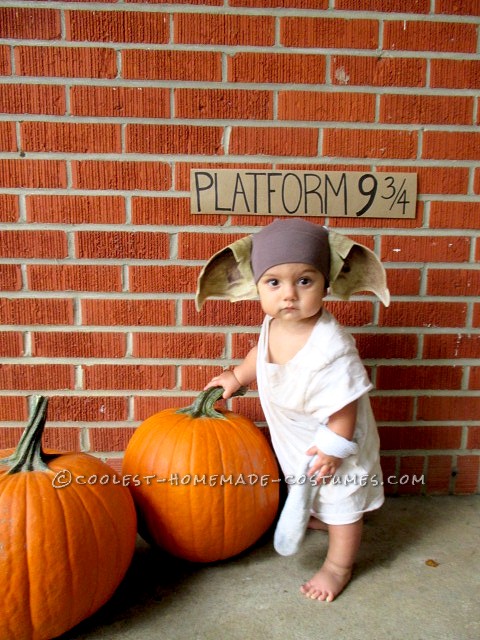 I thought Harry would be too popular, then it came to me! Dobby the House Elf. He is one of the cutest characters and has a small frame so it makes for a perfect Dobby the House Elf costume!
8. Circus Animal Cookie Costume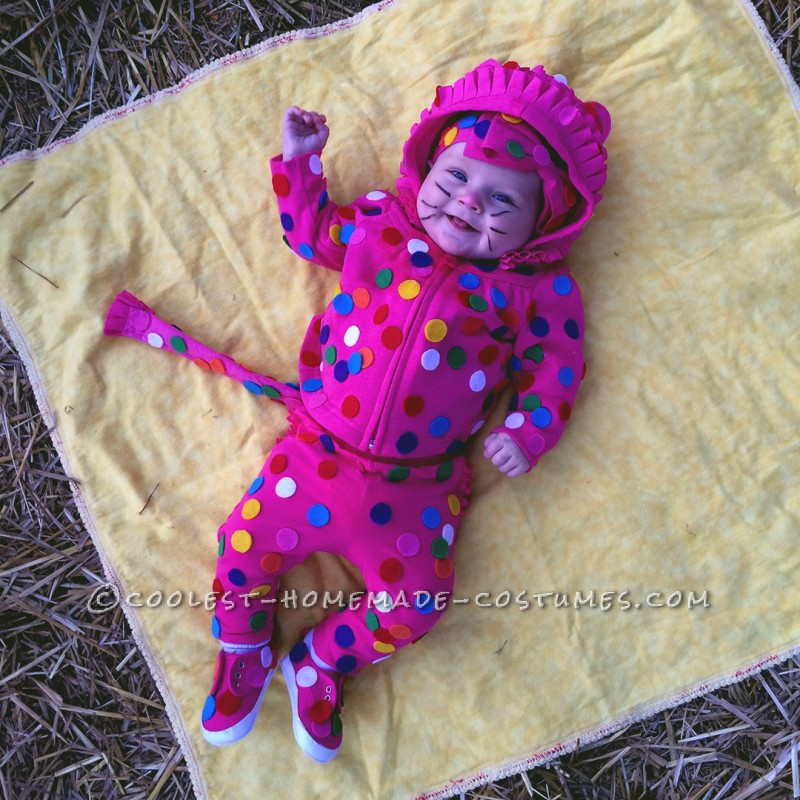 This Circus Animal Cookie baby costume was simple, cheap and just as yummy as the cookies themselves! Prepare to fall even more in love with your sugar babies and probably get lots of free candy.
9. Baby Mork Costume in his Egg Spaceship… Nanu Nanu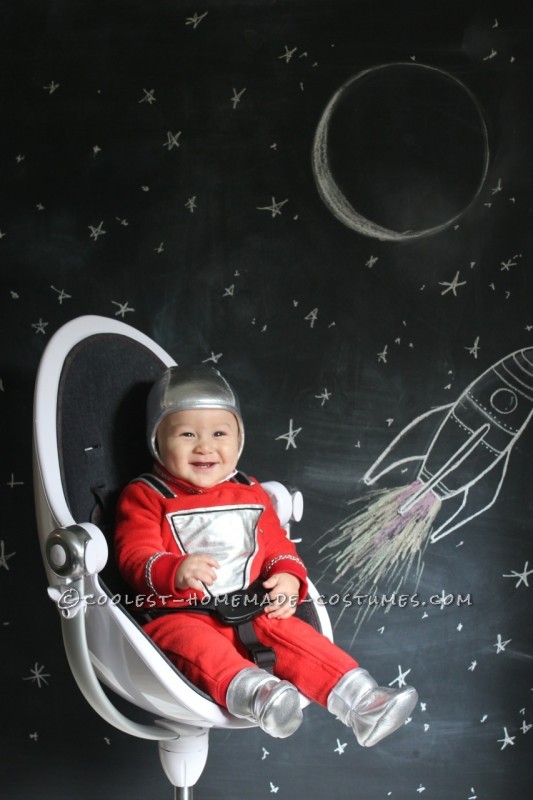 My husband and I absolutely loved Mork and Mindy growing up with Robin Williams zany character…So we thought this baby Mork costume would be a great tribute to all the laughs Robin gave us throughout the years.
10. Baby Spider Attack Costume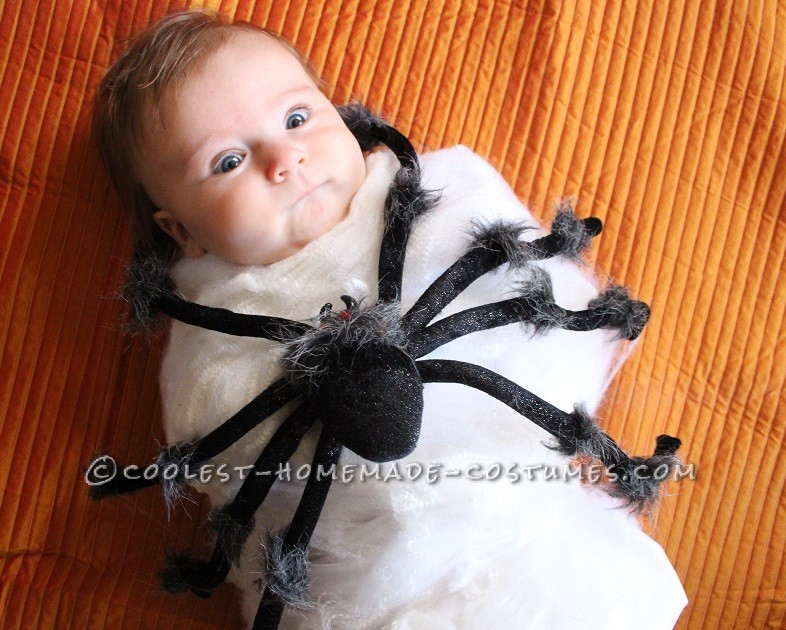 This Spider Attack costume idea is one I came up with after seeing The Hobbit in the movie theater. I am a huge fan of the Lord of the Rings and Hobbit movies.
11. Baby Nacho Libre Costume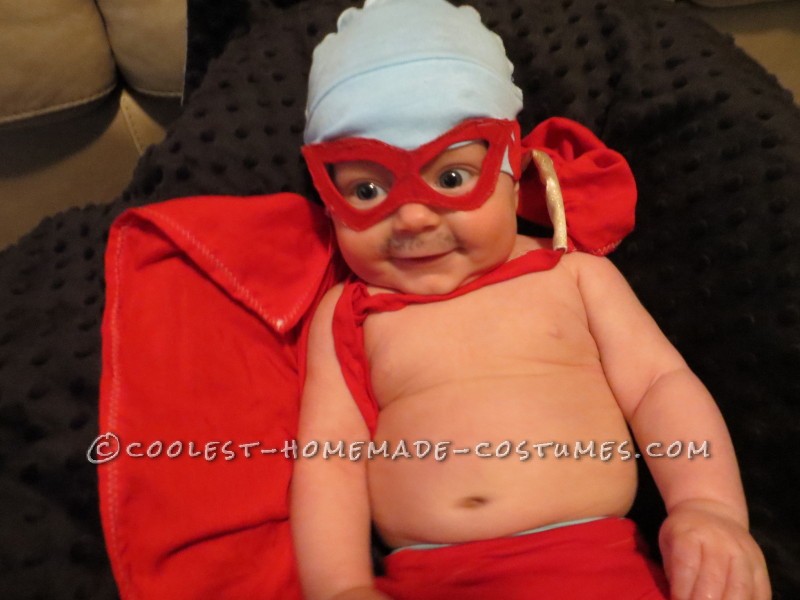 "Oh my gosh, it's Nacho Libre!!" was the sound echoing all throughout the office as I walked around with my little luchador in his Baby Nacho Libre costume on his first Halloween.
12. Sweet Little Owl Costume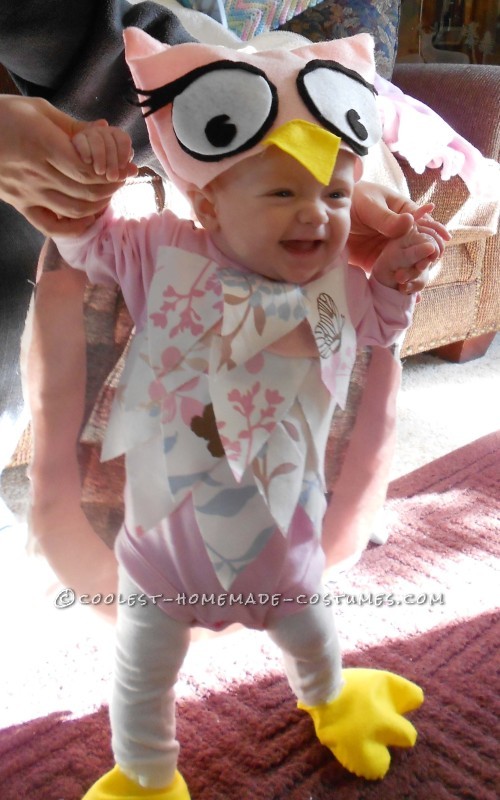 My daughter has a small stuffed owl that she loves so much so I thought creating for her a baby owl costume would be a great idea!
13. Baby Shark Costume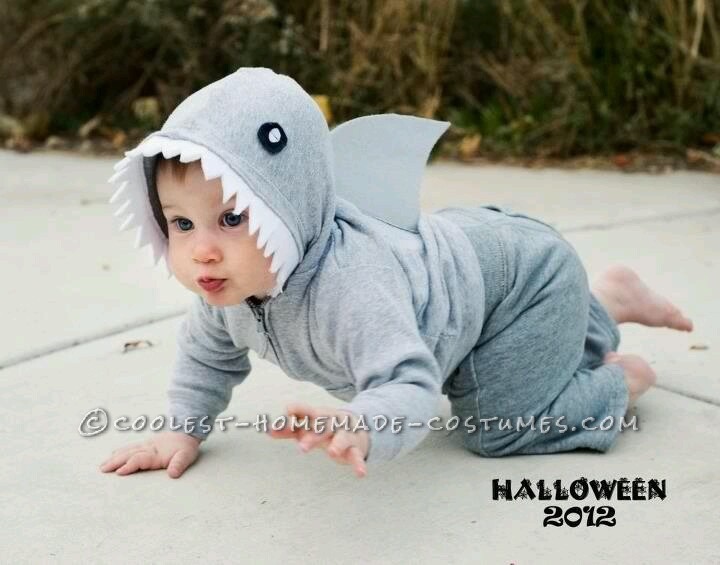 I knew right away that my baby boy would be a shark.. This baby shark costume was simple and SOO cute!
14. Baby Grape Costume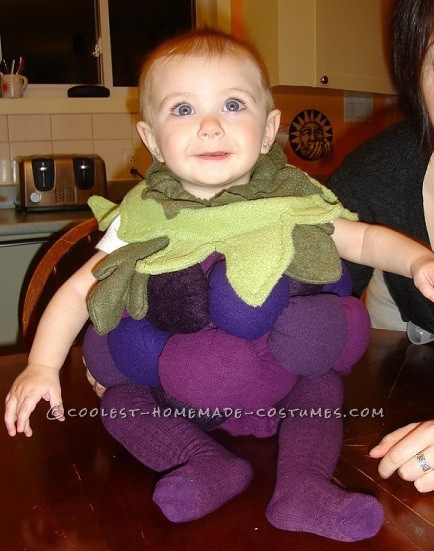 Everyone who saw this little baby grape costume had a good laugh, and I got tons of compliments on my handiwork.
15. How to Train Your Dragon Toothless Costume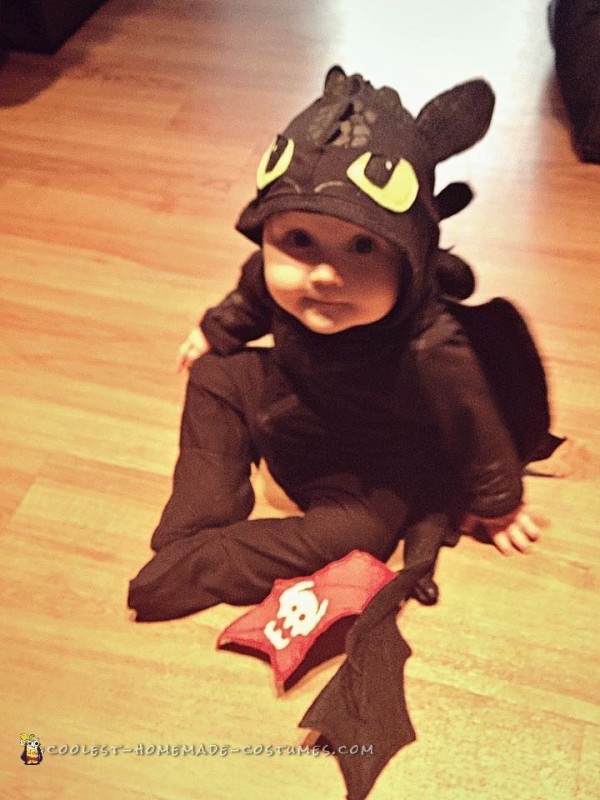 How To Train Your Dragon is one of my family's favorite movies and my husband and I thought it was quite fitting that our 9-month-old (who has no teeth yet!) dress up in this easy homemade Toothless costume.
16. Baby Chicken Costume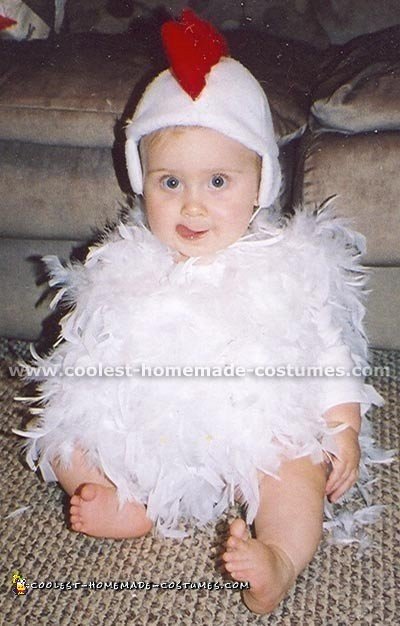 I found the idea for this Chicken costume from a Martha Stewart magazine a few years ago.
17. Bay Scuba Diver Costume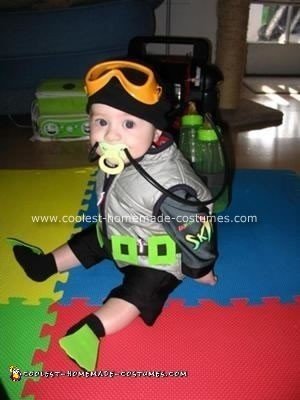 This Homemade Scuba Diver Costume idea came to my hubby and I because we wanted an original costume for our son.
18. Baby Scarecrow Costume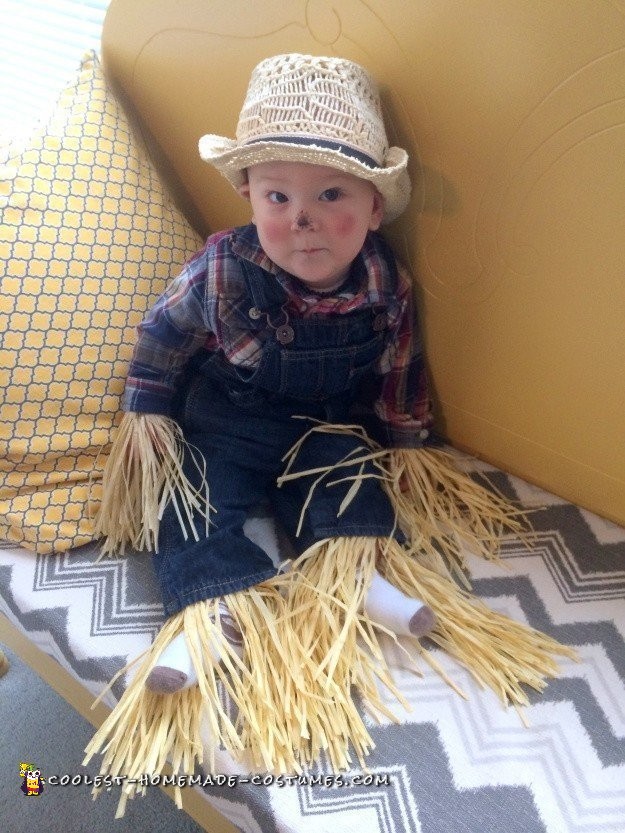 Here's a super quick and easy baby Scarecrow costume made for my son! It was so successful everyone could not stop staring at him!
19. "Prick or Treat" Baby Cactus Costume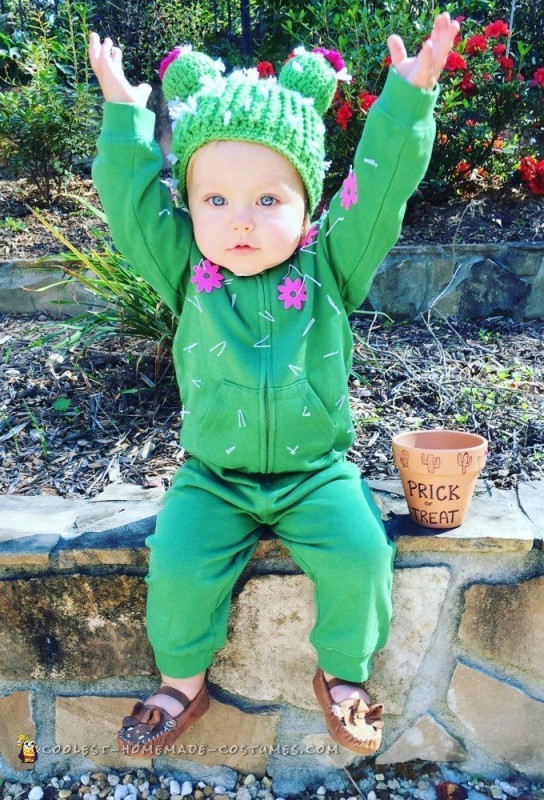 We made this baby Cactus costume for our daughter, Margaret, who was made in Scottsdale, AZ.
20: Baby Raoul Duke Costume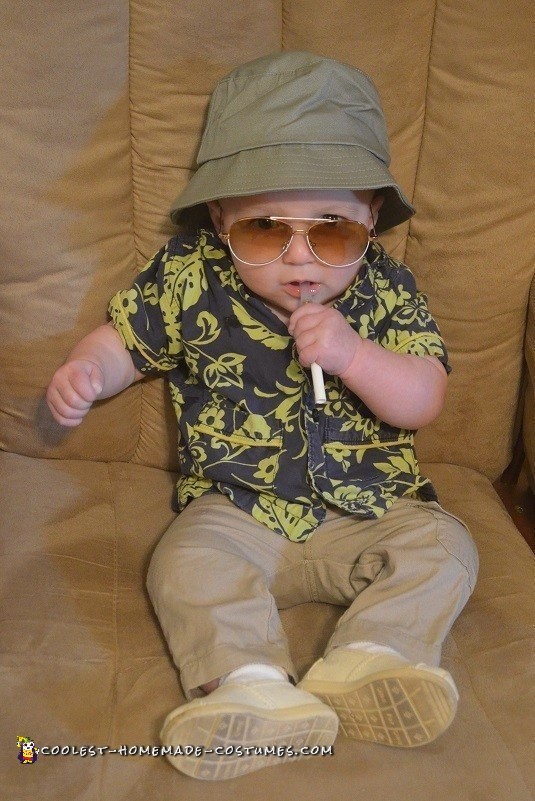 From the Movie "Fear and Loathing in Las Vagas", here's a cute Raoul Duke costume!
21. Little Rascal's Alfalfa Costume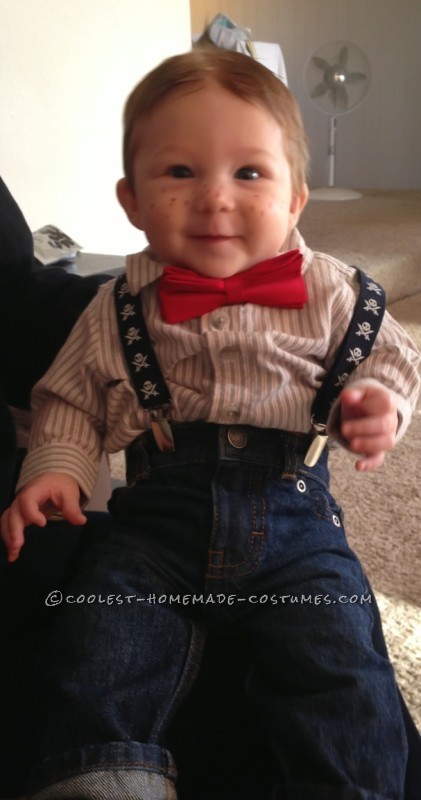 My three month old son, Kal wore this homemade Alfalfa costume for his first Halloween. He was born with a full head of hair so we knew we didn't want to cover it up.
22. Baby Comic Book Costume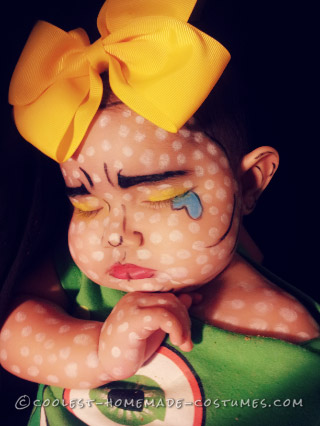 My baby fell asleep in my arms so I started doodling on her with my makeup and ended up with a Comic Book costume.
23. Baby Sully Costume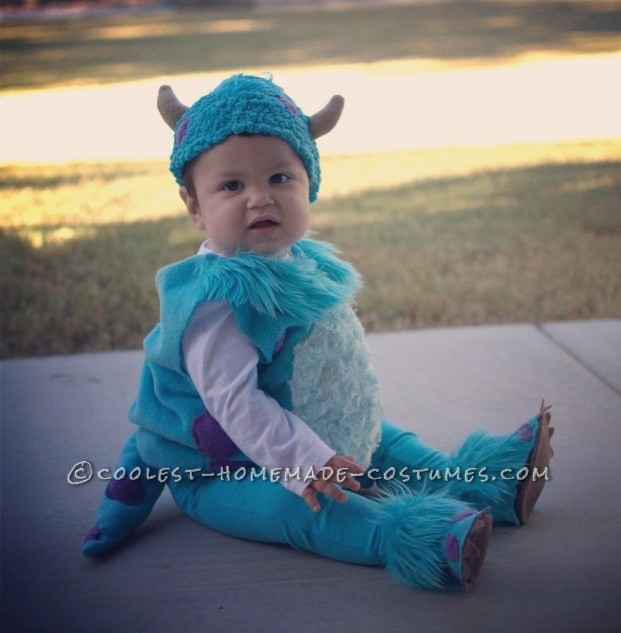 We are huge fans of Monster's Inc. When the Disney store sold out of the costume size for my son I decides to make his Baby Sully costume.
24. Sophia from the Golden Girls Costume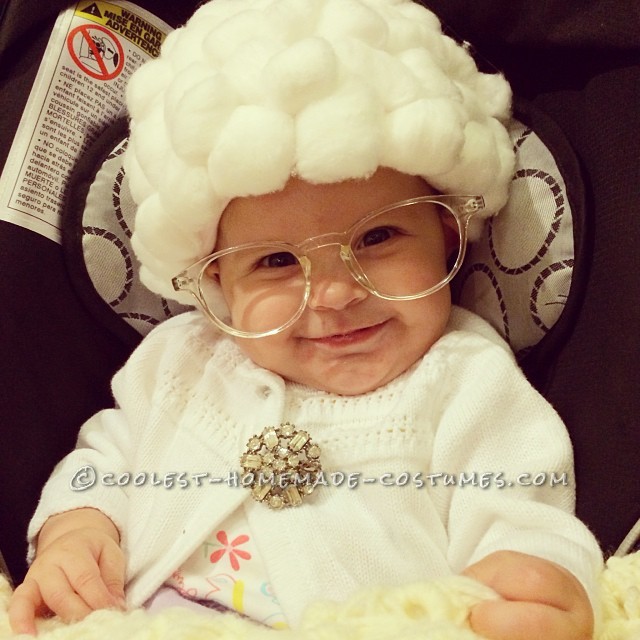 We (okay…just me) love the Golden Girls and I couldn't resist turning my 5-month-old baby into one of my favorite characters by creating this Sophia from the Golden Girls costume.
25. Baby Minion Costume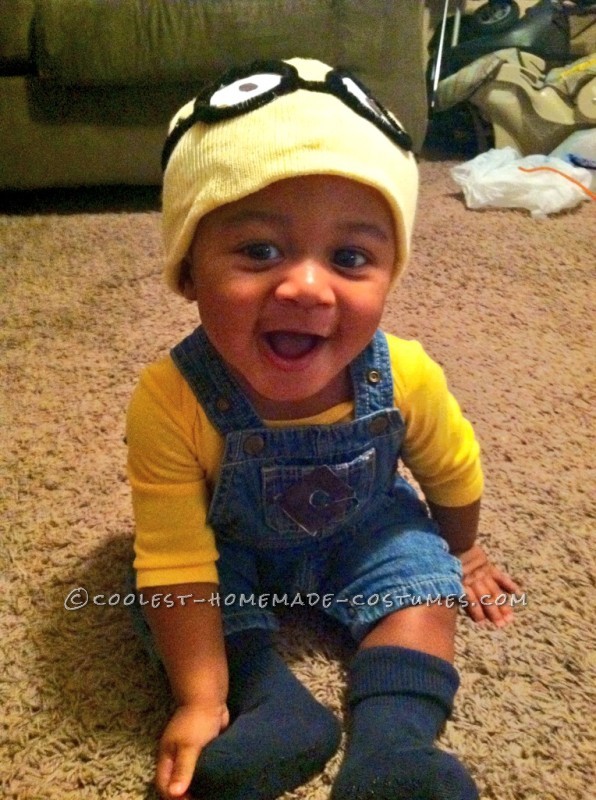 Since Minion costumes have been all over the place, I wanted to make one myself and came up with this original Minion baby costume.
26. Baby Stay Puft Marshmallow Man Costume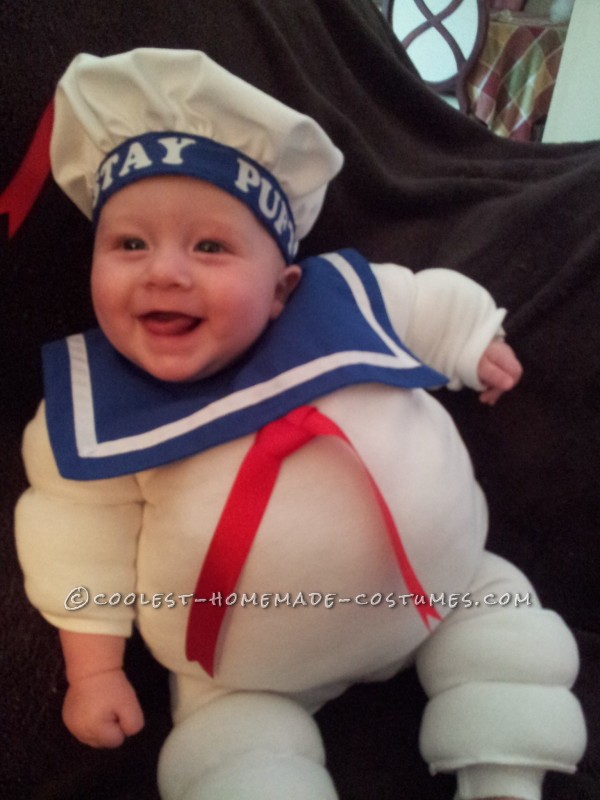 My daughter-in-law suggested I make this Stay Puft Marshmallow Man costume from the Ghostbusters movie as my grandson's costume.
27. Cute Baby Zumba Costume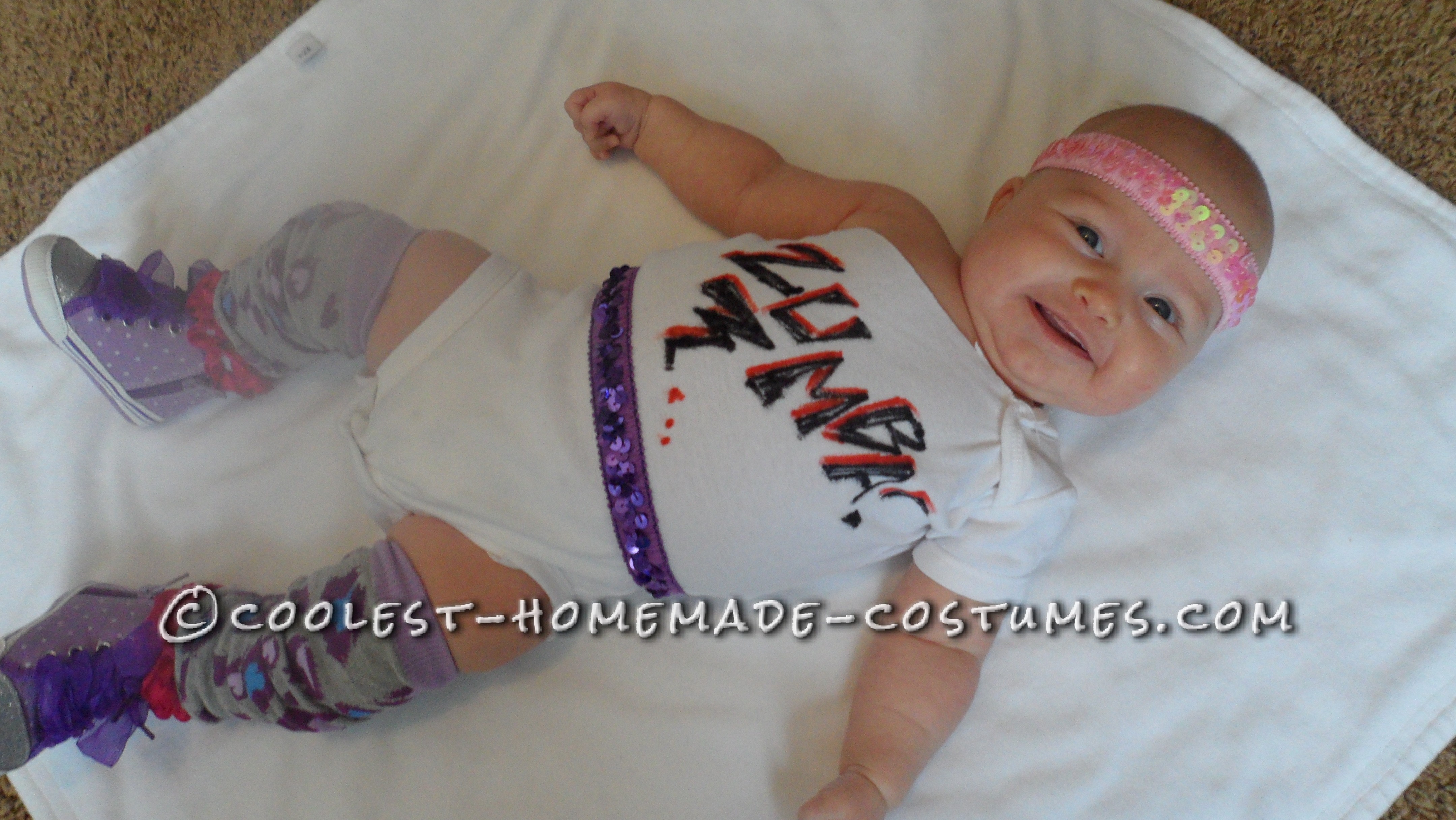 The idea for this baby Zumba costume came from the awesome Zumba outfits everyone was wearing at the gym.
28. Little Magic 8 Ball Costume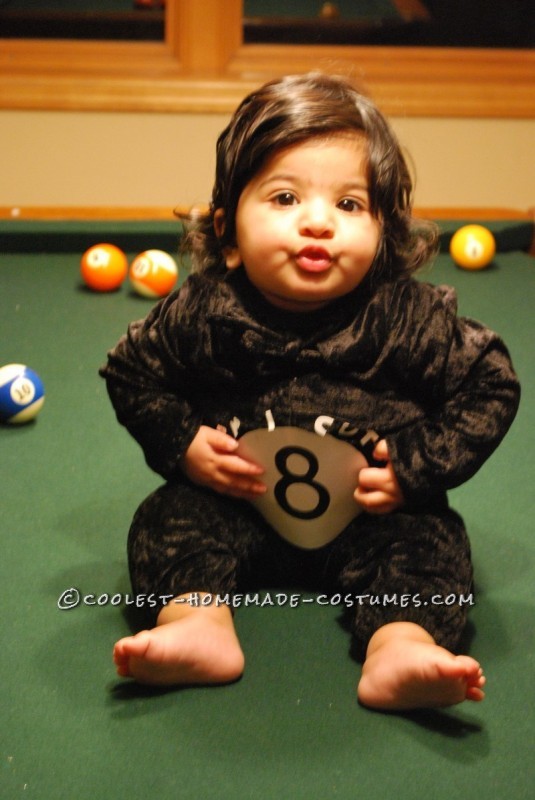 Creating this Magic 8 ball baby costume was the perfect costume for my baby.
29. Bat-Baby Costume
This Bat-Baby Halloween costume is pretty simple, just a black tutu dress and look how amazing it turned out!
30. Pint-Sized Baby Pillager Viking Costume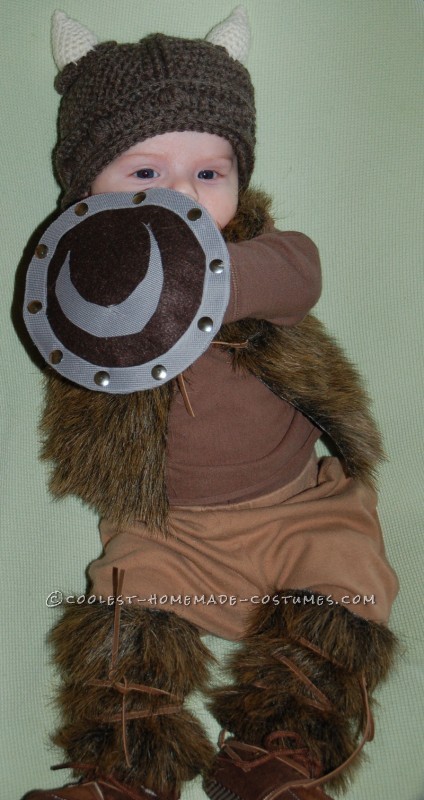 The pint-sized baby Viking costume all started with a hat I found on Etsy.
31. Baby Cupcake Costume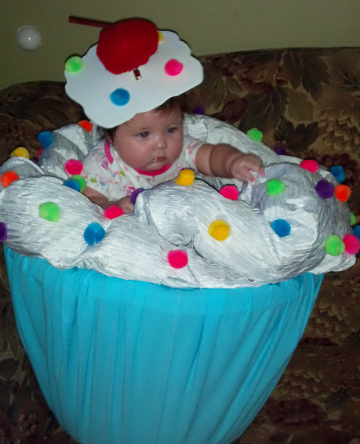 I always sing the lil cuppycake song to her and we even call her Cuppycake sometimes so I thought a Baby Cupcake costume would be the perfect costume.
32. Mario Brothers Baby Bob-Omb Costume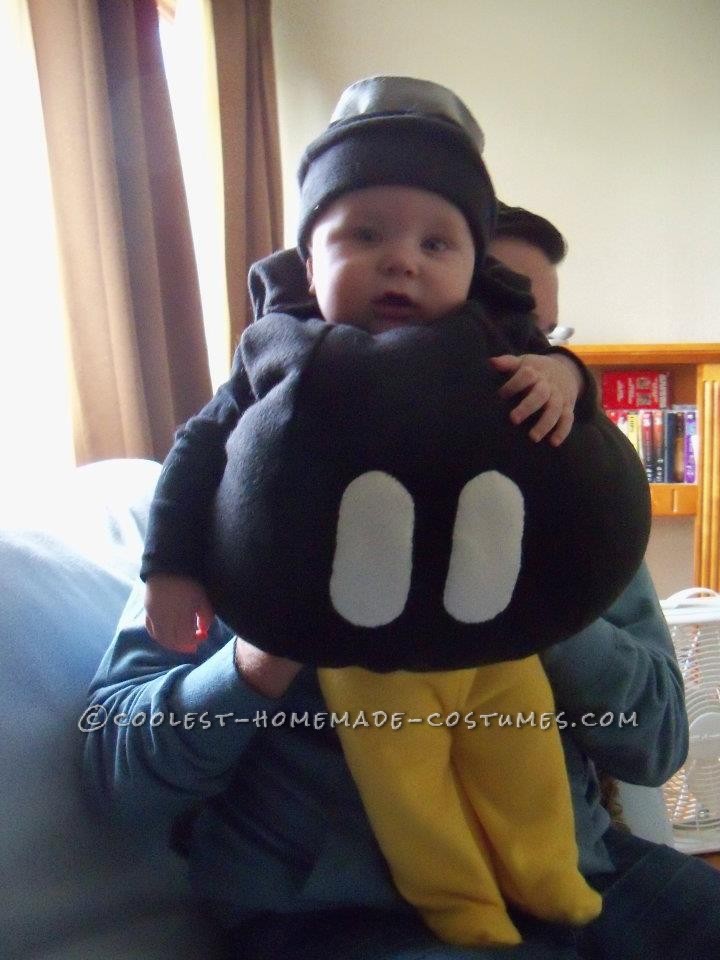 Every once in a while my husband and I refer to my little destructive infant son Henry as H-Bomb, so it was quite fitting for us to choose this Bob-Omb baby costume idea from Mario as his first costume.
33. Baby Popeye the Sailor Costume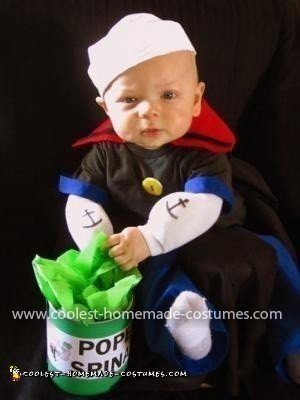 Popeye has always been my favorite, so it was an easy choice for Wy 's first halloween last year.
34. Cute Baby Smurf Costume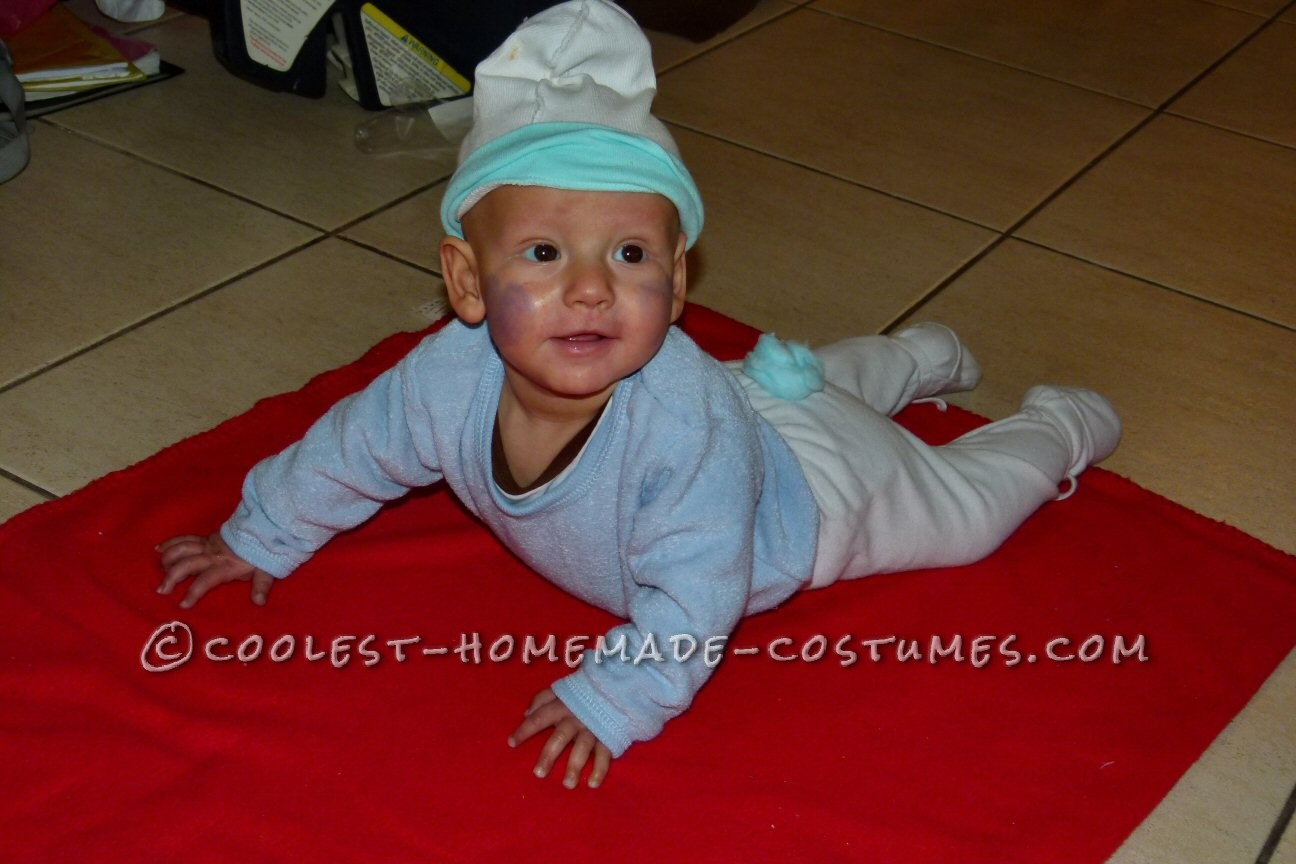 I wanted to make something comfortable for my baby but still eye-catching. Baby Smurf costume answered all of those requirements perfectly.
35. Cutest DIY Baby Gumball Machine Costume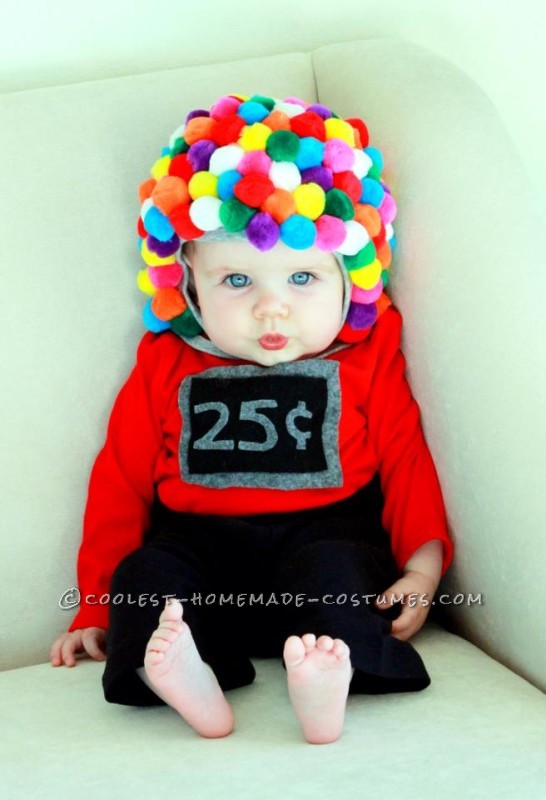 his was my daughter's first Halloween, so I wanted to make a special costume. I was overwhelmed by the positive feedback on social media; my seven month-old has gained more popularity than I have in 27 years!