Channel the proud and striking peacock for a show-stopping peacock costumes this Halloween. Strut your stuff in these uniquely homemade costume designs. In addition, if you're looking to steer away from princess costumes, these regal peacock costumes make a sparkly and fun alternative.
So, fluff up your feathers and check out the most awesomely beautiful peacock costumes below.
1. Elegant Peacock Costume
Peacock costumes submitted by Amanda T.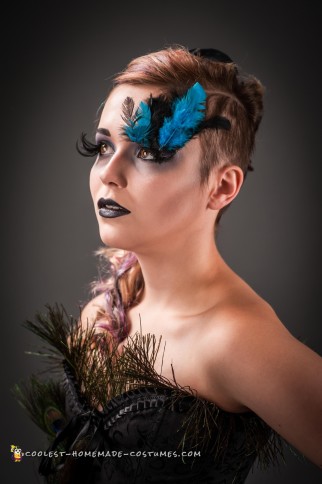 I started with a simple Idea.
This idea being a peacock costume. I had been wanting to be a peacock for Halloween for a number of years, but I was not a fan of the pre-made costumes for this particular idea. A couple years went by before I actually thought "well hey, why don't I try designing my own costume that fits my thoughts."
So, I took out my fashion design book for the first time in a long time, and I started sketching ideas. Before long, I had come up with an elegant but messy peacock costume with a corset top and a high low layered skirt.
Before this costume, I had only ever created outfits using patterns, so I wasn't too sure how this one would go. All in all, I was impressed with my results!
I began my costume by going to Fabricland while things were on sale, and buying a ridiculous amount of black fabric. Then I took it home and free-hand cut it to my measurements.
I ordered feathers off of various online sites including peacock feather ribbon. I added this ribbon onto the edges of each skirt layer.
It took me a very, very long time to figure out how I was going to attach each of the layers together. In the end, I decided to add a zipper to the bottom 2 layers and have the top one hid the zipper. This turned out surprisingly well.
With all my feathers, a corset, boots, headpiece, and gloves in, the only things left to do was decorate everything with feathers. All I used was a glue gun for this, and then I added fluffy ostrich feathers to the bottom to hide the glue.
Costume Photo Shoot
The final touch on the day of the photo shoot, was the makeup. I had done a trial run the day before and did not like how soft it turned out. So, on the day of, I decided to go with something a little darker and messier. The original look was done with face paint and gems.. the second time, all I did was eye shadow and eyeliner as well as only one eyebrow had feathers.
On the day of the photo shoot, I spent about 3 hours on my hair and makeup and getting dressed. When I went to meet Bob (the photographer) outside, my heel broke.  This is what you get for using heels that only cost you $10.00 I suppose.
When we got to the studio, the first thing we did was take out a glue gun and attempted to glue the heel back on to my boot. This method only added about 10mins of shooting to the lifespan of my poor peacock decorated boots. So, basically for the whole shoot, it was just placed there and I had to balance on one foot!
Although the costume decided not to cooperate with me in that sense, the photos turned out spectacular. And, we could not be happier with the finished product.
I am so excited to share my costume with you all, and I hope you enjoy the final product. Good luck with your peacock costumes!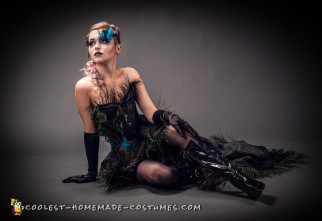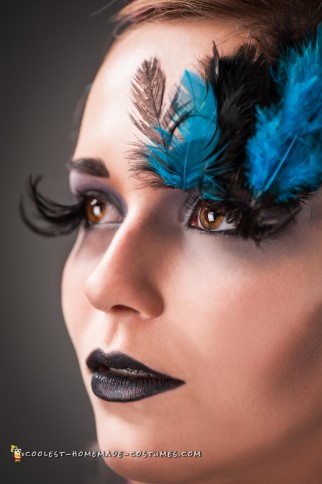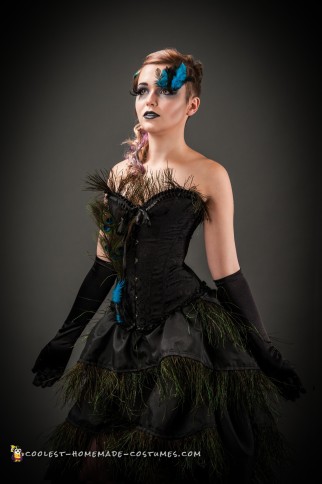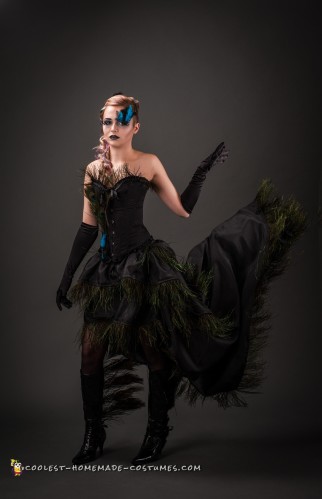 2. Beautiful Peacock Costume for a 3 Year-Old Girl
Peacock costumes submitted by Brandy B.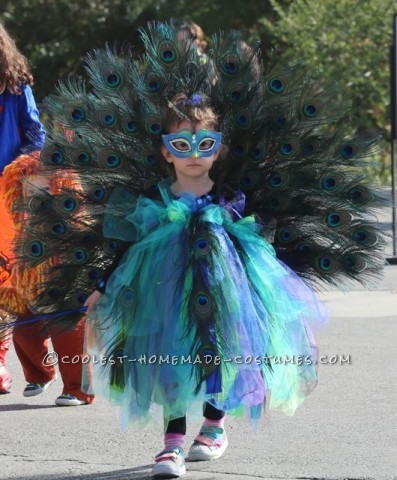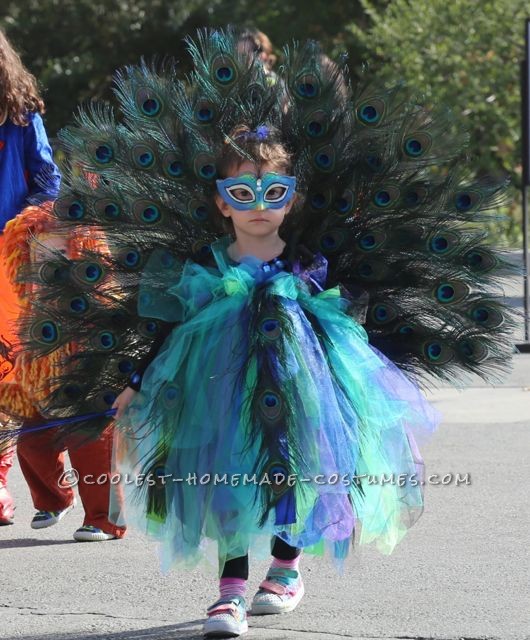 Feel like a royalty in this fantastic getup. Check out all the elements that went into making this beautiful peacock costume. Read all the step-by-step instructions here in order to try it yourself. Bonus: you don't need to sew this DIY costume!
3. Fabulously Feathery Peacock Costume
Peacock costumes submitted by diana s.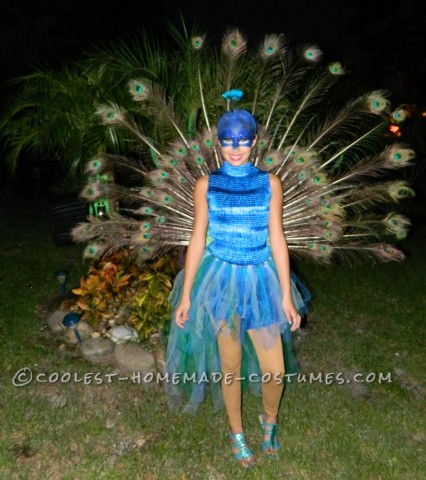 After much thought, my daughter decided she'd like to dress up in a peacock costume, and celebrate Halloween as her favorite animal. I almost fainted at first, but then I decided it would be a challenge. The funniest thing was seeing my husband's face when I told him I needed about 90 peacock feathers. Then I wondered, "Now what?" I love crafts and every time I start a new project I have the ability to surprise my family.
Tools and Materials Used
20 pcs natural peacock sword feathers 12-14 inches – $6.99
50 pcs Acerca natural peacock feathers 10-12 inches – $6.40
25 natural peacock feathers with blue green eyes 30-35 inch L -$16.99 USD
Elastic belt
3 yards blue tulle – $3.00
3 yards green tulle – $3.00
Three yards violet tulle – $3.00
Hot glue gun
Cardboard
Blue tank top and skirt
Skin colored leggings
Costume Instructions
I made the tulle skirt with short strips in the front and longer in the back to look like the long tail of the peacock. It took me 2 hours to do it.
For the tail feathers, I first cut the cardboard into a fan shape and I made two holes to pass an elastic belt through. Then I began to glue the feathers with hot glue, first the long, then the medium, and finally the small. I added some paint on the other side and some blue feathers to decorate.
The make-up was my favorite part. I think I even surprised myself that I was able to do it so well. My daughter was very happy and grateful. For me that's the best reward! This was one of the coolest peacock costumes to make!
Take a look at more pictures of the costume here…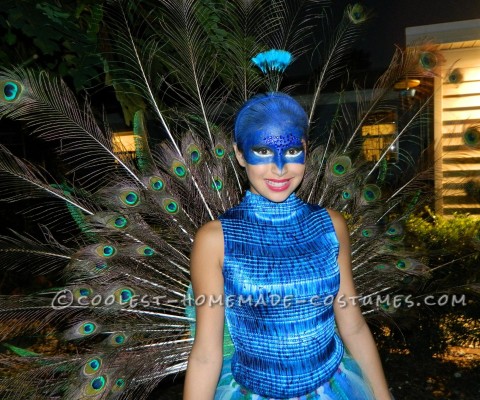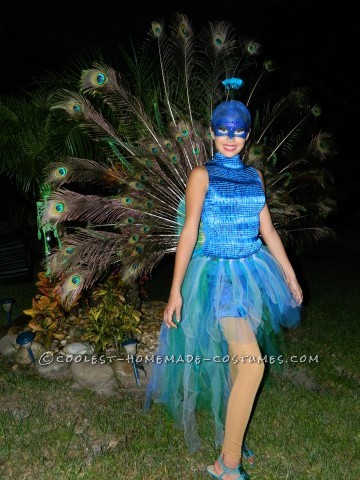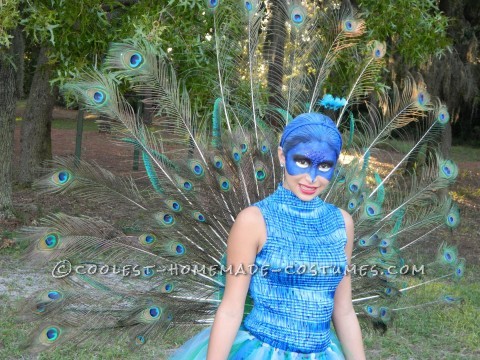 4. Lovely Homemade Toddler Peacock Costume
Peacock costumes submitted by Ashley w.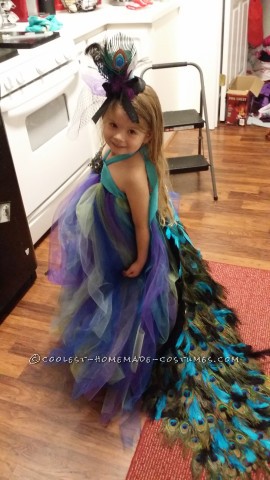 I used tulle to make a long dress and attached it to an elastic band. The instructions how to do this are easy and found on YouTube. I then wrapped teal ribbon around the top of the dress in order to hide the elastic. I attached some peacock feathers to a hair bow and hot glued it to the front for an accent. For the tail, I used over 100 peacock feathers that I ordered from amazon.com.
I glued a bunch of pages of felt together and cut it in a long triangular shape. Then, using the peacock feathers and some various black and teal colored feathers, I attach them all on to the felt triangle. Then I took duct tape and taped the whole back part of the tail so that when it dragged on the ground it wouldn't rip or get dirty. I simply safety pinned the tail to the back of the dress and made it ready to remove for when my daughter needed to sit down so she wouldn't ruin the feathers. I bought a small hat from Michael's. Then I added some ribbon, Russian veil, a sparkly peacock feather, and some random tulle to jazz it up a bit. This costume took about a total of 3 hours to make.
Reactions to the Peacock Costume
On Halloween we went trick or treating in a very busy area in our city. Many many people stopped or commented on the costume with a lot saying it was the best costume they had seen. Random people stopped us to take my daughters picture. It was a huge hit. It held up wonderfully with no tears or rips or any damage.
I really don't know why I picked a peacock costume to make except that I really love the colors. I went on etsy.com to buy a tutu for mu daughter and found the prices to be insane so decided to make my own. From there the idea morphed into a peacock tutu costume. It really was fun to make!
Take a look at more pictures of the costume here…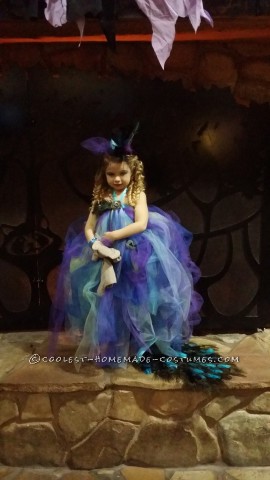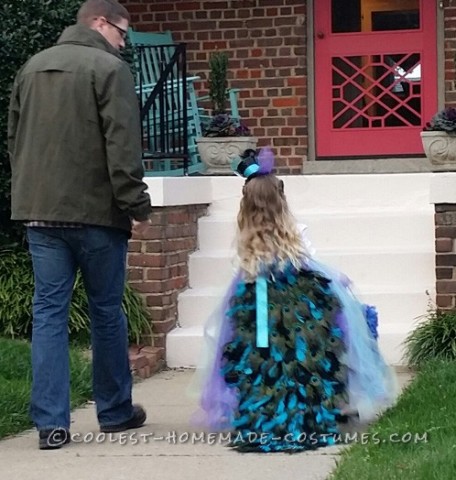 5. Prettiest Peacock Costumes at the Costume Party
Peacock costumes submitted by Brittany F.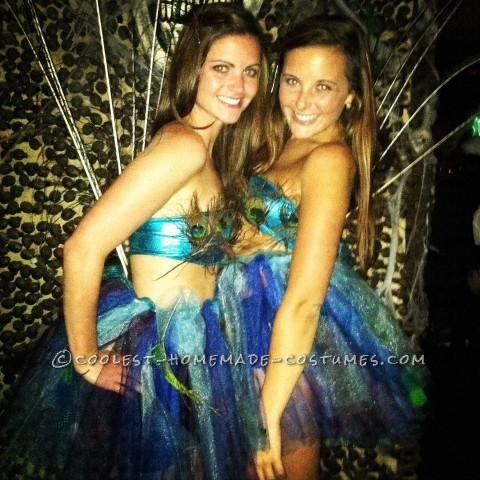 I made these prettiest Peacocks for the West Hollywood Halloween Carnival this year. We got the tops from American Apparel and everything else from a craft store. It's easy, but a bit time consuming because we made our tutus, too. Glue flamingo features to the top. Get different shades of blue, purple, brown and green for the shirt. Cut into strips and tie each piece to a ribbon for the tutu (there's tons of info online for making tutus).
I then hot glued peacock features all over the shirt. Once the tutu was all done, hot glue the long peacock features to the back of the tutu in a fan shape. I also got little hair clips and glued one feature on the hair clip for a little something extra. It was warm here in LA, so we just wore yoga shorts under our skirts with sandals. We got tons of compliments and everyone loved it!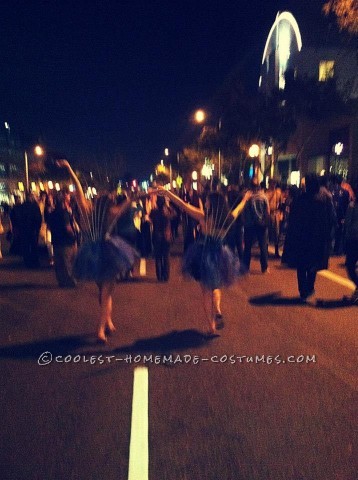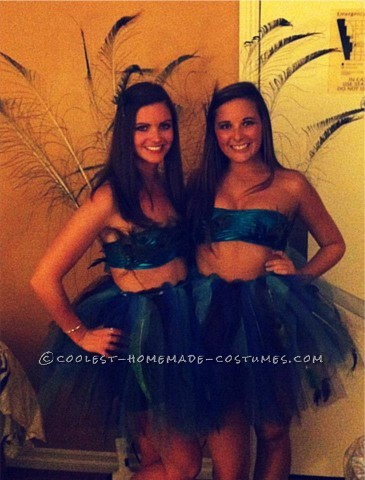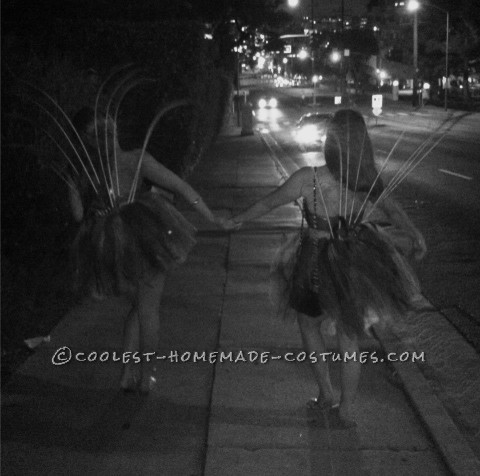 6. Uniquely Exotic Homemade Peacock Costume
Peacock costumes submitted by Candice P.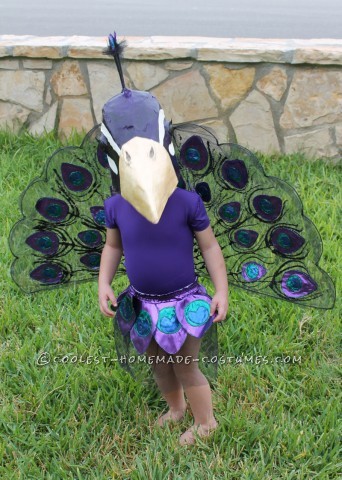 An incredibly original headpiece pulls this shimmery costume together. Take a look at the complete writeup and many more pictures…
7. Gorgeous Homemade Sexy Plus-Size Peacock Costume
Peacock costumes submitted by Deveon B.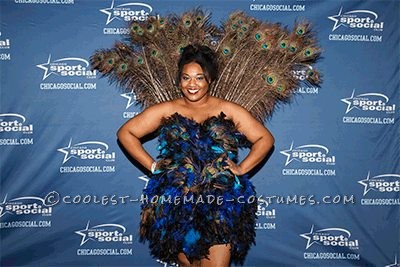 This was my very first homemade Halloween costume, and I think it was a huge hit! I decided, after a quick Google search for inspiration, to be a peacock for Halloween, and it turned out to be the best costume I've ever worn!
So let me start with one disclaimer, just because it was homemade, does NOT mean it was cheap! Unfortunately, I ended up spending way more than I thought I would on this costume, and even though I don't regret one dollar, if you're looking for something quick, easy, and super affordable, this isn't it! But it was most definitely worth it.
Starting the Costume
To begin, I had absolutely no idea where to start. I like to think I'm a creative person, being a stage performer for years, but I've never made a costume before, so with the help of a few online searches, I sort of collected a bunch of ideas and pieced together my own creation! But I HAVE to credit a large part of my costume idea from a fellow peacock-er I actually found right here on this site! Here's the link to her costume. I can honestly say I wouldn't have been able to make this costume without her blog!
The top – I bought a corset from Corsetchick.com, the cheapest one I could find was around $18.00. I went to a local store and purchased about 6 or 7 packs of different colored and shaped feathers, and applied those to the front and sides of the corset, mixing in peacock feather eyes as well.
The skirt- I bought a cheap stretchy skirt from Target, probably around $10.00. I ordered 3 feathered boas from an online site, black and blue mixed, and another smaller aqua colored one, and used the 3 mixed boas to make the skirt. I used a hot glue gun for everything by the way! (and I've got the blisters to prove it). I tried sewing, but it's not my strong suit and I felt like it wasn't secure enough, so I used the hot glue to attach the boas to the skirt. I ripped apart the aqua-colored boa, and applied small handfulls of it throughout the skirt and the corset, and added some peacock feather eyes through the skirt as well.
Creating the Peacock Fan Tail
This was the fun part! The tail definitely had to be a show stopper, so I wanted it to make a statement when I walked into the room. I cut out a medium-sized piece of cardboard, covered it in black fabric, and hot glued a cheap stretchy belt to the bottom of the piece of cardboard. I then placed another smaller piece of cardboard on the other side of the belt, to secure it. And started applying the long-stem peacock feathers to the black cardboard, and because I wanted the same effect from the front as the back, I turned it around and did the same thing on the back of the cardboard as well, so everyone could see those gorgeous peacock eyes from any angle.
Attaching it to the belt was the best decision, because I was able to remove it so I could drive or go to the bathroom, and surprisingly it was very light and didn't weigh me down at all!
Reactions to the Peacock Costume
Everywhere I went, people wanted to take pictures of the costume or ask me how I made it, and it was a huge success!! All in all, it took me only about a week to make, a very loonggg week, but definitely do-able in a short time if you already have a lot of the materials on hand. Only downside to this costume? Navigating! I'm already a pretty tall girl so trying to get through doorways or crowded bars was definitely a challenge, haha. And more than a few innocent feathers were lost throughout the night because so many curious people wanted to touch it, and some not-so-gentle guys decided to grab on it pretty roughly.  But nothing major! OH and I think I only upset about 30 people after knocking them in the head with the fan, but (almost) everyone was a good sport, so no harm, no foul!
In the end, I absolutely loved this costume, and I think it was pretty good for my first attempt at a homemade one! Thanks, and Happy Halloween!
8. Coolest Glow-in-the-Dark Couple Costume
Peacock costumes submitted by Dana L.
For Halloween 2010, my husband and I were determined to be something that "lit up." After throwing out the obvious Christmas tree ideas, we settled on a Homemade Peacock DIY Adult Costume Idea!
My super talented mom made our outfits out of blue lamé and green stretchy dance fabric. For the tail I picked out the thickest, sturdiest cardboard I could find, cut it out, and began painting. We attached them with straps, like backpacks. The glow sticks we bought online in bulk. Our fiber optic hair pieces were also bought online. Make-up and hair were done by me; my first ever fauxhawk attempt. We were a huge hit. Someone asked us if we were "The Disney Light Parade," which I thought was hilarious!
P.S. I give one warning to anyone wanting to attempt a large wingspan (or tailspan in our case): it is VERY HARD maneuvering in a large crowd of people!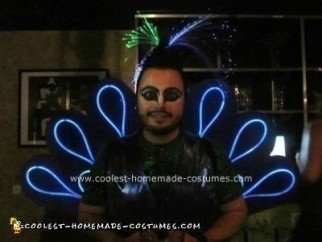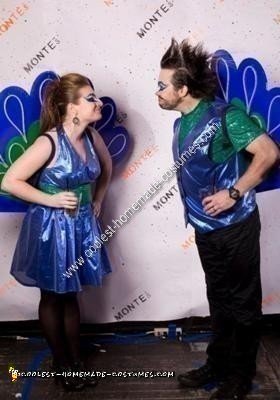 9. Vegan-Friendly Feathers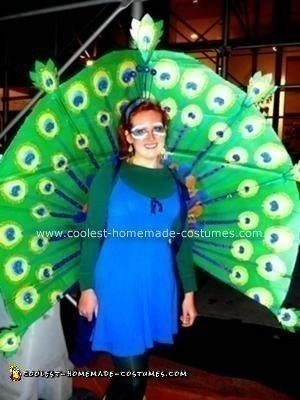 I had this giant box and didn't know what to do with it. Since I'm vegan, I wanted to make a peacock costume without actually using any feathers. I ended up just cutting out individual feathers from the cardboard and taping them together with strong duct tape and bamboo garden poles. This allowed them to be flexible enough to bend.
I got a blue dress, green tights, and secured the whole thing to my back with two blue fabric straps. It really was easy construction. The headpiece is made from foam balls, painted and glittered, attached to wires, glued on a headband. It was a huge hit at NYC's Village Halloween Parade. I just did some facepaint, wore the costume like a backpack, and had my peacock!
10. Sparkly Baby Peacock Costume
Peacock costumes submitted by Giavanna G.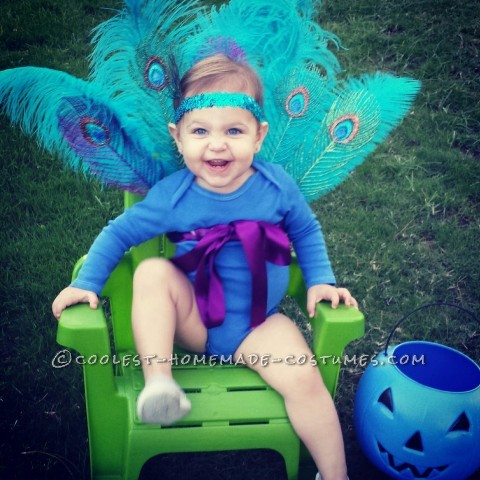 A handmade, original peacock costume created for 15 month old Ava! The struggle between deciding between an owl costume or a peacock costume proceeded for weeks until the discovery of sparkly peacock feathers at a local craft store. Immediately I knew the creation of a peacock costume was in my near future. A beautiful extravagant back piece with big feathers and sparkles consumed my thoughts for days until I finally began creating it. I wanted a costume that would be comfortable enough for a one-year old but that stood out from the crowd.
The costume was a total success as I learned on Halloween night. Fellow trick-or-treaters were in awe! Other mothers asked me lots of questions about creating it and told me how beautiful and original it was. Ava even won a "best costume award" by another mother. The compliments were amazing to hear after the work put into this costume. When the costume was complete, I was full of doubt and frustration and wanted to give up and buy my daughter a bagged costume. I am so happy with Ava's peacock costume and have beautiful pictures to remember the event of her second Halloween!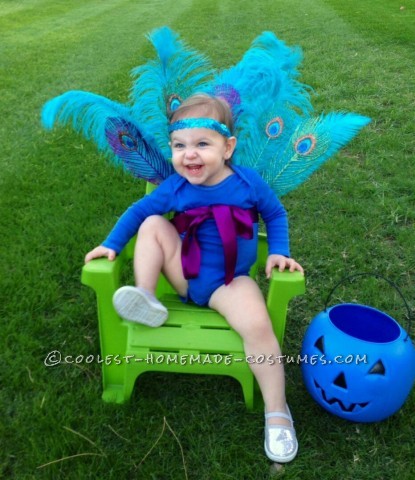 For even more original peacock costume ideas take a look at the entire collection here.