When I was two weeks away from having my baby girl, I was hit by the biggest craving I'd had yet! Honestly, the rest of my pregnancy, I didn't even notice any out of the ordinary cravings, I mean, sure I wanted ice cream and Del Taco all the time, but that wasn't really anything unusual for me. But this particular day, I envisioned Circus Animal Cookies and could not think of anything else! You know, the frosted pink and white ones covered in colorful sprinkles that you devoured by the handful as a child. All day at work, the cookies paraded in all their adorableness through my mind. Pink lions and white leopards and joyful elephants! Oh my! They wanted to be in my mouth as badly as I wanted them to be, I just knew it!
Unfortunately, I was working in a location no where near a grocery store and I couldn't imagine the one Mexican restaurant within walking distance carried them (although I'm pretty sure even they should). So I consumed all the pictures of them I could find online. I texted my twin sister probably ever hour, "Must have circus. animal. cookies." and she'd just respond, "LOL." I was so wrapped up in the idea of them I began creating my own clip art stockpile of them in Illustrator and then made a birthday party invitation featuring them, for no one in particular, in Photoshop. Sprinkles! Pink! Rhinos! And giraffes! All came marching across my screen. I had a lot of free time at that job.
Finally five o'clock came, my husband picked me up and we had to rush off to meet my family for pictures, so there was no time for an animal cookie pit stop. And yes, my family did make me join them for group pictures eight and a half months pregnant. The evilness, am I right?
A night of attempting to hide my swollen feet and not fall over on the gravel-covered train tracks ensued and I was convinced to for-go the cookies in exchange for a greasy cheeseburger and an M&M sundae. Let's face it, they didn't need to twist my arm into eating any of that, but I awoke the next day still pining for that sweet, sprinkle-covered crunchiness. Alas, still no time for a store run as it was the morning of my baby shower and I was trying to figure out a way to make myself look half my actual size and ended up leaving the house late.
I was so excited about my party and seeing all my family and friends, however, I was sure I could live until later that evening to envelope a sugary zebra in my mouth. And then, it happened.
I walked around the corner of the house, saw a perfectly decorated table where guests could write me cards of advice and decorate wood alphabet blocks for my baby and there on the corner was a giant, glass apothecary jar filled with probably hundreds of the very treat I had been obsessively thinking, nay dreaming, of for the last 24 hours! And 24 hours when you are that pregnant is really more like 72. So 72 pregnant hours after thinking "Oh my gosh, you know what sounds amazing right now?" I was met with the most beautiful site I had yet to see. Not just a handful of animal cookies, not even a whole purple and pink bag of the delights, but a huge, towering, trophy of them awaited me at the end of my swollen-limbed tunnel!
I tried not to cry (remember, I was pregnant, and I love cookies) and found my twin. "Malissa, You got me circus animal cookies!" "Oh," she replied, "I thought you told me you were craving them because you knew we had all these for your shower!" Hence her unhelpful, unsympathetic, "LOL" texts. She knew I'd be getting my fill shortly and I knew there was a reason I was born with her as a twin and put her in charge of my baby shower.
Fast forward almost six months and I may have started up a little collection of animal cookie-ness. I always have a bag of the cookies on hand (emergency preparedness, anyone?) and I've made piñatas, toys, wall art and various party-related décor based off the little sugary goodies. So, naturally, my baby girl just had to be an animal cookie for her first Halloween.
This costume was simple, cheap and just as yummy as the cookies themselves! Prepare to fall even more in love with your sugar babies and probably get lots of free candy as well as many a, "Oh my gosh, that's the cutest thing I've ever seen!"
Get Pink (or white!) Clothes
This tutorial is technically for a baby costume but it could easily be adapted for an adult, just buy bigger clothes! And cut out a lot more circles.  I also did a pink version but these cookies come in white too, which would be equally cute. Even brown or green would work as one of the other animal cookie varieties (jungle animal cookies and chocolate animal cookies).
I wanted my baby to be a lion, but there are a bunch of animals you could choose from. The actual cookies come with elephants, leopards, giraffes, rhinos, zebras and a couple more (one completely indecipherable one). To easily make a mane, I chose to buy a hoodie. I got all my clothes at Old Navy.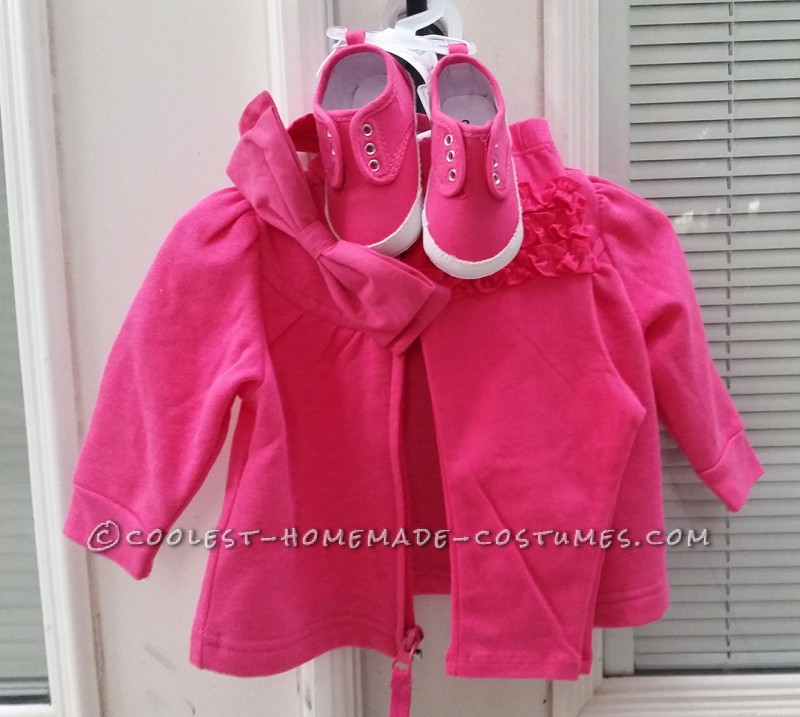 Cut Out Sprinkles!
Gather your felt and trace 1/4″ circles all over half of the sheets. Place a sheet without tracing on it underneath and then cut them all out (so you're cutting two circles out at a time). For the mane, I used this cute pleated ribbon, but so many things would work for a cute mane, so feel free to use your imagination here!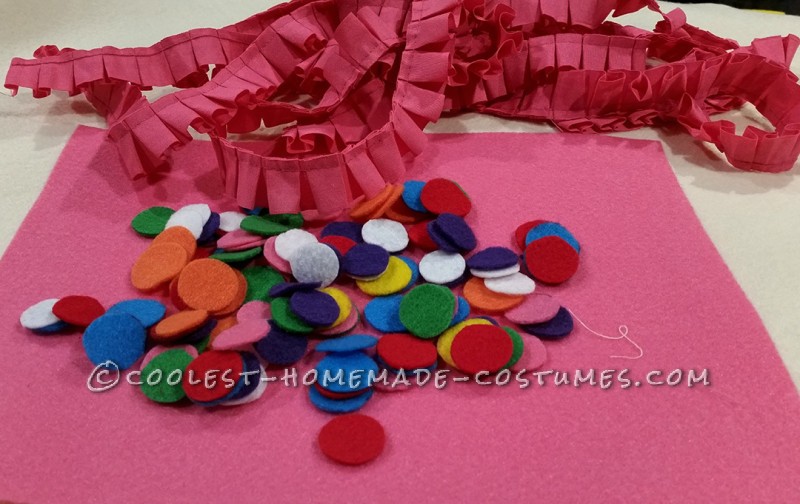 Make Ears, Tail and Mane
Cut four ears out of pink felt and two little insides out of slightly darker pink. Lion ears are rounded, not pointy. Sew two big pieces on top of each other and a small piece in the center, then fold the bottom over a little and sew straight across the bottom to hold your crease in place. Sew the ears on to the appropriate place of your hoodie (try on to figure that out) by stitching along the bottom. If you think it needs to stand up more, add a few stitches along the bottom of the back side.
Sew your pleated ribbon back and forth all down the hoodie about 1/2″ apart from each other, then go back through and add rows in between and sew on the other direction so that the two rows hold each other up. I only did this on the rows in front of the ears.
Make a tail by cutting out a long strip of felt, fold it in half, sew down and turn right side out. Then add some pieces of the pleated ribbon to the end.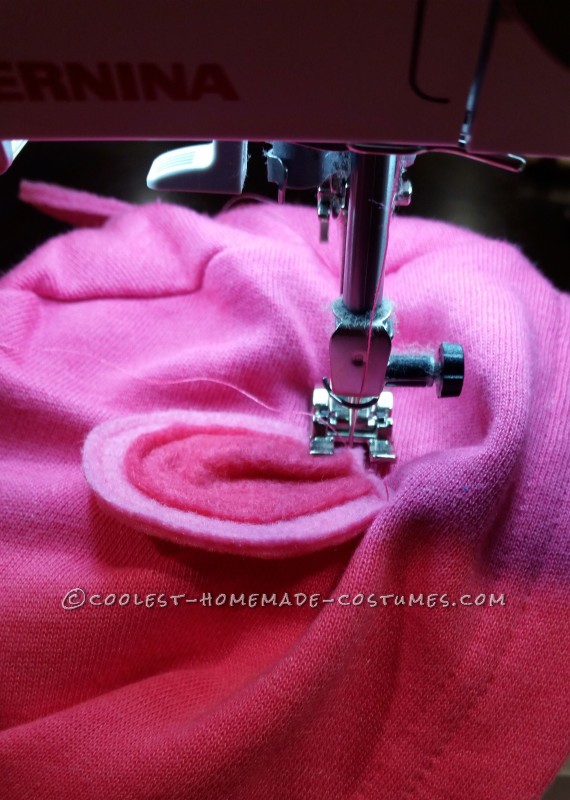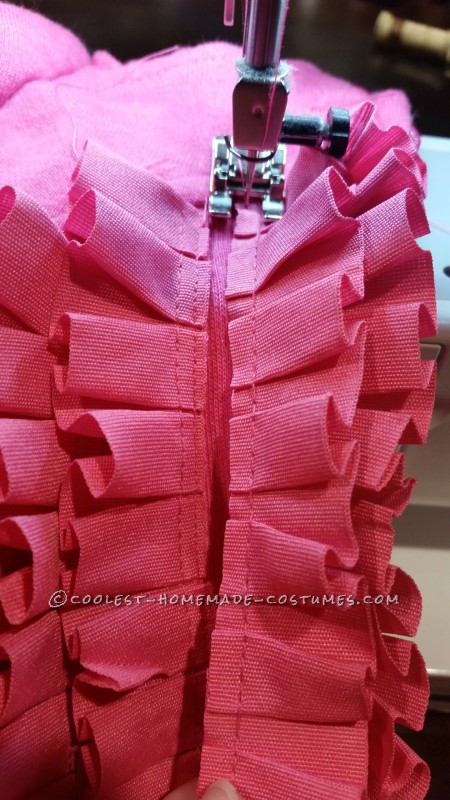 Attach Sprinkles!
Now you can attach your circles all over your costume! I used a fabric glue that is apparently okay to wash but I haven't tried to yet and honestly, I'm going to avoid the washing machine with it I think. Hot glue would also work if you're not planning on sending it through a washing macine.
There is no wrong way to add your "sprinkles" since sprinkles fall wherever they want to, your costume will look good in any random way! Place them all over and lay some in bunches, over-lapping a bit.
I hand stitched the sprinkles that I did on the shoes and then I hand stitched the tail to the bum of the pants at a slight sideways angle so it would show from the front.
Paint a little pink nose and some whiskers on your baby treat and you're ready to make all the neighbors swoon!