My sisters, Shiloh and Fontanna, made this beautiful Halloween original baby Peacock costume for my daughter, Bella, a couple of Halloweens ago. Everyone loved it! She practically floated from house to house in this dress. It is like a little princess gown. It is a very simple tutu dress that looks amazing and the headband looks like a lovely vintage hairpiece that is a popular style right now. It was great because we live in the Mojave Desert and most of the costumes get too hot here in 29 Palms, CA where it is still very warm around Halloween. Also cute in cold climates with long sleeves underneath and leggings.
Making the Headband
Supplies:
1. A headband that fits your child or elastic/stretchy lace can be used. Just wrap around your child's head and cut and glue edges to make a headband.
2. Blue and Orange felt. (You can find packs of felt at The Dollar Tree and Walmart.)
3. Buttons or something round for eyes.
4. Hot glue and Glue Gun
5. My sisters stitched with embroidery floss around the edges to add detail but this is optional.
6. Any other peacock feathers or bedazzles you would like to add to make your headband fancy.
Instructions
1. Cut two ovals of exact same size and shape out of blue felt.
2. Decorate peacock face. If you would like to use embroidery floss stitch around edges first. Glue on buttons for eyes and cut triangle out of orange felt for beak. Glue on any other decorations you would like.
3. Place headband on blank piece of blue felt. Apply glue on felt and headband.
4. Place decorated oval on top of the blank oval so headband and glue are between both ovals. Press down until glue is dry. Glue down any loose edges. Ta-da!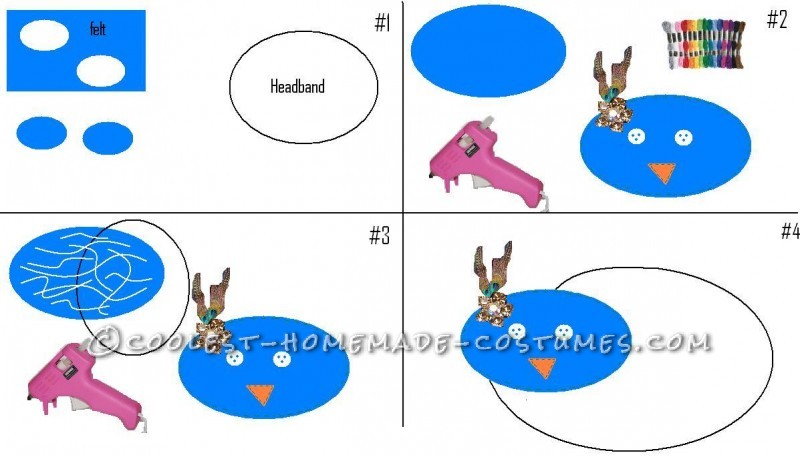 Buying and Tying Tulle
Supplies : Elastic, tulle
Buying tulle : You want your tulle to be twice as long as you want the length of the dress to be. So for a 1 year old toddler you might buy 1 yard of tulle and the dress will be a ½ yard long. I would suggest picking 4 colors of tulle such as gold, blue, green, and purple and getting 1 yard of each color. (6 colors or yards for a fuller dress)
Instructions
1. Wrap elastic around your child across their chest and under their armpits. Cut the elastic and then glue or sew the ends together to make a band.
2. Lay out tulle and cut it lengthwise into strands so the strands are twice as long as you want the dress to be.
3. (See example photo) To create a loop knot fold a tulle strand in half. Then put the folded end under the elastic band so it creates a loop. Reach your fingers through the loop and pull the strands through to create the loop not. Continue all the way around until the elastic band is full of tulle, alternating colors.
Ribbon
I suggest two rolls of ribbon just in case.
Neck: Remove ribbon from first roll and fold in half. Use the same loop knot method you used with the tulle to connect the ribbon to the elastic band. Put dress on child with knot in ribbon centered on their chest, pull ribbon around your child's neck, tie it in a bow, cut off any excess and melt the ends of the ribbon (with a lighter and after dress is removed from child of course) to keep from fraying.
Waist: This is optional. For an empire waist wrap second ribbon around dress right under chest and tie in the back. It can be worn with or without an empire waist. Both styles are adorable!