Growing old gracefully in costume has never been this easy. No matter what age you are, this homemade costume, often a really easy to make costume, is always a winner. Get inspired by the collection of DIY Old Folk costumes below for your best Halloween costume this year.
Take a look at the adorable toddlers sporting walkers and granny classes. These DIY costumes are a cinch to put together and hugely popular. The costume details are so much fun. For instance, you will see hair rollers and cotton ball wigs for hilarious homemade costume accessories.
In addition, turn this costume idea into a couple or group costume. Check out the awesome old couple costumes here for your own costume inspiration. Also, for a good laugh, you must see the Over the Hill Beauty Queens costume here.
So whip out your pearls and pull on a shawl for the coolest DIY costume you can make this Halloween!
Take a look at these cool homemade NAME costumes shared with us by costume enthusiasts from around the world. Along with the costumes here, you'll also find loads of homemade costume ideas and DIY Halloween costume inspiration for your next costume project. Enjoy!
Latest Old Folk Costumes
---
---

---
Featured Easy to Make Costume Ideas
Costume by Caron R., Lavonia, GA
After struggling with finding a theme that would work for a boy and a girl I came up with the perfect idea! I had so much fun putting these adorable 'Little Old Lady' and 'Little Old Man' costumes together!
My daughter loves to play dress up and my son; well he is bald, has only four teeth and is in diapers so the idea for them to dress up as "Old Farts" was perfect for both! The idea was to gather items that were common to older folks and have the patterns of the clothing 'tastefully mismatched' as you tend to see on occasion!
This was my supply list: Old Lady: Hat, shawl, glasses, blouse, skirt, pantyhose (that were too dark for her skin tone), costume jewelry, cane, pink blush and lipstick and oversized purse. Old Man: dress shirt, jacket, sweater, vest or cardigan, bow tie, glasses, hat, pants, argyle socks, shoes, bushy eyebrows and mustache and newspaper.
I bought almost all of the pieces at the thrift stores such as Goodwill and Habitat for Humanity so the prices were very affordable! I found the cane at the dollar store! Other pieces (such as my daughter's hat and costume jewelry) were sentimental because they belonged to grandparents and great grandparents. I managed to make both costumes.
These costumes are also very comfortable for the kids and are perfect for the cooler temperatures. I hope you enjoy these costumes!
Total Spent: $20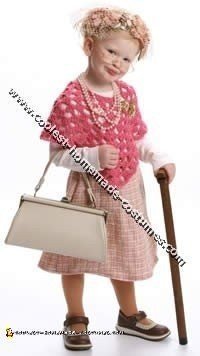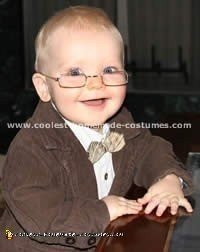 Granny Got Back
Costume by Koreena F., Broken Arrow, OK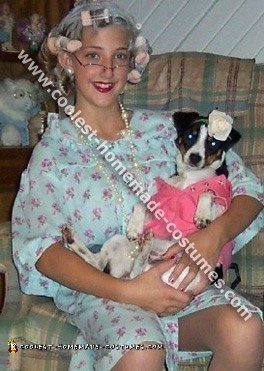 Being 12 you can't dress up anything too risky or too revealing. So humor totally makes up for it. I decided to be something out of the ordinary and so, as you can see in this Halloween image, I became a grandma!
It was easy. You get a moo-moo or a silk nightgown.
Then you have to have a C or D size bra on hand, you stuff each cup with a pillow (yes I said a pillow!), and then you stuff two in your butt to make them stay. You have to wrap two belts around them coming to the front of your waist.
You then get a fanny pack and strap it on. For hair you have to get silver hairspray and have some curlers handy (or you can put your hair in a bun).
Put you hair in the curlers first and then spray silver. To top that off you sprinkle white baby powder over your head!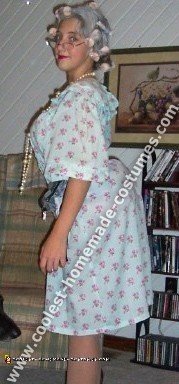 Add fake pearls and big earrings. If you have some extra glasses then put them on the end of your nose. And don't forget the really dark lipstick!
Total Spent: $10-15
Fun Old Lady Costume
Costume by Tracey P., Harrisonville, MO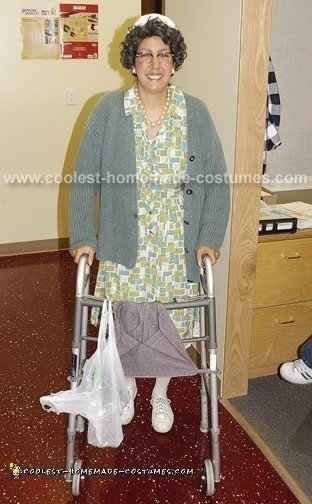 I buy items at auction to resell and you never know what I'll bring home! You can find these items at a thrift store. I looked around my house for items that would create a good costume. My motivation was wanting to win the contest at work!
I had a 40's dress, salt/pepper wig, 40's hat, a walker, old glasses and some old costume jewelry. I added my own white stockings, sneakers, sweater and long slip (to hang down below my dress line although you can't see it in the picture.)
In order to create creases under my eyes, I put on heavy foundation make-up. Then I added lots of cream rouge for my cheeks.
I walked into the office in the morning and went to one of my co-worker's offices. In an elderly voice I asked if the company was hiring. She started laughing and said that, yes, they had openings but they were in assembly and I'd have to be fast!
I won the $50 top prize!
Total Spent: $10