Be the conductor of your DIY costume this Halloween with these awesome Thomas and Friends costumes. If you know a child who loves Thomas the Train, you must check out these incredible homemade costumes. Created with love by people like you, these will bring a smile to your little one's face. So, take a look at the cool construction tutorials for these DIY costumes.
Check out the clever ways for kids to wear these homemade costumes (and fit through doorways!). You can choose to wear or drag your DIY costume train. Browse through the different ways to create the best train costume shape. Best of all, when Halloween is over, you can play with your homemade costume for the rest of the year!
So for your littlest fan, personalize your Halloween costume with one of these Thomas and Friends costumes. Then share your homemade costume with us here!
Latest Thomas the Train Costumes
---
---

---
Featured Costumes
Thomas the Train Halloween costume by Judy L., San Francisco, CA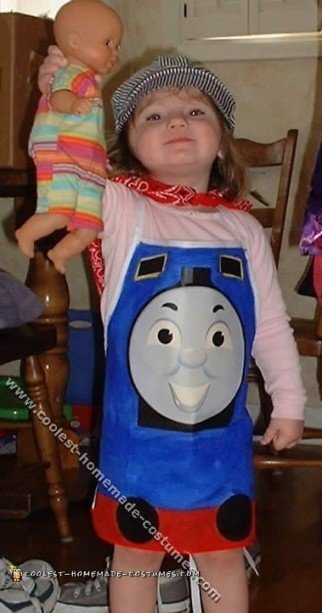 Once I decided my two year old daughter would enjoy being Thomas the Train for Halloween I started searching the web for a Thomas the train Halloween costume idea. The store-bought ones were okay but I know there is always the risk that a toddler won't actually wear a costume if it feels too foreign so I wanted it to feel more like her regular clothes. Plus I always appreciate homemade costumes more.
Making the Thomas Costume
I landed on this website and found some great ideas although most of them consisted of wearing a box which I knew was out for my picky toddler. One suggestion linked me to a website where I could print out my own train face. So that led me to thinking about special printer paper I'd heard of that allowed you to create your own iron-on designs.
Target had the paper for about $1 a sheet (package of 10 sheets = $10). In browsing the craft stores I found a plain white canvas apron for under $5. So at home I cut the adult-sized apron down to fit my child using red colored electrical tape to finish the edges. I then printed out the train face on the iron-on paper, cut it out and ironed it on the apron and then used regular acrylic craft paint to paint the rest of the apron. I also used a basic drawing program (Microsoft Word) to create the big round black shapes you see at the bottom to make it resemble other pictures of Thomas.
Hat and Scarf
We had the conductor's hat and scarf from a recent trip to visit the traveling Thomas exhibit but they are available at craft and party stores for a couple bucks (I used BirthdayExpress.com $3.49 for both). Finally I dressed my daughter in black pants and a red turtleneck and she was so excited to show off her great Thomas the train Halloween costume to all her friends!
Total Spent: $10
Amazing Thomas the Train Halloween Costume
Costume by Jenny H., Wheaton, IL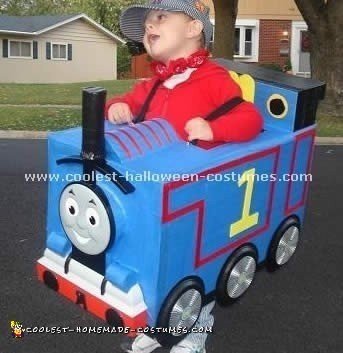 My three year old is obsessed with Thomas the Train so of course I had to make him the ultimate Thomas the train Halloween costume! I took a cardboard box we had and cut out the middle opening for him to stand inside. Then I took the Thomas face off his toy chest that he already had and attached it to the front of the box with screws. Next, I extended Thomas's pipe with a cardboard toilet paper holder covered in black duct tape.
Using Painter's Tape
Then I covered the whole thing with blue painter's tape (we had a ton of the stuff laying around as we had recently painted our home). You could just as easily paint the box blue. Then I took a narrow shoe box to make the back part where Thomas's whistles are and covered that in black duct tape. I attached it with hot melt glue.
I purchased the yellow foam for the number "1" and whistles from the craft store for about $2. The wheels are paper plates spray painted black and the silver "rims" are actually plastic cross stitch circles from the craft store spray painted silver.
The red lines are ribbon cut to size and hot melt glued on. I used the empty cardboard ribbon holders cut in half to make the buffers on the back of Thomas. Then I covered them in black duct tape and hot melt glued them on. In addition, I bought black nylon straps from the craft store and attached them with screws and washers.
It took me about five hours to make this Thomas the train Halloween costume. It was worth every second to see my son's face when he saw it!
Total Spent: $20
Funnest Undergrad Thomas the Train Costume
Costume by Christine B., Sean C., Santa Clara, CA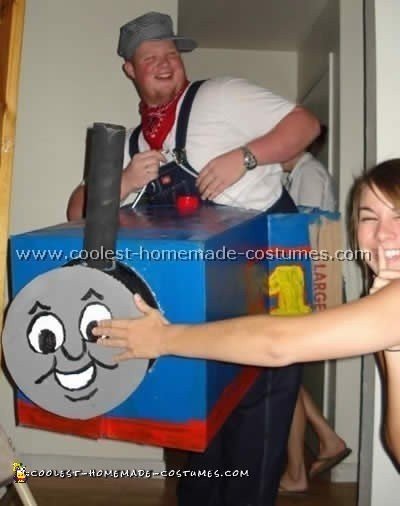 When I was young I was a huge Thomas the tank engine. My sophomore year in college I decided I needed to have a great idea. I thought of my childhood and sure enough I came up with Thomas the train Halloween costume. Since I am a large guy I took two boxes a glued the flaps together to make it one box. I then took spray paint and painted the box.
I took acrylic paint to make the lines and Thomas's face. For the face I used a circular cardboard cutout and panted the face. Then, I used a bowl to attach to the box and a paper towel tube for the smoke stack. In order to keep the box up, I used rope.
This is a great idea and my friends say it was the best costume they have ever seen.
Total Spent: $60
Awesome Homemade Thomas the Train Costume
Costume by Christine B., Sadsburyville, PA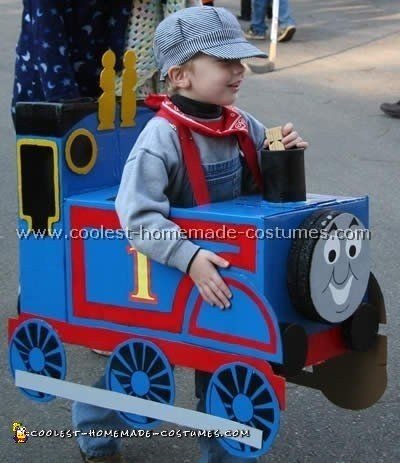 So my son is literally obsessed with Thomas. And I figured that there had to be another option out there than those Thomas Polyester suits. So working in a manufacturing plant I started looking at all of the excess cardboard on our shipping dock in a new light. I knew there was a Thomas the train Halloween costume out there somewhere.
Then I found your website. And it was like the angels trumpeted! I was officially going to become my son's hero for all eternity if I could pull it off.
Constructing Thomas
First I found the two boxes. Next was the cardboard tube for the smoke stack which is the inside roll to a roll of industrial shrink wrap. I borrowed a utility knife from work and some black spray paint. (I made sure to return it too!) Next I set off for AC Moore. I bought three tubes of Cerulean Blue Acrylic Paint, a small bag of glue sticks and some 3" Styrofoam disks for the buffers and two 9″ disks for the face.
I had a glue gun at home along with yellow and black and red acrylic paint. The rest was simple. I painted the boxes blue – twice. Then I cut out most of the add-on features like the wheels, the windows, the whistle, the bar attached to the wheels and the red fender along Thomas's side. I painted all of these pieces and let them dry.
The assembly of this Thomas the train Halloween costume was real easy. A glue gun totally kept all of the parts attached. Although the pictures do not show it, I attached the train to my son much like the photos already featured on your page. I had some Velcro at home and some fabric straps which I then used almost like suspenders. The tacky Velcro was attached in four spots beneath the opening of the box. The softer Velcro was attached at both ends of the two straps. It held wonderfully.
Total Spent: $25
Adorable Thomas the Train Halloween Costume
Costume by Kate T., Irvine, CA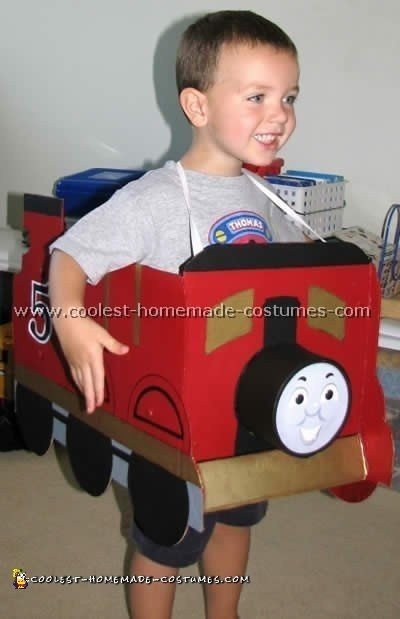 Although my son loves Thomas the Tank Engine he had his little heart set on being "James the Red Engine" for Halloween. I used the same method from your website described to make a Thomas the train Halloween costume taking a small box and attaching larger pieces of cardboard to the box with large brads (or paper fasteners). In addition I used hot glue to make it secure. I changed the shape of the sides a little to better match James' curves; and just used acrylic paints: red, black, white and metallic gold to paint on his design.
The head-portion of the train is an oatmeal canister cut to size and painted black.
Finally, for James' #5 I just printed up a Times New Roman enlarged number, cut it out leaving a white border and glued it on.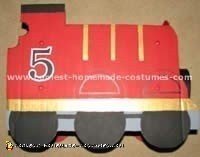 My son is thrilled with his Thomas the train Halloween costume and can't wait for Halloween!
Total Spent: $10
Trembling Tracks!
Costume by Bill M., Vancouver, WA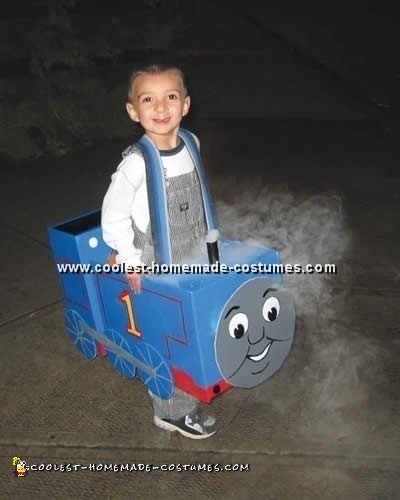 All we needed for our Thomas the train Halloween costume was a total of two cardboard boxes. They were actually held together with a couple of short bolts with big washers. The box in the back is upside down because the bottom had a fold-lock style bottom that was perfect for catching candy! Everything is hand painted from all the Thomas pictures you could ever want available on the internet. Hot glue holds it all together.
There's one blue LED inside the smoke stack. The smoke stack could be anything…like a toilet paper core or something. Just underneath the smoke stack I bolted the lid of a medium size mayonnaise jar. While we were out I could reach underneath the box, twist off the jar, put another piece of dry ice in it, more water and screw it back in and go! Have fun in your Thomas the train Halloween costume!
Total Spent: $15
Awesome DIY Costume
Costume by Lisa P., Great Falls, MT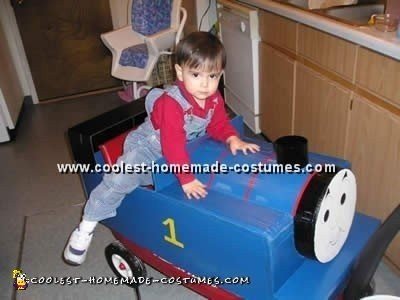 We used a large cardboard box that we picked up for free at Home Depot and our son's radio flyer wagon to create our Thomas the train Halloween costume.
A plastic 5 gallon bucket was used to form the curved shape up front and the box was cut away to form a curve to support the bucket. We used a gift box and sharpie marker to do the face. It was all taped together with the aluminum type tape used on heating and air conditioning ducts (for strength).
After it was assembled it was taped off and painted with spray paint. Remember to get the kind of spray paint that can be used on plastic to paint the bucket. The only items we had to purchase for the Thomas the train Halloween costume were the cans of spray paint.
The red stripes and yellow number were painted with acrylic craft paint. For added effect we dressed the conductor in striped overall red bandana and striped cap (which he would not keep on) and I purchased a Thomas iron patch and ironed on the front of the overalls.
Total Spent: $8
Wobbling Wheels!
Costume by Sarah D., Binghamton, NY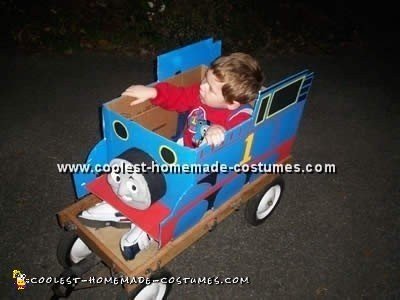 My Son LOVES Thomas the Tank Engine and one day I was surfing the web and came across this site. I saw an idea for a Thomas the train Halloween costume and I just had to try it!
I used a cardboard box as the base. For a model, I used one of my sons many toys. Then, I sketched Thomas onto foam core board then used tracing paper to transfer the image onto another piece of foam cardboard. (Make sure you flip the tracing paper over before transferring so you don't have 2 of the same sides!)
Painting Thomas
I painted the trains (and everything else) using acrylic paint. I took my son's toy to the craft store to pick the perfect colors.
Because I couldn't find a shipping tube like the original costume idea so I took Styrofoam discs and glued them together. Instead of paper Mache I used sculpt clay for Thomas's face (makes for a great face but it makes the costume very heavy). I did attach nylon straps as the original costume had but my son is a brut and they didn't last 5 minutes. (That's why he tricks or treated in a wagon dressed as Thomas!)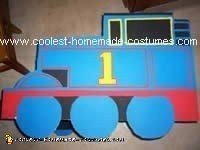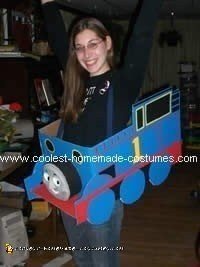 I recommend getting rid of the middle (longer) cardboard flaps and cutting down the others to size according to the size of your foam board. (I never got rid of all the extra cardboard and that also had to do with the straps not holding…way to heavy!!!) The core board was glued on with a hot glue gun and I also attached the face with the hot glue.
The remaining flaps were all hot glued to the core board instead of taped as in the original costume idea.
This Thomas the train Halloween costume was a HUGE hit. As a result, his costume was the talk of the neighborhood! And now it's his favorite toy!
Thanks for the GREAT idea!
Total Spent: $20
Cool Homemade Thomas and Friends Costume
Costume by Ann D., Seattle, WA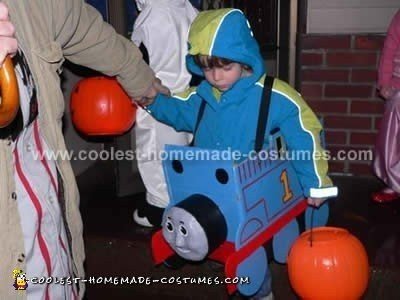 My nephew loves Thomas and I offered to make him Thomas the Train Halloween costume. It took me a while to think of how to make it come together but first I did a lot of image research to find pictures of Thomas online. My nephew also let me borrow one of his toys to use as a model.
I used a cardboard box as the base structure and taped up the flaps. The sides I drew on tracing paper after doing some sketches and used that as the pattern for both sides which I transferred onto foam core board. I cut down a stiff shipping tube for the front and then used papier mache to sculpt the face.
Everything was painted using acrylic paint. I bought some nylon strap material at the fabric store and some paper fasteners. Then, with the paper fasteners I attached the sides to the box carton (using an x-acto knife to precut holes). The fasteners also fit through the nylon strap material so I was able to adjust to fit at his house on Halloween and just attach them there.
The costume was a big hit.
Total Spent: $10
Cute Thomas the Train Halloween Costume
Costume by Michele N., Ft. Myers, FL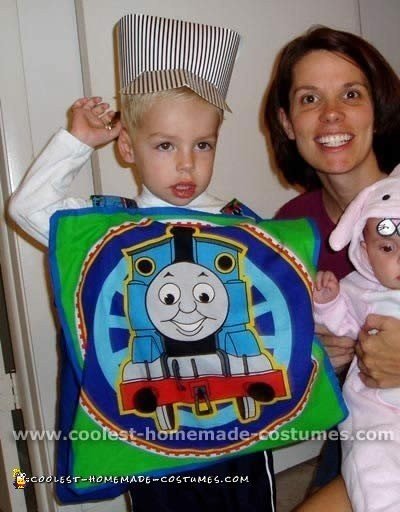 My son wanted a Thomas the Train Halloween costume but it was so hard to find an easy or inexpensive one, and so I decided to create my own. I found some great pillow fabric and made two pillows with very little stuffing- used some of the extra fabric for the shoulder straps.
I dressed him in simple blue pants and a plain white shirt, added a paper conductor hat I found at the local toy store and he was a "Train driver". It turned out great, easy and inexpensive plus when he was done I stuffed the pillows and he uses them everyday while reading books in his room.
Total Spent: $20