The colorful 80's icon is back and more dazzling than ever. Embrace her vivid look with these super fun Rainbow Brite costumes. Take a look at the collection below of the best homemade Rainbow Brite costume ideas you can make for Halloween.
Who knew Rainbow Brite's shiny blue dress was so versatile? You will see so many convincing homemade costumes below that come in all sizes. They come with amazing DIY costume tutorials so you can easily make them at home.
While this is an adorable DIY costume idea for a child, it's even better for a nostalgia-filled adult. If you had Rainbow Brite dolls and assorted paraphernalia as a child, you will absolutely love these homemade costumes.
In addition, you can turn this into a couple costume with a happy Sprite costume companion. Also, you will see example of people who have created amazing costume accessories such as a candy bucket Sprite.
So brighten up your Halloween with these awesome Rainbow Brite costumes!
Latest Rainbow Brite Costume Ideas
---
---

---
Featured Costumes
Costume by Shareena J., Cincinnati, OH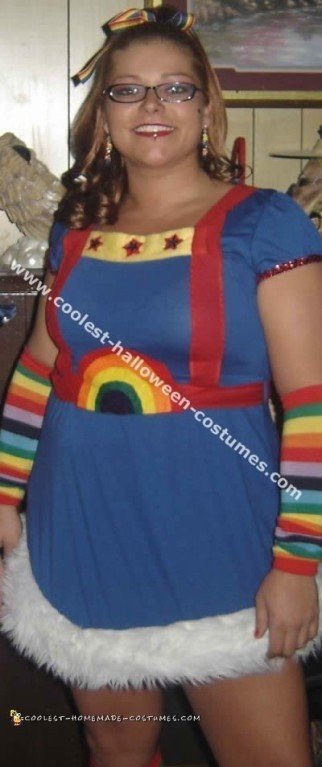 My costume idea I thought about when I was little and my mom would make our Halloween costumes. I thought about how she always came up with the best costumes using what she had at hand. Rainbow Brite was one of my favorite cartoons as a child so I decided on a Rainbow Brite costume.
I bought the blue dress and shoes at Gabriel Brothers. The red ribbon I used to make the suspenders and belt was something we had lying around along with the fur that lines the bottom of the skirt. I purchased boning to make the skirt stick out a bit from a fabric store. The felt used to make the stars and the rainbow on the dress. The ribbon in my hair was from Wal-Mart. My earrings and ring came from Claire's. The knee highs and armbands came from a previous costume.
Total Spent: $25
Costume by Kathy H., Oregon City, OR

I had the idea for Rainbow Brite costume because it was one of my favorite cartoons when I was little. I don't have any sewing skills so I knew I was going to have to depend on what I find at the thrift shops. I found a cheerleader skirt and a blue t-shirt at one, the rainbow sweater suspenders and red belt at another and finally the boots and a fur scarf for the trim at another.
All in all I went to about six stores in two days (I didn't find something at every store). I then went to a craft store and purchased craft foam to make the rainbow belt buckle. I took me less than an hour to hot glue everything together. I ended up winning "best female costume" for the party I attended. The boots were a rare find that I can't expect everyone to come across so I would suggest finding some old snow boots and getting craft foam and gluing the rainbow stripes on there.
Total Spent: $20
Costume by April C., Ottawa, Ontario, Canada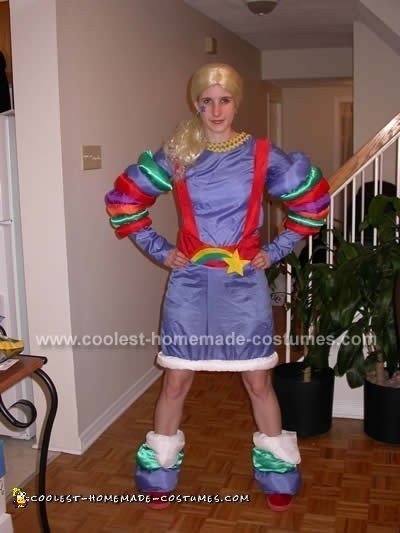 This is Rainbow Brite. I loved this cartoon as a kid and had wanted to create a costume for some time. This costume actually took a few years since I have no sewing experience and after I broke the sewing machine had to do the rest by hand and glue gun. I had to make a sleeve of each color for the arms and legs, then stuff each one to give it the puffy style just like Rainbow Brite.
I couldn't find red shoes to fit the costume so I had to dye them red. In the end it was all worth it.
Total Spent:$40