While all homemade costumes are unique, DIY wheelchair costumes have captured a special place in our hearts. Made with so much love, these costumes disguise chairs so that the personality of the costume wearer is on display. Making it easier to connect with someone who just happens to be wearing an awesome costume.
So, take a look at the smiles below and read about the incredible families who worked together to create these epic DIY costumes.
1. Cruising Elvis in his Pink Cadillac Costume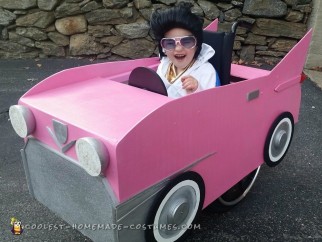 Elvis has definitely left the building in this cool retro pink Cadillac costume.
Allyson said, "While Sam's disease has caused him to lose motor control, it has not affected him cognitively. We visited Graceland earlier in the year and Sam was fascinated with Elvis. He loves Halloween and decided that he wanted to be Elvis this year."
2. Cool Intergalactic R2D2 Costume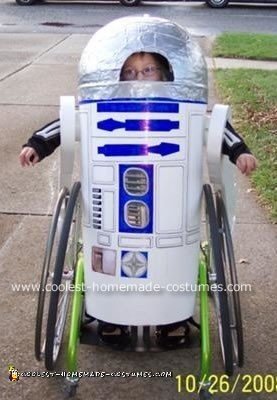 Cheryl writes, "I made this R2D2 costume so that my 6 year old son, who has cerebral palsy, would be the coolest kid in elementary school for the parade. I am pretty sure it worked."
This was definitely the droid costume she was looking for.
3. Coolest Casino Dealer DIY Costume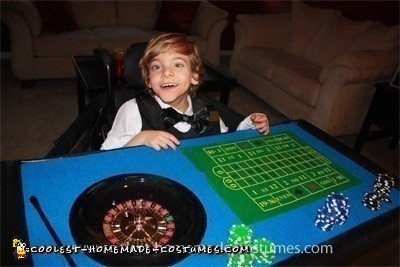 This roulette wheel actually spins! Take a look at this interactive costume which easily invites others to approach and meet someone new.
4. Awesome Batmobile Homemade Costume!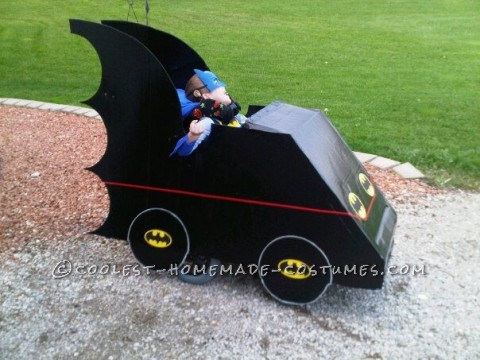 Holy Batman! This is one seriously impressive Batmobile costume. But even better is William's smile. Take a closer look at this awesome costume to see the joy plastered across his face.
From William's mom, Jennifer: "When we went outside and put his Batmobile costume over his wheelchair his eyes lit up! He was thrilled to go from house to house with his siblings showing off his one of a kind costume! Everyone we saw loved it and now the problem is we have set the bar pretty high for what we will do next year!"
5. Original Wrestling Ring Costume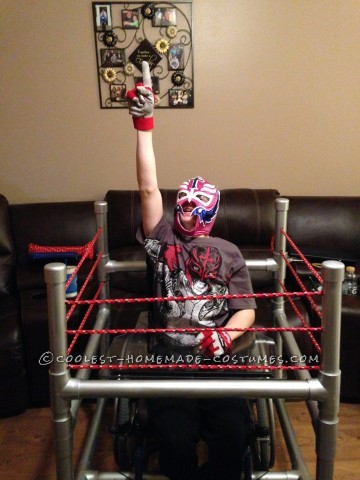 Check out more pictures of Chris as the star of the trick or treating at Seaworld Orlando with this wrestling ring costume. Chris's Dad, Gary, wrote the following:
"All of the employees that worked there told him it was the best that they had ever seen. Other park guests were asking to take pictures with him and giving him high fives. All the attention was making his head so big, I was not sure that we would be able to get the mask off. He was in heaven and now he can not wait until Halloween so that he can show his ring off again."
6. Homemade Funny Wheelchair Costume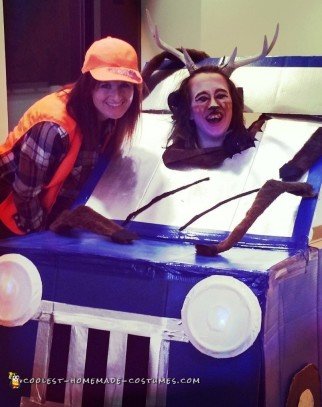 This hilarious deer-crashing-through-a-car costume was a major hit on Halloween. Read the detailed instructions to create this funny costume.
Janine wrote about her daughter's costume, "The final result was more than we could have hoped for. She loved it and all the attention from everyone who saw her. She received tons of complements on her homemade funny wheelchair costume, from parents and trick or treaters, especially all the older kids. Really awesome to remind people that all kids can love and enjoy Halloween and dressing up!"
7. Simple and Fun Couple DIY Wheelchair Costumes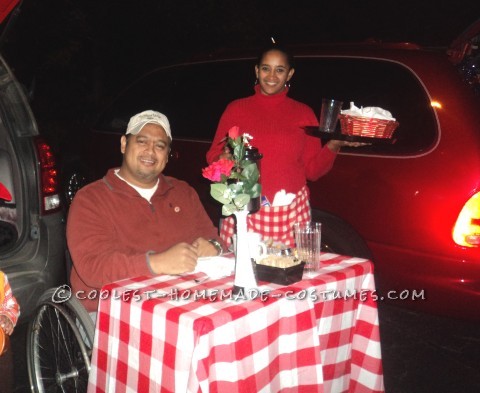 Use a wheelchair as a creative prop for a fun couple costume. Also, this homemade costume was pulled together very cheaply!
Yvonne said, "This was our first Halloween dressing up together so I wanted to do something unique and it worked!"
8. DIY Pacman and Family of Ghosts Halloween Costumes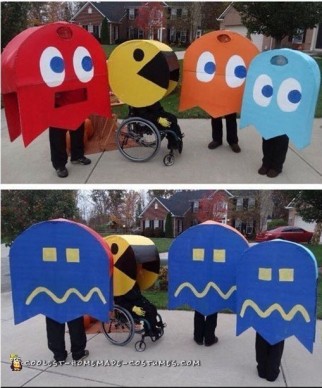 The whole family joined in on this Pacman themed costume and got amazing reactions from the entire neighborhood. A message from Jennifer: "So many people tell me I'm super creative and that they'd never be able to do something like this. But I say anyone can do it – you just have to have the patience and the desire."
9. Adorable Hello Kitty Car Costume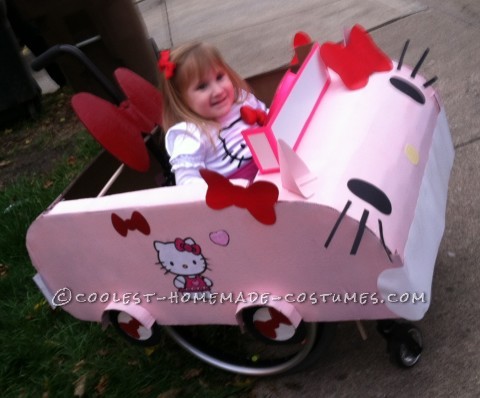 Like all awesome homemade costumes, this one was a family effort. Kinley's fantastic personality was able to shine in this unique Hellow Kitty car costume.
Casey writes, "Kinley was born with Spina Bifida, the most common permanently disabling birth defect in the U.S. She is so determined and she has proven to us that Spina Bifida does not define who she is so we want the world to see that too. She is a happy, loving, ornery, smart, and active little girl. And for trick-or-treat night, her wheelchair was no longer the point of focus for those who saw her – now it was a very cute and creative Hello Kitty car costume! The smile on her face and sparkle in her eye are what it's all about."
10. Little Girl Becomes a Princess Costume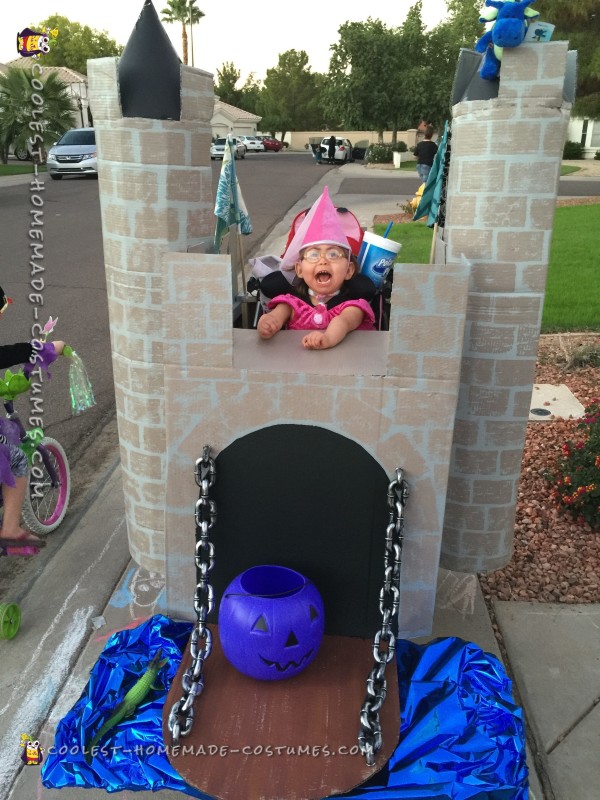 This super original castle costume looked even more impressive in real life. Charlie Dawn's mom, Heather, said, "We couldn't walk more 2′ before being stopped for a photo op!"
11. Awesome Homemade Drummer Costume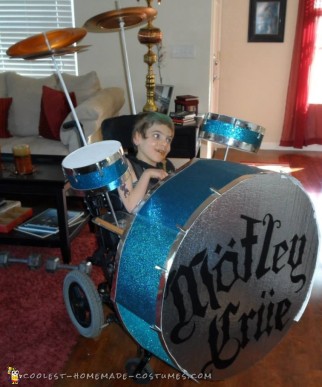 The details on this drummer costume are just incredible! We love DIY wheelchair costumes that bring out the inner rocker in all of us.
12. Carly's Cop Car Wheelchair Costume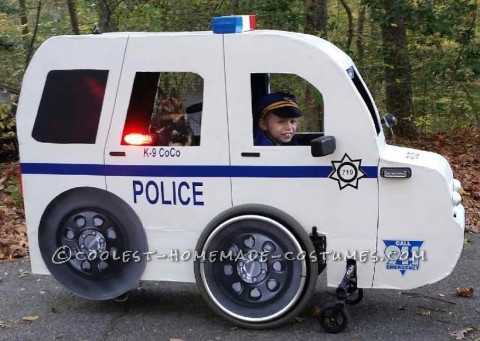 Christie says, "Halloween costumes are always a challenge to come up with for my daughter Carly who happens to be in a wheelchair. Not a challenge due to her being in a wheelchair but a challenge due to countless hours of deciding what the next awesome and fun costume that she loves will be."
We think she picked a winner with this police K9 SUV costume!
13. Awesome Toothless and Hiccup Costumes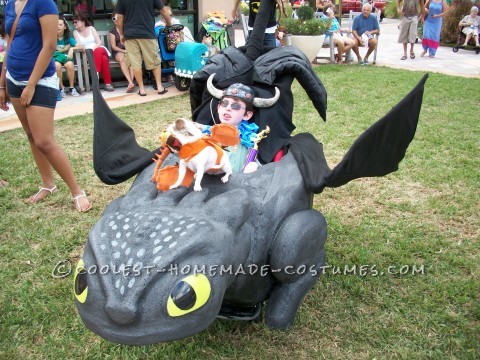 Karen and Sean have created the most epic costumes for their son, Connor. We love that they shared all of them on this website! We are in awe of this "How to Train Your Dragon" costume and equally love their other DIY wheelchair costumes which you can find here, here and here.
In addition, there are amazing organizations like Magic Wheelchair and Walkin' & Rollin' Costumes which make DIY wheelchair costumes free of charge. In Karen's words, "It brings me so much joy to see people reaching out and touching these kids…giving them that one time of year they get all positive attention. It brings joy to the kids and joy to the onlookers that get to see these incredible costumes."
You can check out even more wheelchair costumes, and the loving families that created these masterpieces, here.