Take a look at these cool homemade Cotton Candy costumes shared with us by costume enthusiasts from around the world. Along with the children Halloween costumes here, you'll also find loads of homemade costume ideas and DIY Halloween costume inspiration for your next costume project. Enjoy!
Latest Cotton Candy Costumes
---
---

---
Featured Children Halloween Costumes
Costume by Michalyn R., Akron, OH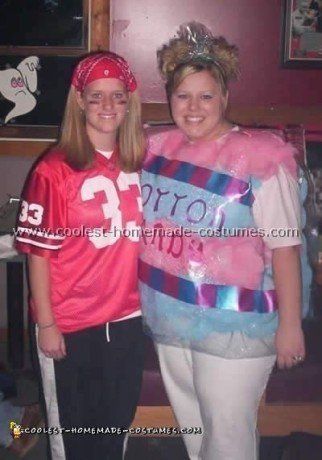 I wanted to be something very creative for my aunt's annual Halloween part at her bar. I looked through other children Halloween costumes and somehow I decided to be a bag of cotton candy. To make the cotton candy I bought a bag of poly-fill blue and pink spray paint. I painted pieces of the poly fill blue and pink. Once it was dry I hot glued the colored poly-fill to a t-shirt I already had at home.
To make the bag I bought clear vinyl from my local Wal-Mart. I bought two yards. I then folded the vinyl in half and cut out a hole for my head. I put a string in the bottom of the bag so I could pull it tight to my body. To close up the sides of the bag I made sure there was enough to go around me and then hot glued the sides together to form the bag. For the design on the bag I bought some paint pens and wrote cotton candy on the front (back of bag was blank).
Finally to make the top of the bag I scrunched together a scrap piece of vinyl, tied it with a string and attached it to a headband. I just wore some white pants I had at home. Tip: I put the shirt with the cotton candy on it inside the bag first then put the shirt and the bag on at the same time. I got lots of compliments on this costume. I won most original at the Halloween party (my husband went as a cotton candy vendor and sold real bags of pink and blue cotton candy.
Total Spent: $20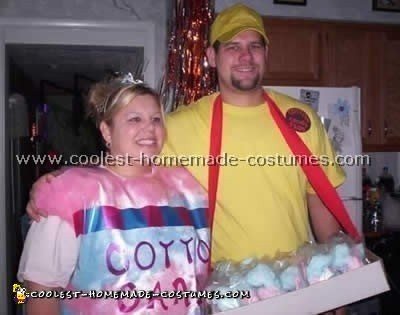 Costume by Wendy A., Bardstown, KY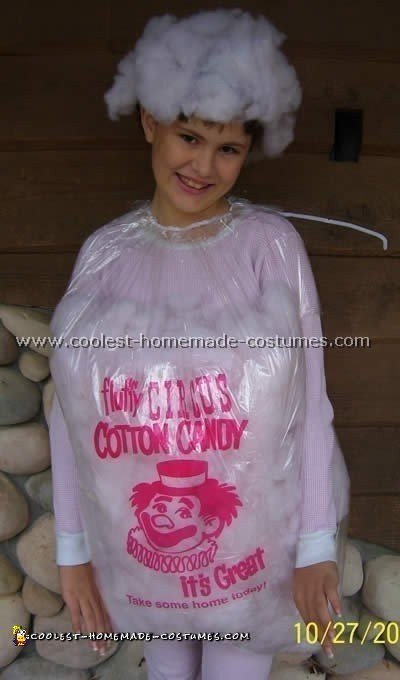 This was one of the easiest children Halloween costumes that I have made. With four kids and no money I have to come up with ideas that my kids will wear and that don't cost a lot of money. I went and bought a clear plastic bag at the local dry cleaners. I reinforced the bottom and sides with some clear packing tape then cut holes for her legs and arms to go. Then I took an empty bag of cotton candy and cut the front out and simply taped it to the front of the bag with clear packing tape and to make it more interesting.
I also cut the ingredients off the back and taped that to the back of the costume. I bought some stuffing and some pink dye. The stuffing is hard to dye but I just put all the stuffing in the washer along with the dye and let it set for a couple of hours (don't rinse the dye just put the washer on spin). I then put it in the dryer for a few minutes (just watch it closely) and it came out a pale pink color. I think that if I would have bought two packages of dye it would have been better but my daughter was happy with the pale pink.
She wore her pink long johns with this. She stepped into the bag and I stuffed it with the pink stuffing. Then I brought the bag up around her neck and used three pipe cleaners (hooked together) for the "twist tie". I couldn't hold the bag up with the pipe cleaners without getting it too tight and choking her so I put the pipe cleaners around her neck and pulled the bag down over them and taped them with clear packing tape.
Then for the final touch I bobby pinned some of the stuffing in her hair. This made such a cute costume and I got a lot of compliments from people. This costume took less then an hour to make.
Total Spent: $5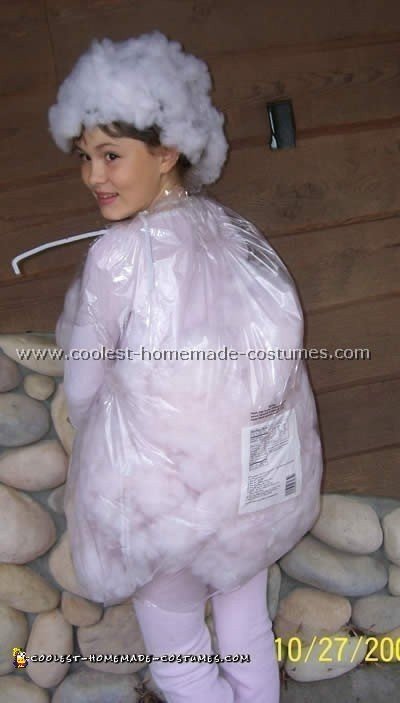 Costume by Denise S., Yakima, WA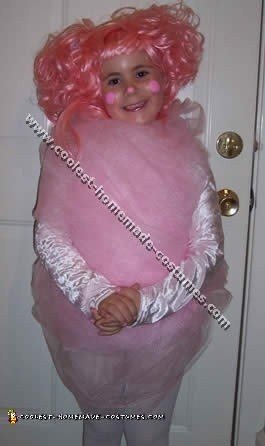 My daughter wore her ballet leotard and tights. I wrapped her in pink tulle and added a pink wig and pink cheeks. The best part was that we sprayed cotton candy perfume on her so she had the nicest smelling costume out of all the children Halloween costumes at the party. Everyone was coming up to her to smell her! She had a ball!
Total Spent: $15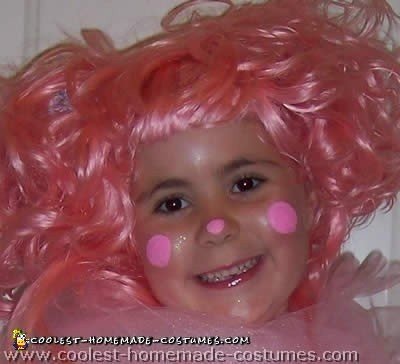 Costume by Kim T., Walled Lake, MI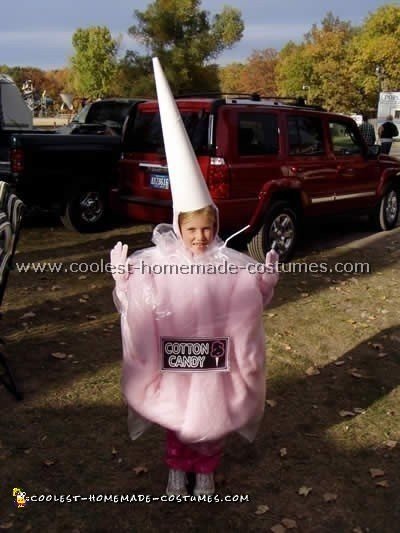 My daughter wanted to win a costume contest and the competition for children Halloween costumes is fierce at the campground we stay at for Halloween. She decided on cotton candy and we went to work.
I bought the cheapest batting I could find and dyed it pink with Rite dye. I used a clear lawn/leaf bag and cut two leg holes in the bottom securing the holes with clear packing tape so the bag would not rip when she walked. I dressed her in a pink sweat suit and put three long pipe cleaners attached together loosely around her neck to secure the bag in place. We put a piece of poster board on her head like a dunce cap for the cone and put holes for the arms on the side again secured with clear packing tape.
I found a clip art on the internet, blew it up in color and put it in clear page protector and then taped it to the inside of her bag. She won two ribbons that year and stayed warm and dry while trick or treating. It was also very lightweight when walking from place to place to trick or treat.
Total Spent: $15