Making this cotton candy costume with tutu and corset  is actually a lot easier than it seemed like it would be. It's a little tedious, but I promise you, people will not forget how awesome you look. I even had a couple people ask if I had real cotton candy on my tutu! It would have been hilarious if people could have picked cotton candy off my skirt all night.
I tried to make this costume a good middle ground between something super short and risqué, and something that you couldn't feel cute in. Of course, you could always make the tutu shorter and add some stockings if you want to make it a little sexier.
To finish off the look I curled my hair and added some pink and blue eye shadow  Although I've never seen anyone in a cotton candy costume, everyone knew exactly what I was supposed to be and loved how cute it was.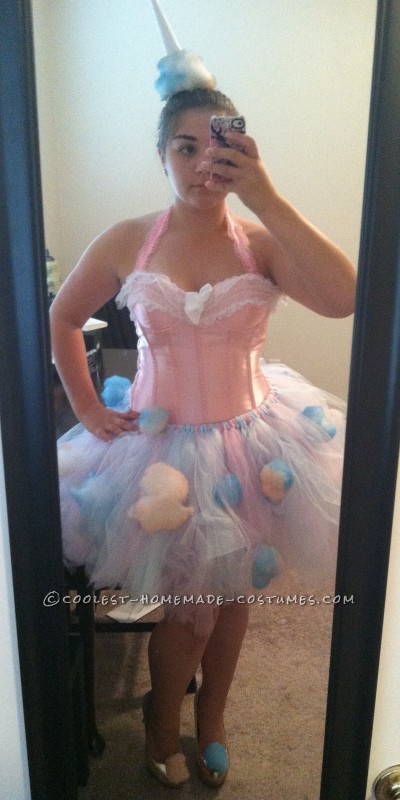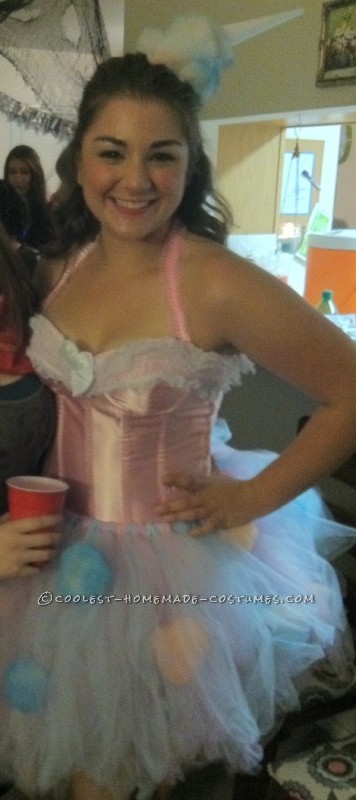 Making the Basic Tutu
To make the basic tutu you are only going to need:
Elastic band
Blue and Pink Tulle
Needle and thread
Scissors
Start off by measuring around your waist and cut the elastic to fit the length you need. Hand sew the two ends together to create the waistband. Try it on to make sure it fits!
Next, measure from where you want the waistband to sit on your hips to how long you want your tutu. Double this measurement and this is the length of tulle you will need to cut. I bought 6" spools of tulle from my local craft store in baby blue and bubblegum pink. You can always do one color or the other, but both really make it look like Cotton Candy. I used around 3 spools of each color, so be sure and buy more than you think you'll need and return what you don't use. Don't underestimate how much tulle you will need like I did or you will become a familiar face at the craft store that day.
I cut off strips of tulle in batches as I went along because I wasn't quite sure how much I would need. It will vary for everyone so just cut a bunch and when you run out, cut some more.
Next you are going to start tying strips of tulle to the waistband and I found it to be easier if you put the waistband around the back of a chair while doing this.
Fold your piece of tulle in half and put the loop behind the elastic with the loop facing down. Then pull the rest of the tulle through the loop and tighten to a pretty knot. Continue doing this, scooting the pieces of tulle close to each other, until you have a full tutu with no empty spots. I alternated colors doing 2 pink, 1 blue, 1 pink, 2 blue, but you can do it however you like.
You can find video tutorials on how to make a basic tutu, on YouTube.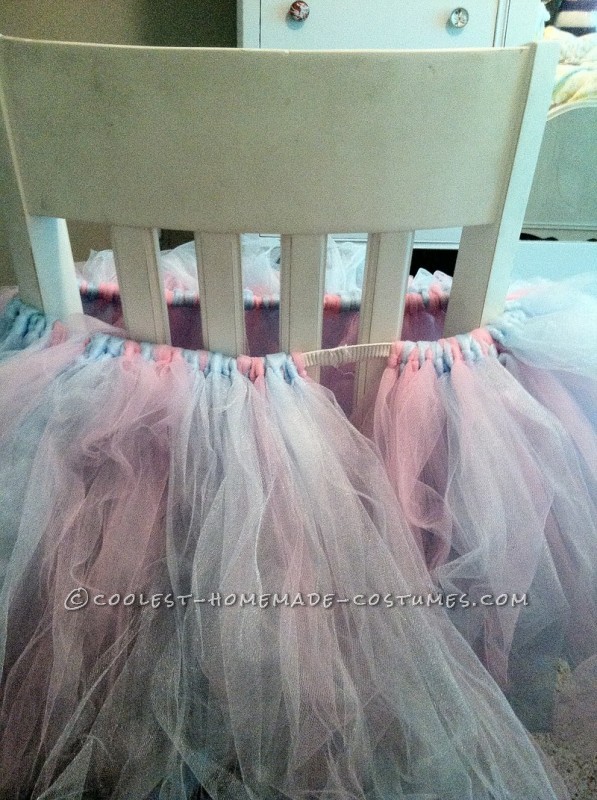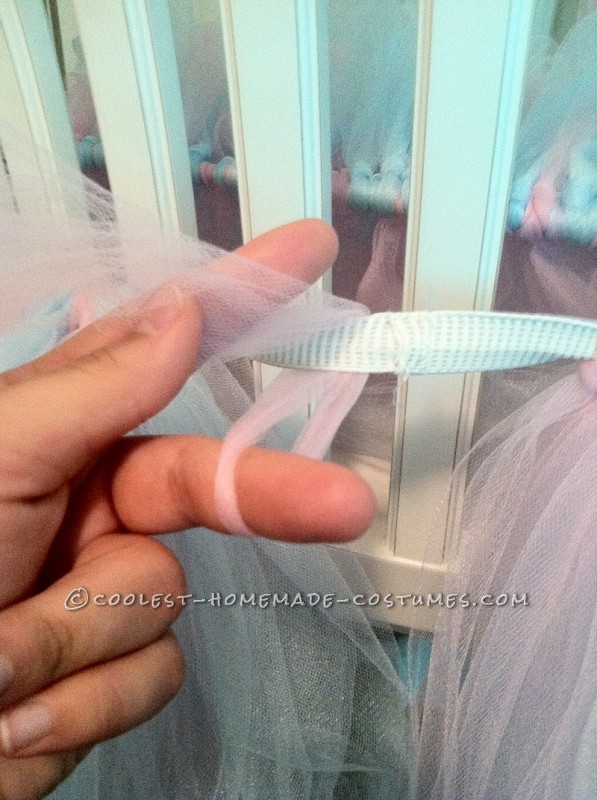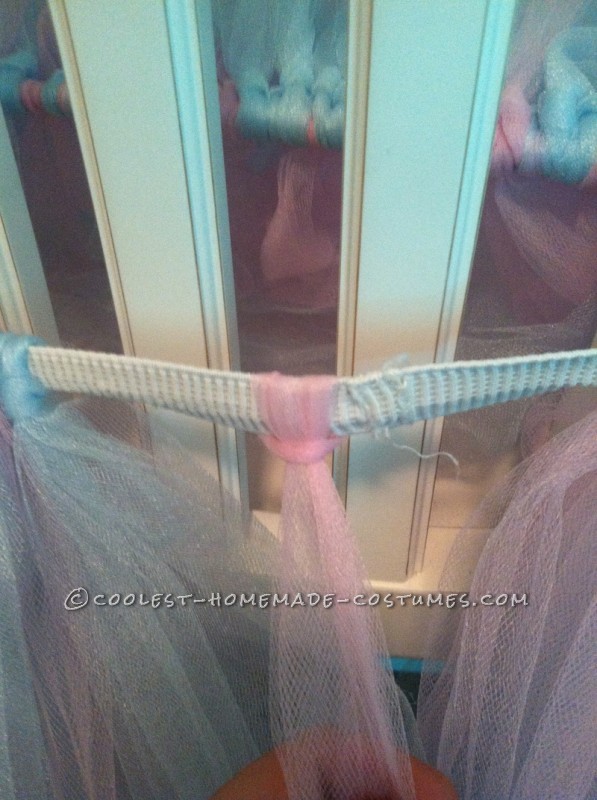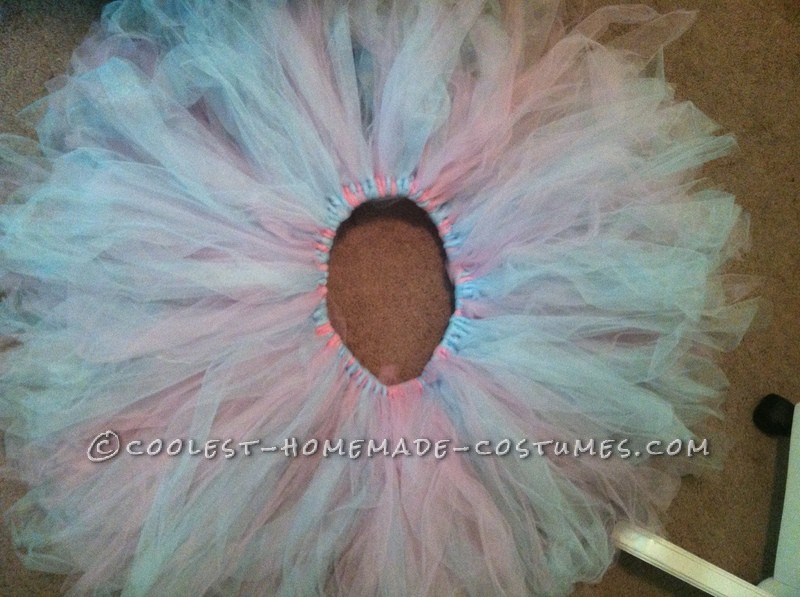 Making the Cotton Candy Balls
To make the cotton candy balls attached to the tutu, shoes, and headpiece, you will need:
1 Bag of pillow stuffing
Pink and blue spray paint
Hot glue gun and glue sticks
Take handfuls of pillow stuffing (you can find this in the fabric section of craft stores) and work them into the shape of different size balls. Take them outside and spray paint them using your pink and blue spray paint. I got the spray paint from Home Depot, but you could get it at Walmart or a craft store. I did several solid colored balls but I also did some with both colors to help enhance the look of cotton candy.
Next you are going to hot glue them to random strips of tulle on your skirt. I just chose random spots and tried to vary the colors around the entire skirt.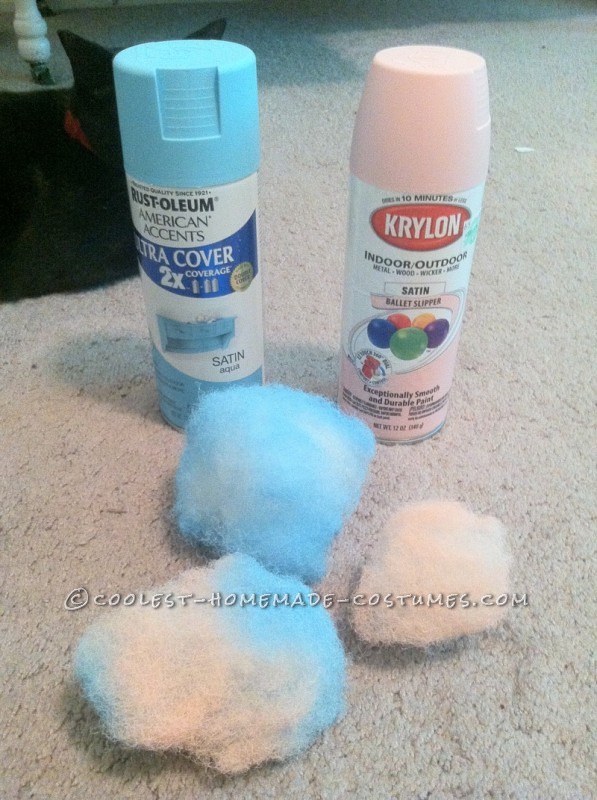 Making the Headpiece and Shoes
To attach the cotton candy balls to your shoes, all you need is a bobby pin.
I stuck the bobby pin through the cotton candy ball and slid it onto the front of my shoes. You could just hot glue it to your shoes, but I didn't want them to forever have cotton candy balls on them.
To make the headpiece, you need:
White Paper
Scissors
Tape or glue
Bobby pins
I rolled a piece of white paper and taped it into a cone shape to look like the stick that cotton candy comes on. Hot glue your paper cone to a large cotton candy ball and use bobby pins to attach it to your hair. You could try and use a small hair clip or barrette in place of the bobby pins, but I just used what I already had at home.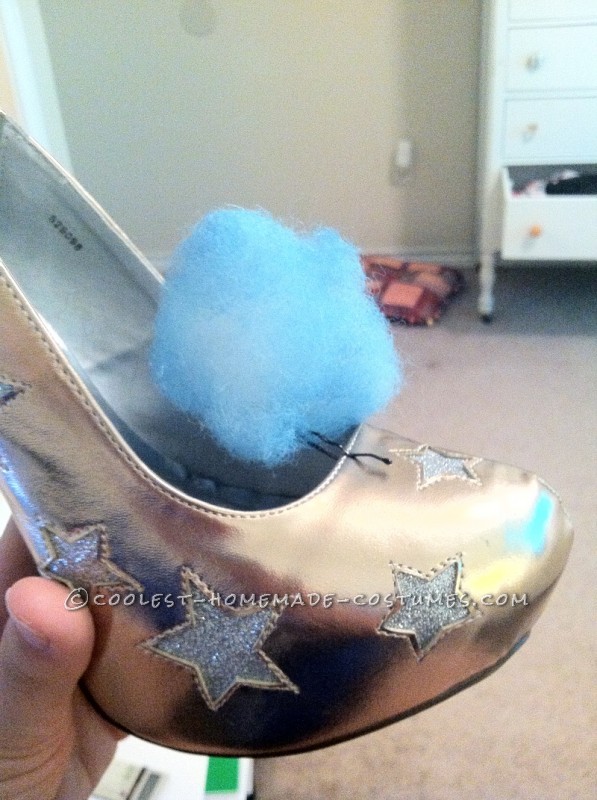 The Top
I chose to purchase a corset for the top of my costume, but any bubblegum pink top that you like could work. You could even just do a pink tank top and attach more cotton candy balls to it.
Their sizing chart is pretty accurate but I would always recommend going up a size if you seem to be in between sizes. You don't want to be uncomfortable. I found that they were the most reasonable price for what I was looking for, and the corset is really well made.
Because I didn't want to be pulling at it all night, I hand sewed a halter strap to my corset using some ribbon that matched. This step is entirely up to you.