This candy witch costume was a ton of fun to design and create! I got to explore my fashion sense, bond with my mother (the Craft Queen), and sew my very first skirt! And to make things extra fun, I counted down the days of October with one small gift to myself each day, just like a Halloween advent calendar. Most of those gifts became something in the costume. So, it was constantly growing and evolving all the way until the end!
Starting from the beginning, I had originally planned to rewear my Merida ("Brave") costume from last year. I wanted to make use of my natural red hair. But, then I found The Wig™ (just a normal wig). It was in storage with my friend's halloween decorations. It was a hot mess tangled up in the string lights. But I immediately fell in love with the length and amazing, vibrant teal color of the wig. My friend let me borrow it, and I began planning a costume around it.
Turning to the Internet for inspiration
So I turned to the internet for inspiration and Katy Perry was thrown into the mix! Her outfit and hairdo from her "California Girls" music video hit a note with me, with all of the playful colors and candy / cakes! I didn't want to completely copy her, instead drawing inspiration from the aspects of the video that I most liked. I've always had a fascination with over the top stuff like that, especially Japanese harjuku fashion (Google it!!!). I got into the idea of making some sort of costume that embodied the pastel goth / decora fashion styles, revolving around candy! While researching candy characters like Vanellope von Schweetz ("Wreck It Ralph") and Queen Frostine / Princess Lolly (Candyland Boardgame), I remembered the Grimm Fairytales story of Hansel and Gretel and was struck with the idea of being a candy WITCH! That's where the ball really got rolling.
More research later, I finally decided on a look that felt a bit like Glinda the Good Witch ("Wizard of Oz") if she went evil and started eating Munchkins. A sweet exterior with creepy details, like long scary nails and fangs. With that cute / creepy combo in mind, I made many trips to Walmart and thrift stores. I even went antiquing! Slowly, I gathered a necklace here, leggings there, and the perfect shoes in the children's section. I assembled a large pile of items by mid-October. I finally had to start putting the costume together, and that's where the hard work began.
My biggest challenge – sewing the candy witch costume tutu!
Out of the whole experience, sewing the tutu was my biggest challenge. Thankfully my mother was over the moon with delight that I was finally interested in a sewing project. She taught me how to use her sewing machine and hand stitch when necessary. A base layer of thick white tulle, covered by a cheap $4 tutu from the Halloween Costume's aisle, covered by 3 layers of pink tulle, covered at last by a layer of sparkly purple tulle and tied up with a 3-ribbon bow! Very intensive… All in all, the tutu took 3 days of intermittent work (mostly due to underestimating fabric amounts for my grandios layering idea and having to go on fabric runs all 3 days).
Tack on one more day just to create the base of the cotton candy witch hat (pink tulle covering a hot pink bath loofa!). And two more days crafting the details like the sprinkle necklace, sprinkle bangle, and matching sparkly cape. With all that, I had almost a full week of work and $140 invested into this costume!! 
If I could do it over again, I'd have made sure to follow a Pinterest tutorial before jumping into my DIY tutu. Also, I stabbed my fingers with needles and burnt them with hot glue SOOO many times. I'd definitely invest in thimbles.
From top to bottom, my costume consisted of a waffle cone to top my handmade cotton candy hat, cabochons from Etsy that I glued to hairclips to bedazzle. There was also the Wig, multiple necklaces and bracelets that I modified to look like candies, a pink bustier top, a cape I made, a glow-in-the-dark magic wand that I modified with a bow and sparkles, Purrsilla (my bubblegum pink cat purse, preexisting), one set of cute press on nails and one set of long witch nails, chocolate brown body paint, a tutu that I made, candy striped leggings, and sparkly pink shoes.
The best part came in the mail ON HALLOWEEN. My white-out contacts that made my eyes creepy like the blind witch in Hansel and Gretel! I was so excited that they'd made it in time! When worn all together, my costume looked better than I had hoped!! Everyone that saw it said they loved it, even though unfortunately the concepts of Candy and Witch didn't often hit at the same time. I got many Candy Queen comments and a few Fairy Godmothers, though the white eyes made most people guess that there was more to it than that. So if I make a reprise of my costume for next year, I'll have to think up a way to make it even more witchy! I did end up winning second place for Most Creative Costume in a local contest.
Thanks for reviewing my harrowing adventure in the process of building a Candy Witch costume! I really hope that you like how it turned out as much as I do!  :)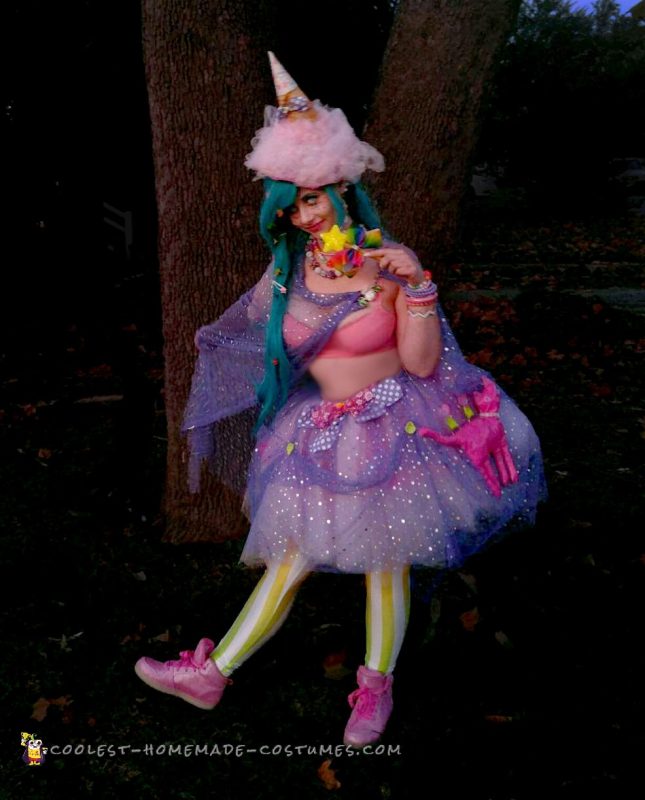 Take a look at lots more DIY witch costume ideas »