Tiny, mighty and full of magical powers, Tinkerbell is one fierce fairy. When it comes to DIY costumes, she is a natural choice. So, take a look a this collection of magically awesome homemade Peter Pan and Tinkerbell costume ideas for Halloween.
Take a magical page from Tink's costume to make her green shimmery dress. Craft the most gorgeous costume wings that would leave even Tinkerbell herself in major envy. Don't have green shoes? Don't worry! Check out the clever hacks to turn your existing shoes into those fit for a fairy. One great idea is to pull green socks over your footwear for an easy and effective costume idea. All you need now is some pixie dust.
In addition, this fancy fairy costume is not just for little girls. Check out the hilarious grown man wearing a homemade Tinkerbell costume.
So, take flight this Halloween with the most magically beautiful homemade costume.
Latest Peter Pan and Tinkerbell Costume Ideas
---
---

---
Featured Costumes
Tinkerbell costume by Donna S., Massapequa Park, NY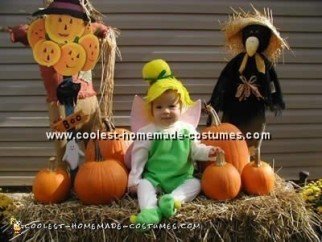 A big thank you to my mother known as "Crafty Grandma" My mother loves Tinkerbell and Erin is her first granddaughter so of course for her first Halloween she had to have Tinker bell costume.
Mom used a basic pattern for a top and pants with feet for an infant. She made the top a little longer so it would appear to look as if it were a dress. When she laid out the pattern she drew the shape of Tinkerbell's dress on the top and little brief panties on the pants along with the bottom of the pants (to look like shoes). She used this to contrast the different color and types of fabric. The fabric used was flesh tone and green felt (1 1/2 yards each). Also yellow felt (1 yard) was used for her hair.
Being a 7 month old mom thought it would be best to make her hair into a hat. Using the flesh tone fabric she used a cap pattern and added ties then sewed the yellow felt in rows to look like wispy hair. To create the bun she used a 4 inch diameter Styrofoam ball with the bottom cut to lie flat and cover it with the yellow fabric. She used leftover green ribbon to make bow in hair and luckily had two of the same color pom poms for her shoes.
For the wings of the Tinkerbell costume, Mom started to make didn't seem to work out as well as she wanted to so she did buy them and adhered them to the costume with Velcro. Great idea when I had to put her in to the car seat.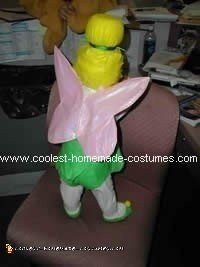 Mom said the costume was simple to sew. It took about 5 evenings to make (she works and sits for Erin). She said she had to be "Crafty" to adjust the pattern to create the illusion of her dress. The costume was made a little bigger so I could put an outfit under if it was cooler.
Thanks Mom!! We love you! Start thinking about next year!!!!
Total Spent: $25
Tinkerbell costume by Melissa S., Springfield, OH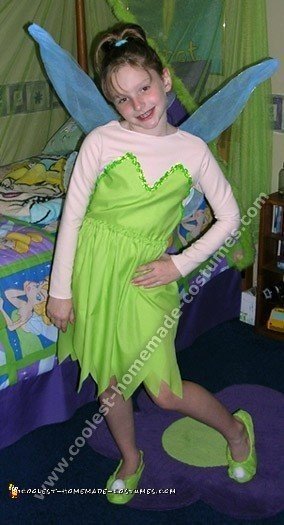 My daughter loves Tinkerbell, so she wanted a be Tinkerbell for her Halloween party. I found some flesh-colored material and some lime-green material on clearance. I used one of her own long-sleeve T-shirts for a pattern to make a "flesh" colored shirt.
I then made the top part of the green and sewed it on to the flesh colored top piece. The bottom of the costume is simply a skirt made with a long strip of green turned down at top with elastic running through, then I cut the jagged edge at the bottom (no hem!).
For the costume shoes, I covered her slippers with green material using hot glue, and then added a pompom. For the wings, I used 20-gauge wire to form the shape, then wrapped blue tulle around it a couple times and tacked it with thread. I used safety pins to pin them on her back.
She loved her costume and begged me to submit it to your contest. We got your email telling about the new site the day after I finished the costume :-)
Total Spent: $10