Take a look at these cool homemade Popeye costume ideas shared with us by costume enthusiasts from around the world. Along with the costumes here, you'll also find loads of homemade costume ideas and DIY Halloween costume inspiration for your next costume project. Enjoy!
Latest Popeye Costume Ideas
---
---

---
Featured Popeye Costumes
Popeye costume by Sarah B., Idaho Falls, ID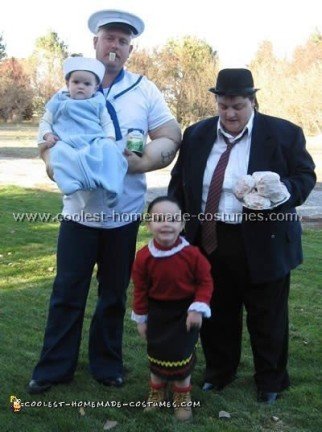 May I introduce Popeye, Olive Oyl, Swee' Pea and Wimpy! This was a great theme that involved my entire family which was the best part! It also didn't take a lot of time to put together which is good because I don't have a lot of free time as it is. Homemade costumes are always a plus, everyone can be involved somehow.
He's Popeye the Sailor Man, He's Popeye the Sailor Man! He's strong to the finish 'cause he eats his spinach he's Popeye the sailor man! I start thinking about Halloween pretty early every year and start scouring the thrift stores around town for ideas. This year's theme came from just that. I found the one piece that started my idea for a Popeye costume!
Popeye's DIY Costume
Popeye's sailor pants! Believe it or not they were just my husband's size! I then searched the internet and fabric stores for a "middy collar" pattern, got an idea how they are put together and sewed one in about an hour. I don't sew much so it took a bit longer than someone with more experience could have done one. This collar was paired with a white tee shirt.
Popeye's Hat
I was originally going to pick up a sailor hat (like Swee' Pea is wearing) but stumbled upon the hat you see in the picture at the second hand store. I have no idea what the hat was made for but I cut the bill off a blue ball cap and hot glued it into this hat.
Popeye's Pipe
Popeye's pipe is an actual corn cob that I picked from the garden, cut the corn off, cut in to about 2" in length and let dry. I then poked a 4" skewer into the cob and used a little tacky glue to hold in place. Don't forget the can of spinach! I would also recommend a scull cap but my husband shaved his head for the big night!
Popeye's Arms
Popeye's arms were fun to make! I started with some quilt batting and some stuffing. Then, I cut the batting to the length of my husbands arm and wide enough for it to wrap around. I used medical tape to secure it around his wrist and elbow. I then stuffed his forearm with stuffing making it extra full. Popeye's upper arm isn't as full as his forearm so I didn't fill it as full. I cut the legs off some queen sized panty hose, drew the anchor tattoo on them and put some snips in the toes for my husband's fingers. I then pulled them on over the overstuffed arms and taped them up high on the shoulder.
Hamburgers for the Wimpy Costume
Wimpy was exceptionally easy to do. I picked up an over sized jacked and white dress shirt at the thrift store. Luckily, I found a bowler type hat at the dollar store. I had some black pants and a tie already at home. I asked my local fast food place for some hamburger wrappers and wrapped real hamburger buns. Then, I hot glued them onto a foiled covered paper plate.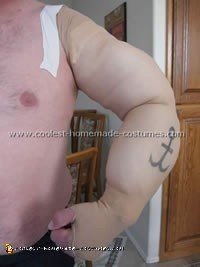 Olive Oyl's Homemade Costume
Olive Oyl's skirt is a ladies size four skirt that I took in up the sides to make it narrower on my four year old daughter. I then stitched giant sized red and yellow rick-rack around the bottom of the skirt. Her shirt is a red turtle neck that I sewed white ribbon around the collar and wrists. I did a loose stitch so I could easy remove the ribbon from the shirt so she could wear it later.
In addition, I sprayed my blonde daughter's hair jet black with a can of hair spray after I put it in a bun like pony tail. I picked up a pair of clunky boots at a gently used clothing store for children and she wore a pair of my red socks that I rolled down to the top of the shoe.
Adorable Swee' Pea Costume
My 17 month old daughter made the cutest Swee' Pea. She wore a blue sleeper with a "Sleep Sac" over that. I already owned both so it couldn't have been better. There is a pattern on the internet for a sleep sack if you don't have one. She was warm and looked just like Swee' Pea. I picked up her sailor hat at our Army surplus store. it was a perfect fit. My daughter loves hats so she never took it off but you could easily add an elastic chin strap if your little one doesn't like hats as much.
We had the best time this year and got a lot of favorable comments on how our costumes looked.
Total Spent: $46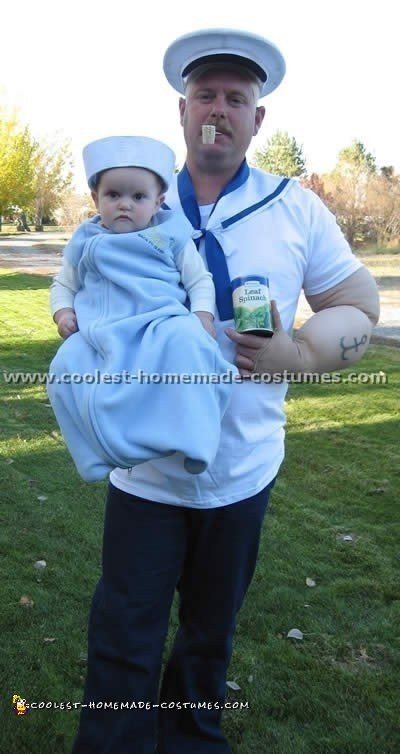 Popeye the Sailor Man Costume
Popeye costume by Chandra K, Cottage Grove, WI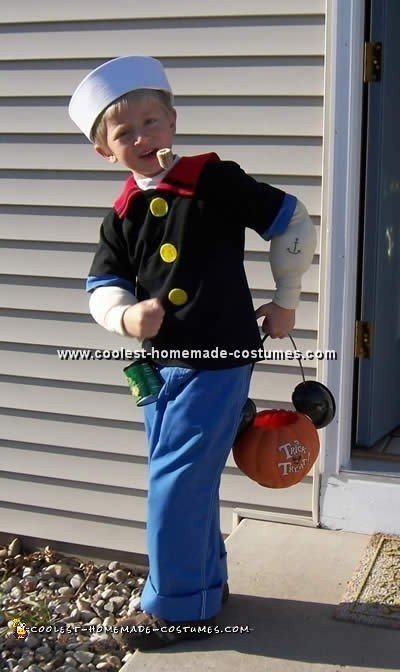 What ever happened to Popeye??? That's what I thought to myself when my son decided he wanted a Popeye costume for Halloween after seeing the Robin Williams version on TV.
My first line of attack of course was the internet. I am always in favor of buying costumes ready made. I never gave myself much credit in the creativity department. Well it turns out you can't buy a kid's Popeye costume anywhere in the world! There was of course this "UK version" but it didn't quite make the cut. It looked like if my son was going to be Popeye it was up to me to make it happen. I printed out a few pictures from the internet and away I went.
The blue pants and black t-shirt I found at Goodwill. The sailor hat I bought at a Halloween store and the pipe at a local smoke shop. The felt for the buttons and neck piece were easily cut out and glued on.
The band around the arms were cut-offs from the bottom of the pants and sewn onto the black shirt. The arms were the hardest part (Thank god for grandmas!). We used a long sleeve t-shirt and opened it up at the seams. Then, we sewed the spandex material to the shirt. We left the bottom of the sleeve open to be able to stuff/unstuff easily.
I drew on an anchor tattoo and Blow Me Down – we have a Popeye costume! My son took care of the rest with his sailor talk and squinty eye.
Good luck with your own Popeye costume!
Total Spent: $25