Halloween costumes need Mummies like a bagel needs cream cheese. Sneak up on people wearing one of these homemade Mummy costumes and match this holiday with its ultimate spooky costume. Or reach out your DIY costumed bandaged fingers to give someone the fright of their life. The options to creep people out with these Mummy costumes are endless.
Be astounded by the creativity in this collection of the scariest Mummy costumes. If you thought a roll of toilet paper would do for a DIY costume, think again. The level of details in these zombie-like homemade costumes are insanely cool.
In addition, check out the cool hybrid DIY costumes. For instance, the coolest Ninja Mummy costume. Or the Mummy spider webbed costume. Both are excellent and original ideas for your Halloween costume.
So, get inspired from the homemade costume ideas below. Then, grab some cheesecloth and start wrapping for a terrifying Halloween costume.
Latest Mummy Costumes
---
---

---
Featured Mummy Costumes
---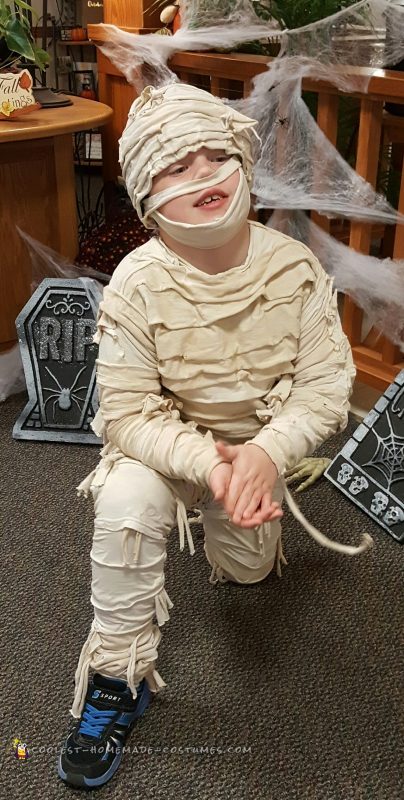 I took on the challenge of making the best DIY Mummy costume for my seven-year-old Tyler who decided he wanted to be something creepy for Halloween.
I made this mummy costume by cutting old white t-shirts into strips and then dying them with tea. They sat in the tea for 4 hours. Then, I rinsed them, dried them and then hand washed them so he didn't smell like tea. I hot glued the strips to a pair of long johns we had.  Occasionally, I knotted them around the legs and left some strips hanging to create a "been lying around" look. Read more »
---
Costume by Anthony D., Merrimack, NH
To start off, I copied a picture of mummy from another site.
I began with a pair of gray sweats (pants and shirt), a zombie mask, cloth gloves and old sneakers. I got about 2-3 yards of Muslin fabric and cut it into very long strips.
Using spray glue bought at a fabric store I started spraying the strips and then wrapping them around the sweats (with my son in them). When done he could slip off the sweats and it would be ready to go. I did the same with the mask, sneakers and gloves (using smaller strips).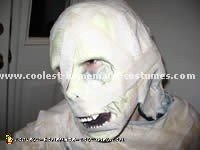 Total Spent: $45
Tales From the Crypt
Costume by Cathy B., Wylie, TX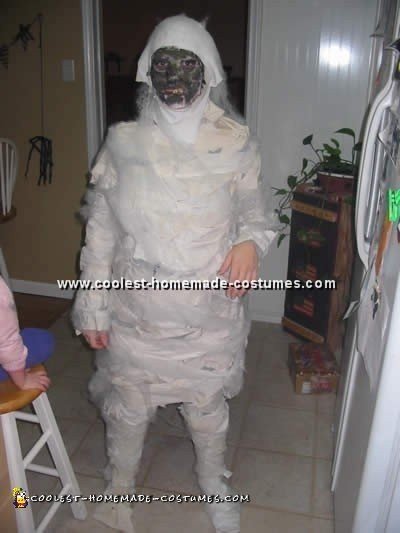 I just used an old sheet that I dyed in tea bags and washed. Got a make up kit from Wal-Mart and painted my face like a mummy.
Total Spent: $6
First Place Contest Winner
Mummy costume by Heather O., Assumption, IL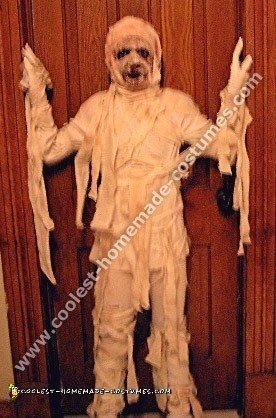 This is a picture of my son Brock who has always enjoyed dressing up in costume for Halloween and entering the local parades to try and win prizes.
He does not like ordinary store bought costumes. So each year we try to put our own costumes together that we make ourselves.
For the body of the costume I had him wear long cream-colored thermal underwear as the base. Then I purchased a flat sheet and let it soak in cold coffee and then dry to give it an aged effect. I then tore it in shredded strips and wrapped him over the thermal underwear leaving pieces dangling here and there.
For the face it did take about an hour and a half to apply. I used karo syrup and mixed brown cream makeup to a consistency of thick paste. I previously prepared the mummy skin by taking paper towels non-printed and soaking them in cold coffee and letting them dry over night to give them aged effect.
To start, I took black and brown eye pencil and shaded in under both eyes and edges of nose.
Then I used a wooden Popsicle stick to apply syrup and cream makeup mixture in small areas at a time to the face. To the syrup/makeup mixture I tore pieces of the prepared paper towel using small pieces and placing them on top on the makeup mixture and scrunching it with fingers as applying it to give it the look of wrinkled aged skin. I continued this process till the entire face was finished.
I then dusted his face with loose powder and tore sections of cheesecloth in strips and randomly placed them on face and throughout the rest of his body leaving frayed area hang off to give a more realistic look.
His hair underneath the cheesecloth was just slicked back with gel and wrapped with the cheesecloth. He did end up winning the Halloween parade 1st place and received numerous comments on how realistic and real he looked.
Winning Mummy Costume
Mummy costume by Jamie S., Scottsdale, AZ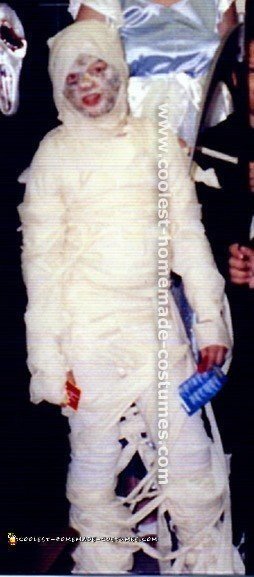 My 10 year-old son is in cub scouts and for his pack meeting last October they were allowed to wear a costume (they had also planned a costume contest). My son wanted to buy and wear the "Scream" costume, but I convinced him to be more creative.
I told him that if he didn't like this costume, we would go buy "Scream" for Halloween but to give this one a chance. Good thing I did because out of 7 boys in his den alone, 5 were wearing "Scream". Not to mention more boys in the entire pack.
I bought about 3-4 yards of muslin type fabric and tore it into 2-3 inch wide strips for the length of the fabric then set aside. I then applied the scary face makeup from a store bought kit. After that he put on tan colored 2-piece long johns (long underwear – sweats could also work).
I then wrapped my son literally from head to toe with the strips making sure to go up and around arms ever so often to keep the muslin up otherwise it would fall to the floor. I also used a few strategically placed safety pins to keep excess material from falling to his ankles or wrists.
This idea came from his dad who wore the same costume when he was around 19 years old, over 18 years ago. It was much fun for my husband because nobody knew who he was. With my husband's costume he had covered his face but I chose to use face makeup instead with my son for safety reasons.
With this costume, out of about 60 kids, he won 1st place and I heard so many 'thank yous' from him for helping him with this costume and changing his mind. He also decided he wanted to wear THIS for Halloween instead of buying "Scream" :)
Mom won a gold medal with her kid again!
Cheesecloth Mummy Costumes
Mummy costume by Jackie R., Laflin, PA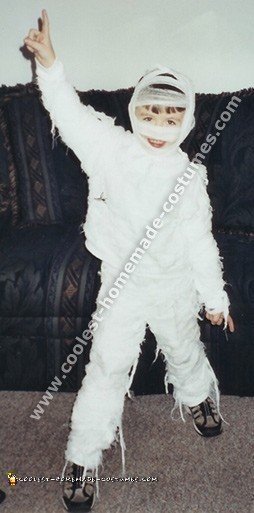 I used a white sweat suit and a whole lot of cheesecloth for this costume. The hardest part was finding a white sweat suit in the fall.
Just wrap the cheesecloth around and around the outfit, stitching it in place every now and then. I also left pieces hanging here and there. After I was finished wrapping, I shredded the cheesecloth to make it look old and tattered.
Finishing touches are wrapping the last piece around the head. Being careful to leave enough room to see. And I tied one of those plastic spider rings on a string and hung it underneath my son's arm. He was the hit of his school parade.
Total Spent: $30
That's a Wrap
Mummy costume by Julie K., Naples, ID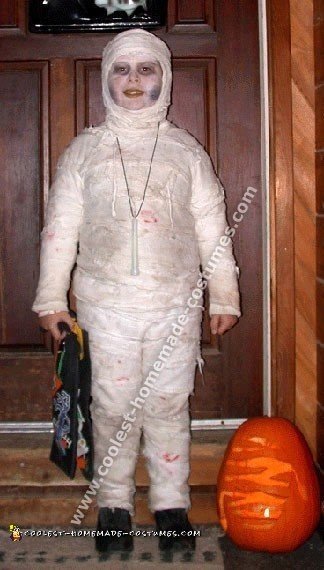 Materials
cheese cloth
long underwear (top and bottom) or white sweat suit
tea bags
make up: white, brown, black, green, and red, hot glue gun and glue, dirt.
Time needed was about 2 hours.
To transform my son into a mummy, we purchased cheesecloth by the yard from Walmart and a pair of (off white) long underwear. I soaked the cheesecloth in tea to give it that aged look. Once the cheesecloth was dry, we cut it into about 4 inch strips.
We then had Conner put on the long underwear and we wrapped the cheesecloth strips around him securing them with hot glue. By gluing the cheesecloth to the long underwear we didn't have to rewrap each time. (Hint: Make sure you wrap the cheesecloth loose enough so that you can still take the long underwear off.)
Make sure you don't attach any of the strips to both the top and bottom; if you do, you won't be able to take them off. Once the long underwear was covered, we wrapped some of the strips around his head.
Once he was wrapped we painted his face and sponged some of the make up onto his costume to make it look old and to make blood spots. For the finishing touch we let him play outside in it, which means he ground some dirt in for just the right look.
Total Spent: $15