Take a look at the coolest homemade Monopoly costume ideas submitted to our annual Halloween Costume Contest. You'll also find loads of homemade costume ideas and DIY Halloween costume inspiration.
Costume by Lindsay F., Edgewater, FL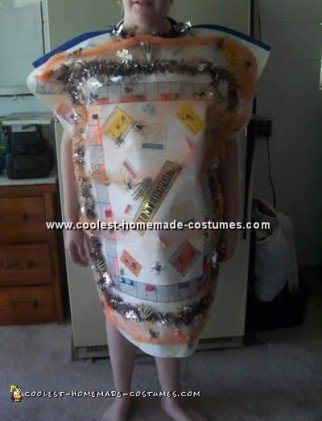 My family wanted good Halloween costume ideas. We love monopoly so why not make our Halloween costume into our favorite game. We wanted it to be Halloween related so we added scary props and named it Hauntedopoly.
It started out with a recycled costume (a few years ago I was an ace of spade) so we used that as the main part. We got a poster board and freehand drew a monopoly board (by looking at a real one) we used paint for all the colors. We attached real monopoly money, houses, property cards and chance/community chest cards. We took playing pieces and dice from a different game and attached those (the playing pieces were which hats from a Harry potter game).
We got some Halloween hands, candy bones, spiders, garland and webs and added all that on to make it look spooky….it took a lot of time to make but in the end it turned out so wonderful.. And it was easy to do even my 13 year old sister helped.
I think if anyone wants good Halloween costume ideas it should represent something they love and be very original and cheap and that is exactly what we did.
Total Spent: $5