Take a look at these cool DIY Hot Air Balloon costumes shared with us by costume enthusiasts from around the world. Along with the ideas for making costumes here, you'll also find loads of homemade costume ideas and DIY Halloween costume inspiration to help you master the art of costume making. Enjoy!
Latest Hot Air Balloon Costumes
---
---

---
Featured DIY Ideas
Hot Air Balloon costume by Kim T., Walled Lake, MI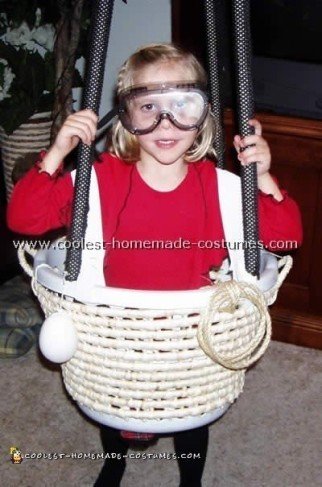 I was motivated in to making costumes for my family so my daughter picked this hot air balloon costume from this site. We used a round laundry basket, some basket weave from a craft store, four dowel rods, flame fabric, a piece of duct work from the hardware store and an inflatable ball from a toy store. We taped it and used string to hold the ball on. We decorated it with our favorite base ball team banner and put a scarf and goggles on her.
We covered the dowel rods with cushy shelf paper/liner and hung some rope and upside down white balloons (only partially inflated) to look like sand bags. She won a ribbon for her costume!
Total Spent: $30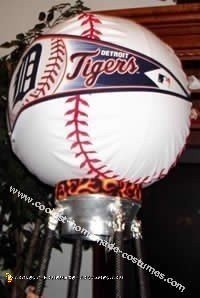 Hot Air Balloon costume by Bob M., NJ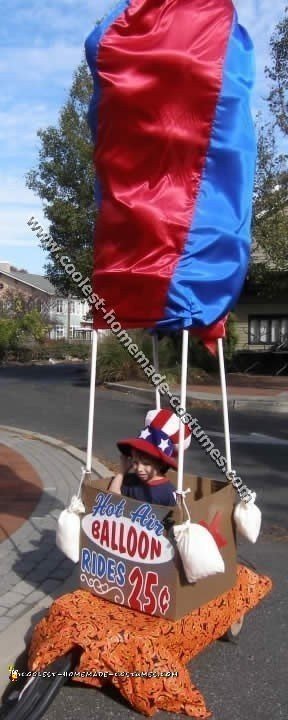 I am not very good at making costumes for Halloween but this was real easy! The hot air Balloon was made up of a cardboard box and spray paint. The material for the balloon was nylon that I sewed together and used 3/4 inch PVC pipes to hold it up.
I sewed the weight bags, stuffed them full of Styrofoam peanuts. I placed it on a wagon because Jacob is two here and it was a bit much so it was easier to wheel him around.
Total Spent: $35
Hot Air Balloon making costume by Jen P., East Greenville, PA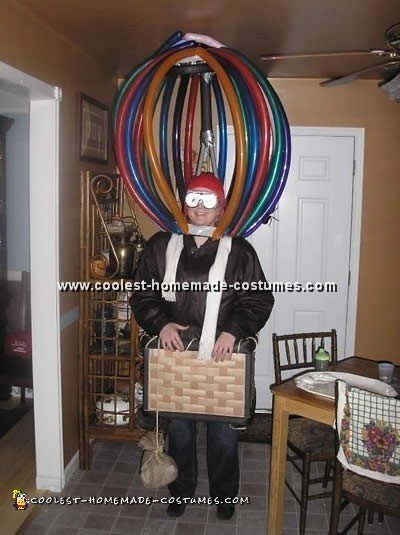 Making costumes for Halloween is lots of fun, but I always prefer to make something easy? We came up with the idea of a Hot Air Balloon
The basket was a cardboard box covered in light brown paper with darker brown strips weaved through. Along the top rim of the box was large pipe insulation with rope wrapped around it. Along the bottom edge was small pipe insulation.
There were straps attached on the inside of the box in the front and back made from old jeans so they wouldn't stretch and worn under my jacket. Two thin pvc pipes were attached to the box at an angle with zip ties. They met at a point and a foam piece went up from there to extend it.
On my shoulders and at the top were foam rings made from the leftover pipe insulation. I wrapped a ring of duct tape on them with the sticky side facing out and that's how I attached the balloons at the bottom and top.
The hat with flaps goggles scarf and sand bag were all for added effect. I also entered the room to the song "up up and away in my beautiful balloon" by the 5th Dimension. Our choice, Hot Air Balloon, was a good choice for making costumes
Total Spent: $20
Hot Air Balloon making costume by Laura D., Evansville, IN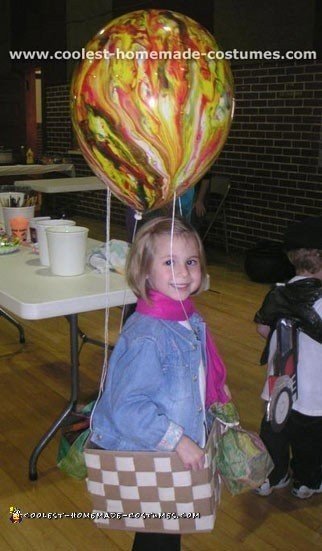 I used a cardboard box, cut slits into it, and weaved light brown construction paper in and out to make the box look like a basket. Of course the bottom of the box is cut out for her legs.
The day of the Halloween party I bought a helium balloon at a party store; the largest and most colorful one I could find. The balloon is attached with clear tape very carefully to the balloon and strings down to the four corners of the box.
I put colored paper bags stuffed and tied to the box to look like sand bags. I cut 4 small slits on the top of the box and threaded string through to slip (like straps) over her shoulders to hold the box up.
When she put the balloon and box on we added the jacket over the top to hide the string straps. She also wore a scarf to look like she was flying. Very cheap and plenty of compliments! Making costumes is much fun!
Total Spent: $2
Hot Air Balloon making costume by Donna N., Magnolia, NJ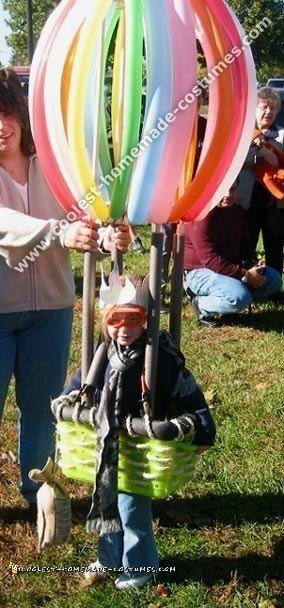 Items used: Cardboard box, white paper strips, balloons, embroidery hoops, plastic pipe, pipe insulation, and paper bag.
The balloon basket is made from a cardboard box with both end flaps cut off. Then, cut one-inch strips in the box and weave one-inch white strips through the box to create the basket look. Another thing you can do is buy a basket from Home Depot and weave rope through the holes.
To create the balloon section, screw two embroidery hoops to four-inch plastic pipes, which are attached to the box. Attach needle point mesh to the inside of the rings with hot glue, then cut strips into the mesh, tie both ends of balloon and out in the slits to hold them up.
To create the basket rim, line the top of the box with pipe insulation and wrap rope around to hold in place. To create the sandbag, stuff a paper bag and tie it to the box. Do not blow the balloons up until the day before needed or they will go flat. Took approx. 2 days (on and off) to make. She won a trophy in the local town parade. Making costumes is so much fun!
Total Spent: $15