Several years ago for our buddy Mikey, we had tried to make an airplane to go over his wheelchair for a pilot costume that did not work out as planned. From far away it looked pretty cool, but as you got closer you could tell it was barely staying together and was built primarily from cardboard and duct tape. So much work went into it and it definitely did not meet our expectations and barely stayed together long enough to last through Halloween.
This year when discussing Mikey's costume, I was hesitant to start another extreme costume project, worried that it would be a lot of work again with a disappointing result. His friend, Aliyah, was so excited and enthusiastic about making an amazing costume that she spent hours looking for inspiration and came up with a list of 10 amazing, and also potentially disastrous, costume ideas.
Even though I was hesitant, and looking for an easy costume to put together, I soon joined her enthusiasm when I saw the idea for the Wizard of Oz in a hot air balloon! A crude sketch and some excited chatter later and we were off to the hardware and craft stores for supplies!
From a sketch to a hot air balloon
Wanting to make this costume sturdier than the last in hopes that it could be used again, we spent a good amount of time talking to the pros at the hardware shop and to some of our handy friends for advice and suggestions. Thank goodness it was Halloween and I could explain that it was for a costume or some of the store staff would definitely have thought we had gone crazy trying to build a hot air balloon out of PVC pipe and the long twistable balloons.
Every time we thought we had everything we needed, we noticed that there was something important like a hot glue gun, metal rods or even more balloons that we had to go out to get! I tried to avoid the duct tape, but soon realized that it was the easiest way to put the structure together without getting into serious construction tools. After spending more time, and using more duct tape, than I anticipated on the cylinder structure of the actual balloon part I decided to call it a night and come back to it later. I was expecting that the cylinder was not going to stay upright as I had left it and that I would have to fix it when I came back. Time would tell…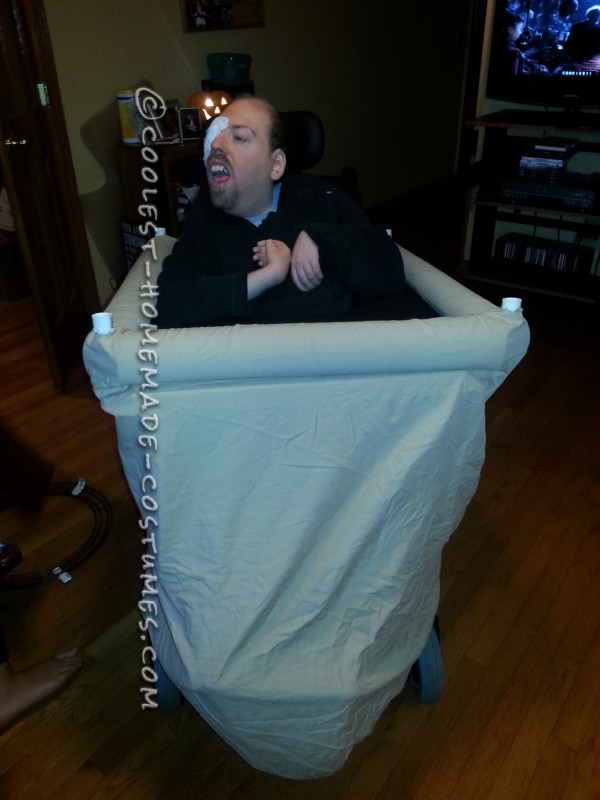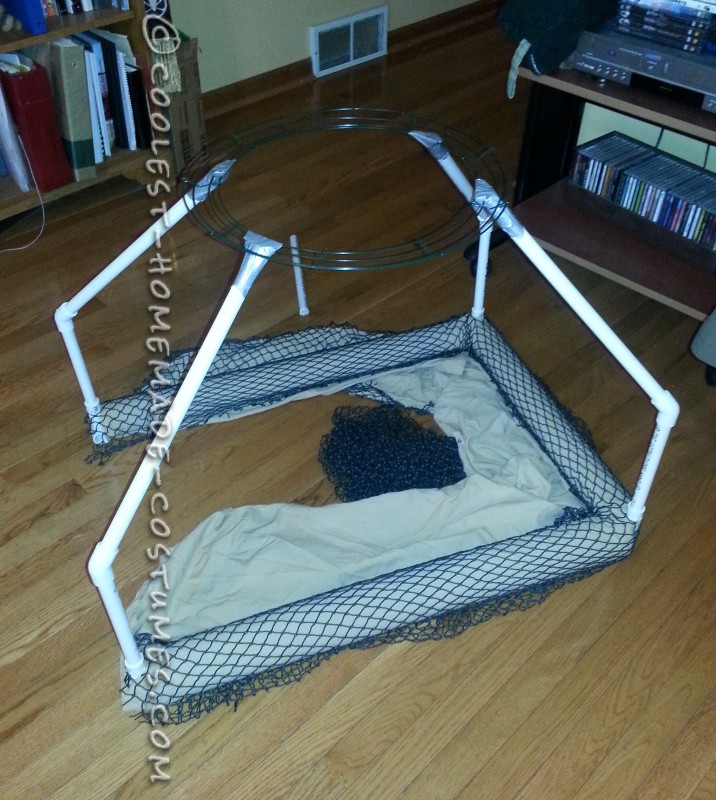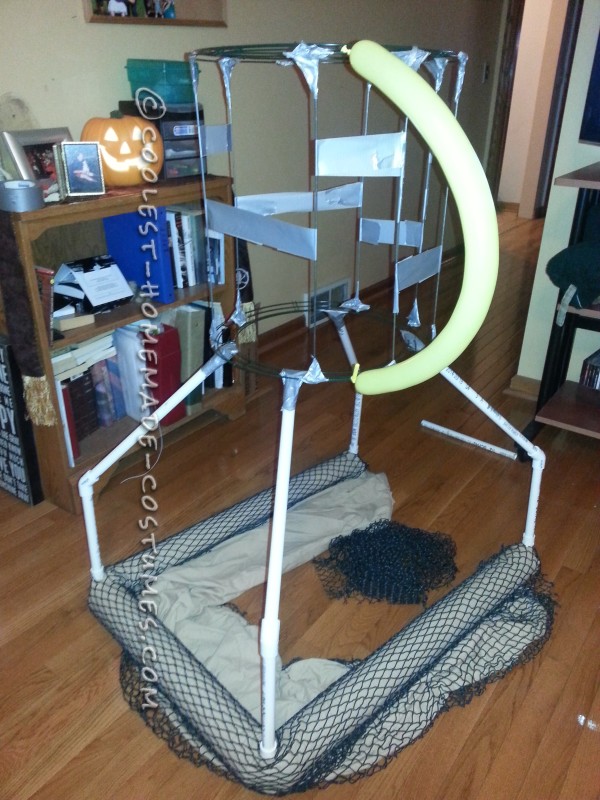 Last minute scrambling and adjustments!
On the final day of construction, a couple hours before the party we were attending, frantic texts from Mikey's mother were coming to my phone about the cylindar having fallen and that there were not nearly enough balloons!! A last minute trip to the party store had me standing in a line of about 20 people for almost 15 minutes for one package of balloons.
When I finally got to the house, the troops had rallied and 3 friends in addition to family were gathering to put the last minute touches on the costume and make sure that the balloon would indeed "float" above Mikey's head. More duct tape and repurposed coat hangers solved the problem of the cylindar and off we were blowing up balloons and attaching them to the structure. A velvet blazer, bow tie made from Christmas ribbon, top hat and a drawn on mustache completed the look.
Slightly late, but with loads of excitement, we loaded the costume in the van. Thankfully, we had planned it (or did we?) just right so that the balloon was able to fit through doorways, brushing the top and side frame as it passed, and it just fit in the back of the van behind Mikey and his chair. Then we headed to the party!!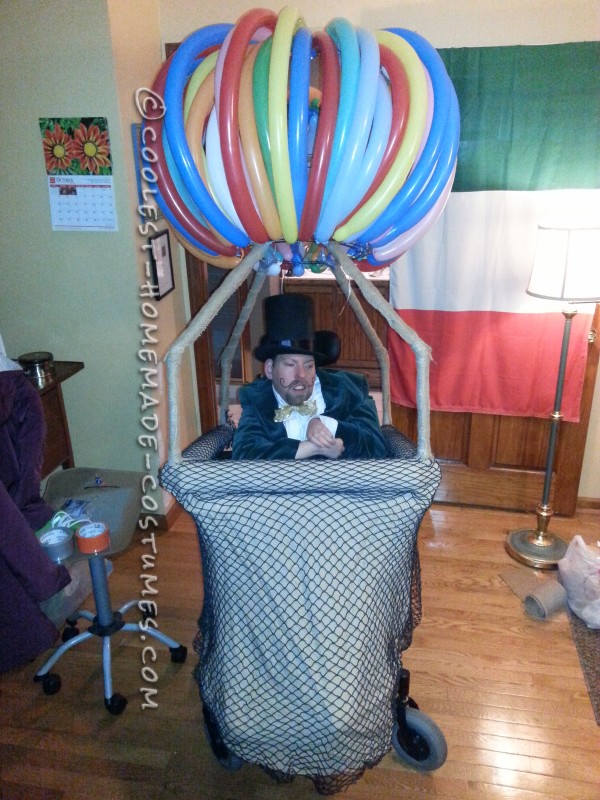 We're off to see the Wizard!
Ariving late to the party we were a parade all on our own. The Wizard of Oz (and the Wicked Witch of the West, ducking to see under the balloon to be able to push and steer) recieved cheers and applause for an amazing costume!! Mikey won a prize in the costume contest that he didn't even enter because everyone loved it so much!! Days later, while talking to others that were at the party, they still raved about how it was their favorite costume of the night. On the night of Halloween, passing out candy at the door, children and parents alike were in awe of the Wizard of Oz and complimented him constantly on a wonderful costume! Needless to say, the costume was a hit everywhere Mikey went. And the best part is that it's still standing!! Short of replacing the balloons next year, we will be able to use the costume again withouth much repair or adjustment. Hard work and collaboration paid off to make Mikey the star of this year's Halloween festivities!!

The Wizard of Oz and the Wicked Witch hanging out at the Spooktacular