Encountering her grisly end with the Big Bad Wolf might deter some people from dressing as Little Red Riding Hood. But not this bunch! This awesome collection of Little Red Riding Hood costumes range from sweet to sexy. Kids and adults alike love dressing up as this popular character.
Not only is Little Red instantly recognizable, she's also an easy DIY costume. Thus making it a fantastic idea if you are short on time.
You will find great inspiration for all kinds of homemade costumes here. One idea is a sexy version of Red. Another idea is a zombie version of Little Dead Riding Hood. Still another hilariously original idea is Little Red accompanied by her dog as the grandmother.
So check out these awesome homemade Little Red Riding Hood costumes. You will bee inspired to create a costume of your own this Halloween!
Latest Little Red Riding Hood Costumes
---
---

---
Featured Costumes
Costume by Wendy L., Bridgeview, IL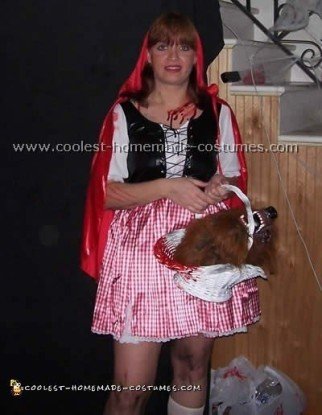 , I decided to take a very common and yet simple costume and make it more exciting. So I decided that I would make Little Red Riding Hood a Bad A$$. I bought the regular costume and added my own touch.
I smeared mud on my white knee high stockings and cut them up, added scratches to my leg, check, neck and arms with the basic blood and scar make-up and tore the sleeves in the right places and added the blood to my clothes to give it the look of a battle. Then I found a basic white basket and borrowed a friend's wolf mask. I stuffed the mask with newspaper, added the blood on the mask and the basket and placed the wolf's head in the basket.
It took about an hour to an hour and a half to complete the whole costume. It was fun and easy to do! It's a costume that most people wouldn't expect. Then to add a little fun I sang "A tisket a tasket a wolfie in my basket". Give it a try it's fun and original.
Total Spent: $60
Costume by Tyann J., Winston-Salem, NC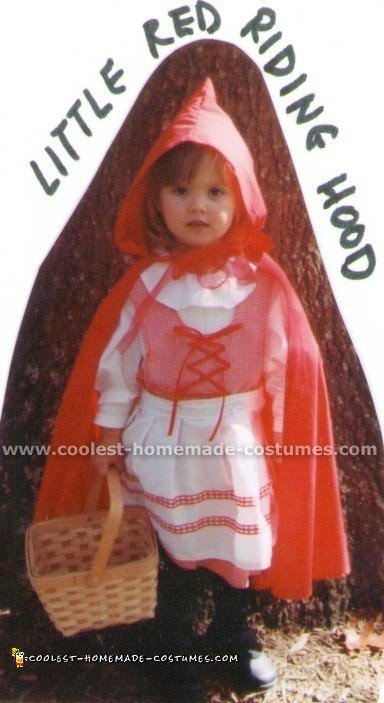 This is my daughter in her Red Riding Hood costume. This was the easiest costume to make. I bought a Red Riding Hood Pattern, but did a few things differently such as the ribbons on the front I hot glued on just to make things a little easier and quicker. It took me about 3 days to make this. And I just bought a cheap basket for her to carry. Every year I choose Storybook characters for my children to dress up like and this was just one of her many cute costumes.