If you've got to pull off a last minute Halloween costume for a couple, and you need some inspiration, the costume ideas below will get you off to fast start. Most of these ideas can be put together with items you'll find around the house.
1. Cool Couple Costume: "Guess Who" We Were for Halloween?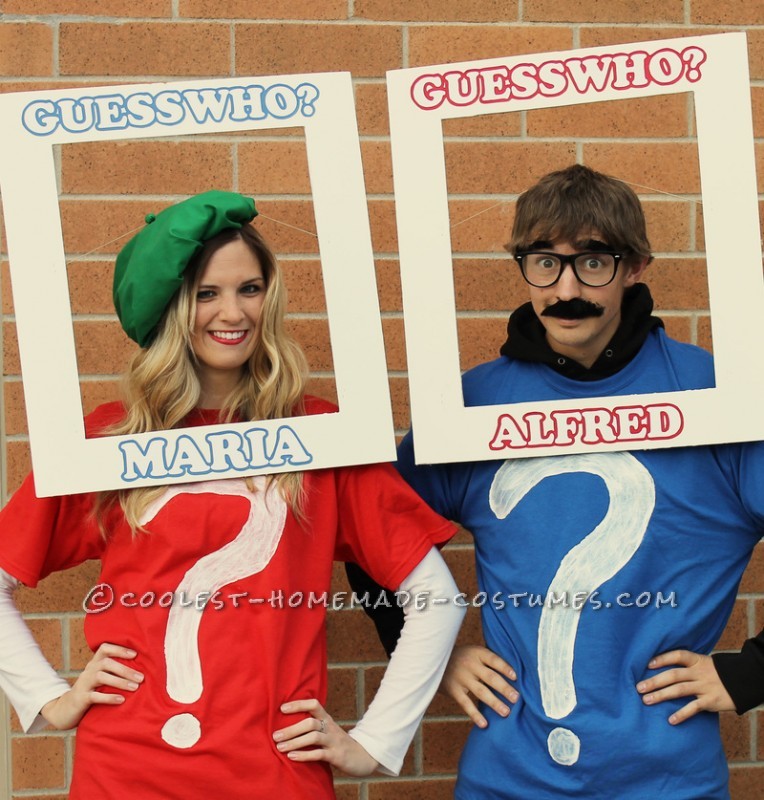 This Guess Who couple costume made by Alo from Fargo, North Dakota is simple and original and also won a prize in our Coolest Costume Contest. All you need to do is decide which character you want to be, create a frame, decorate a bit, add a few accessories from around the house and you're read to go with this last minute Halloween costume.
2. Cheap and Easy Popeye and Olive Oyl Couple Halloween Costume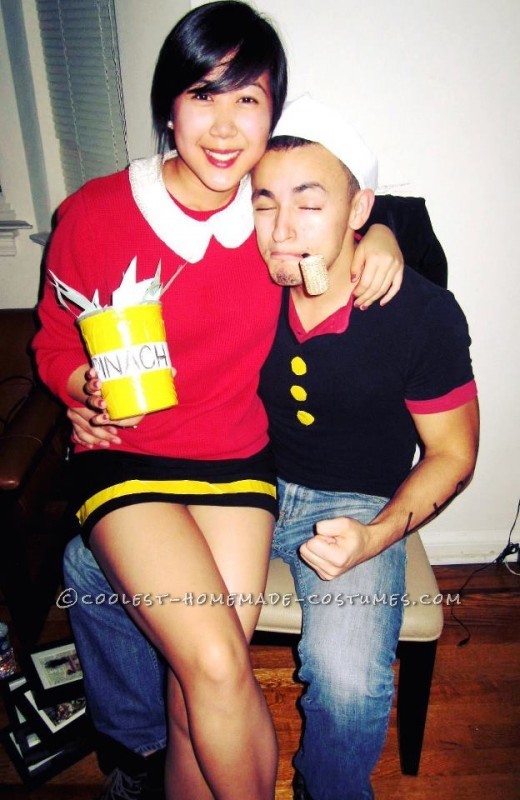 This Popeye and Olive Oyl couple Halloween Costume cost Brettany less than $14 and was pretty much created with regular clothes accented with yellow duct-tape, real muscles and a homemade spinach can.
3. Coolest Homemade Wayne's World Last Minute Halloween Costume for a Couple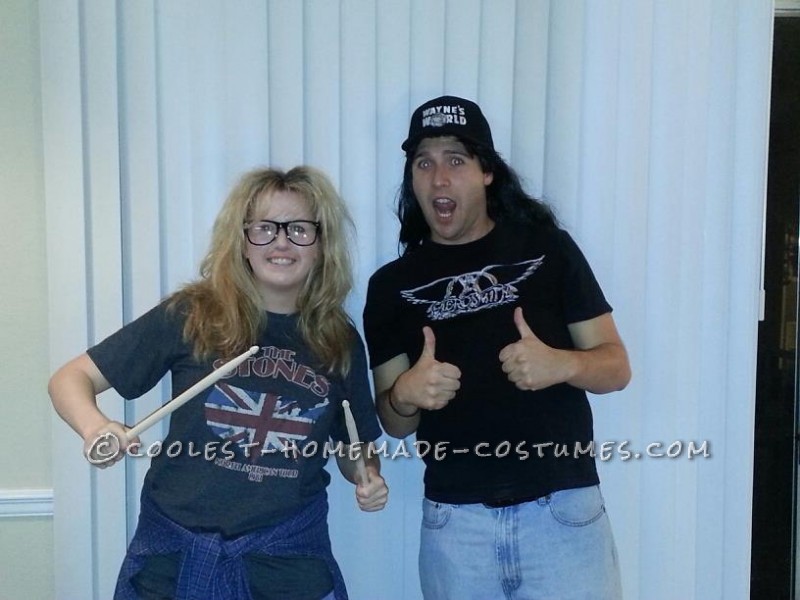 Wayne and Garth are a really great and recognizable last minute Halloween costume. There's not really much you need apart from a few pieces of clothing (that most have around the house) and a "party on" attitude according to Lindsay from Mississippi.
4. Unique and Easy Dexter Costume with Victim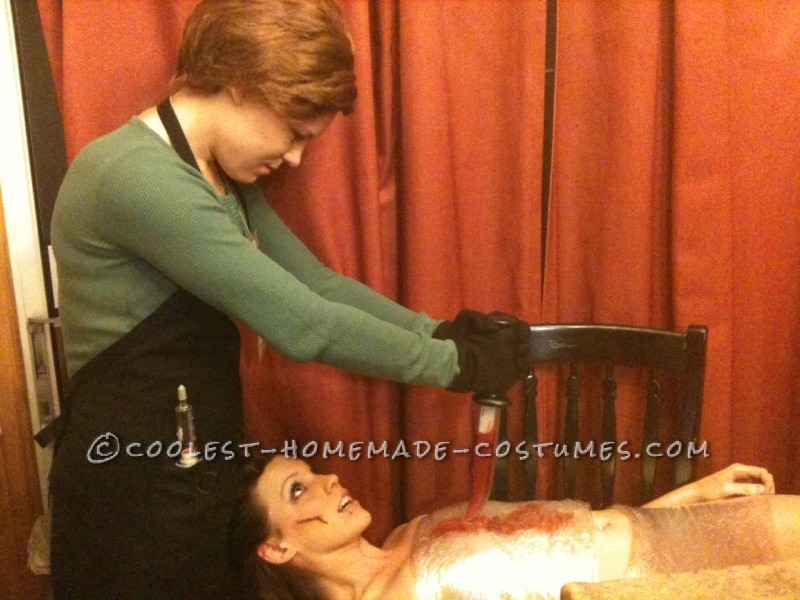 The inspiration for this costume came to Kaila when her boss at work was just about to throw away a roll of plastic wrap. And once the idea was in place, she picked up a few accessories and even found an original way to keep her over-sized shoes on… using cling wrap! Read more about this Unique and Easy Dexter Costume with Victim…
5. Last Minute Homemade Sister Skeletons Last Minute Halloween Costume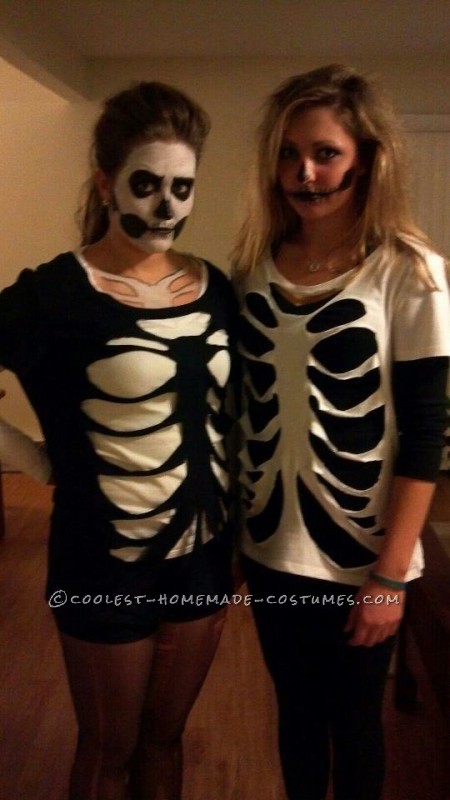 These Sister Skeletons Halloween costumes made by Rebecca from New York is an ultra last minute Halloween costume. All you have to do is cut up a few shirts, put on some makeup and you're ready to go.
6. Scooby and Scrappy Doo Last Minute Halloween Costume for a Couple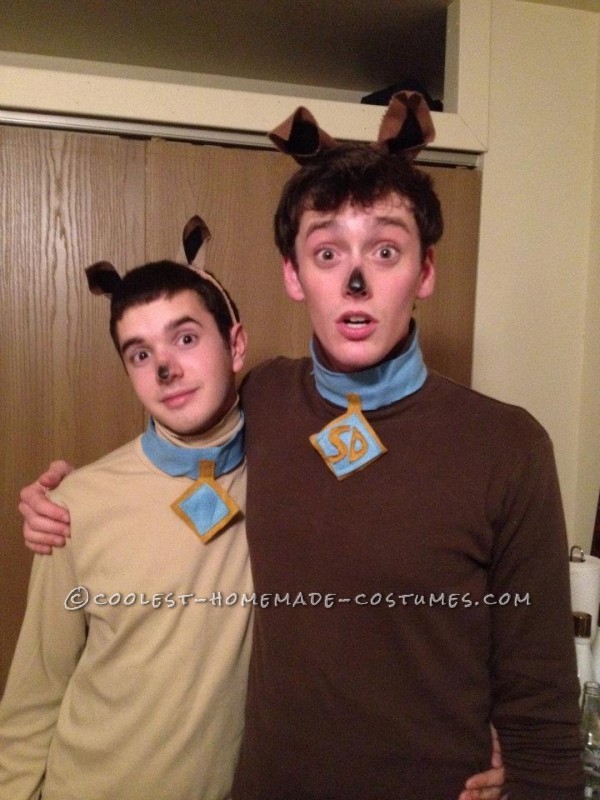 Adriana didn't spend a dime on these costumes. She just scavenged a few materials, crafted them into neat Scooby and Scrappy Doo Costume accessories and added a bit of black makeup on the noses.
7. Easy Last-Minute Couple Halloween Costume: Gnomeo and Juliet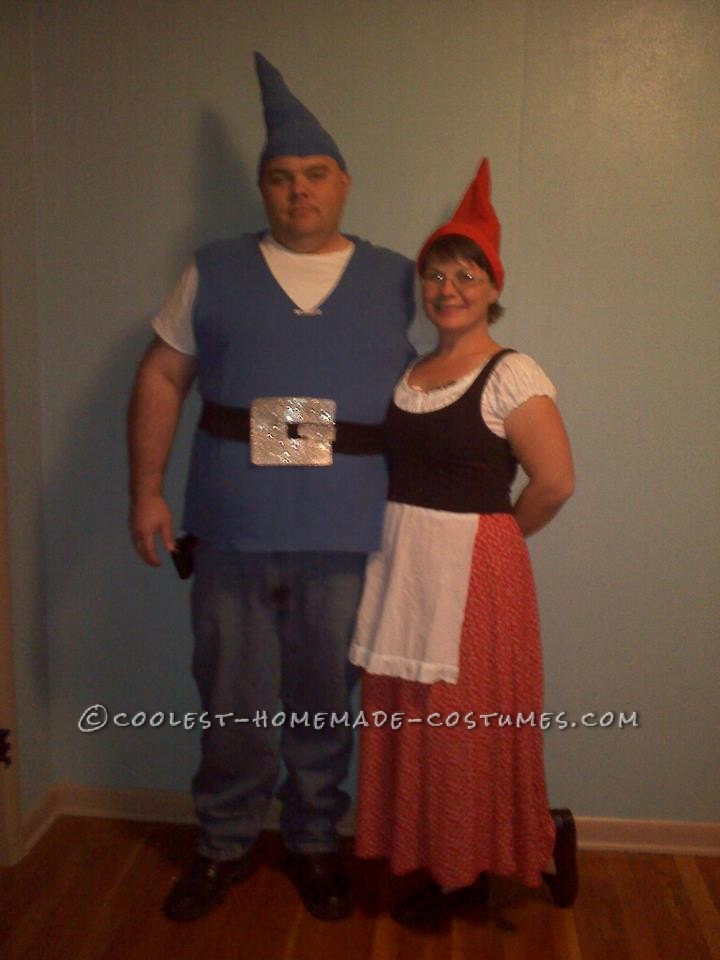 Julia knew exactly what couple costume she wanted weeks in advance, but the only problem was convincing her husband. He finally agreed an hour and a half before the party and the rush was on to put together this last minute Halloween costume. Read more about this Gnomeo and Juliet couple Halloween costume.
8. Cheap and Simple Play-Doh Couple Costume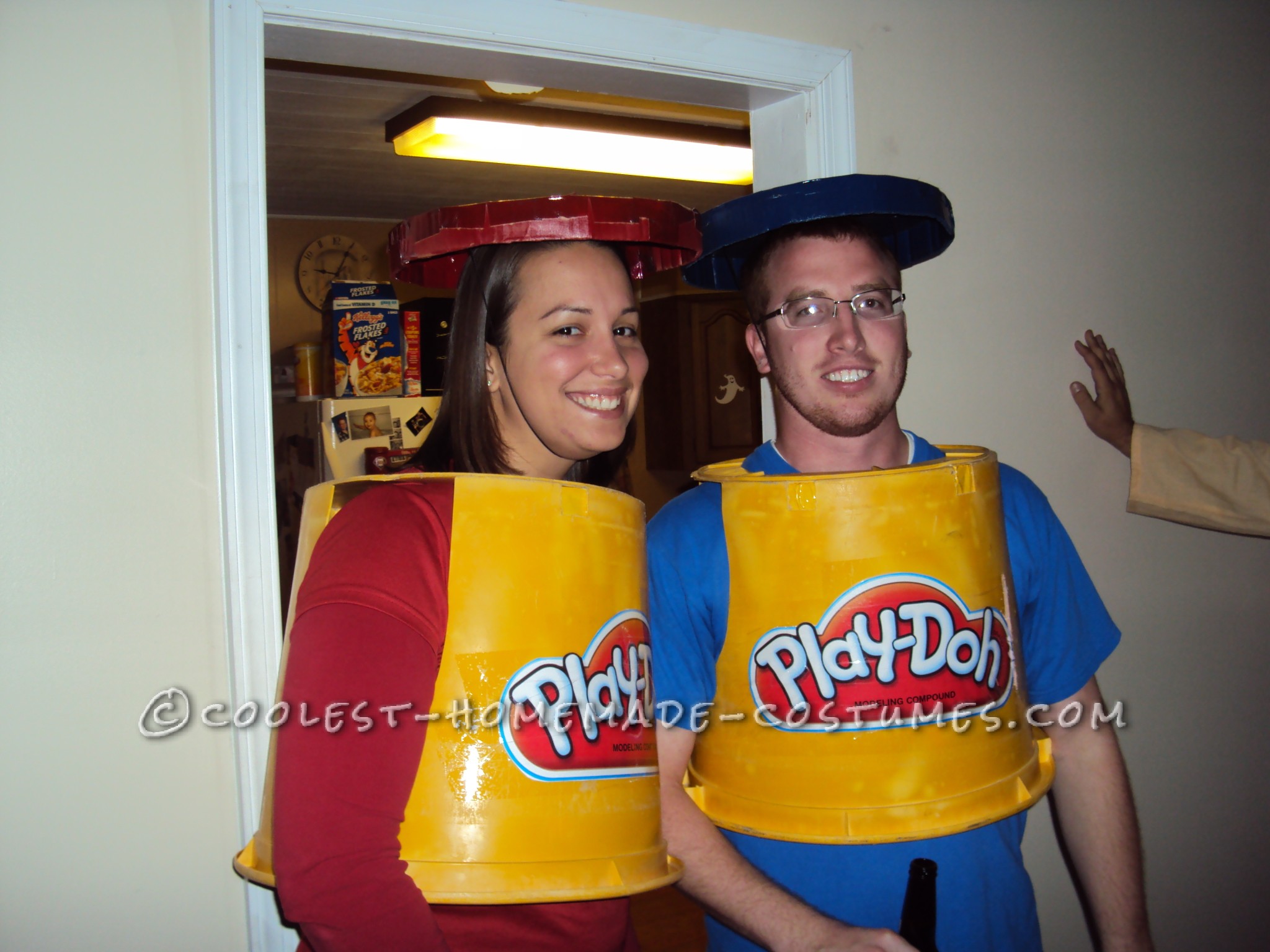 This cheap and simple PlayDoh couple costume was created by Danielle from New Jersey.
9. Coolest Ron Burgundy and Veronica Corningstone Couple Costume from Anchorman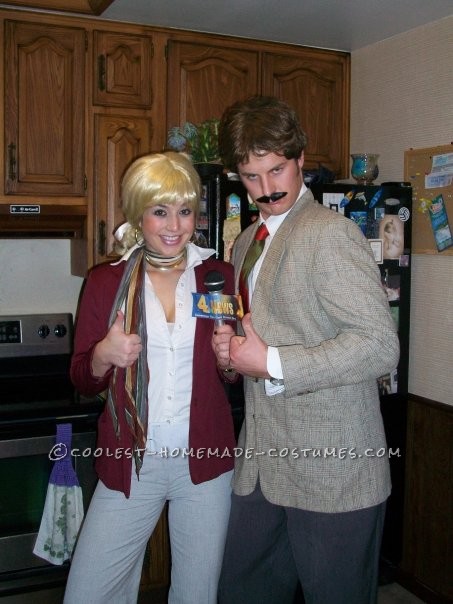 Erica from Colorado created this Ron Burgandy and Veronica Corningstone couple costume for her and her husband. How awesome!
10. Original 50 Shades of Grey (PG Version) Last-Minute Halloween Costume
Alana from Kentucky created this awesome 50 Shades of Grey last minute Halloween costume.
11. Coolest Homemade Cosmo and Wanda Couple Costume from Fairly Odd Parents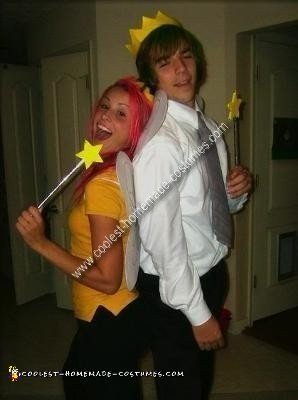 All you need to do for this Cosmo and Wanda couple costume is to buy pink and green spray-on hair color and make or buy wings and two wands according to Tori.
12. Jack and Jill After they Fell Down the Hill Couple Costume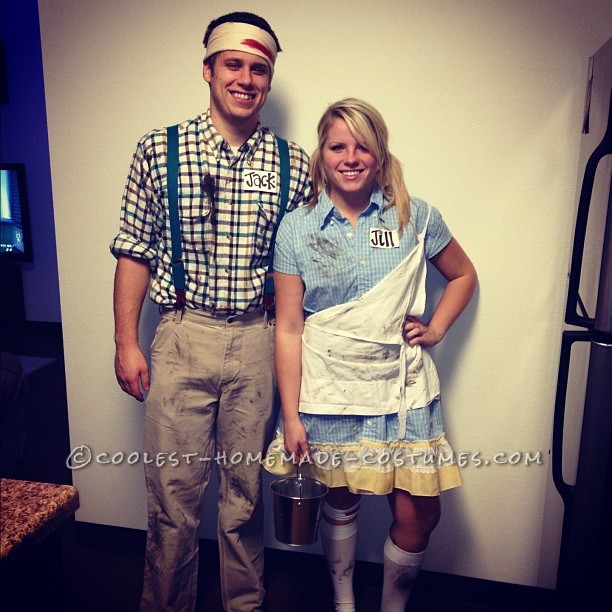 After you create this Jack and Jill after they fell down the hill couple costume, you need to get it dirty. Macy from Fargo, ND and her partner just went outside and had a dirt fight which added to the fun of their cool couple costume.
13. Awesome Quick, Easy and Comfortable Tron Legacy Couple Costume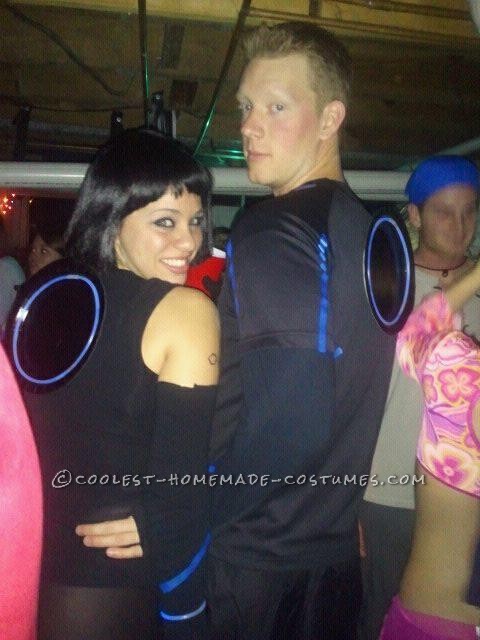 Some dark clothes and blue painter's tape and this easy and comfortable Tron Legacy couple costume is ready to get rolling. Props to Anna from New York!