Take a look at these cool homemade Spider costumes shared with us by costume enthusiasts from around the world. Along with the adult and kid Halloween costumes here, you'll also find loads of homemade costume ideas and DIY Halloween costume inspiration for your next costume project. Enjoy!
Latest Spider Costumes
---
---

---
Featured Adult and Kid Halloween Costumes
I love making my own kid Halloween costumes. When I was a little girl about my daughter's age I was a black widow spider for Halloween. She saw pictures of our kid Halloween costumes and liked it so much that she wanted to be one too!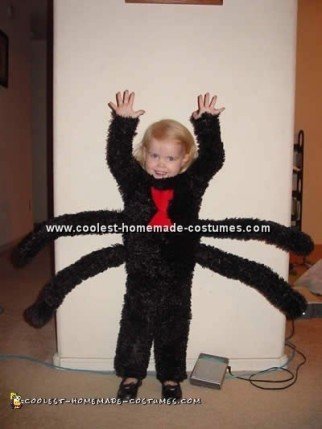 So I got creative and got to work! I bought about a yard of black 'furry fleece' and a small remnant of red fleece fabric. The extra legs are made out of 2 inch chair foam which I encased in panty hose for added strength.
I made "sleeves" for all 6 legs as well as little leggings for her legs. I was going to attach it all to a black body suit but once I got all of the legs together I decided that I liked the hairy look so well I would just make a whole body suit out of it. Then I cut out some of the fabric (I had plenty left over) in the shape of an onsie or body suit and sewed it together on the sides leaving holes for all of the legs.
I hand sewed the legs on so that I could make it stronger. Then for a final added firmness in the extra legs I used 2 wire coat hangers, one for the top set of legs and the other for the lower set. They were the perfect size plus it made it much more possible when it was done.
I hand sewed 2 pieces of fabric on the inside back of the body suit so that the hangers could go through them and not bother her skin. We live in AZ and so she didn't need to wear anything underneath, she was very warm!!
She was a big hit. I think that she may have gotten about twice the candy as her brother and sister because people would go in for a second handful when they saw her costume!
Total Spent: $12 (by Jenny H., Buckeye)
Easy Spider Kid Halloween Costume
by L. Reese, Alexandria, VA
Here's one of the coolest kid Halloween costumes. It is from black fleece, red felt, hot glue, pillow fluff and a little Velcro. He loves it! It's a year later and he still wears it – he wants to wear it again this Halloween.
I cut the body out of two large pieces of black felt so that when I hot glued them together on the sides it would fit like a sleeveless shirt. Do not hot glue the sides together at this time. I made the arm and neck holes a little larger than normal so that he could wear a black sweat suit underneath. I put a slit at the back of the neck so it would be easier to put on. Then, I folded over and hot glued all of the seams (other than the bottom edge) I made the whole thing long enough so that when I folded it up and hot glued it inside and filled it with pillow stuffing it would still come to about his knees.
Then I took eight strips of felt 2 1/2 times as wide as I wanted the spider legs to be and slightly longer than I wanted (not too long – I didn't want him to trip on them) and hot glued all the way down the long edge and one of the short edges. I then turned them inside out and filled it with pillow stuffing.
I attached 4 of these on either side of the seams of the shirt piece and hot glued them in place, then hot glued the sides together. Then I hot glued the bottom edge of the shirt piece up on the inside making a pocket which I filled with pillow stuffing. I then made a large oval out of red felt and glued it to the front of the costume.
I made a hat out of the same black felt as the costume. Then I measured one of his regular hats and made two halves which I glued together making a peak at the top of the head and made strips which came down under his chin. I folded over and glued all of the seams.
I made two circles of red felt for eyes with block dots of fleece in the center of each and glued them to the top of the hat. Then I used Velcro at the back of the neckline to hold the slit that ran down the back together and at the chin to keep the hat on.
He was adorable! Good luck with your kid Halloween costumes!
Total Spent: $10
Cute Spider Costume
by Kirsten J., Albuquerque, NM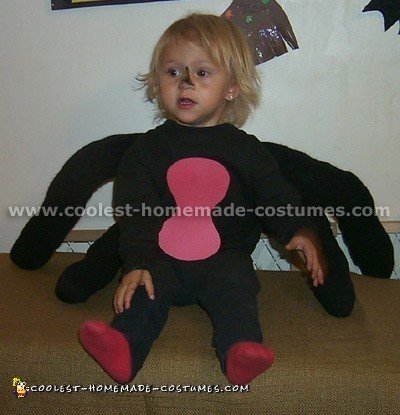 We dressed up my 20-month-old daughter as a black widow spider. I had a black sweatshirt and black leggings for her already. I used 2 pairs of my husbands black socks and stuffed them and sewed them on the back of her shirt. Also, I cut out a red hourglass shape from felt and sewed it on her shirt. Instant spider!! It came out cute and she didn't complain about wearing it!! These are the types of kid Halloween costumes that are quite simple to make!
Black Widow Kid Halloween Costume
by Tammy T., Coquitlam, CA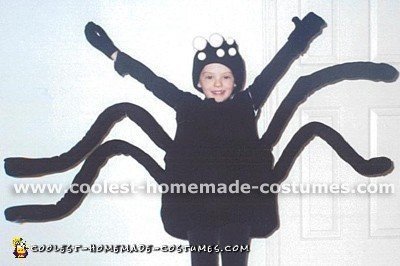 I sewed two T-shirts together and left an opening at the top for stuffing; this was to be the body of the spider. I wrapped coat hangers with comforter bedding for the legs then wrapped it in black material to match the body.
Then I sewed the 4 legs onto the body portion. I used a black watchman's cap for the head and sewed Styrofoam balls, which I painted with glow-in-the-dark paint. I sewed the Styrofoam balls onto the hat.
Afterwards, I used fishing line sewn on a black material bracelet attached to her wrist and strung them through the other legs on that side so that when her arms moved up and down, so did the artificial legs I sewed on.
She wore black tights and black running shoes. What isn't shown in the picture are little plastic baby spiders I painted with glow-in-the-dark paint sewn onto her back. These kinds of kid Halloween costumes are so cute!
Easy Poisonous Spider Costume
Halloween costume by Alicia T., Sharpsburg, GA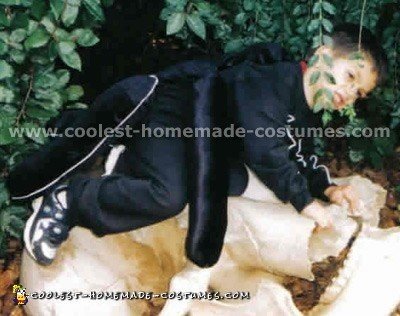 Last year my animal loving son Trevon had just turned five years old, and wanted to be a poisonous spider for Halloween.
I started with simple black jogging pants and a sweatshirt. Then I purchased black velvet and filled the "legs" with poly-fil and glued them with a hot glue gun.
After that, I glued on white yarn down each of the arms on the front of the costume and formed a "web" between the arms and legs, which he could use to move them up and down. I continued the web onto the chest of the shirt.
We finished it off with plastic fangs and some of that webbing that you pull apart and throw on things. I would have liked to paint some extra eyes on his face, but "make-up is for girls", so we did without. He absolutely loved it and got lots of double takes and comments about the "scary spider" when we went out.
Original DIY Spider Kid Halloween Costumes
by Diane B., Conception Bay South, NL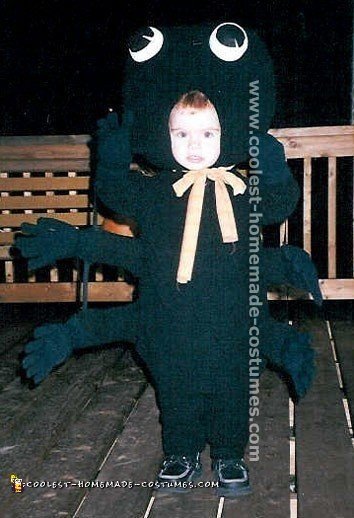 I created this costume because my son loved spiders or Buga-bugas as he calls them. I bought some black fleece, which was very inexpensive and very easy to use since you don't have to hem the edges because they do not unravel.
The head was created by making two hoods, one the size of his head and one considerably bigger. I then joined both together and stuffed them with batting.
I then attached the eyes, which were two halves of a large Styrofoam ball. Then, I covered the Styrofoam with white panty hose before hot gluing them onto the head. I knew that they probably wouldn't stay on without some reinforcement (especially with putting him in and out of the car). I then glued black felt pupils onto the eyes.
To keep the head on I attached a piece of orange material around the bottom, which I could tie on easily. I also attached black pipe cleaners to the top of the head to make antennae.
Making the Spider Costume Body
For the body I simply made a normal black shirt, which I made long enough to go under his bum. I put elastic in the bottom edge to keep it there. Then, I sewed tubes of black fleece, about the same length as his arms, stuffed them with batting and sewed small black gloves (which I also stuffed) to the ends. I made four of these and attached them, two on each side.
Then by using small black elastic I sewed them onto the sleeves of his shirt so that when he lifted his arms the legs under would move as well. I then put a small pair of black gloves on his hands as well (great for those cold Halloween nights).
For his legs I made a simple pair of black fleece pants. However a regular pair of pants can be worn as well. It's one of the coolest kid Halloween costumes I've made!
My son had a great night being a Buga-Buga!!!