Whether you're teaming up with your significant other or a good friend, these Halloween couples costumes will get you started on your own DIY costume project. Even better, this list will show you what it takes to make a costume that can bring home the coolest Halloween couples prize.
1. Awesome Homemade Red Queen and Mad Hatter Couple Costume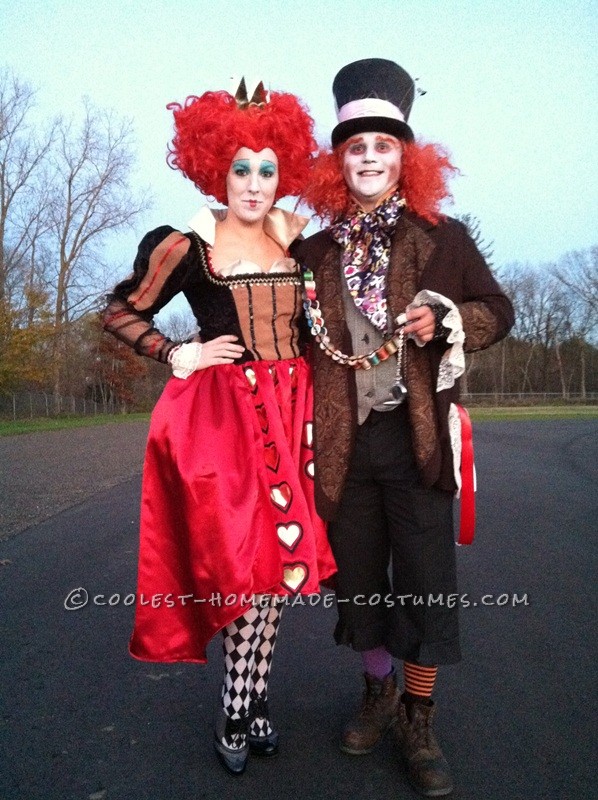 Kirby and her fiance won the "Coolest Couple Costume" prize in our 2012 contest. Kirby dreamt up this Red Queen and Mad Hatter Couples Costume idea, her partner agreed to partake in a couple costume for the first time, and Kirby's mom took on the challenge of sewing it all together.
2. Coolest UP! Carl Fredricksen and Russell Couple Costume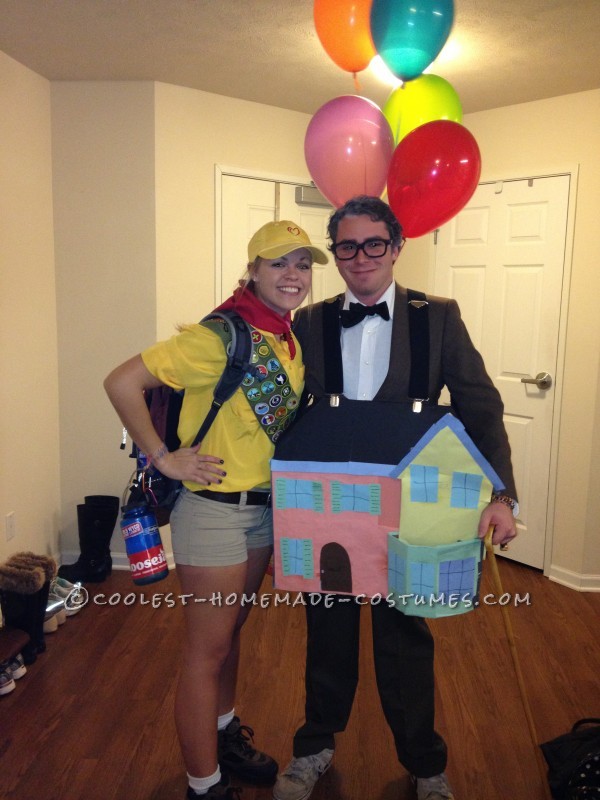 Caitlin and her boyfriend josh won the "Most Creative Costume" at her sorority Halloween party. Most of the items for their Carl Fredicksen and Russle Couple Costume were found around the house and at the Salvation Army. When the duo ran out of gray hair spray, they cleverly improvised with baby powder!
3. Coolest Big Comfy Couch Costume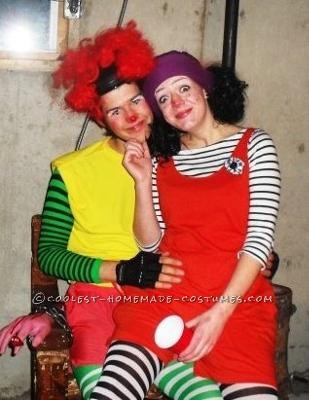 Erin "kind of" regrets making this Big Comfy Couch Couples Costume because everything else she does now pales in comparison. The couple costume took just several hours to make and was a Big Comfy Hit!
4. Hands-Free Barbie and Ken in a Box Halloween Couples Costumes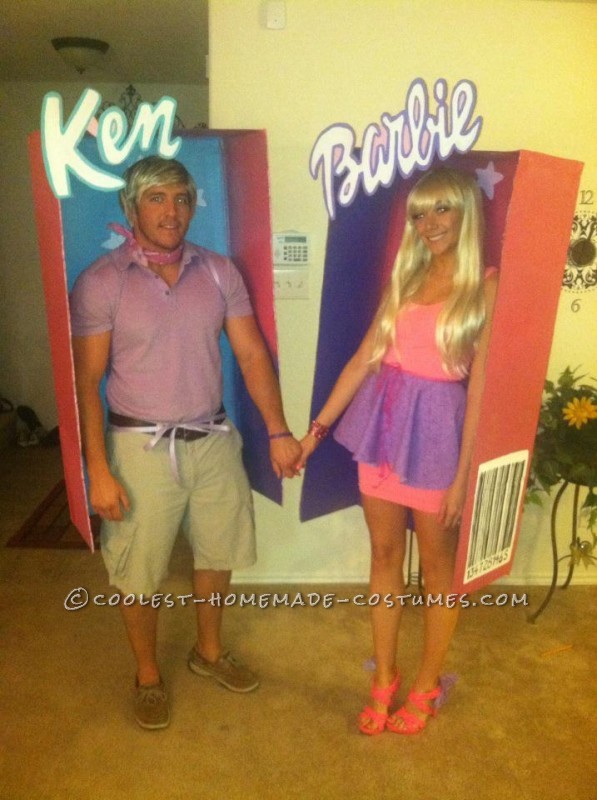 The cool thing about these "Doll-In-a-Box" Costumes is that Chelsea and her boyfriend didn't have to hold the boxes, could slip in and out very easily, and if they wanted a bit of privacy, they just had to face each other and connect boxes.
5. Unique Troll Couple Costume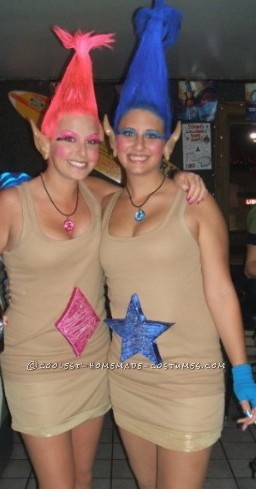 For the second year in a row, Megan and her best friend won first place at their local costume contest (the first year they won with the Thing 1 and Thing 2 couple costume that's also posted on this page). To make the hair stand, they placed Styrofoam cones on their head, pulled and secured their hair around it and then just sprayed it.
6. Coolest The Maitlands from Beetlejuice Costume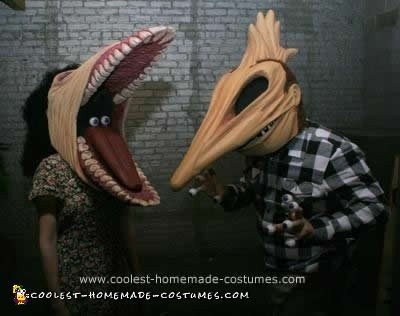 Ian and his girlfriend Libby won a prize in our 2011 Halloween costume contest for their cool Beetlejuice couple costume. Ian provides a super-detailed account of the entire process along with pictures. He also shares some of their experiences, including the local Halloween parade when Adam's nose came in handy to push through the crowds.
7. Last Minute Thing 1 Thing 2 Halloween Couples Costume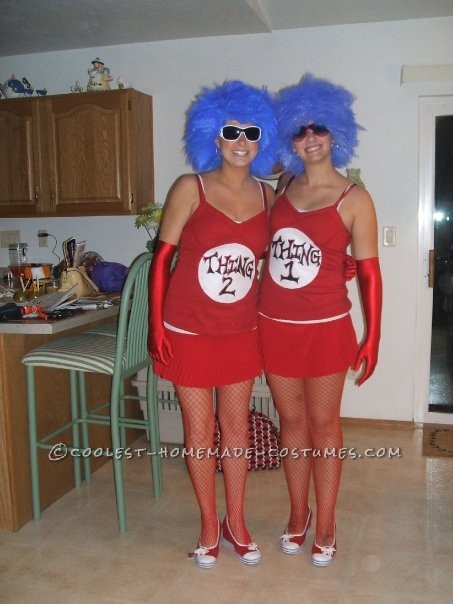 Megan doesn't settle for generic-looking costumes, so together with her best friend she created the Two "Things" with a funky twist. The duo used Einstein wigs painted blue added some all-red accessories and enjoyed a night full of running around, getting into true mischief. They also won first place at a local Halloween costume contest.
8. Homemade Black and White Swan Couple Halloween Costume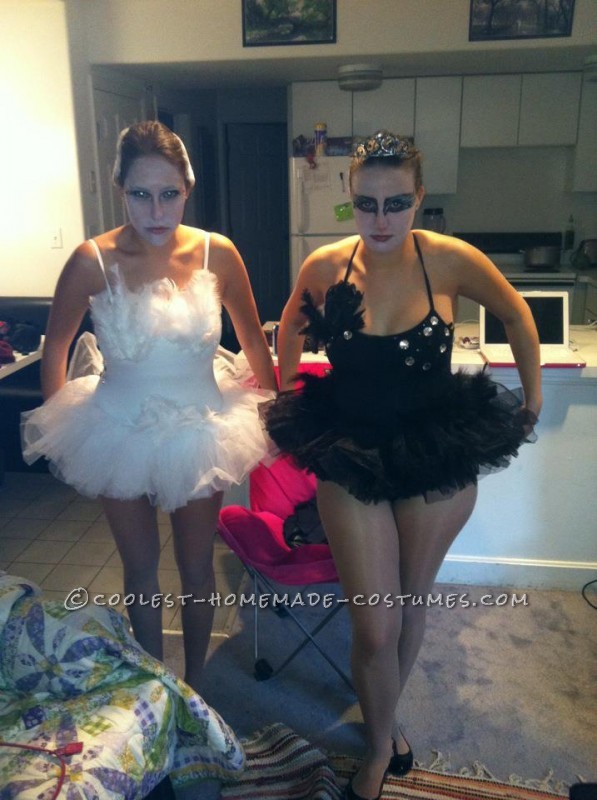 Mollie and her best friend loved the movie "Black Swan" and decided to dress up as Black and White Ballerinas. During their night out, they two got a lot of attention and while at a bar in Athens, won the costume contest.
9. Sexy and Cool Hamburglar Halloween Couples Costumes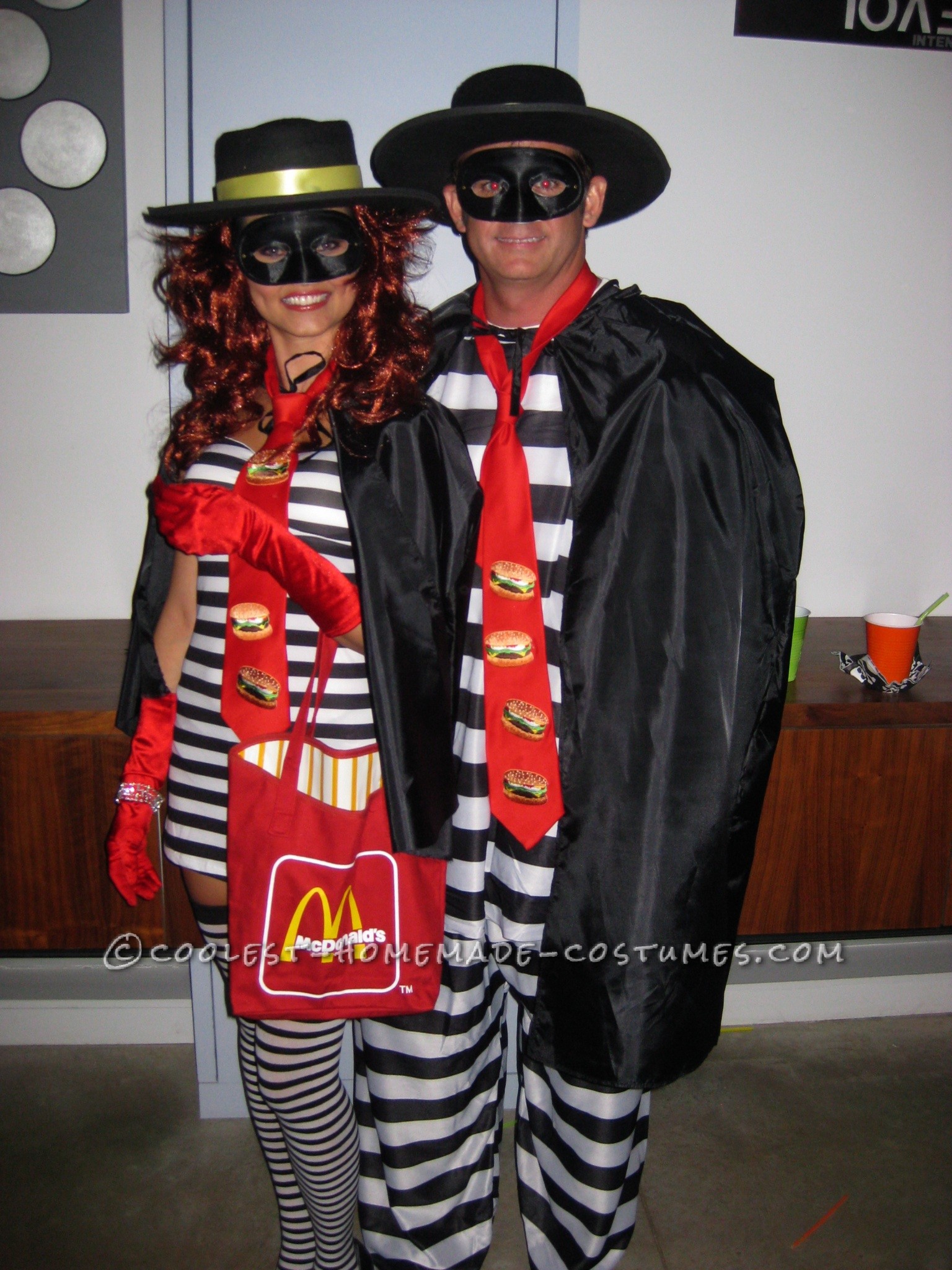 Jennifer's husband refused to be Ronald McDonald, so the two went as a Hamburglar Couple, using prison uniforms as the base of their costumes. They won a Halloween costume contest and got stopped all night (not by the cops…).
10. Coolest Homemade Nerds Box Costume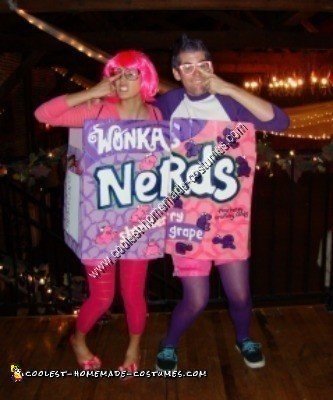 Made by Shayna from Riverside, California
Shayna and her boyfriend won a prize 2010 Halloween costume contest for their original couples costume idea. It was one of the very first to be posted on the Web (many renditions can be found today) and where do you suppose Shayna came up with the idea? One day while sitting at church the Nerds Couple Costume idea just randomly dawned upon her! Read more about this Coolest Homemade Nerds Box Costume…