Kirby is the Red Queen and Gary is the Mad Hatter from Tim Burton's Alice in Wonderland. I (Kirby) love Johnny Depp and Tim Burton's spooky spin on these classic movies he's directed. I've been begging my fiance to do a couple's costume with me for years now with no prevail – until this year! I have no idea why he finally agreed to be the Mad Hatter – I think he just liked the big coat and pocket watch. But I am so glad he did!
Mom hadn't seen the version of the movie yet but I found a few pictures online of Tim Burton's characters and printed them off in color. We went off to the fabric store, Jo-Ann's, with coupons and photos in hand.
My mom made my dress from scratch by combining pieces from multiple patterns and sewing after work for almost 2 weeks. The corset idea came from one outfit, the skirt from another, the sleeve from an old dress design, and then some add-ons she did on her own to make it look like the Red Queen.
RED QUEEN
Dress – At first this was going to be multiple pieces but then after sewing them Mom decided it would be easiest as 1 single dress. So she sewed them together and started tweaking things to make it work as 1 outfit. Like the neckline being open instead of up by my neck and closed up (like Red Queen's in the movie) that way I would be cooler. Plus, by being 1 piece, I could have a poofier hip and butt like I kept requesting.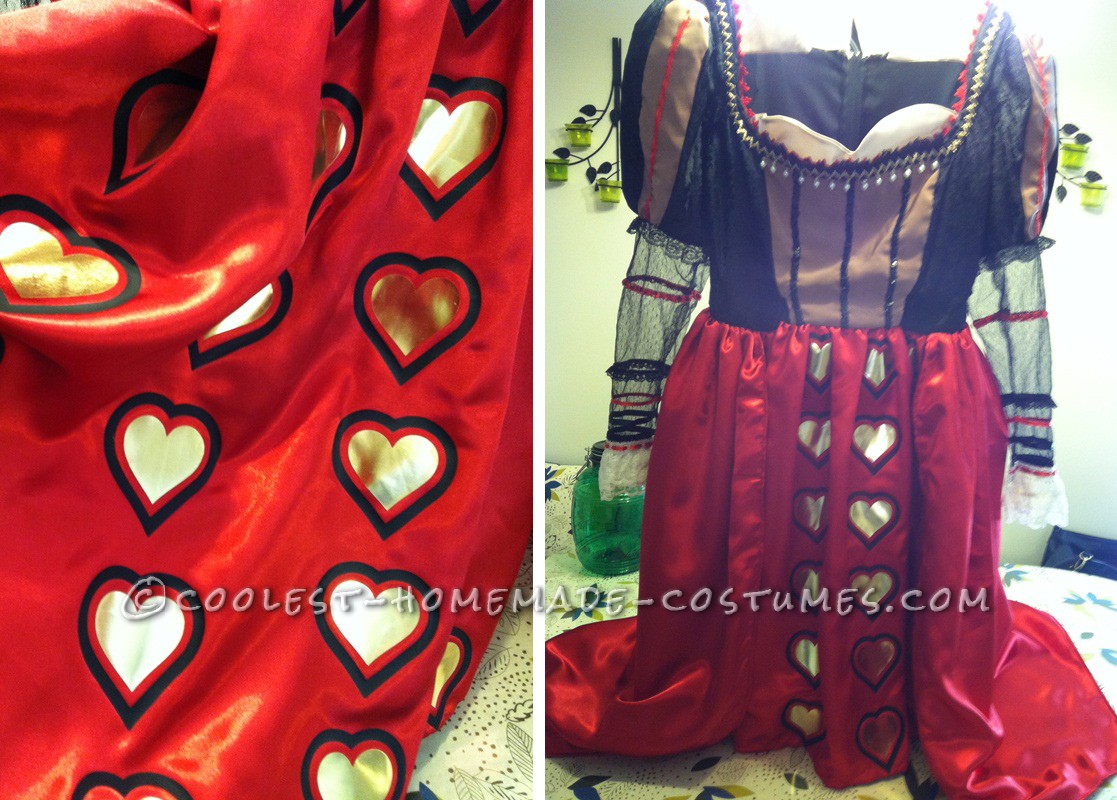 Vinyl Hearts – My brother owns Farshot Image and Design in West Michigan. He pressed the gold and black vinyl hearts on the piece of red fabric before my mom started sewing it to the skirt of the dress. I think this helped the WHOLE outfit look like the real thing. PLUS – it allowed me to buy fabric that was cheap at the store and not have to hunt for one with a heart pattern. It worked out great. Thanks Farshot!
Back – this was nice. Someone still had to zip me up and snap the collar together but it was easier than putting on multiple pieces. I am glad mom changed this during the sewing process.
Bodice – From a pattern for a Halloween costume that has nothing to do with Red Queen. I think it was a mid-evil style dress thing that we bought on clearance last year thinking it looked cool and we might able to use? So, we used it this year! Again the fabric was inexpensive and we trimmed it out with the black lines, the pearls, the gold/black/red trimmings… to make it all a little more interesting. It was my idea to make a "heart" shape out of the white satin for the very top edge so I wasn't showing so much cleavage. I thought I might wear this to work for Halloween day, so I wanted to be appropriate there as well. The Heart worked well and I think it fit in the theme after mom decided to leave that all exposed so I wouldn't be so hot in all the layers of the costume.
Skirt – the inside of the long, back half of the skirt was all lined with black lace (a cheap lace at the fabric store). And you can see the front corner of the skirt is shorter than the back… It had this hi-lo hem effect that actually looked really cool.
Underside – Tulle attached to either hip helped get the poof I wanted. Plus you can see the top sewn into the skirt here. And the zipper up the backside.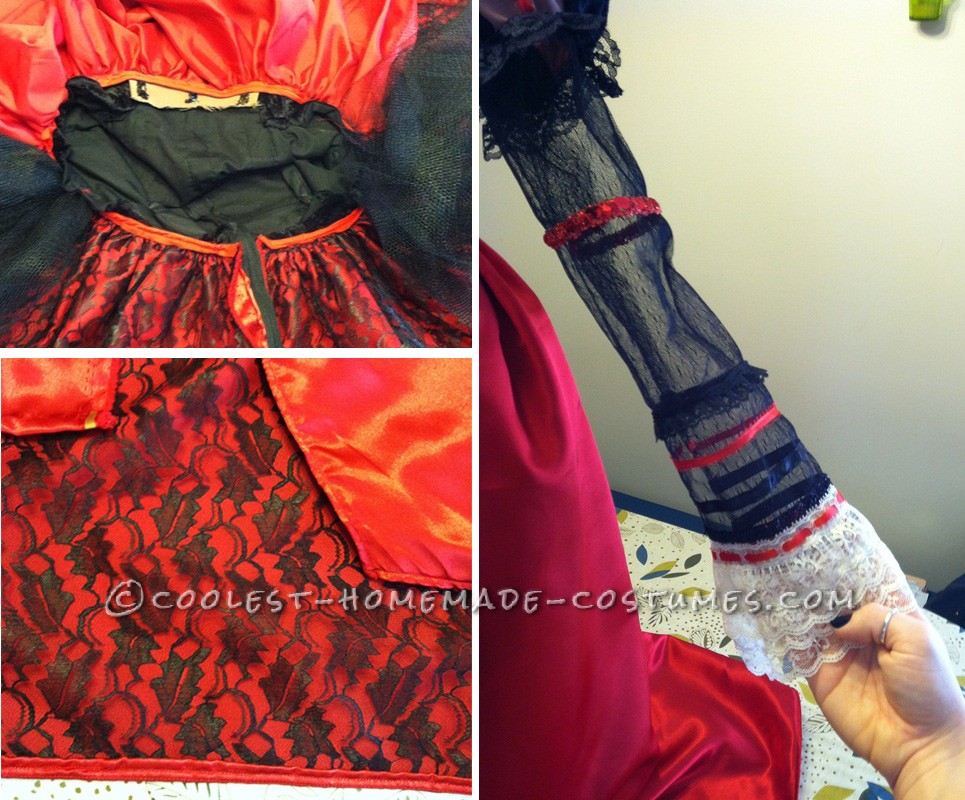 Sleeve – The sleeve was a stretch velvet at the shoulder, lace down the arm, and some trim pieces, with ivory lace at the cuff. It also some neat trim and pearl drop beads around my neckline with a "sweet heart" peek-a-boo piece that we decided to do last minute to make the dress a little cooler to wear last minute instead of being all the way up to my neck. We did the stand-up collar ivory satin and used the iron-on stiffener to make it stand up good. The lace was inexpensive and the trims were, too, some we already had and others were on the clearance rack from past holidays I think? The pattern Mom used to make the top of the sleeve was from one she found at my grandmas from a 1950's bridesmaid dress. Eugh. But it was the perfect shape so Mom started there and did the lace bottom with the ribbon and trims off hand.
Long Undies – A simple stretch fabric, sewn together like long shorts. Trimmed out with lace at the bottom hem to stick out under my skirt like ladies wore in the old days.
Long Undies Lace – The red ribbon is just woven through the top of the cream lace. And Mom added 1 row of red lace to add another pop of color. She IS the RED Queen after all.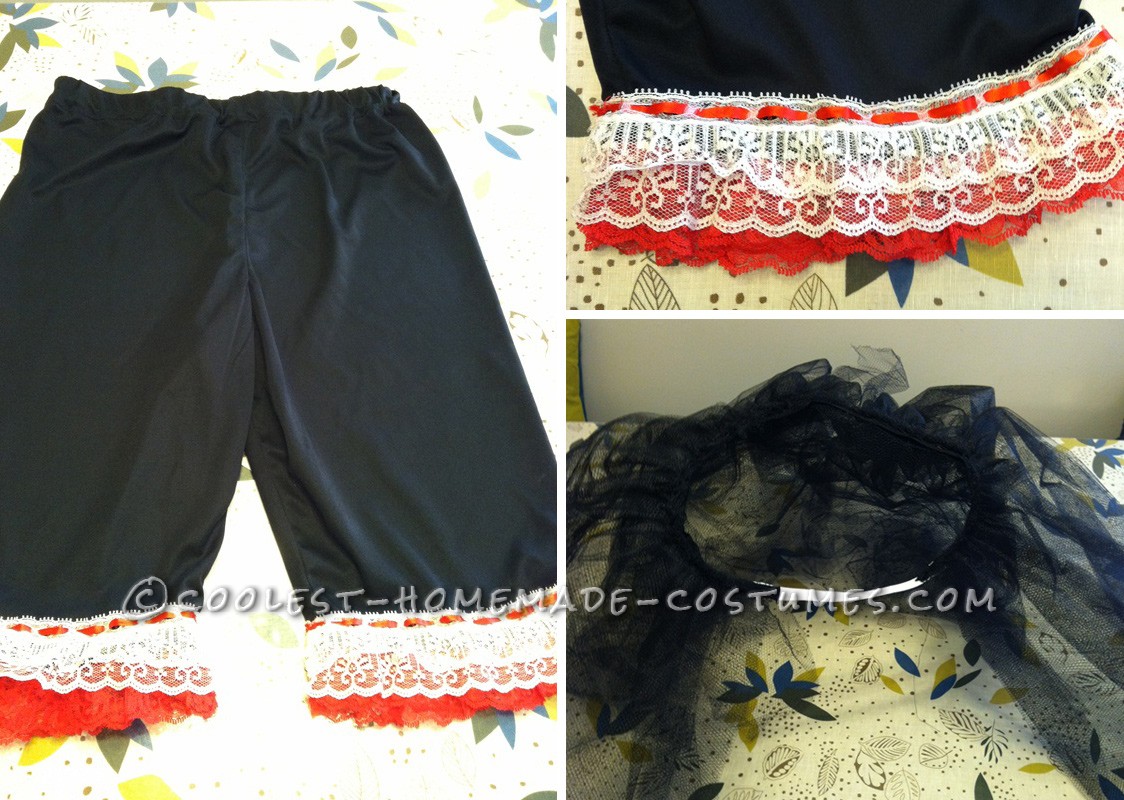 POUF skirt – this is what I wore over the long undies, under the skirt. The white elastic is across my front hips with the tulle all about my side hips and butt. If you scrunch the heck out of it and separate all the pieces it just gets bigger and bigger, too. This is only like $3 to make, FYI. Tulle is cheap and with a coupon its really cheap.
Red Queen Make up – Find a close up picture of Red Queen's face for reference, I had one to look at the whole time and it helps.
White cream make up, apply with a make up sponge to entire face (or using a foundation brush helps, too, to get a smooth application) Go over your lips, too, to really white out your whole face.
Using an eye shadow brush or applicator, apply blue shadow in a giant V, follow your own eyebrow ends basically. Make a line from the inside corner of your eye up past your eyebrow and from the outside corner of your eye up past the eyebrow again. Make a line across the top to connect the two and fill in blue, baby.
Using liquid eye liner, follow the top of your blue eye shadow line and draw a new skinny eye brow.
On your cheek, use the liquid liner to make a "beauty mark" on your cheek like hers.
Heavy mascara on the upper and lower lids. I ran out of time on party, but you might even wear fake lashes to get the real effect. Red Queen has some pretty neat "doll-like" lashes on her lower lashes especially, in the movie.
I used a fat lip crayon because it won't smudge like lipstick, and draw your small HEART pucker lips on your lips.
And try not to sweat. The make up itches if you are a sweat at all… So no dance parties as the Red Queen, would be my recommendation. :-)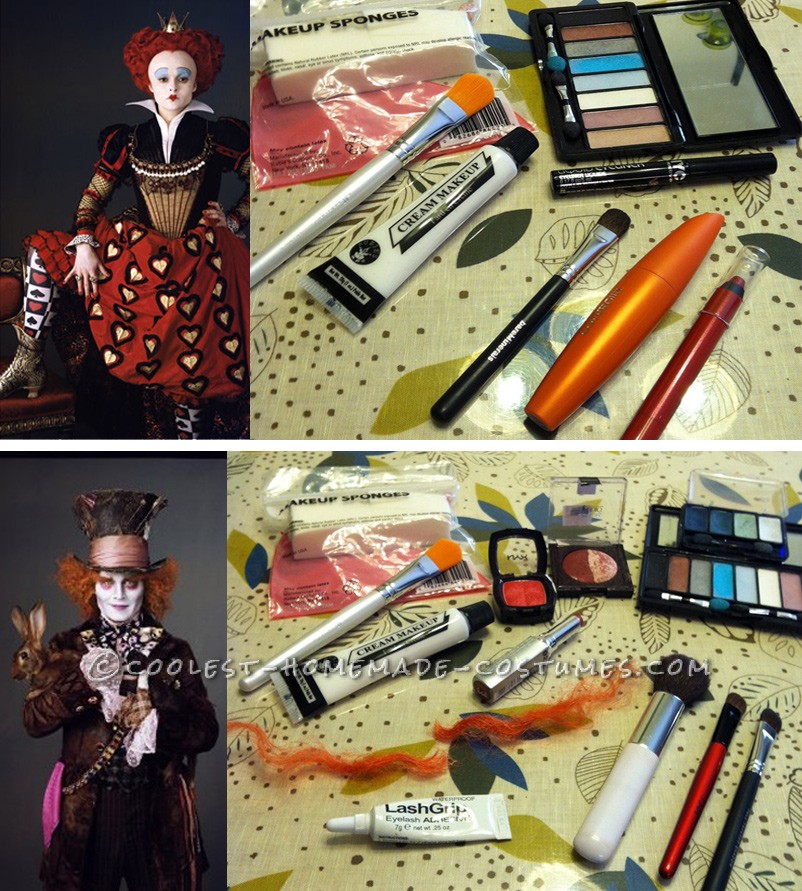 MADHATTER-(The majority of his things were bought at Goodwill and modified).
Make up supplies– White cream make up, apply with a make up sponge to entire face (or using a foundation brush helps, too, to get a smooth application)
Using an eye shadow brush, apply red or rust colored shadow to hallows under eyes
Using an eye shadow brush, apply blue shadow to eye lids
Using a blush brush, apply same red/rust shadow to hallows of cheeks (suck cheeks in like a fish face to find these – and you can laugh while doing it!)
To contour nose, apply just a smidge of red/rust shadow to either side of the bridge of your nose with your small eye shadow brush
Pinkish-shade of lipstick on your lips… take it with you, you'll need to re-apply. Welcome to the lovely world of being a girl!
To make MadHatter's eyebrows, cut 2 pieces of the wig from an inconspicuous spot. I used a small comb to "backcomb" these wild pieces of hair to kind of knot them and "stick" them together. Using eyelash glue, I squirted a line of it onto a papertowel, and ran the orange mess through it. Wait until the glue starts to turn clear, and stick overtop of your own eyebrow (which should be stuck down with white paint since you covered your face in the first step here) Let dry – if you are inpatient, use a hair dryer on a low setting and hold the orange wooly eyebrow in place while the glue dries clear.
Scarf – Silk fabric, $2 yard @ Jo-Ann's, Sewn in one long strip so it could be tied. Bargain shop at the store, I recommend finding a print you like but pick one sale that will work. It IS just a costume after all. Don't break your bank.
Jacket – Goodwill find! Needed to be taken in a little to fit Gary but for the most part it was a great starting place for this part of the costume. Replaced the lapel with another Goodwill find's paisley print lapel and cuffs to make it unique. Silk rabbit ears and ribbon/lace trimmings out of his pockets. Mis-matched buttons on the whole thing from a button box we have collected over the years. The spools of threads are also from our sewing collection, woven together with a black cord and tied to the jacket at the shoulder and near the rib cage.
Cuff – Hand sewn cuff from another jacket found at Goodwill. It was a ladies paisley print beauty. But it was perfect for MadHatter! We saw the potential.
Shirt and Vest – More Goodwill finds. The vest was already mismatched but we replaced the buttons so they all didn't match. Mom cut the cuffs off the shirt and replaced with some lace from an old ugly pillowcase (also bought at Goodwill only for the lace) that would hang out the cuff of the jacket).
Collar – Mom cut the points off the collar of this dress shirt and used a stitch from her sewing machine to make sure it wouldn't fray. It was functional but it turned out looking really cool, too, kind of tattered and X-ed almost all the way around. This made the collar stand up straight like Johnny Depp's did in Alice in Wonderland.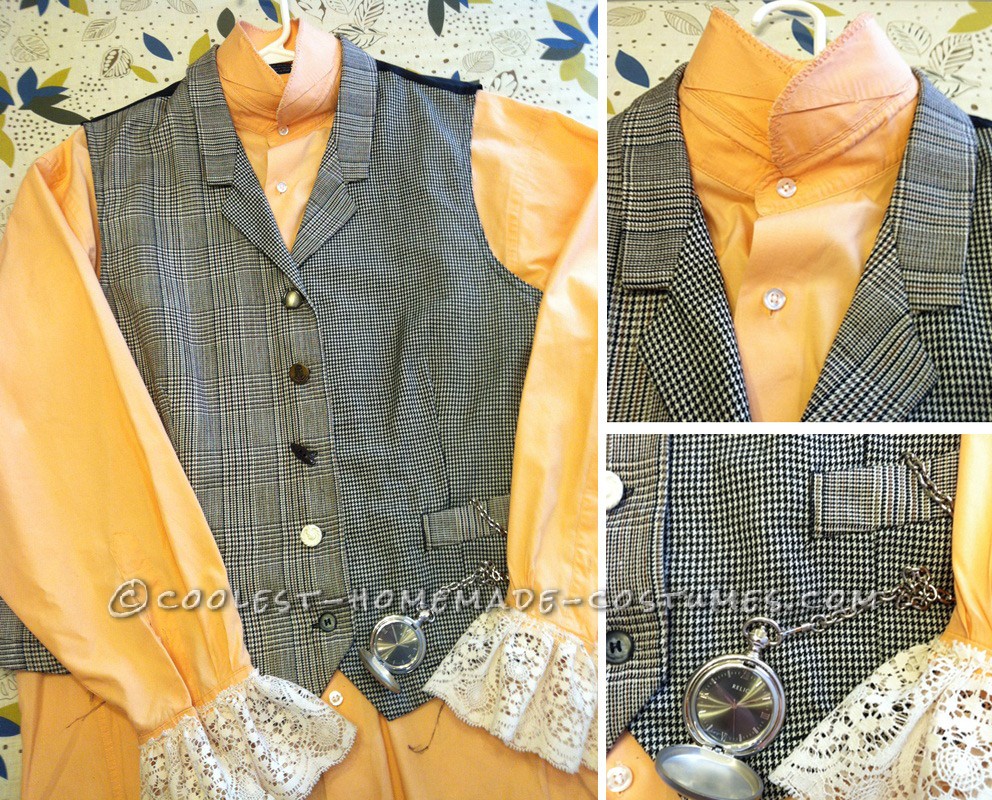 Pocket Watch – Gary's favorite part of his costume. All night he'd tell party guests – "You're LATE!" as he held the watch. Too funny! Mom even put pockets (from the Paisley jacket) into the vest so he had a place for his watch. Turns out the vest had FAKE pockets; he was so disappointed when they wouldn't open for his watch. The next weekend when we came back to try on the progress and she had sliced them open and attached the pockets to the inside so they actually functioned. Genius woman, I swear.
Pants – Dress pants from Goodwill on Gary's size. Mom cut them at his shin length. Then she sewed this round piece of the bottom back to the leg opening to kind make a flare?! I don't know what she did but they looked perfect. And they fit Gary to a tee.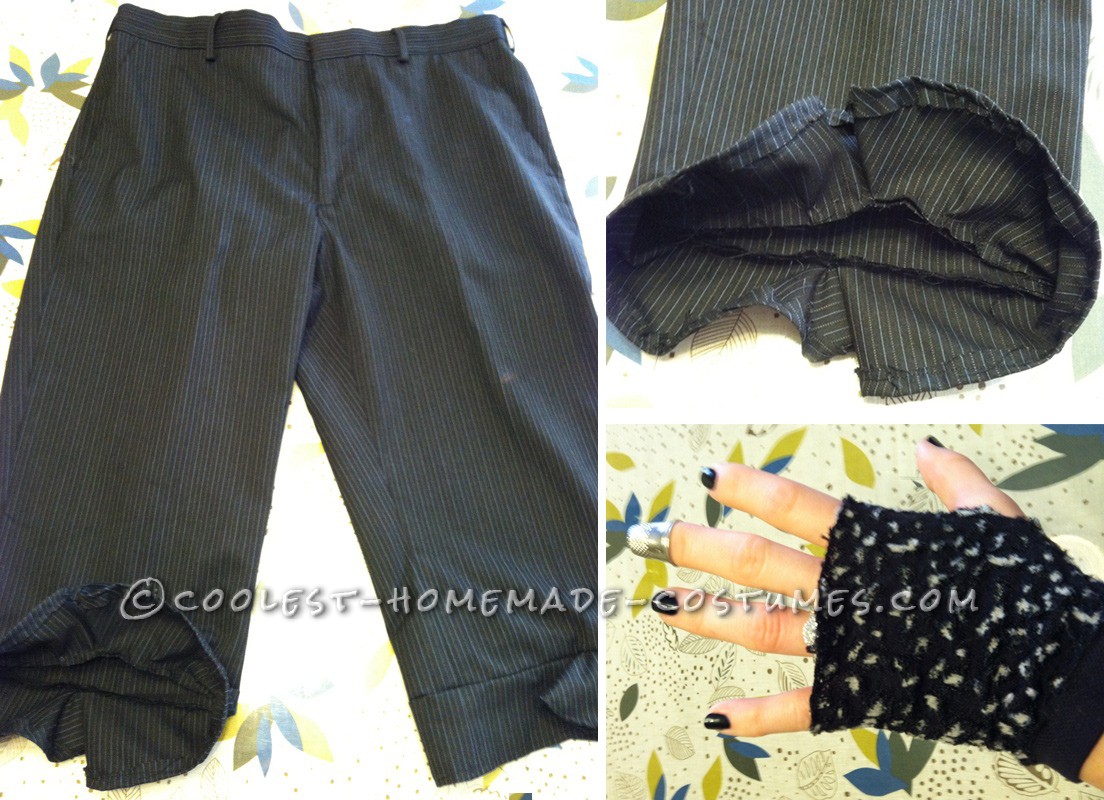 Fingerless Gloves – Women's trouser socks with the toes cut out and a thumb hole (I used clear nail polish on the edges so they didn't fray only because of the weave these particular ones were. I picked them out of my own drawer for his costume because I liked the pattern.) Don't forget a thimble and some taped up fingers because he is a Hatter and he is MAD so he's a little beat up after all.
Manhatter's Hat – Pink fabric again was on sale at the fabric store, its just tied around a felt top hat we had from another costume we had already. The 10 / 6 card is an index card stuck on the side.
Hat Pins – Florists wire spray painted Gold. Buttons from our button box hot glued to the top. These three are just stuck into the tied on ribbon.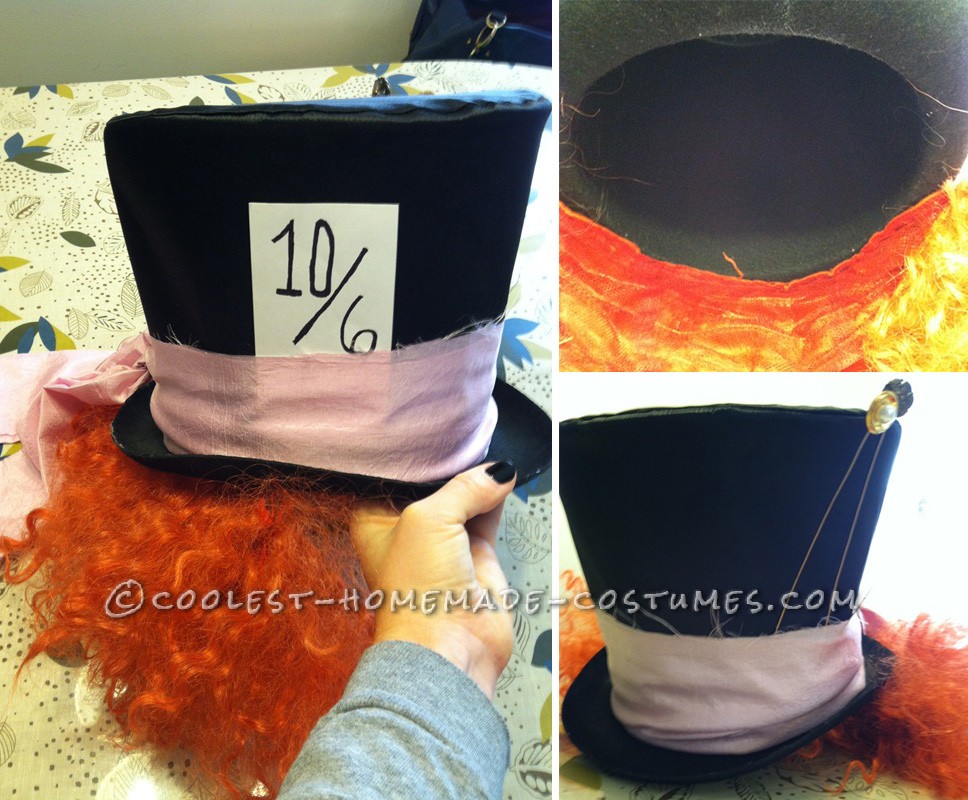 Hair Sewn to Hat– This was a last minute suggestion by my dad. The hat was really tight on Gary's head once he had the wig on, too. So dad said we should cut the wig and somehow attach it to the hat so he didn't have to wear both. So, the morning of our party I did just that. It worked out well that the wig was a cheap one and sewn together on a mesh lining.
I cut the top out of the wig and tossed it aside. Then I temporarily pinned it in place all around the edge of the felt hat with open safety pins. I had to use a thimble and a really big needle to push through the thick felt and stitch the hair in place. My finger hurt pretty badly. But Gary said multiple times that it was way easier to wear just the hat and I was able to actually back comb the part of the wig we used and make it stick out better. I think it looked better than the wig itself. He just couldn't take the hat off all night, when he did – the make-up was rubbed off his forehead and he looked really funny without anything on his head.
We laughed each time he did it. He sort of looked like the Joker from Batman, sad and creepy.
Purchased – we had a coupon for an online Halloween store 40% off so we bought the wigs and my tights (free shipping) together. It was a mighty score!
The Red Queen was $45-$50
The MadHatter was $24-$30
That money and my poor mother's sore fingers for 2 weeks of sewing after her day job. Bless her heart.
But we absolutely LOVED our costumes!!! HAPPY HALLOWEEN everyone, NOW OFF WITH YOUR HEAD!