Take a look at the coolest homemade glow in the dark costume submitted to our annual Halloween Costume Contest. You'll also find loads of homemade costume ideas and DIY Halloween costume inspiration.
Costume by Edwina C., Greenwood, IN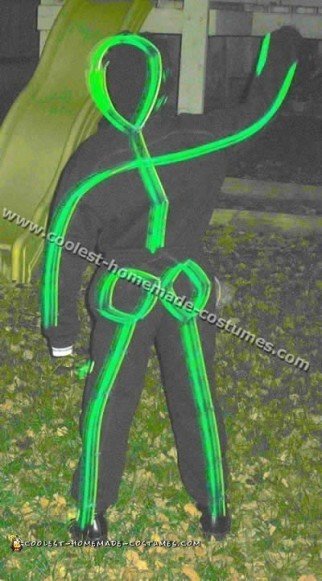 3rd Place Winner of our 2007 Homemade Halloween Costumes Contest, Click Here to View Other Winners
You could hear laughter from blocks away "Wow! Look at the stick person!" Every person at every home we visited for treats had to see what the glowing costume was made of. And when we'd turn to leave and the host or hostess would catch a glimpse of the costume's backside they would laugh hysterically.
The best part of the costume aside from being cheap and simple to make was that I didn't have to worry about my daughter being seen in the dark. Granted it was a difficult costume to photograph, it was worth it!
Total Spent: $18