Take a look at the coolest homemade Addams family costumes submitted to our annual Halloween Costume Contest. You'll also find loads of homemade costume ideas and DIY Halloween costume inspiration.
Costume by Jeanne S., New Castle, PA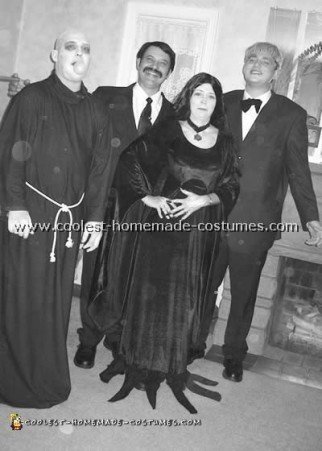 My dress was purchased at the local thrift store. It was a witch and I added the bottom. The necklace from Wal-Mart kids Halloween items. Morticia took a bouquet of rose stems for the party host. Gomez's suit is also from the thrift store. His hair was craft fur, a little sewing and a lot of hairspray. Gomez had a fake smoking cigar purchased from the internet and a used crawling hand.
Lurch had a thrift store half price suit and the hair from the craft fur. Sewed the tie from scraps. Uncle Fester's garb I sewed with discount fabric including rope belt. Light bulb that lit up was ordered online. I designed some million dollar bills with Gomez's picture on them that he passed out. I also made finger cookies to serve.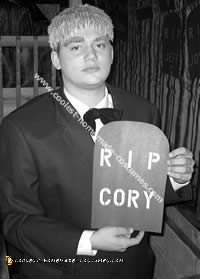 We chose real easy to make costumes for Halloween and my family were all good sports about the whole thing and what a perfect family portrait we have!
Total Spent: $50
Costume by Angela M., Clintwood, VA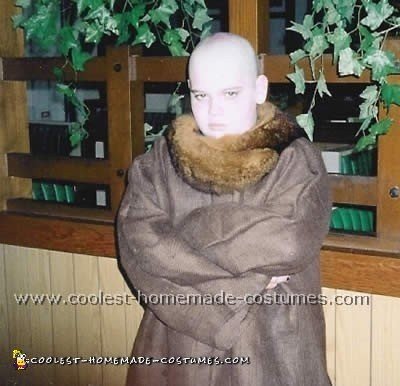 While searching for easy to make costumes, we decided that my son Joshua would make a good Uncle Fester. I bought several yards of brown burlap and my sister sewed the robe together. We salvaged a fur collar from an old coat and attached it to the top.
The final step was shaving Josh's head. It is not as easy as you would think especially with thick hair. With his head shaved all that was left was to use a little makeup to darken under his eyes. We tried to find a trick light bulb that would light up in his mouth but didn't have time to go get one.
Total Spent: $10
Costume by Jennifer G., Holland, MI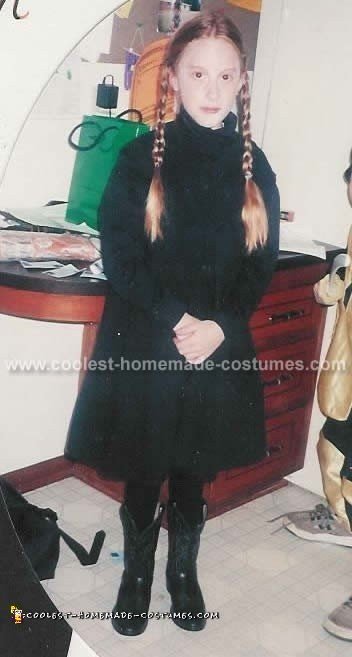 With a last minute Party, we were at a loss for cool costume ideas for Halloween. We hunted through the closets and came up with a lot of black so Wednesday from the Addams Family came to mind.
We simply used: A long Black shirt dress, black leggings, black boots/shoes will do. I baby powdered her face to be white and braided her hair and of course she wore a frown.
Most of these items can easily be found at your local thrift/used store if you don't already have them in your closet. Black is an easy color to find.
Total Spent: $5