Step behind the glass of your favorite machines for the coolest homemade costume! This awesome collection of vending machine and booth costumes contains the greatest DIY costume instructions.
Ever watch a kid stare longingly at a candy machine? Let them live out their dream of being on the inside. Take a look at the coolest costumes here that actually dispense real candy!
Extremely popular are gumball machines. This is one versatile costume. There is no wrong way to create your own. In addition, make it a couple costume by dressing your other half up as a quarter. Check out super cute some examples here.
Also, there are clever and easy booth costumes you'll see here. Best of all, you can make them cheaply and easily.
So try your hand at creating one of these DIY vending machine and booth costumes this Halloween!
---
Latest Vending Machine and Booth Halloween Costumes
---
---

---
Featured Vending Machine and Booth Halloween Costumes
---
The wife and I thought long and hard to come up with a costume that would work well at keeping our 2 year old safe from the weather and COVID. (And avoiding having to carry him around the town when he got tired).Of course it had to be cool at night too so we used light sabers and a tap light for lighting the machine up at night. Total build took about 4 days to complete. Our son and the whole town loved every minute of it! Read more »
---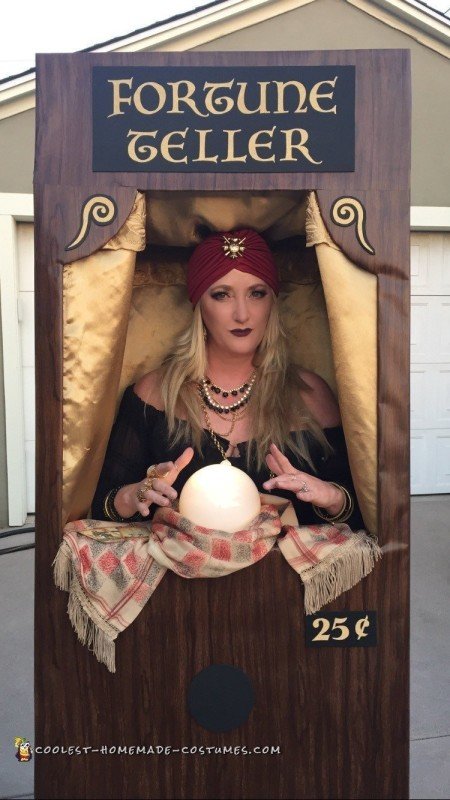 I decided to be a Fortune Teller for Halloween this year and wanted to go a step further than just wearing the outfit, so I created a costume that looked like a Fortune Teller in a Carnival Machine! I got a large box (disposable cup box from Smart and Final), cut an opening in the front (top and sides of opening only), folded the cut piece into the box, creating a ledge in the process. Read more »
---