Take a look at these cool homemade Gumball Machine costumes shared with us by costume enthusiasts from around the world. Along with the unique costume ideas here, you'll also find loads of homemade costume ideas and DIY Halloween costume inspiration for your next costume project. Enjoy!
Latest Gumball Machine Costumes
---
---

---
Featured Costumes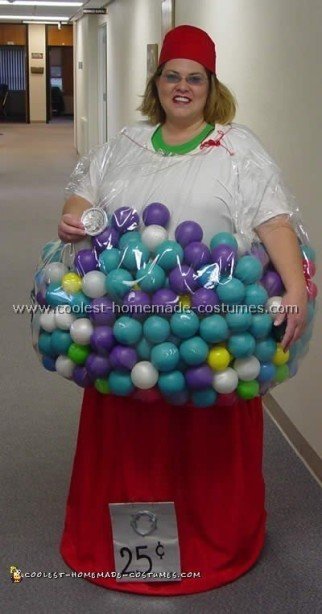 I got this unique costume idea a couple of years ago to be a gumball machine but with a large clear leaf bag and balloons. But when I saw this costume on your web-site I knew it was do-able. I too got the plastic from Wal-Mart (in fabric). I actually sewed an old t-shirt onto the lining for a snug fit.
Then I bought a couple yards of red material for the base. But we used boning along the bottom of the base. I highly recommend you use a thick boning or a hula-hoop as the other costume did. Also, I bought the silver gift bag from the dollar store, also found some rubber play handcuffs. I just cut off one handcuff and glued it to the gift bag. My hat was a child's summer hat and one thing my niece did was she took a yogurt lid and covered it with aluminum foil and drew 'Liberty' 'in God we Trust' and Washington's head for the quarter.
Total Spent: $15
Another Unique Costume Idea
submitted by Jody U., Madison, WI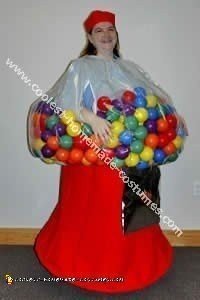 I created this costume using a pattern for a pumpkin costume. Instead of using orange fabric I used clear vinyl. You can buy clear vinyl by the yard at most Wall-Marts. I bought the thickest they had but if I were to do it again I would use the thinner vinyl as it would be easier to sew!
Then I sewed a liner inside it and filled it full of colored "ball pit" balls. I used a pattern for a full-length flare skirt for the base and used a hula hoop at the bottom to make it flare out. It's hard to see in the picture but the coin slot is actually made out of a shiny silver gift bag and a battery-operated light-up fan. I had to put large eyelets around the bottom of the globe and used a drawstring to keep it around my waist.
I got first place for this unique costume idea at a costume contests at both my job as well as the Halloween party I went to on the weekend. The hat is just a beanie made out of the same material used for the base.
Total Spent: $25