Halloween is probably my very favorite time of year. Growing up in the Midwest (Chicago, GO BEARS!), fall is a big deal and I have always loved the feeling of the season: the weather, the colors, the flavors and, of course, scary movies and Halloween!
Well, in 2007, I left the Midwest and now call Prague, Czech Republic home. Halloween isn't such a big deal here, but I work as a teacher in Prague's only American owned-and-run preschool. I am so lucky that each year, we try to make our own Halloween celebrations bigger and better. I love sharing our traditions  with young children and showing them all the amazing ways we celebrate this special season where you can truly be anything you want for one day!
Halloween is also relatively new to my English husband, Harry. He dresses up with me every year and although he's never made the costume, he is usually ready with terrible ideas for inspiration. This year was different; he was a HUGE source of inspiration for me when we started planning this King of Spades and the Black Maria couple costume in August.
Harry is an amateur magician and one day, surfing YouTube and showing me card tricks, I began noticing the design of the face cards. I looked at each King and Queen and began researching who they were in history and comparing differences in style based on the card manufacturer.I also took note of the special accessories each face card had and the style points that are consistent across every brand of card; for instance, the Queen of Spades always has a scepter and flower, while the King of Spades has a sword, beard and mustache. The Tudor rose also makes an appearance somewhere in nearly all Royal cards, and I loved this design.
I thought the designs were beautiful and I am a big fan of Tudor and medieval history, which these cards are usually based on. Unfortunately, these types of intricate costumes were always out of reach for me (I don't have a sewing machine and many materials/props aren't available in Czech Republic).  I decided to find a way to make a basic costume more special and look for unusual materials that I could somehow manipulate to make them "card-like".
I knew right away I would start with a basic shape (a dress for me and a tunic for Harry) and accessorize it. I could get plain, cheap fabric at my local IKEA, and craft foam and felt at an art supply store. I also knew I wanted to do something with weaving tape (duct tape, insulation tape, whatever!) because the results are look absolutely fantastic and it's so, so cheap! Oh yeah, and all this was done with tacky glue; like I said: no sewing machine! If you can sew, and you want to do a costume like this: KUDOS to you!
This was a crowd-pleaser if there ever was one! We took it to my preschool's Halloween party (shout out to the Academy at Marina!) and the children loved it. One parent described it as "intense" but it was ultimately a pretty dress and a crown and kids love that kind of thing.
We also were very excited to attend Prague's biggest Halloween party (no shout out for them, read on to find out why) and participate in the cashliest costume contest in the country. This contest is no joke, first prize is nearly $800USD. After all my hard work, we wanted that cash-money-playa and after our first party, we knew we had a real shot.
From the moment we left our apartment (in a tiny, no-English zone on the outskirts of Prague), people were taking photos and pointing and laughing (in a good way!) at us. We had a few covert iPhone pics taken on the Metro and even a random stranger came up and had his friend snap a picture with us!
The party was no different, everyone loved it. The photographers especially dug it; the frames and the makeup really pop on camera. We were immediately approached when we walked into the party and offered a spot in the coveted costume contest. We were stoked and partying followed. When it came time to hit the stage we did the best to work our super-unsexy costumes and got through to the finals: AW YISS!
So, fast forward to the next night where we would compete in the final round of costume craziness. We got VIP tickets to the party and drank up all the attention. At nearly 1am (we are old, 1am is WELL past my bedtime!), we hit the stage for the finals and the crowd loved us. Unfortunately, a group of rowdy young men in (rented) cow costumes were also very popular that evening.
Without going into the gory details, the cows took home the prize. We were awarded a bottle of Jaegermeister and a few other random pieces of crap as second place.
We were hurt, sad and betrayed. This was not the best costume and certainly not the most creative of the night. This was ugly, corrupt and we would have to console ourselves by posting pictures on Facebook and receiving comments like "You should have won!", "Awesome costumes", "What a rip-off, I bet it was fixed!"
The recognition from family and friends on a job well done is good enough for me, nearly one week after the fact. Those cows have probably already blown the money anyway.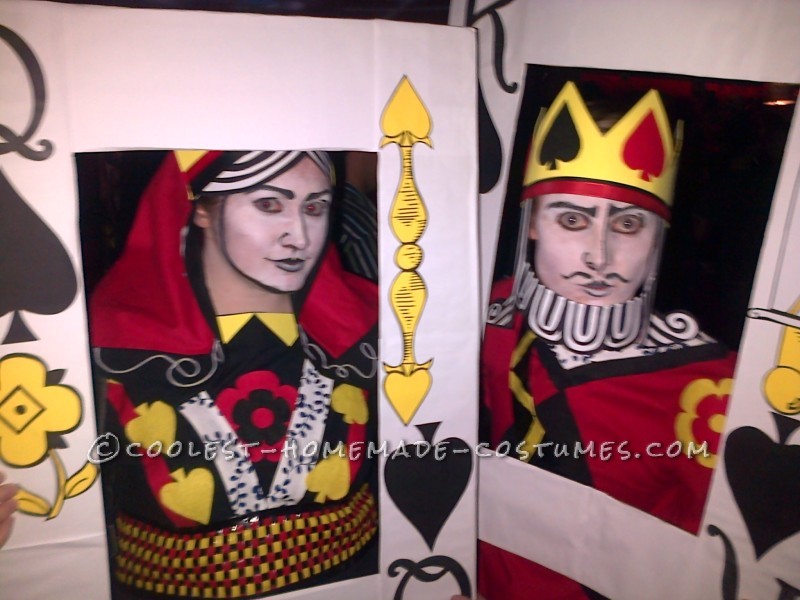 A bit blurry, but in all our glory!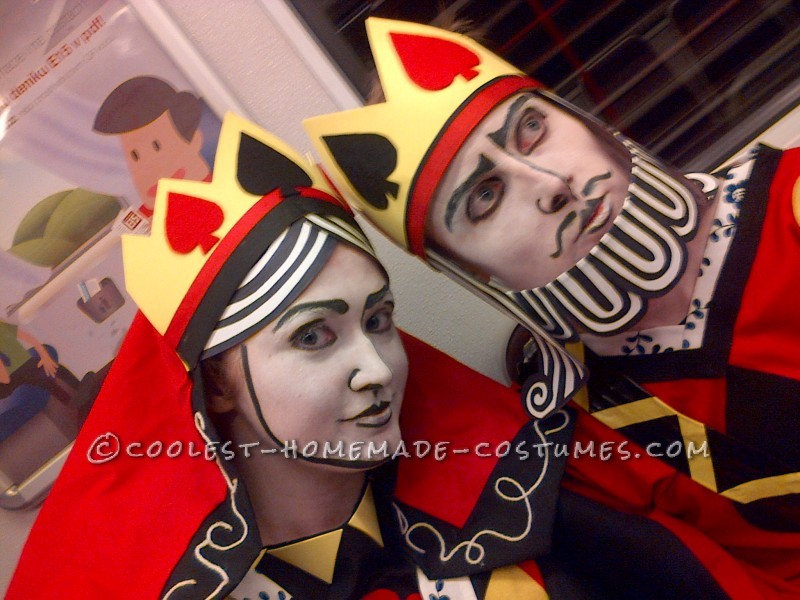 Riding the metro in style.
Tunic and Dress
Begin by measuring yourself and take note of how long you want the tunic or dress to be. I am 5'11 so I used about 3.5 meters of fabric (the width of the bolt was 150cm).
Fold the fabric in half and cut your head hole. Mine was about 30cm and I just cut straight across since I wanted a high neckline. (Harry's is a v-neck.)
Measure where the armholes should be. I literally put the whole piece of fabric over my head and had my husband make a dot with permanent marker where my armpit was!
From the "armpit mark" to the bottom corners draw a diagonal line. Cut along this line. (See the diagram, this sounds confusing, but it's not.)
Turn the fabric inside-out and glue (or sew for you uber-crafty folk!) along the edge to make the bell sleeves and the body of your dress/tunic.
For my dress, I also added three triangles to the skirt for volume. Simple cut a slit in the skirt fabric and attach the triangles inside out.
For a tunic, simply measure where you would like it to fall. For Harry, he's about 5'9, I used two-meters of fabric and it fell to his knee. I did not glue all the way down the sides, I left about 40cm free so he would be able to walk!
This was the most simple but most difficult part of the process. Easy to think up and do, but actually measuring and cutting makes me nervous! Good thing the fabric was $2/meter, right?!
Also, I made Harry's too small across the chest. He's a skinny dude, but he needed help getting it on and off. I'm sure for you pros out there, this wouldn't be an issue, but next time I will be more careful measuring and cutting. Like I said, $2/meter!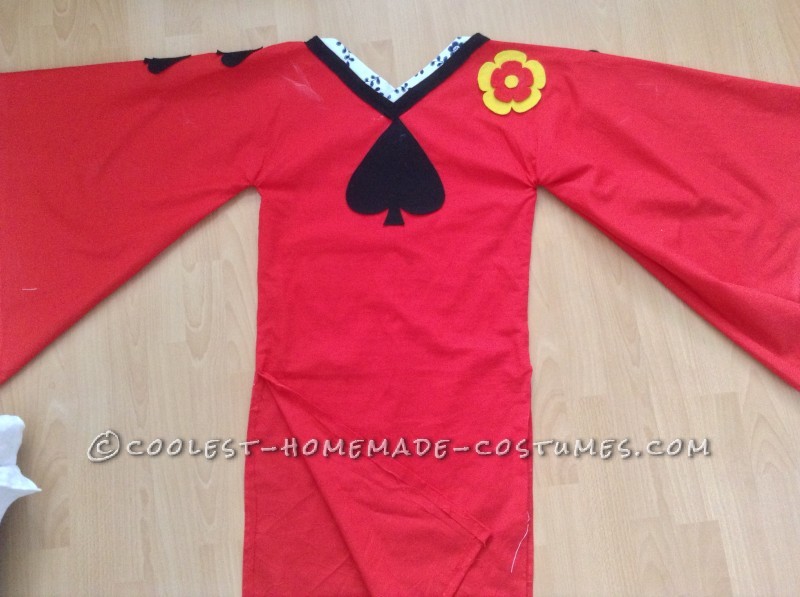 Harry\'s Tunic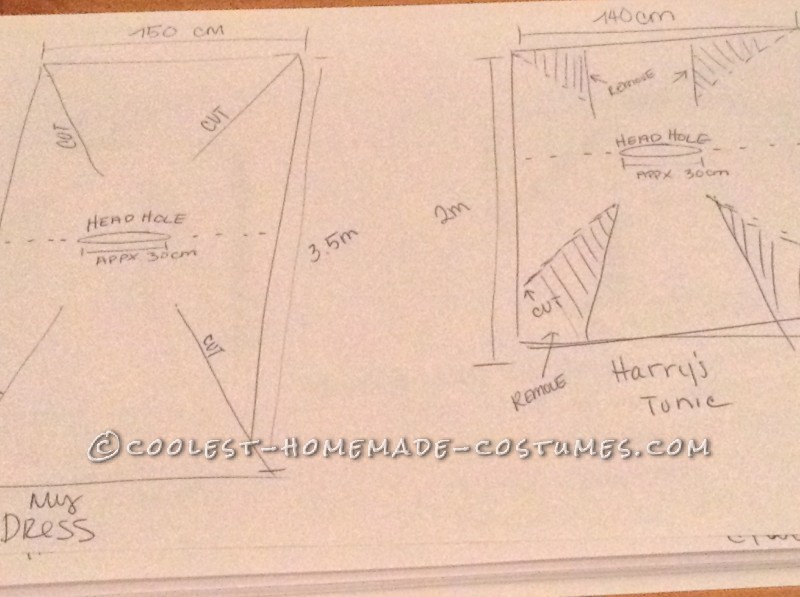 Basic pattern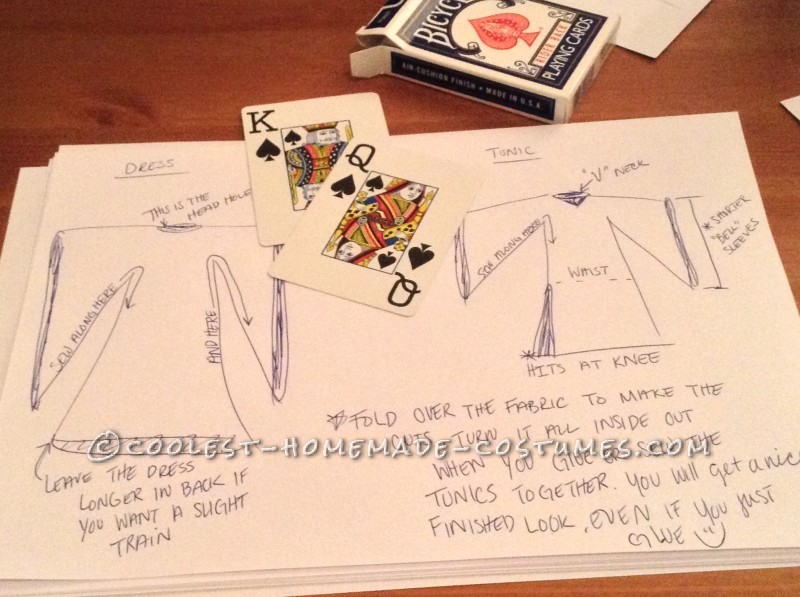 What it looks like after you cut and glue/sew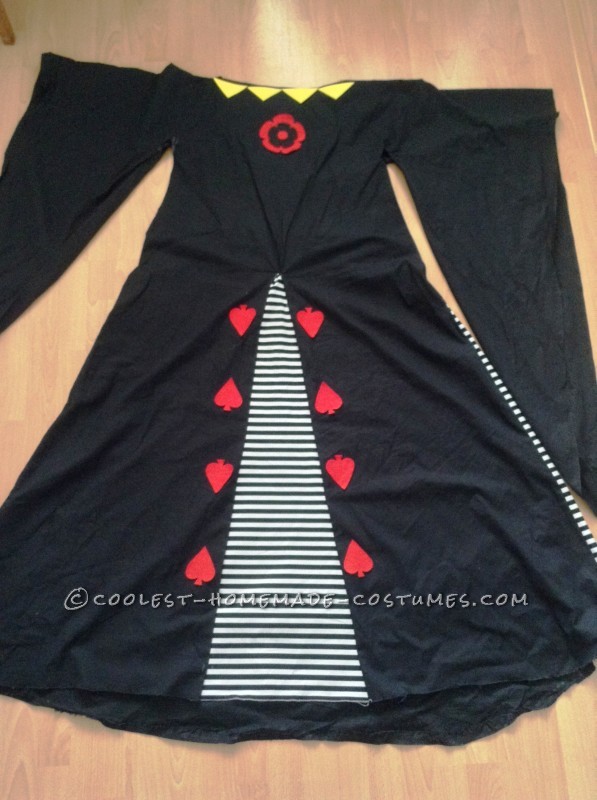 My dress/tent. I am huge!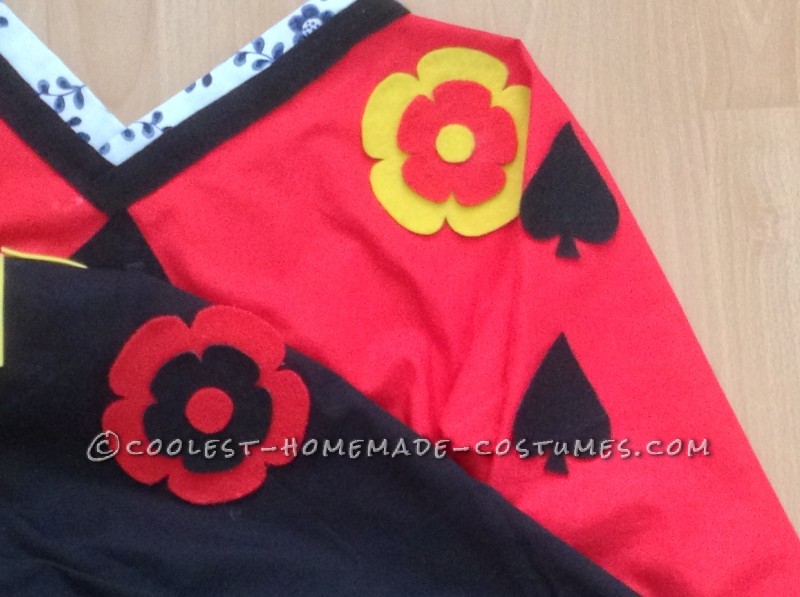 My favorite detail: the Tudor-ish rose.
Crown and Headdress
The crowns were the most fun part of this project! They really gave the costumes character and helped me visualize what I wanted for the final product.
I started with a basic crown shape made of card paper. Next, I laid this form on top of yellow craft foam (very thin and flexible) and traced my pattern. I glued the foam shape to the paper (bending it into a round crown shape) and let it dry. I knew I liked the yellow, black and red color scheme so I decorated the crown with ribbon and felt spades.
HIS
I knew paper would be the only way to get the rigid card-look for the beard and hair. I simply made two panels from card paper (same shapes, one right side and one left side) and drew the straight lines to make it look like hair. For the beard, I just cut five small U-shapes from the card paper and drew the design from the card. Then, we attached these to a strip of card paper in a half-moon shape and glued this to the inside of the hair panels. Check out the picture and you can clearly see how it's made!
HERS
My crown started the same way as Harry's: paper base and yellow foam covering. Once I decorated it with the felt spades and ribbon, I added the paper hair at the front and a paper/foam strap to slip it onto my head.
To make the headdress, I used leftover fabric from our tunics and attached the red behind the top of the crown (the black spade) and also glued it to the sides of the strap for stability and coverage. I then added a panel of black to the inside of the crown (where the hair meets the strap) and glued it to the red fabric. Again, you can clearly see from the photos – I am an amateur after all!
Lastly, I drew a design in tacky glue along the black fabric edge and laid white yarn on top to create a look similar to what the Queen has on her headdress from the card design. I loved this effect and I think it looks really cute and "finished" in the final costume.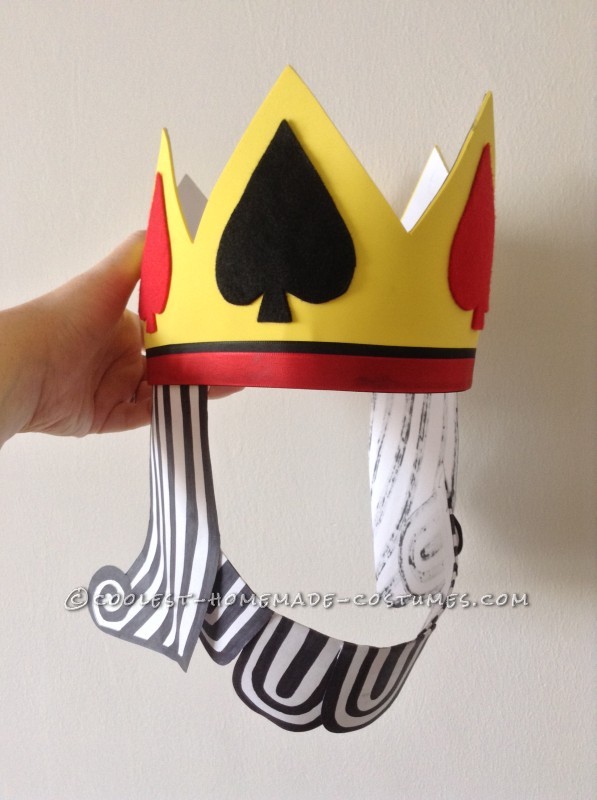 Harry\'s crown with hair and beard. All paper, foam and felt!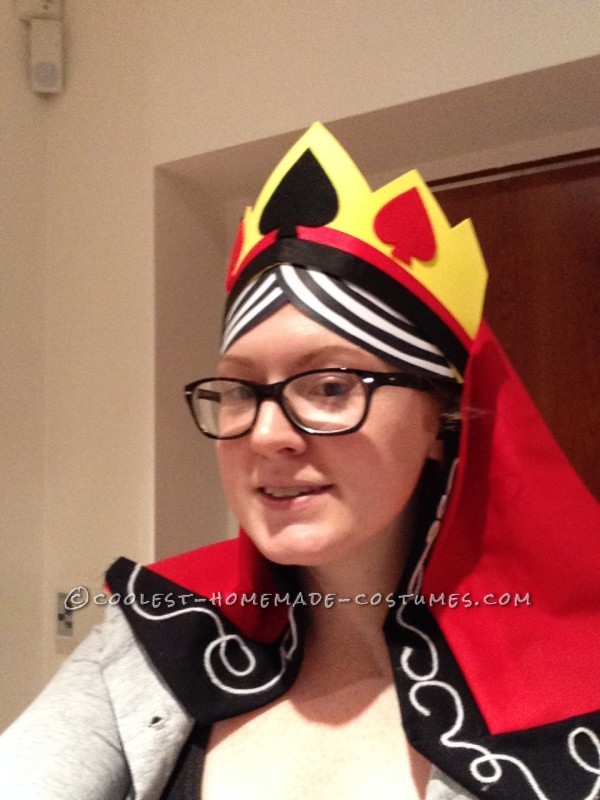 My headdress. Paper, foam, felt and fabric.
Accessories, Details and Props
The great thing about this costume is that it can be adapted for any design or color scheme you like, and for any level of craftiness you might possess.
I knew that my costume would have a belt with a V shape going over the shoulders (like the card design that I loved!) and she would have a Tudor rose somewhere on the dress (mine is black and red felt on the chest area of the dress).
Since a duct tape corset was a little outside my comfort zone, I created a woven belt as my base for this look. Using black, yellow and red insulation tape I made long stripes, folded and cut them and wove them during an evening of red wine and watching "The Lost Boys" while Harry gave me the crazy-eye for being a Halloween-costume-freak.
But let me tell you, this little baby was worth it. When I finished weaving, I added red ribbon to the ends with more fabric and, you guessed it, tacky glue! I was able to wear it comfortably 3 times with no breakage issues!
So now I needed to add the V part of the belt. I simply made strips of fabric (I found great ones at IKEA and my local fabric store, shout out to Latky Mraz in Prague 7!) by laying a strip of sturdy ribbon on top and gluing them together. I decorated with a few felt spades and loosely followed the pattern on my chosen card design and attached them at the front and the ends of my belt.
Harry's costume was much simpler. I created a sash using duct/insulation tape in black and yellow (like our card motif!) and a belt using the floral fabric with the same method as I used for my shoulder straps.
His tunic is a bit more dressed up than mine with his Tudor rose in yellow and red felt and a black felt spade in the center. He also has felt spades on the arms and a finished collar in the floral fabric and black felt.
CARD FRAMES
The card frames were crucial to this final product. Posing is key on Halloween and these were a hit with lots of folks!
I measured out cardboard pieces (the final frames are 60cm wide and 80cm tall along the outside) from old Amazon boxes and taped them together. Once I had the shape I simply covered them in white card paper. Next, I printed two Ks and two Qs in a lovely Harrington font and glued those bad boys to the frame, along with a few black paper spades.
Like I said at the beginning, the King of Spades has a sword, so I made one out of construction paper and glued that on (left side, which is also the side he faces on the card, natch). For added effect, I drew the black lines on using a permanent marker – love it! The Black Maria also has a Tudor rose on her right and a scepter on her left (she also looks to the left!) so I made those pieces as well from yellow paper and stuck 'em on.
I love the final look and I'm glad I made the frames in the end because they really are hilariously awesome in photos! Bonus: having a prop inspires random weird people to take pictures with you using said prop.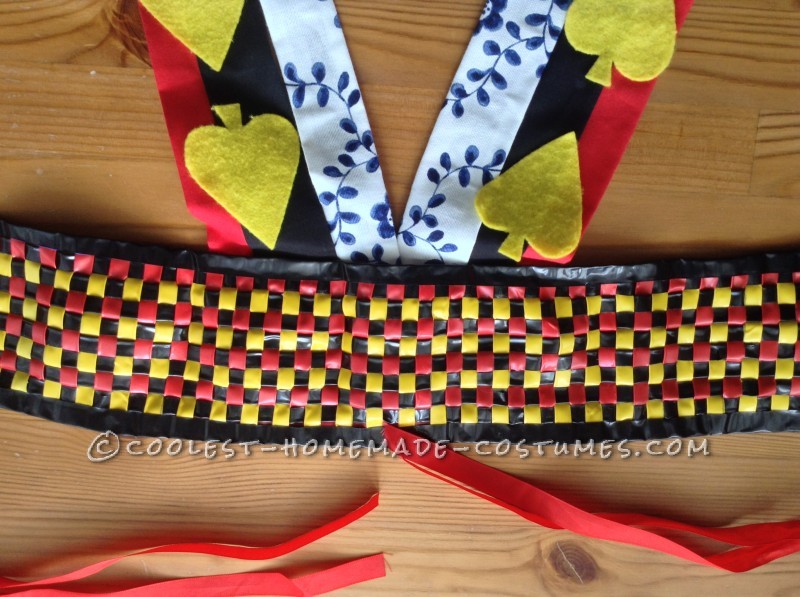 Insulation tape belt and cotton/felt shoulder straps.