This is my son Kyjel who is eight years old. I got this idea for a Zombie from the internet. He won first prize for the scariest costume in our village Halloween party 2007.
The black suit with hood is made by a friend. it was just a recycled black dress from his brother's costume last year who also won as headless man. Then I bought this gauze textile in a store worth only $1 per yard. I soaked it in coffee to make the color old. This is one of the easiest Zombie costumes to make. I used homemade make up and black lipstick for the face.
Total Spent: $2
More Zombie Costumes
Costume by Christy F., Benton, AR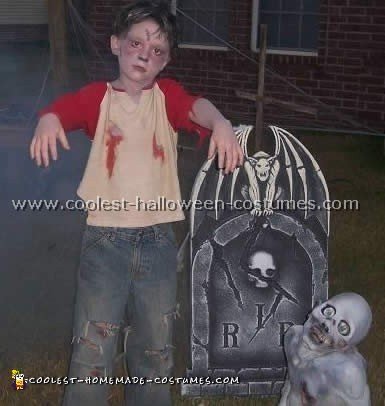 These are pictures of my son as a zombie. We went to Goodwill and spent $1 on a shirt and $2 on a pair of jeans and cut them up soaked them in coffee and then threw them in the dryer for the frayed effect. We spent $2 on a makeup kit and $1 on black temporary hair spray – his hair is naturally white/blonde so the difference was unbelievable!
He got several compliments at each door he trick or treated and won the costume contest at our church's fall festival. This was easy and really fun and truly transformed my son from an average everyday kid to a spooky unrecognizable zombie! We had a blast!
Total Spent: $6
Costume by Adam C., London, Ontario, Canada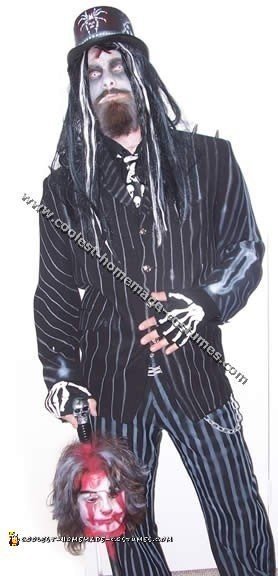 I had the idea for the Zombie costume for awhile now so I went out to the thrift shop and got a pair of dress pants, a dress shirt and a jacket. I ordered the tie, gloves and contacts from eBay. All the clothes are airbrushed into pinstripes; the back of the jacket also has a spine and two skulls at the bottom. The hat from the thrift shop was also airbrushed.
For the wig I used some white glue and hair coloring to make the dreads and streaks. I put two big spikes on each of the shoulders just for some added scary effect. my belt is a real 6ft length of chain I got from a hardware store. All in all with make up and fake scares it took me around 15-20 hours to make this costume.
Total Spent: $150
Costume by Anthony Z., Statesboro, GA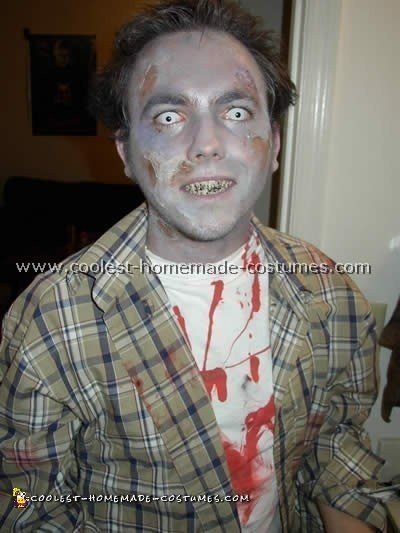 The first thing I did for this Zombie costume was to tear up normal clothes. Then I took color contacts for my eyes, latex for wounds with grey/green makeup mixed up all over and fake teeth. Tip: Put some liquid latex on then let it dry for just a minute then peel some off to expose normal skin then put blood in the exposed fleshy areas to make them look fresher.
Total Spent: $60
Costume by Nancy F., Hamburg, NJ
I'm not exactly sure where this idea for the Zombie came from but I wanted to do something different, something traditional but with a spin. I first got a box that was big enough where I could fit it in.
I cut holes for my hands to "break through" the ground and a hole for my head to come through. I spray painted the box brown and decorated the top with green tulle and Spanish moss.
I added a Styrofoam RIP tombstone and a rubber rat and the grave was completed. Throw in some cut up gloves and freaky makeup and you have yourself one of the most unique Zombie costumes!
Total Spent: $30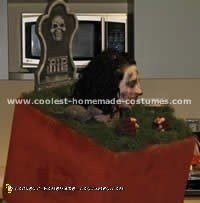 Costume by Wendi C., Porterville, CA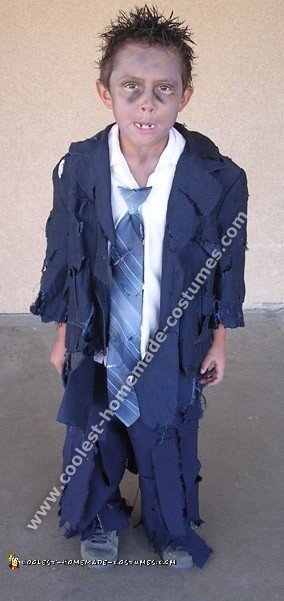 My son really wanted to be a zombie for Halloween. I figured I could make a realistic costume with a real suit.
I started going to the thrift stores around town. I found a jacket, pants, shirt and tie for a total of $3.00!! These happen to be a men's small.
I cut the sleeves and pant legs shorter to fit my son. I sewed and glued the left over scraps to make the suit look shredded. Then I took the outfit outside and rolled it in the dirt! That way he looked like a zombie that came from the grave!
Costume by Cecelia V., San Lorenzo, CA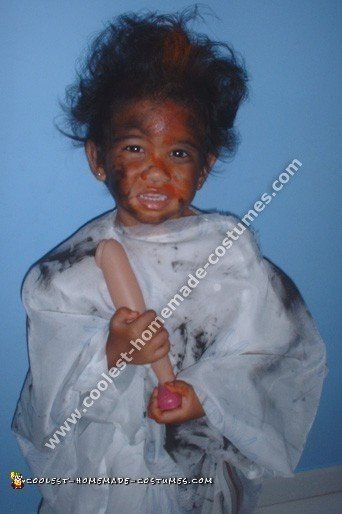 For this costume, I used a LOT of hairspray to make my daughter's hair stand on end! I put a lot of make-up all over her face to make her look "dirty".
For the clothes, I got a white sheet and then a lighter material to go over the sheet. I soaked the material in grey paint, and then when it dried, I put black and grey paint all over it! I later sewed on plastic bugs all over it to make it look scarier! In this photo she even carried a doll's leg!!
Costume by Joy M., Huntley, IL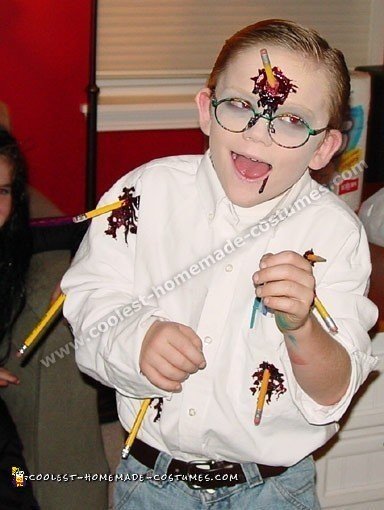 "Nerd was stabbed to death by the jocks with pencils! He walks the halls of school seeking revenge on the jocks that killed him!"
My very creative son, Kurt came up with the idea. He wanted to be a zombie. I asked what kind, he said a nerd zombie. I asked how did you die, he answered I was stabbed by a pencil by the football team. Well, as you see it took a life of it's own.
Kurt loves scary movies and Halloween. He's the next Stephen King. So he really played up the part when he was at the Halloween party and trick or treating.
The costume was easy to make. We got a few pencils broke them in half. Got the shirt he wore on Easter Sunday, some hot glue, and a bottle of blood. We glued the pencils to the shirt, added the blood dripping down.
On the "BIG" day we slicked his hair, glued a pencil to his forehead and hand. We put pale make-up on his face. Popped out the lenses of his big brother's old glasses and put a few pens in his pocket. I'm not sure what was more fun, creating the costume with him or watching everyone's reaction to the costume. Enjoy your Zombie costumes.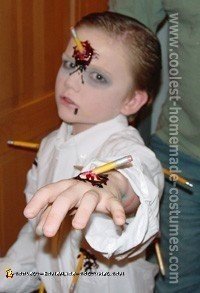 One of our neighbors transforms his garage every year into a haunted house. So we donated this costume to his haunted house, he has it on display to keep spooking people for years to come!
Total Spent: under $10
We hope you enjoyed these cool Zombie costumes. You can see more Zombies here…