Take a look at these cool homemade Oscar the Grouch and Sesame Street costume ideas shared with us by costume enthusiasts from around the world. Along with the costumes here, you'll also find loads of homemade costume ideas and DIY Halloween costume inspiration for your next costume project. Enjoy!
Latest Oscar the Grouch Costumes
---
---

---
Featured Sesame Street Costumes
Sesame Street costume by Adam B., College Park, MD
This Sesame Street costume was by far the best idea I ever had for a costume. I pride myself on having the best costume every Halloween the last few years and this one was the best I've done. I despise going into Halloween costume shops and do everything in my power to avoid it by making my own costumes. Once I decided that I was going to be Oscar the Grouch it was only a matter of figuring out exactly how to pull it off and not look like a naked alien.
The key was the trash can but how do you go an entire party carrying a trash can around with you? I figured I would simply drill a few holes and use some rope. Therefore it was off to the hard ware store. While shopping for the perfect aluminum trash can at the hardware store I found my solution to the can problem. I walked pass the tool belts and saw a set of $5 work suspenders. These had nice strong clasps and a good nylon strap that would easily hold the trashcan weight and distribute it over my shoulders.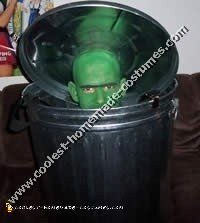 With the trashcan and suspenders in hand I returned home for a little fabrication. With the help of a grinder I cut the bottom of the can out and smoothed down the edges. This is important because the metal is sharp and will cut your legs. I covered the bottom rim with metallic tape to protect my legs a little more. Now I needed one last touch. I had to make myself green. A trip to the party store for green face paint solved that problem. So with a $25 dollar trashcan a $5 pair of suspenders and $5 worth of green paint I had my costume. Oscar the Grouch. My favorite costume of all time
Total Spent: $30
Sesame Street costume by Jody B., Saskatoon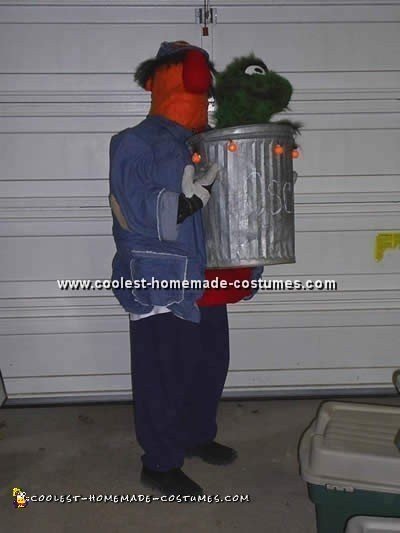 I made this Bruno the Trashman and Oscar costume out of chicken wire for the frame. Then I used lots and lots of glue sticks and material.
I really enjoy making these costumes.
I really like how I made Oscar as the puppet and you could puppeteer him. The back of the garbage can was cut open and you put your hand in.
Total Spent: $200