Darling son number 1 spotted a triceratops dress up in a store the other week, but our challenge is quite simply his size; at three and a half, he is wearing clothes for five year olds.  The costume in the store was for age 3-5 and an all in one which definitely wouldn't work for us, aside from the cost, so I offered to make him one, at his insistence it would be a Triceratops. A week cooped up at home with the chicken pox provided the ideal opportunity and surfing the web I saw the "coolest homemade costumes" site and got inspired by the awesome ideas and efforts of others. We started by drawing some triceratops heads and my plan was a dress up in parts to provide longevity of use.
Off to the Charity Shop
We are blessed to have a number of great charity stores near us. Imagine my delight when I found the main items I was looking for at the first one! The shopping list included:
A baseball cap
Scaly looking fabric
A top
and from the craft store:
Batting
Googly eyes
Sticky glue
The Hat
To start with, I shaped the brim of the cap to look like the triceratops beak. Using cereal boxes I created 3 horns and covered these in fabric with some excess at the bottom to sew to the hat. Because I'm in for the easy life, I decided that I would predominantly work the fabric with glue like papier mache. I stuffed each horn and then sewed around the base onto the cap. I then covered the cap with the fabric ensuring that each piece was well glued. Next I cut the shape for a shield from a cardboard box and covered this with fabric too. Once these elements were dry, I shaped the base of the shield and glued it to the head using card and then covered these with the fabric too.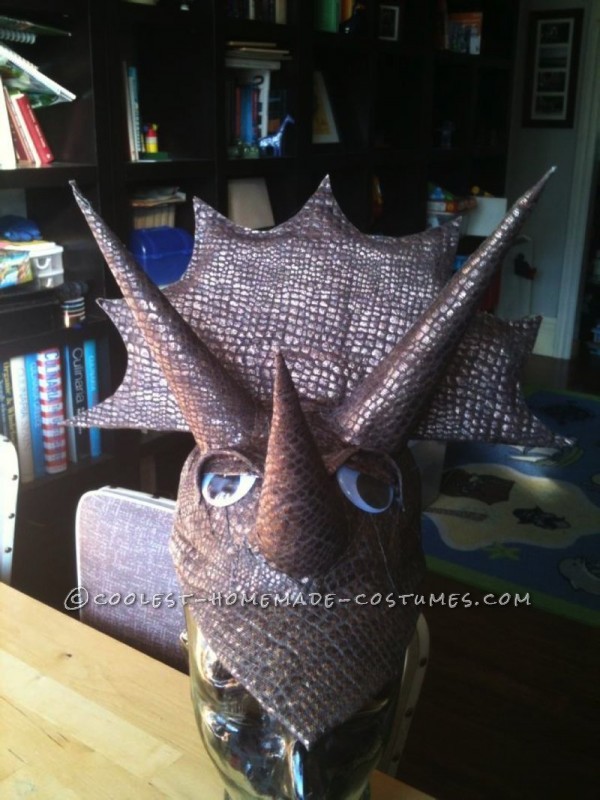 Triceratops Head
The Tail
This is where I got the sewing machine out…  there are loads of tail patterns online so I won't bother explaining step by step what I did, but Ben enjoyed helping to stuff it!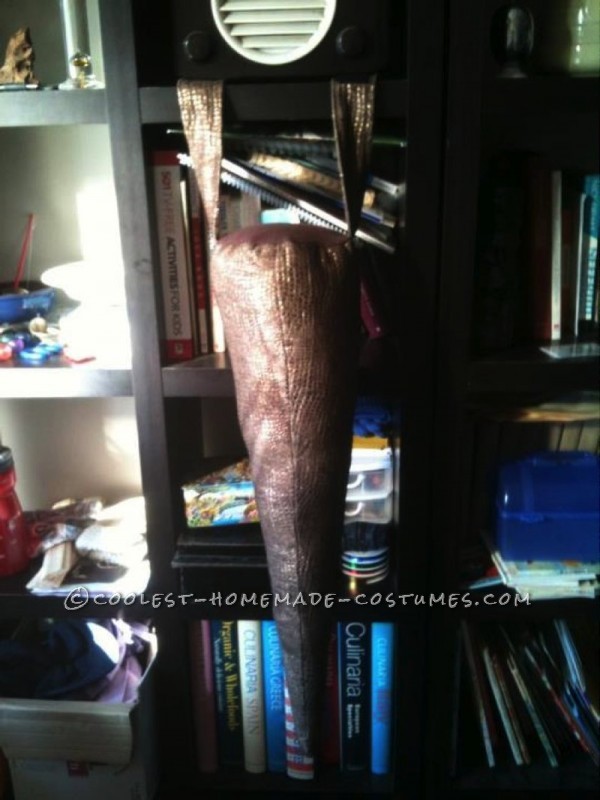 Triceratops Tail
The Top
Keep it simple is my motto so I sewed an oval of fabric onto the front. I considered sewing toenails onto the sleeves, but Ben was too keen to get his Triceratops costume on (and me to get it finished).