The original idea for this costume came from my desire to continue my annual tradition of paying tribute to different artists and their work through homemade Halloween costumes. Last year, I was the "Son of Man" by Rene Magritte, and this year, after some research and last minute procrastination, I decided on Banksy's Flower Thrower stencil. Here it is: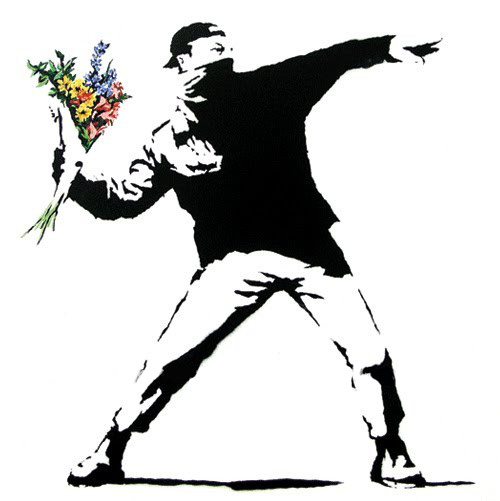 Original Banksy artwork that the costume is based from.
My love for graffiti and street art only fueled my desire to animate this particular work of art. From an aesthetic standpoint, I really liked the stark black and white contrast and the bouquet of flowers as the colored anomaly. Banksy's anonymity, prolific body of work, provocative imagery, cultural mash ups, social awareness, and political activism makes for a world renowned street artist worthy of our support and attention.
As a graphic artist and Illustrator, the challenge of creating work in a completely different medium than what I am used to was a breath of fresh air. I have always been a fan of Banksy's work, and was thrilled at the thought of manifesting one of his most famous works as a DIY costume. Some of my interest in bringing other artists' work to life through Halloween costumes is the way in which it liberates the given subject from their defined boundaries, frames, and canvases. It puts them into a new and unexpected context, interacting and juxtaposing themselves with the observer and their environments. This interplay between subject and viewer breaks barriers and forces the viewer to reexamine just what they're looking at. This, to me, is a whole new realm of art appreciation, which not only provides a visual experience, but also a thorough understanding of viewer reaction and interaction.
My arsenal of resources and materials included mostly items I already owned, including the pants, jacket, boots, bandana, hat and the white paint. The items I did buy were the white gloves, face paint, and a real bouquet of flowers from my local florist.
I began the whole process by tracing outlines in chalk on an old pair of black jeans to represent the shadow/highlight contrast. After tracing the initial shapes, I set up a temporary outdoor workshop on my deck and proceeded to paint the clothing with white matte paint, using a reference photo as a guide. After applying several coats, and cleaning up edges with a smaller brush, I moved to the smaller articles of clothing; the gloves and facial bandana. The bandana was measured and cut from an old black T-shirt, and the gloves (as well as the bandana) were painted with corresponding color contrasts of black and white paint to compliment the rest of my costume.
I was able to borrow a black pair of Timberland boots and a black hat to add to the finishing pieces of clothing. The only thing left to acquire was the white face paint (which I bought for $1) and my bouquet of flowers. The latter of the two was most important to me, seeing as how it was the only colored accent piece of my whole outfit. I would not settle for anything less than authentic, so I went to my local florist and had her assemble a bouquet consisting of the flowers featured in my reference photo.
Once I had the front side of my clothing painted and dried, I added splatter and paint drips to the backside by flicking and whipping my brush back and forth in different crisscrossing patterns to create an unexpected design. Overall I was very pleased the way it turned out, especially when I painted my face and posed in the iconic stance with the flowers.
The reactions for this particular costume was always a perfect blend of subtle shock followed by delight and awe, particularly when seeing the flowers in stark contrast with my black and white clothing and body. Most people were unfamiliar with the costume itself and what it alluded to specifically, but every single person admitted it was extremely creative, and "the coolest costume" they had ever seen.
Upon getting to work, I took a stroll through the mini shopping center adjacent to the building just to see the reactions of the public. As I made my way through the shops, people immediately started looking because they couldn't help but notice my stark contrast against the terra-cotta architecture. At first the onlookers subtly gawked at my appearance but after a short while, they couldn't help but smile at the absurd sight of a black-and-white figure casually strolling passed them with a huge bouquet of flowers.
I was stopped and photographed multiple times by people eating and passersby. One person even recognized my costume, a younger girl, and proceeded to grab my attention by yelling "Hey Banksy! can I get your picture?" That was pretty satisfying because at least I can say that one person recognized my costume. It is safe to say I stood out because when I was leaving work, I even had a car stop in the middle of the street, roll down the windows and say "dude, that is the sickest costume I have ever seen." It was pretty awesome for people to compliment my craftsmanship and appreciate a DIY costume when they see one. Even if they couldn't recognize the underlying subject matter right off the bat without an explanation, they were still impressed with my creativity and hard work which was reflected in the final costume and the appreciation of the people I encountered.
Just some background information about myself and the photos I have provided for this contest. I am a 27 year old graphic design and illustration student at California State University Northridge. I enjoy art and design, cooking, boardsports, hiking and exploring different types of music while doing all of those. I have an affinity for light roast coffee and video games, and I also love books; reading, giving, or making books. Working at a public library has definitely influenced and supported this disposition and I encourage everyone to go read, make art, and support your local library.
I have been pursuing creative endeavors now for about 9 years and I love every minute of it. Any chance I get to use my hands and create things, I will. Halloween has always been a special time of year for me because it allows for a collective understanding among its practitioners and constituents, facilitating creativity and community; of which I savor and take full advantage. DIY costumes are something I love to do, and I feel they are a great way to disseminate knowledge via expression and exploration of culture.
Along with searching for just the right costume, people will always want to know what you're going as, or what you are or how you made that, encouraging themselves and others to do the same. Researching, inquiring, searching, traveling and meeting are just a few of the reasons I love this particular holiday and what it means to me.
The photos I have provided are simple and don't require a lengthy description but just a little context. The first main picture is a comparison of the original Banksy stencil on the left, and a side profile of me doing the iconic pose on the right. The costume is meant to be viewed specifically from this angle so as to emphasize the body gesture, the details on the clothes, the prop , and the pose. Although the background changes color just beneath my feet and breaks the intended two-dimensional look, I am very fond of this photo (credit goes to Anita Torres). I feel the color of the flowers, which almost look painted, and the black and white of my outfit really compliment each other in a harmonious, yet elegant way.
The second photo I provided is of me out on Halloween night with some friends. I asked one of them to take a monochromatic flash photo of me up against a brick wall to try an emulate the stencil effect as best as possible. It is supposed to make me look like I was painted on the wall and have a flat, two-dimensional look. The third photo is just a shot of my makeshift work station I had outside on my deck where I painted the clothes and assembled most of my costume. Luckily I finished when I did (6am Halloween morning) because it was pouring rain that night and would have made an atrocity out of my costume!
Anyway, I just wanted to thank you for the opportunity to enter this contest and wish I could see all the entries and creative effort infused into each and every one of the costumes. First prize would mean a lot to me, because truthfully, I have never won a contest in my life, and the money would certainly be of assistance in covering my tuition these last semesters before I graduate. Thanks again for your time and consideration.