Take a look at the coolest Nun costume ideas submitted to our annual Halloween Costume Contest. You'll also find loads of homemade costume ideas and DIY Halloween costume inspiration.
Sister Ann Catherine Costume by Joanna D., New Egypt, NJ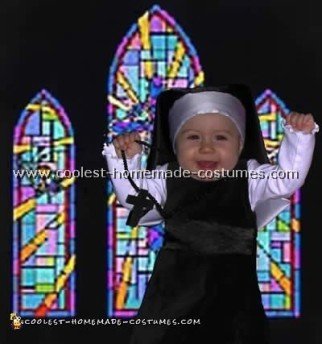 We made this nun costume for our seven month old daughter. The idea originated as a joke because she was anything but a good baby (she had horrible colic). The dress is a store bought Christmas outfit that had red flowers at the waist. I took some black fabric used for the habit and covered this up. We removed this after Halloween and re-used the dress for Christmas.
The habit is black and white fabric sewn together and buttoned at the nape of the neck. Altogether it took about three hours to make. The rosary is a wood craft store cross painted black and craft store beads.
Total Spent: $35