Here's how I made my Christmas costume – A Tree Angel on a tree!
I started with an old flower girl dress that was floor length.  Then, turned up the bottom so the skirt was half the length and hand stitched a few spots.  I took some thin rope light and hand sewed it to the bottom and added bows and red jewels. I used fabric glitter glue to give the top a Christmasy feel and added some feathers to the shoulders.
Afterwards, I hand sewed (see a theme here – I can't sew at all on a sewing machine) a pocket on the underskirt and slipped the battery pack to the rope light in there.   On the back off the dress I added two snaps to attach her wings and complete the angel costume.
I purchased some pine tree garland on Amazon and then went to Goodwill and found a skirt to attach it to.  Then, I hand stitched three rows of garland to the dress.  I then cut two strips out of another scrap of fabric left over from recovering some barstools and made straps that go over my daughter's shoulders.
Next I decorated the "tree" with battery operated christmas lights, red bows and silver and gold jingle bells.
I purchased a light up halo on amazon and added more feathers and some pretty silver and white tube ribbon.  I also purchased white feather wings and added feathers and snaps.
For the final step, the trunk, I simply purchased brown knee high boots for $10.
Another Cool Christmas Costume Idea
Costume by Jodie D., Girard, PA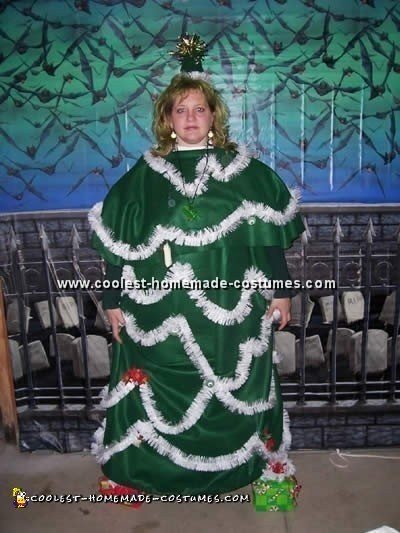 This costume was actually made in 4 pieces. The first was the skirt which had a crinoline. The next two were like shawls and the hat.
I made the Christmas costume out of felt fabric. In addition, garland (light-weight) decorations and lights were sewn onto to the main costume. The hat was made out of some old kids party hats covered in felt. I glued on garland and bows.
This costume was really pretty easy to make and a little warm which worked out well for the outdoor party we were going to.
Total Spent: $25.