My 9 year old son, Jet, recently developed a love for Lego, and we were trying to come up with a costume that reflects his current interest (a goal every year).  He was considering between Iron Man (but he didn't want to look like everyone else, and I didn't want to spend $40.00), Nerf guy (but he really just wanted to convince me to buy him a Nerf vest he has wanted for a while), and something to do with Lego.  Lego Man intrigued me because every year, I try to make something unique to accompany his look (and to make it more original). I know that's a lot, but I only have a son (which is what I wanted), and this is the only time I get to play "Dress-up" with him…SMILE.
I figured a Lego man couldn't be any more difficult than some of the previous things I've made for him (shuttle, airplane, tank…etc.), it's just cardboard & paint (and labor of love).  I wasn't wrong, but I wasn't entirely right, but either way, it was so worth it.  He told me it was (and I quote) "AWESOME!!!!, and no one would be as cool as me…you did a great job, mom, I love it!"  The head was originally a bucket, but I wasn't happy with the shape, so I revised it to look more like a Lego shaped head (Styrofoam, poster board, and a large paper plate), and it turned out great.  I, also, made him a trick-or-treat Lego brick.
He wore it a few times, and every time, it was a huge hit. Everyone loved it, asked about it, asked to take pictures of him and their kid, or just a picture because they thought it was cool.  The first time he wore it was in our local costume parade, the little kids, big kids, and parents were all in shock. You could hear people from across the way talking about it, and pointing it out, and yelling, "You win!, that's the best costume ever."  Many were shocked to know I made it, but the best for me, again, was my son.  He glowed with excitement from all of the attention, despite it not being the easiest to get around in, he insisted on keeping it on until it was literally coming apart (one of the legs began to open in the back).
The next time he wore it was at his Cub Scout Halloween party. All the boys loved it, and wanted to touch him, get next to him, and take pictures with him. By the time he wore it there, I had reinforced the legs, so no problems that time.  The final time was Halloween, but I insisted he not wear the legs, it would have taken much too long to get from house to house.
He, and I, both love the costume, but I will be honest, it is not the most practical to get around in…SMILE.  Still worth making it, because he loved it, and I loved seeing his joy when wearing it.
The total cost was under $10.00, most of the items were recycled packaging, or things I already have for my school crafting & scrapbooking supplies, and a few kitchen supplies (cups & paper plate).  The only things I had to purchase were, acrylic paints (3 bottles-blue, black, & yellow), Styrofoam 6″ dots (2 pack from the Dollar Store).
What will we do next year?  I need to lower his expectations…LOL.
http://youtu.be/y4P70JDdRLM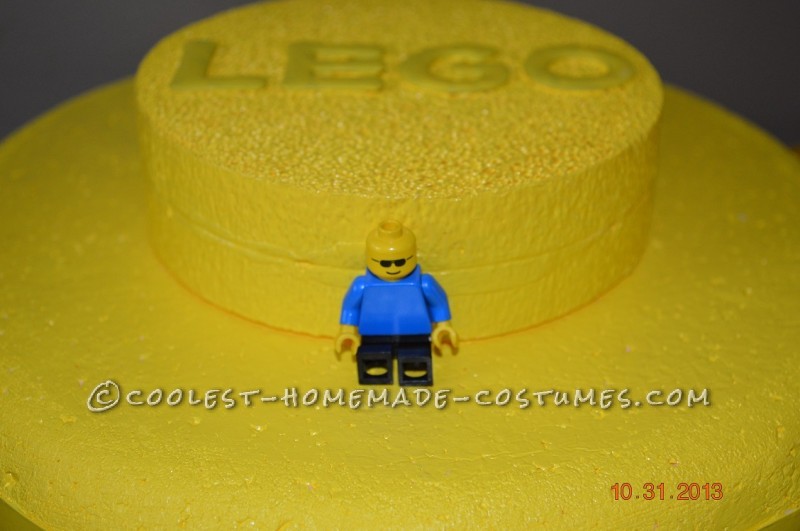 Lego on top of head
Body
The body of the mini Lego Minifigure started with a box I found at my friend's house, I thought it was the perfect size, and it was very sturdy.  So, I stared at it for about a week, then I finally tried making it a simple body shape. It was a simple body shape, a square with angled shoulders, and an opening for the head. I painted it, with some leftover white spray paint, then presented it my son, to try on so I could figure out where the holes for the arms needed to be.  Well, my son looked at it and said, "That doesn't look like a Minifigure!"  I let him know, it is not going to be perfect, but once we put the LEGO sign on, people will get it.
That still did not satisfy him, but I was over it, and told him, this is it. I pointed out, the space shuttle I made, didn't look like a real shuttle, the airplane, was all boxy, but adding the wings, and paint made it pop, and the tank, it was just the camo paint that and rubber stuff I used to make it look like the wheel tracks were the only things close to military looking, but again, nothing close to the real thing.  He was tired of me trying to convince him it was close enough, and wanted my lecturing to stop, so he just let it go.  I could see he was a little disappointed, but what could I do?  So, I stared again, and did nothing for a while.
Then I purchased a new stainless steel trash can, and all the packing inside, sparked a light bulb within me. It had two very large pieces of cardboard (with minimal creases), and a large piece of Styrofoam (that might come in handy or heady).
So, I cut the shape like an elongated trapezoid (using the 2 large pieces of cardboard I found), with a bumped out bottom to make the rounded top of legs, glue it together, and cut holes for arms & head.  I painted the body shape the same color as long sleeved shirt, but stopped at bump, because that would be the same color as the legs (adhere Lego sign).
Legs
The legs were easy, scrap cardboard, hot glue, tape, and paint. I happened to be in Wal-mart, and saw a basket full of cardboard, and asked if I could have some.  I took lots, but needed just a fraction of it (but when I got it, I did not have a clue how I was going to bring the Minifigure to life).  I used 4 pieces of rectangular cardboard (front and back 2x width of sides) taped together. The feet, small rectangular tube shapes glued to bottom front of legs  (paint, including the bump at the bottom of body).  He wore the costume in a local parade, and the legs were not made for all of the traffic, so immediately after, I had to reinforce them.  That extra cardboard came in handy, I added layers inside, with small pieces glued into each corner, for additional support, and glued the legs (instead of tape), and put a thin piece of tape down the front corners of the legs (to help with painting).  They felt like robot legs after the that…SMILE.  The cub scout Halloween party would not have any wardrobe malfunctions…HAHAHA.
Hands
The hands evolved after I got excited about how cool the body & legs turned out, I wanted to complete the look…SMILE. I used 4 large cups with ends cut out, and the plastic cups cut evenly down one side (to make the opening) and a large hole in center of the plastic cup to fit paper cup through (perpendicular). Paper cups glued down inside of plastic for hands to go through (1 area not glued w/hole for thumb). Paint bright yellow.
Each will fit perfectly inside the end of the shirt.
I initially was planning to use a pool noodle as the arms, under the shirt, but then I came up with the cups, and they work just as well, even better to give the illusion of the Lego arms (plus he could move his arms more freely).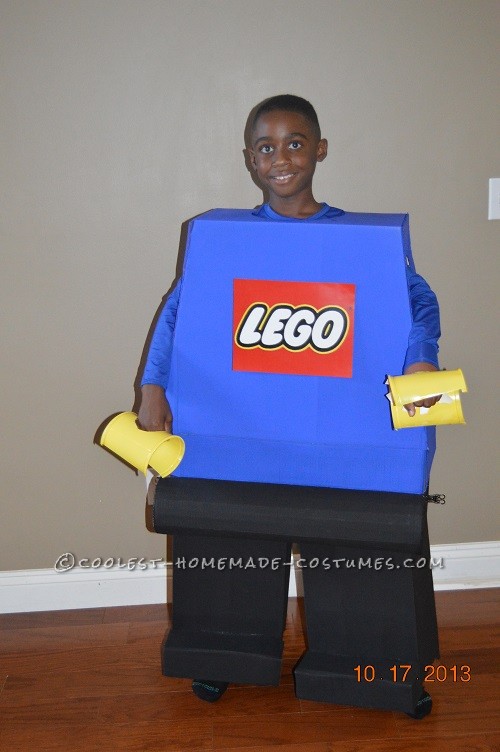 Incorporating new hands
Head
I originally used a bucket to make the head, with the inside of the noodle to make a mohawk. I felt it did not look like a Lego shaped head, so I decided to attempt to make something that looked more accurate.
I used the large piece of Styrofoam found in my new can. It was square, so I cut it into a circle, rounded the top edges with sandpaper (wearing noise canceling headphone because the noise was killing me). Then I wrapped and glued poster board around the large round Styrofoam to make the head (face area). Next I used a large paper plate with the bottom cut out glued inside bottom of poster board to fit the neck through, using poster board to make the neck (4″ tall ring for neck). Finally, I glued 6″ Styrofoam dots together, then glued the stacked dots to the top of the large rounded Styrofoam head.  Added some scrap booking letters to the top of the dots and painted it all a bright yellow (adhere eyes & mouth, and don't forget to cut holes to see).
The final head made all the difference.
This was truly a labor of love, and I would do it 100 times for my sons' smile.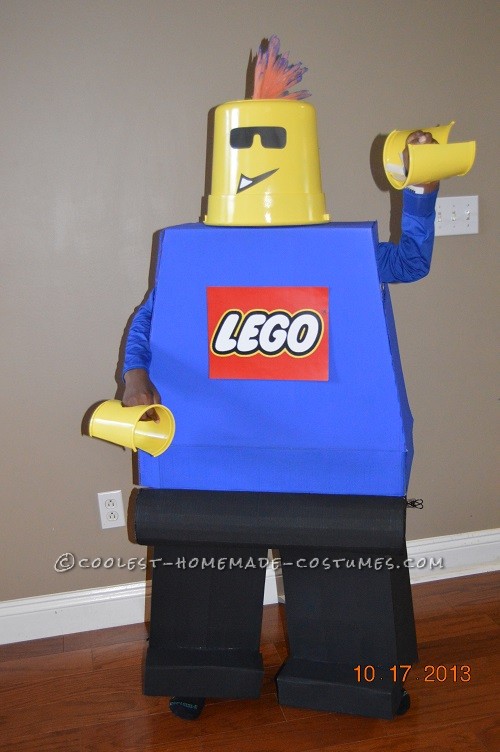 Original head (Bucket w/mohawk)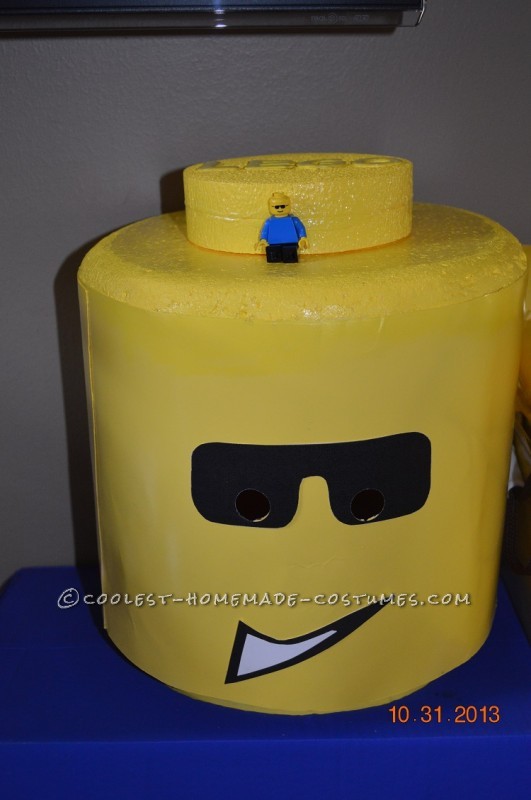 Mini model on final head