My husband and I have 3 sons! Twin 5 year old's and an 8 year old big brother! And boy, do they keep us busy! I have always made my costumes for Halloween for myself and my kids! This year my kids were into the Lego Ninja's! The oldest (and the ring leader) said he wanted to be the green ninja named Lloyd! The twins wanted to be the black ninja named Cole and the white ninja named Zane! They would show me pictures of what they were supposed to look like! "Not that mom, this one is what I want to look like!" "I have to have this weapon!" "I need to have gold shoulder pads, not silver!" And this went on for days and weeks! LOL!
I started working on these Lego Ninjago Minifigure costumes at the end of September. I worked on other sewing projects during the month also. My kids would come home from school and ask me if I worked on their costumes almost every day! One of my 5 year old's came up to me at the sewing machine and asked if I was working on his costume. I told him that I was altering a friends dress at that moment. He then took the spool of thread that matched his costume from off the rack and placed it in front of me and said, 'here mom, in case you get to work on mine'. Funny boys!
Another time I told my oldest son that I dreamt about making his costume last night. He replied with a smirk on his face, "well, did you dream you were finished with them?" I laughed so hard!!  They were so excited!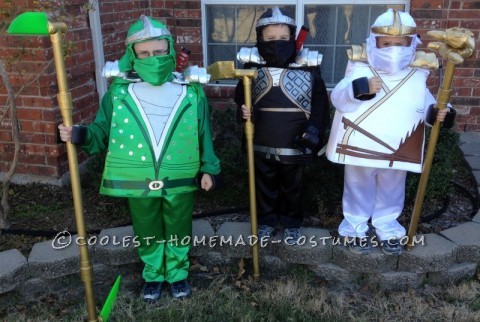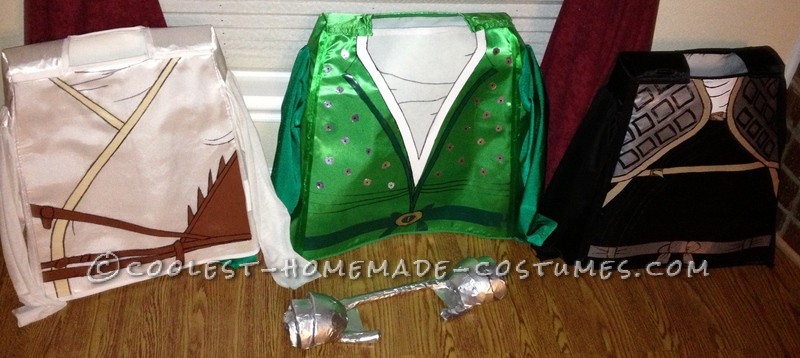 Weapons
I have to give credit to my husband who fabricated their weapons from PVC pipe and Dollar store plastic knives. He also cut the stars from scrap wood. I covered them with foam and then used tape and gold paint to finish!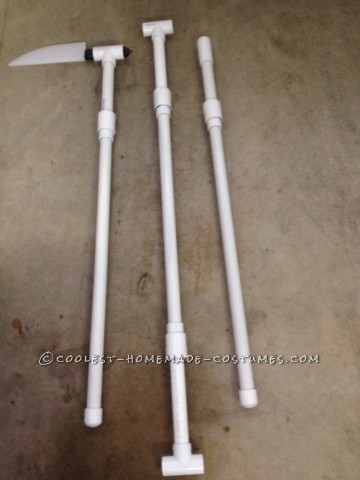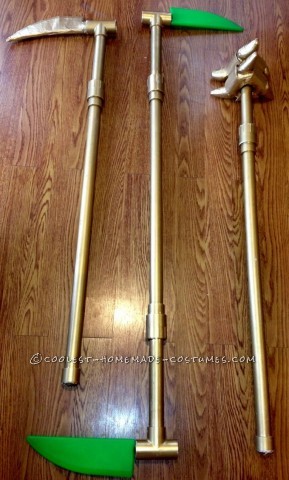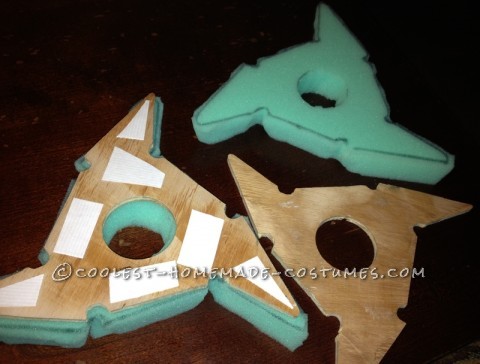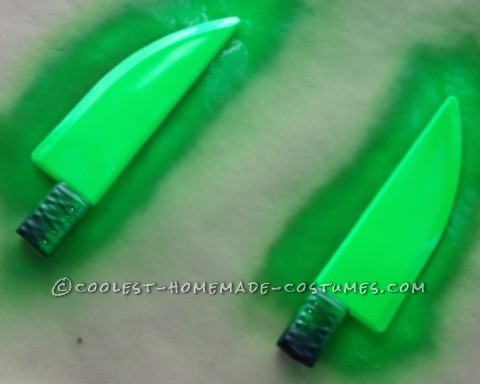 Shoulder Pads
For the shoulder pads I used hangers, foam footballs, and masking tape. After taping them all, they were spray painted and attached to the tops of the costumes by hook and loop tabs.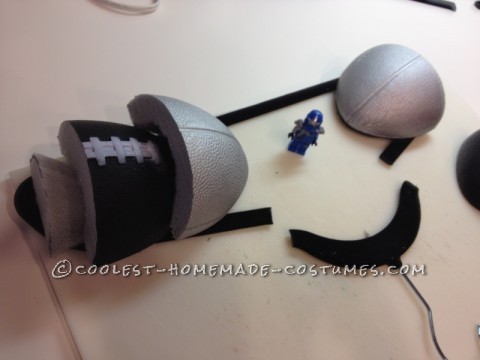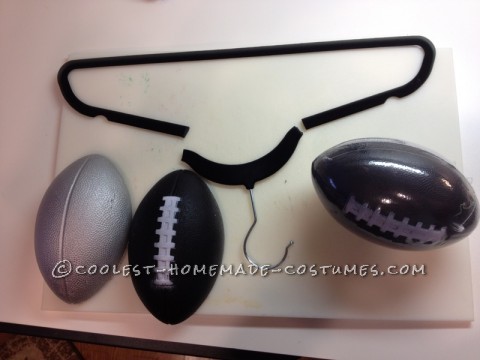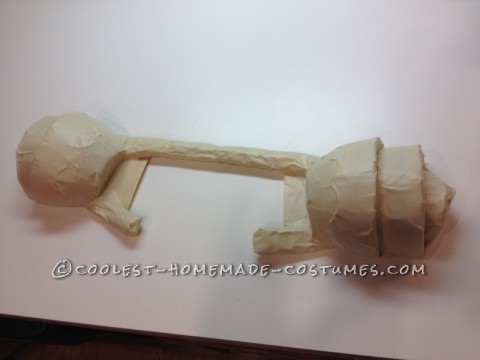 Lego Hands
I made their black Lego hands by assembling foam koozies in the correct shapes and then wrapping black electrical tape around each one  (I got the koozie idea from your website). This took me awhile to complete!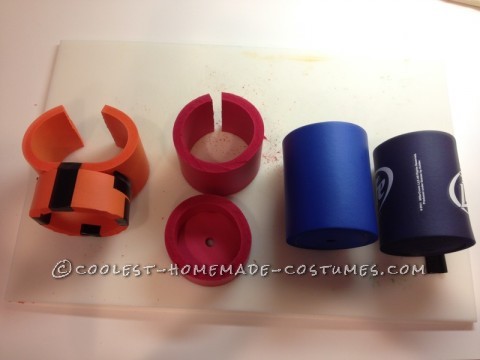 Ninja Sword
I purchased a ninja sword set (times 3) from a costume website. I took the straps off of them, spray painted the 'holder' and attached them to the backs of the finished costumes with hook and loop tabs.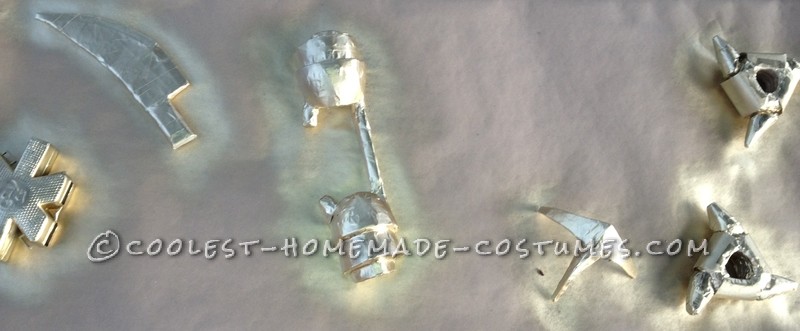 The Most Awesome Lego Ninja Costumes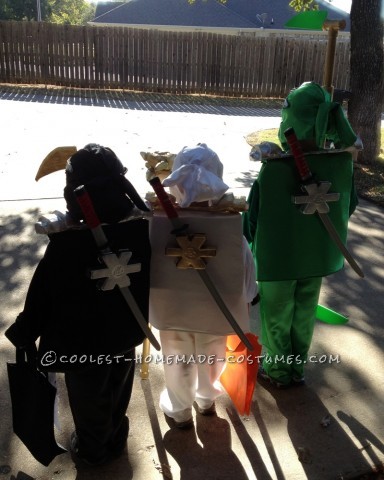 Helmets
The helmets were made from Dollar store plastic Knight helmets. I cut and extended the mouth guard to allow my boys to move it comfortably up or down in front of their mouths and noses. I covered them with matching fabric from their costumes. I just wrapped it and either taped or glued it with my hot glue gun. I added a small scarf size piece of fabric for the ties on the back of the helmets. It was very difficult keeping my kids from putting these on every day until Halloween!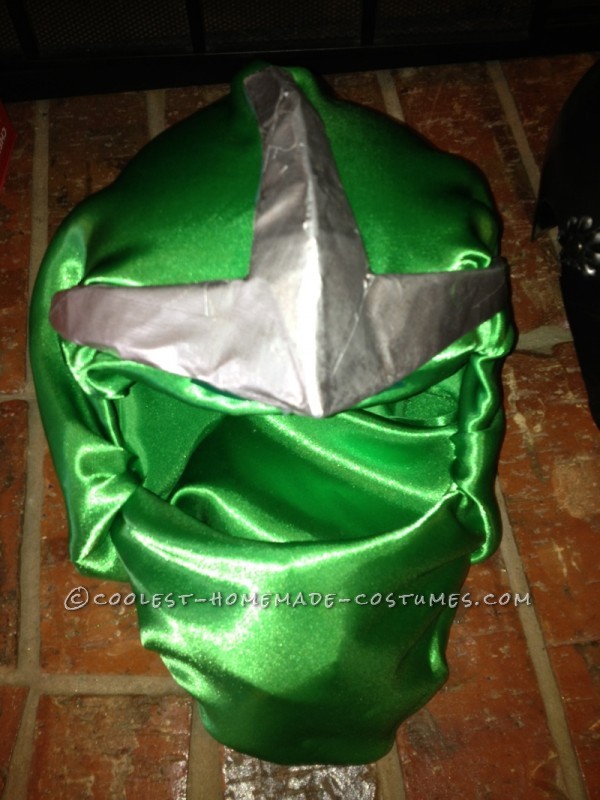 The Most Awesome Lego Ninja Costumes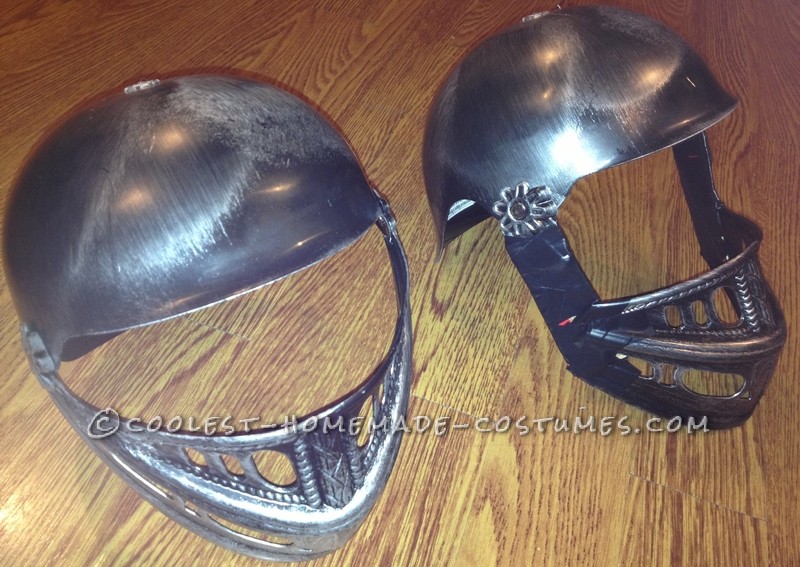 The Most Awesome Lego Ninja Costumes
Body
For the body of the costumes, I just kept looking at the little Lego toys and copying them to the best of my ability. My kids kept telling me how much they loved them! So I guess I was getting it pretty close. I took measurements of each boys arms, chest, neck and waist. I had no pattern to follow, so I just eyeballed it until it looked good enough to me. I lined it with thick sew-in stabilizer fabric. But, even after sewing, taping, and gluing it together, I still felt it needed to be more sturdy.
So, I hot-glued some poster board to the inside front and back. That did the trick! I made simple draw string matching pants for each of them too. I love how they turned out! I hope many of you will enjoy seeing these also!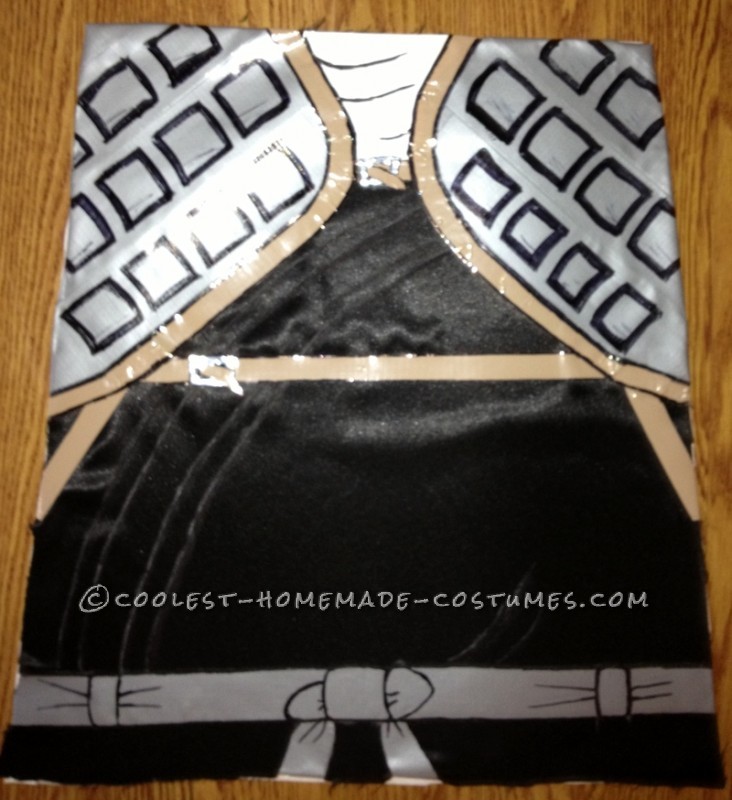 The Most Awesome Lego Ninja Costumes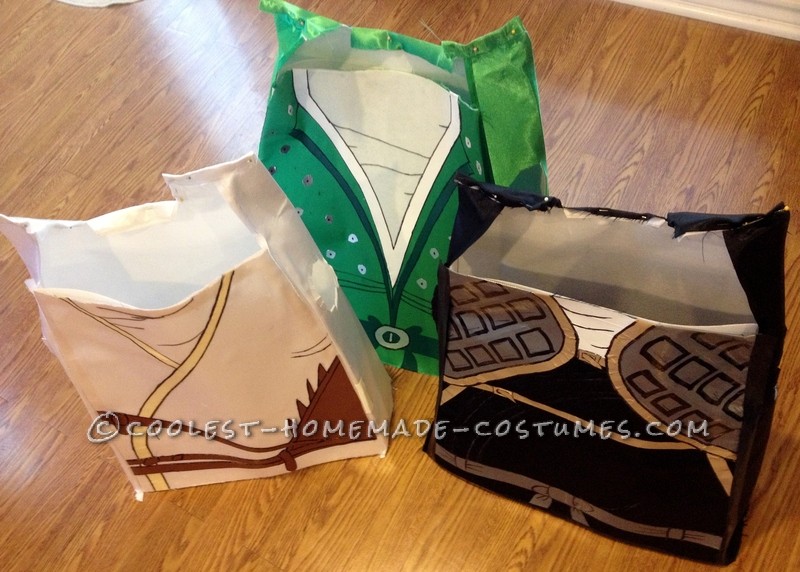 The Most Awesome Lego Ninja Costumes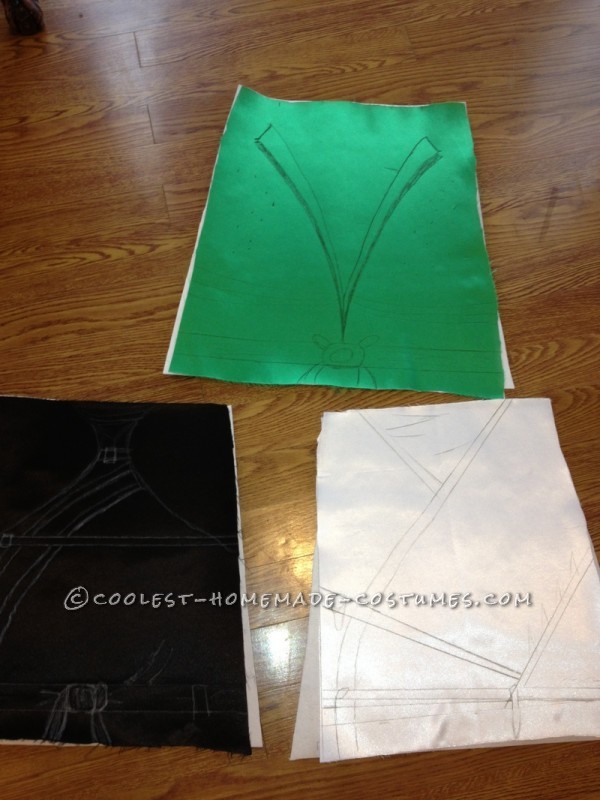 The Most Awesome Lego Ninja Costumes