Jump into a Halloween costume as if it were a pavement drawing with this awesome collection of DIY costumes. If you wished Mary Poppins would float into your house on her umbrella, these homemade costumes are a must-see. So, laugh your way to a tea party on the ceiling with these practically perfect in every way, homemade Mary Poppins costume ideas.
You don't need to sing to become everyone's favorite nanny. All you need is an element of fun and your homemade costume making will be a snap this year! Check out the tutorials for these DIY costumes in order to make a spit-spot costume that even Mary would approve of.
Going as a group? Have a jolly holiday with the many chimney sweep costumes in order to dress up as the endearing Bert. Or clean him up with a red and white jacket for a jaunt in the park.
So, take your spoonful of sugar and get crafting to make your best movie-inspired, homemade costume.
Latest Mary Poppins Costume Ideas
---
---

---
Featured Costumes
Costume by Sarah B., Idaho Falls, ID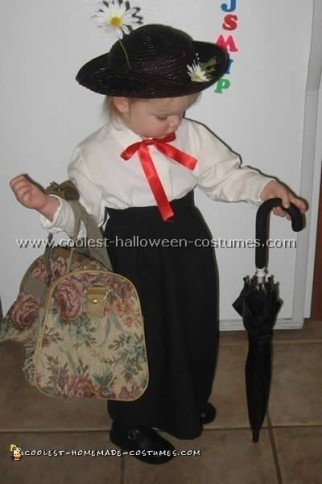 "It's true that Mavis and Sybil have ways that are winning and Prudence and Gwendolyn set your heart spinning! Phoebe's delightful Maude is disarming… Janice Felicia Lydia…charming! Cynthia's dashing, Vivian's sweet! Stephanie's smashing Priscilla a treat. Veronica Millicent Agnes and Jane… convivial company time and again. Dorcas and Phyllis and Glynis are sorts I will agree are three jolly good sports but cream of the crop tip of the top… It's Mary Poppins and there we stopped!" My three year old daughter was obsessed with the movie Mary Poppins I figured I would build on that obsession by letting her have a Mary Poppins costume for Halloween! It was inexpensive easy and most of all fun!
The Mary Poppins costume came together pretty quickly with a few trips to the second hand shops around town. Her shirt is a boy's dress shirt with a red ribbon bow. Her skirt is actually a ladies knee length skirt; they don't make many long length skirts for little girls! I didn't do any sewing just pinned it around her waist a bit. We had the black tights and shoes already. The umbrella is a child sized umbrella that I spray painted black. The carpet bag is a carry on sized bag that I found at a thrift store and boy does it hold a lot candy! Her hat another thrift store find was spray painted black and I hot glued a few daisy's on.
My husband dressed as Burt the chimney sweep. This was very easy!! He already had black jeans t-shirt jacket and boots. The hat was my father's that he had around for years. I sprayed it black. I picked up a black scarf and a little face make-up. The sweep was an old broom I soaked in a bucket of water overnight. The next morning I splayed out the bristles and held them down with bricks. Once it was dry I sprayed it black.
My four month old daughter's costume was an after thought to the theme. I picked up a penguin costume on EBay! New with tags! I added the black sweat pants to keep her warm on the cool night. She was a doll and her picture made the paper! Our family just had the best time this! Everyone was shaking my husband's hand for luck and people were asking my daughter to sing! This theme wasn't too difficult; most things were bought at the thrift store, no sewing or altering and a minimal amount of hot glue!
Total Spent: $21.00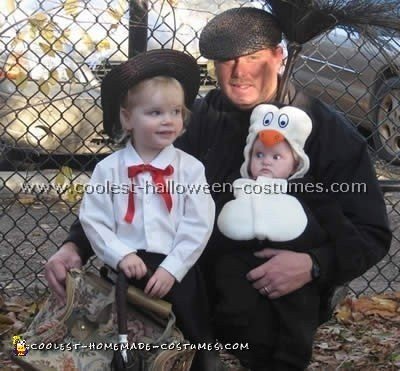 Costume by Jenna W., Ithaca, NY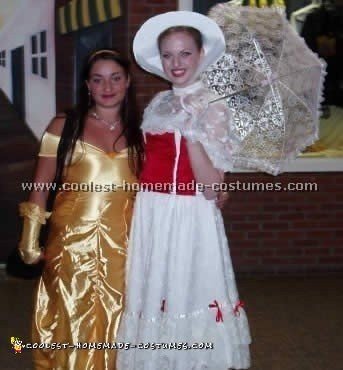 I was performing in a concert and all of the people performing needed to dress up as a Disney character. My favorite movie when I was little was Mary Poppins so I decided of course that I wanted a Mary Poppins costume, the dress that Mary wears during the "Jolly Holiday" sequence.
I found a plain white lace dress while cleaning out my theater's costume closet where they were going to get rid of it. The dress was handmade with layers of satin underneath and lace covering the top with pearl buttons up the back. I then purchased a spool of red ribbon and about 1/3 yard of red satin fabric. I attached the satin to a body shaper that I found on sale at JC Penny. I cut the red ribbon into six inch pieces and sewed them to the bottom of the dress tying them into bows.
Then I made the hat by purchasing 1/4 yards of tulle and several fake flowers. I pulled the flowers off of the stem and arranged them around the hat and put the tulle around the hat making a bow. I then bought fingerless lace gloves at a teen accessory store and a lace parasol on clearance at a children's store.
Total Spent: $30
Costume by Angela L., Portsmouth, NH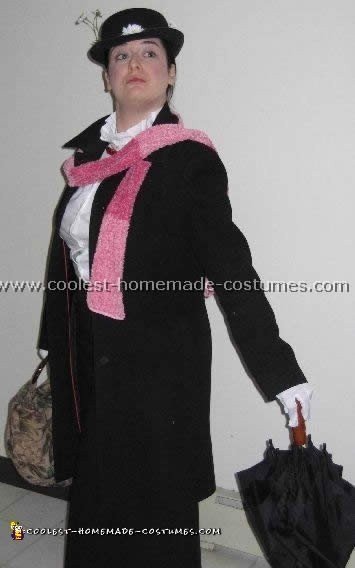 I was a student of Esthetics and the dress code was black and white only. So… since I love costumes I came up with this Mary Poppins costume. I downloaded a picture of Julie Andrews in the Movie stills and copied as well as I could. During the day I took off most of the layers and accessories then threw them on and went straight to the city parade.
Found a bowler hat, spats and white gloves at a costume store. Bought fake daisies and red berries at craft store to hot-glue to the hat as well as some tapestry fabric to cover a bag I already owned to mimic a carpet bag. I glued the fabric to it wrapped around the handles. Made a little bow-tie out of wired ribbon which I pinned to a high-necked ruffled blouse I bought (along with a long black skirt) -Sears and JC Penney clearance.
Found the skinny color blocked scarf at a teen accessory store. I already owned the plain umbrella, ankle boots and plain black wool coat. All that was left was to put my hair up and throw on lots of rouge. I even carried around a tape measure which I whipped out at key moments to hold up to children and with proper British accent declare "just as I suspected!
Total Spent: $70