Each year for the past 11 years my group has dedicated hundreds of man hours designing, creating, brainstorming, and scouring stores of all kinds; thrift stores, craft stores, hardware stores, online stores, and all stores in between. We search for just the right pieces and ideas to help our characters come alive! Dozens of cans of spray paint and scraps of cardboard, foam, fabric, and newspaper transform ordinary individuals into a fantastical group showcase!
Although the group always leaves an impression, attracts many admirers, scored a front page article, and has won many first place prizes, we have yet to find a venue that truly respects and appreciates our spirit of creativity and Halloween devotion. This year, our chosen venue thought that a group of men and women in prom dresses and a man with a blow up mattress and blow up doll were worthy of winning the largest contest in the City. We were devastated. People in the audience booed and told us we should have won. Our Halloween spirit has taken a beating this year but we are determined to press on!  This is one reason why I am so glad I can share our 11 year tradition with your website and all of the other DIY costume creators!
This year we took on Toy Story. The slinky dog, Rex, and Buzz were especially challenging.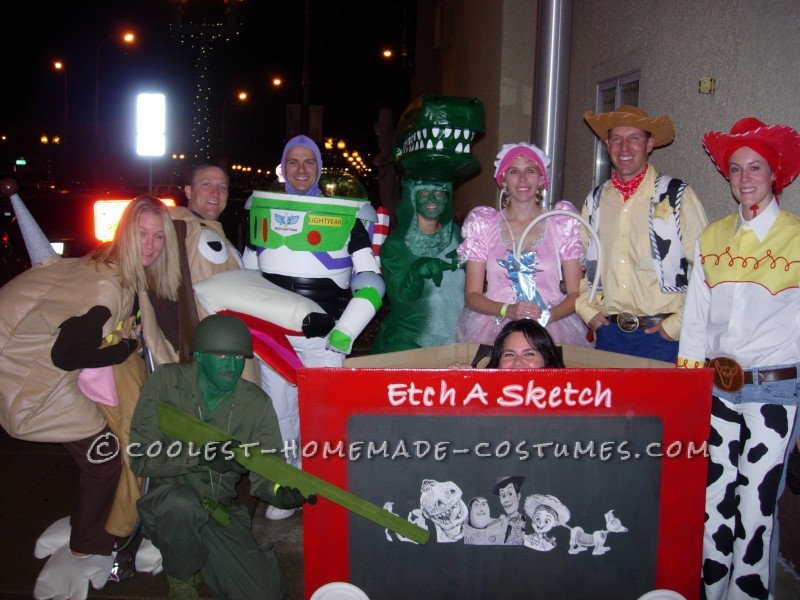 To Story Group Photo! We had to go outside we were so big!!
Slinky Dog
We used felt for the two body suits and stuffed the rear end with poly-fill.
We used a-pex plumbing tubing for the spring and sewed it onto the front and rear and spray painted it silver.
We used 12 inch padding for the snout and curved it in to give it the rounded look them attached felt by sewing and hot glue to keep its shape.
We attached the snout by hiding a belt that wraps around my waist to keep it up and sticking out.
We used black pleather for the nose and stuffed it to give it a more 3D look. We stuffed the eyes a little too to give it the 3D look as well.
We then cut feet out of the felt and stuffed them as well to give them more definition.
We used brown pleather to make the ears and had them attach to my hands to hide my arms.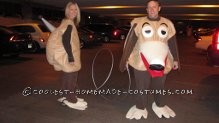 Rex
This character gave a sneak preview to the local newspaper-Argus Leader. Many people at the contest recognized Rex from the paper! He was famous!
We sewed the legs out of green felt and added a half inch foam between each layer to give them more shape.
We sewed the body out of green felt with slits for the head and tiny Dino arms. The arms were separate sleeves.
The head was constructed from chicken wire and paper mache. The head was then spray painted. Eyes and teeth were cut from white paper and glued on. The head was attached to a hard hat with zip ties.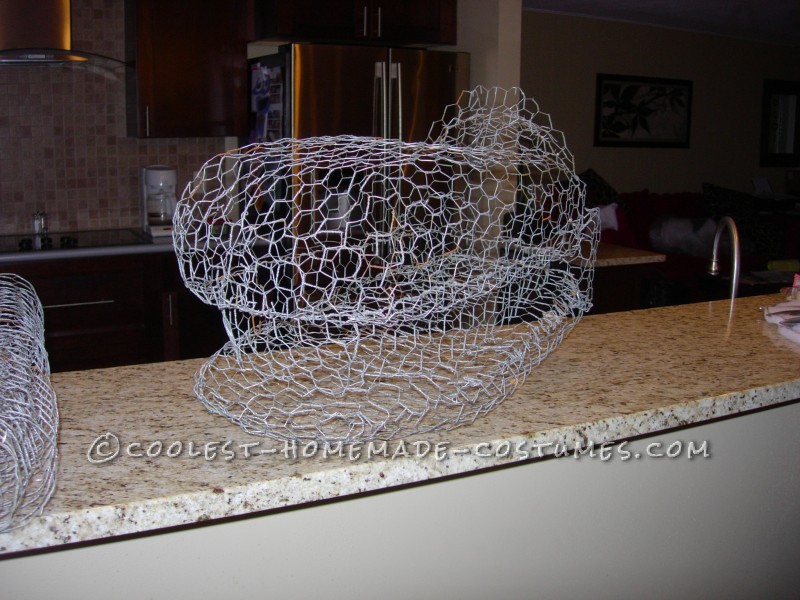 REx's mesh head shaped from chicken wire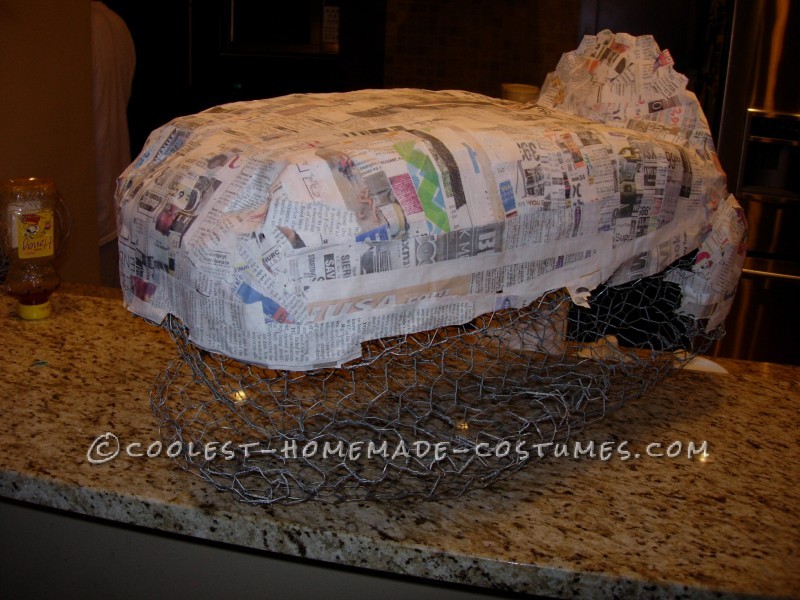 Starting the paper mache
Buzz
Buzz was made in a day! We started the night before the contest and then worked on him literally from sun up to sun down the day of the contest! Buzz had to be assembled on-site in the parking lot as he would not have been able to sit in a car!
We used a tub with handles first which was cut down to size. A piece of foam from inside a hot tub cover was shaped and placed on top of the bucket- cutting a hole for head and an indent for shoulders. The tub was then painted like Buzz's suit.
Sleeves: we used milk cartons for the biceps, large plastic Christmas bulbs for the top shoulder piece and elbows, and plastic drinking pitchers for the forearms (handles and spouts cut off). We painted them up. Finishing touches like Buzz's decals were copied and printed from the internet and glued on. His laser button was a milk jug cap.
Buzz's wings were shaped from foam and painted.
Buzz's pants were just white pants but with a punch bowl around the waist/legs painted to look like the upper part of his lower body.
Buzz's space helmet was part of a space suit costume cut down and attached to the foam/bucket.
Etch A Sketch
This was a last minute addition just a few hours before Toy Story made its debut!
2 pieces of cardboard painted red and gray for the screen.
2 paper plates made the knobs and pencil drawings borrowed from the internet of the characters were blown up and cut out.
Lettering was done on the computer, enlarged, cut out and glued on.
2 pieces of cardboard were connected by a seat belt like material and staples.