Take a look at these cool homemade Spaghetti and Meatballs homemade costume ideas shared with us by costume enthusiasts from around the world. Along with the costumes here, you'll also find loads of homemade costume ideas and DIY Halloween costume inspiration for your next costume project. Enjoy!
Latest Spaghetti and Meatballs Costumes
---
---

---
Featured Costumes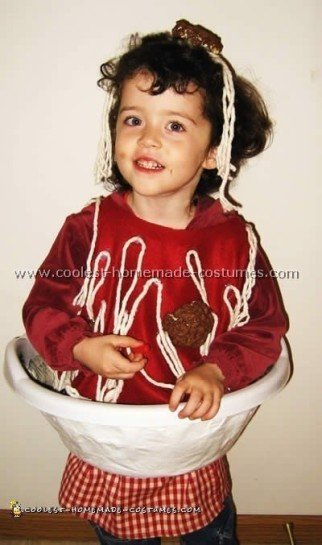 This Spaghetti and Meatballs homemade costume turned out adorable. We took a small laundry basket and cut it down so my daughter could walk. We then hot glued the top and bottom to shape it into a bowl. I then paper-mached the outside of the basket to cover the holes. Once it was dry I painted the bowl white.
I then cut three popcorn balls in half and painted them brown. Then, I also cut the strands off a mop head for the spaghetti. I cut a piece of red material into a circle. I cut one side down the back and then cut a circle in the middle for her neck. Next I used Velcro circles and put them down the back where I cut the split and around the bottom of the material and the other side to the basket. I hot glued the popcorn balls and mop pieces to the red material. Then, I also glued one meatball (popcorn ball) and some mop pieces to a headband.
I took a checkered napkin and cut it in half. Then, I sewed the two pieces together and across the top (not well) to run a small piece of elastic through the top to make the skirt (table cloth). I added a pair of suspenders by attaching them to the inside of the bowl and that's it, an adorable homemade costume.
Total Spent: $15 (Homemade Costume by Melinda B., Mascoutah, IL)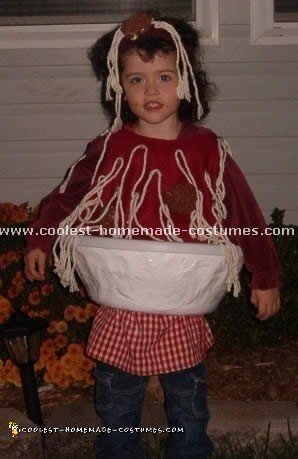 Awesome Spaghetti and Meatballs Homemade Costume
Costume by Tara R., Pitt Meadows, British Columbia, Canada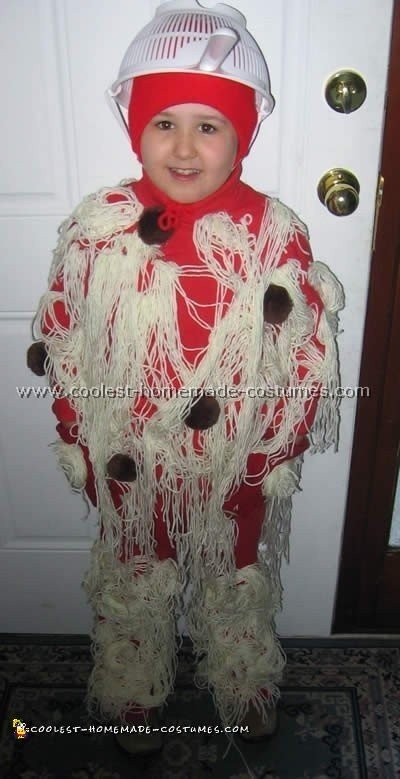 The idea for this homemade costume actually came from this website! My six year old daughter thought it would be a lot of fun to prance around as a mess of spaghetti. This costume sure had a lot of people smiling, laughing and asking how I did it!
First I purchased about six skeins of cream colored wool, a plastic colander and red mittens from the dollar store. Then I went to the thrift store and purchased a pair of red sweat pants and a red long sleeve turtleneck shirt. Lastly I bought brown pom pom balls from the craft store.
Putting the Homemade Costume Together
To put this homemade costume together I cut long strips of the wool about two feet long (doesn't have to be exact) until all six balls of wool were cut into strips. You will need a lot more than you think you will! The kitchen table was full of cream colored yarn. You can never have too much! (I put cardboard inside of the shirt and inside of the pants for the next step).
Then with my handy glue gun I bunched about 10 or 15 strands of yarn together and glued them on (tips only) to the shirt and pants. After having about three little bunches of fringe in different locations I used more hot glue to make the "spaghetti" strands stick in a pasta sort of way. Hap hazard as well as little round parts (like birds nests). I repeated this process until I had covered as much of the shirt and pants as possible and made it look like spaghetti was thrown at her!
After about two and a half hours of gluing yarn all over the red clothes including the red gloves I hot glued the brown pom poms on to resemble meat balls. We had a red winter hat with the flaps on the sides for her to wear on her head, the knot hidden by the turtleneck she was wearing. The colander was put atop her head. I made it stay on by tying a cream colored ribbon through each side and under her chin. It was about as warm as a fall jacket but she still wore a light coat shirt and pants underneath her costume. We live where it isn't very warm in the fall but luckily this year it wasn't raining!
Most Creative Homemade Costume Winner!
She won Most Creative Costume at School and she also wore it to her Girl Guides party. It turned out that she was the only kid wearing a homemade costume at the party and I could tell it really made her day. She was extremely proud of her costume and I was proud of the work we both put into it! Her name is Shannon but that night it was Shannon Spaghetti!
Total Spent: $20
Costume by Graciani A., Chicago
Cute Spaghetti and Meatballs Homemade Costume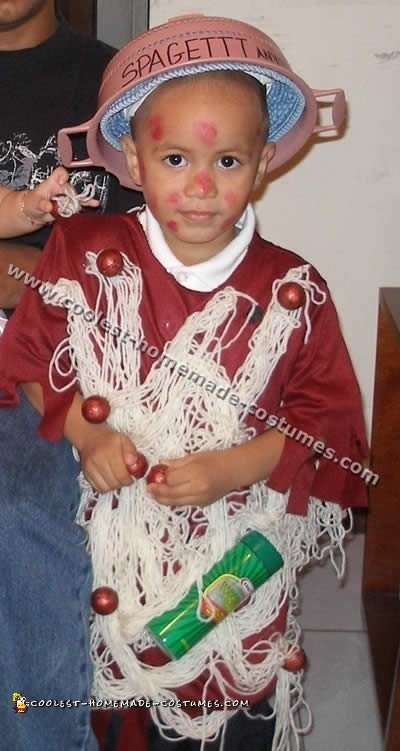 This homemade costume was fun, quick, inexpensive and easy to make. I went to the local art store and got ivory colored yarn which we used for the spaghetti and foam balls which we used for the meatballs. We then cut the yarn into 12″ pieces and glued them using a glue gun onto a red costume I bought at a local thrift shop.
The foam balls we painted brown and glued them onto the spaghetti strands. His hat was a plastic strainer glued onto a hat. Everyone loved his costume and he even won a prize for the funniest costume at a party we went to.
Total Spent: $9
Easy Spaghetti and Meatballs Homemade Costume
Costume by Theresa V, Ayer, MA

My 8 year old wanted a creative homemade costume for a party this year. We saw this in a magazine and wanted to try it out. The costume was so easy to make.
I needed to buy the red sweats and that is the only reason the cost was as much. I had a small colander and purchased 2 mop heads. The first one I glued to the colander and attached a baseball cap with Velcro to the inside. This helped it stay on his head without slipping. I cut pieces of a second mop head into different sizes.
Afterwards, I used brown pom poms for the meatballs. I first tried to just pin each to the clothing in a random fashion and found it better to hot glue the strands of mop and the pom poms together first then pinned them. We were going to use a loaf of bread but due to the injury to his arm decided to use the cheese and server that we attached with Velcro and used the spaghetti pieces to tie them in place.
His face was splattered sauce. This idea came about when his brother was a spider" jumped into the plate of spaghetti". After the party I removed all the pieces and put them away so that they can be used again for a homemade costume. It was fun and it only took about 20 minutes with the glue gun and pins to put the costume together.
Total Spent: $35
Box of Pasta Homemade Costume
Costume by Mike C., Toronto, Canada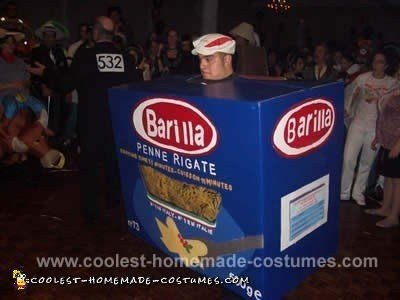 Well, this costume was a hard choice. Coming from an Italian background pasta is a big part of life so I decided to be a GIANT box of Barilla Pasta. It took me about a week to make and about $45.00 worth of paint to cover. I won the best costume at the Halloween Dance. I must say, my box was the biggest hit of the party.,
Total Spent: $ 45.00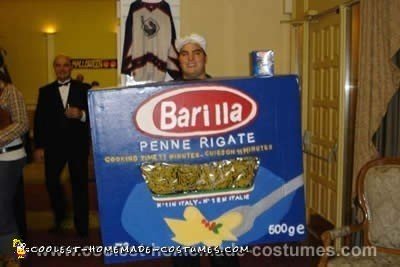 Great Spaghetti and Meatballs Homemade Costume
Spaghetti homemade costume by Gina S., Johnston, RI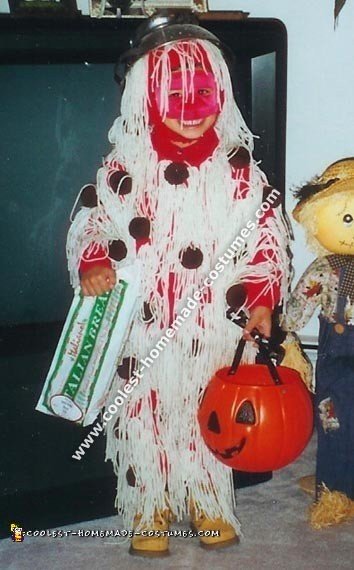 For this costume I purchased a red sweatshirt with a hood and red sweatpants.
I purchased straw colored yarn for the spaghetti and brown pom poms at a craft store. Then, I cut the yarn in approx. the same length and applied them randomly a few pieces in each with a hot glue gun, then using the hot glue gun I applied the brown pom poms randomly directly on the spaghetti.
I bought a red mask just to cover the face and to get the costume effect. Finally, I used a strainer/colander (you could use metal or plastic) which I had right in the kitchen to put on the top of his head which was rigged up with zip ties and we cannot forget the Italian Bread.
To finalize the costume he carried an empty Italian Bread paper bag from Italian Bread purchased at the local supermarket prior to making the homemade costume.
Mop Strain Spaghetti Costume
Spaghetti homemade costume by Suzzanne R., Middletown, CT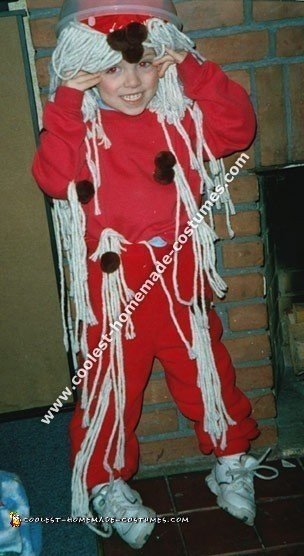 Ingredients needed for this homemade costume:
1 Child, 1 red sweatpants, 1 red sweater, 1 red hat, 1 bowl, 1 new mop head, 1 bag large brown pompoms, 1 Italian bread bag (optional for treats), 4 pieces of Velcro both sides needed, some tread to match.
For this homemade costume I took the bowl, put 4 pieces sticky Velcro, and placed it around. I Took a few strains off the mop head (enough to spread around the clothes to look good). Then, I sewed the Velcro pieces on the mop head and places in the bowl.
I took the loose strains of mop and sewed them randomly around the sweater top and bottom. Then I added Meatballs. Too make it look even better I added a strain of mop and meatball to the shoe. I just tied it in with the shoelace and trimmed the excess so that he didn't trip. He carried a large Italian bread bag for his trick or treats.