Quench your thirst this Halloween with these refreshing soft drink costumes. Share your cup contents with the world, or at least with your costume party. Take a look at the innovative ways people here have become what they drink. Then, design your best DIY costume using the awesome tutorials and free Halloween costume patterns here.
Show off your signature drink with your homemade costume. Wondering how to get a cup shaped costume? You will see the coolest ideas here for DIY costumes. If you thought you couldn't make an effective Coca-cola dress, think again. You must take a look at the amazing soda/pop costume dresses below. Don't forget to check out the cutest soda tab headbands!
In addition, you will see homemade Ice Tea costumes, energy drink costumes and more.
So, grab a glass and browse through the coolest collection of DIY soft drink costumes. Get inspired to make your best homemade costume this Halloween!
Latest Soft Drink Costumes
---
---

---
Featured Costumes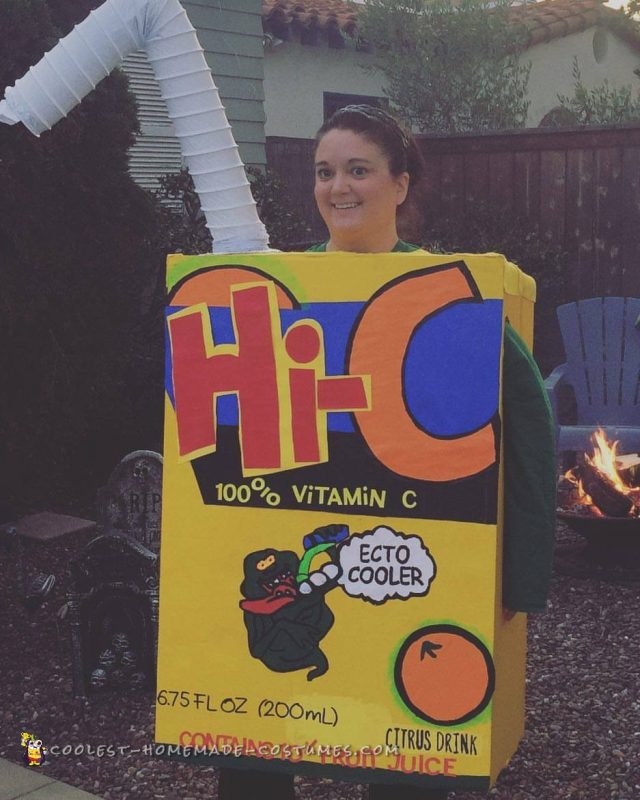 This Hi-C Ecto Cooler juice box costume is a very simple costume to make. I have been making my homemade Halloween costumes since 2004. It is always a secret until I reveal on Halloween or at a party right before Halloween. Friends are always looking for hints and trying to guess what I will be. The best part is always the reaction when I reveal that year's costume. I love the excitement and amazement that my friends and family share with me once they see my costume. Read more »
---
More Soft Drink Costumes
Costume by Greg S., San Diego, CA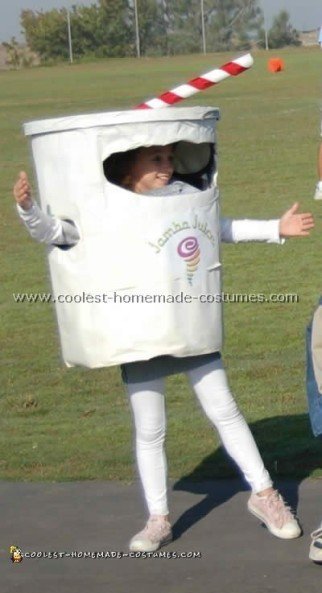 Thanks for the many free Halloween costume patterns on this site. We decided on this costume. Body, bought plastic/rubber trash can at Home Depot for $10(sale). I used a jig saw to cut out around the bottom and also to make holes. I made a lot of extra holes to bring the weight down.
Shoulder support, cut up a foam pool floatie thing(noodle) and put string through it and ties to the side so the foam acted as shoulder supports (right and left) for my daughter (age 8). Lid, cut out all but 1″ rim odd the trash can. Cut out round stiff poster board and taped on with masking tape. Cut small hole and affixed wrapping paper tube to make straw affixed with masking tape. Paper covered the body attached with masking tape. Paint spray body and lid white.
Total Spent: $25
Costume by Suzi H., Circle Pines, MN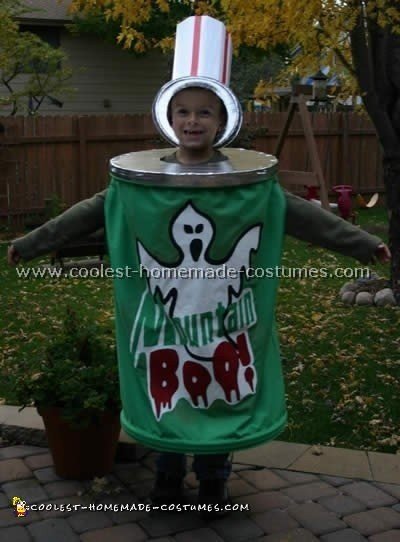 My son wanted to be a can of pop for Halloween so we came up with "Mountain Boo". I made the costume with two hula hoops (cut to 18″ circles), green material, foam board cut with hole for head, silver duct tape and a top hat with white foam board and red electrical tape for a straw.
I created the design on my computer, printed it out poster size and transferred it on to the material. I then painted the design on the front with acrylic paint. The whole costume took me about three days to make with the painting taking up most of the time but well worth the effort! He loved it!
Total Spent: $15
Costume by Mary E., Clinton, MO
From all the free Halloween costume patterns I looked through, I finally got this idea for a costume from drinking Pepsi. I thought it would be a cute costume.
I started with a cardboard box and rolled it to a can shape. I made a lid like pop top out of extra cardboard and ducked taped this to lid.
I spray painted the can blue then added duck tape around top and bottom to make it look like the silver part of the can. I added Pepsi words with white spray paint.
I sprayed white paint in a bowl, took a thin paint brush and wrote the word Pepsi and also drew the Pepsi sign symbol. I did the same with the colors to make it look like a can of Pepsi. This took about 3 hours.
Total Spent: $5