This was my first year doing a "couple" costume with my boyfriend and I wanted it to be good for the church Halloween party I was going to. I actually found this free Halloween costume idea on this website! I researched the painting on the internet before I started looking for everything.
I found a large flat-screen television box, cut a square out of the front, painted the frame on it and painted the background. My friend drew the Gothic style window and house on a piece of paper and taped it to the background. I already had the cameo pin along with a black skirt, white undershirt and my mom had the overalls.
I bought my boyfriend's coat and shirt at a local thrift store. He just folded in the collar of it. He wears glasses anyway so we just went with that. I put flour in our hair to make it look a little lighter/grayer. Got the pitchfork at Wal-Mart but I tried to find a real one. My mom graciously made the apron for me from materials she already had. We had a blast and it definitely made a great impression on my boyfriend! We won Most Creative Costume and a $15 gift card to Target.
Total Spent: $16
Costume by Kristy C., Birmingham, AL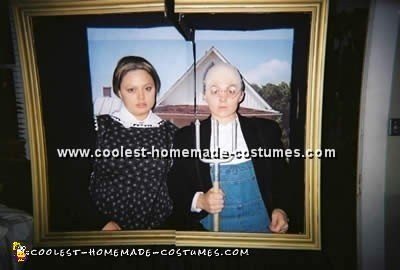 The way we came up with the free Halloween costume idea was my partner at work. She was talking to someone about the painting "American Gothic". She then started thinking that it would make a killer costume if it were done correctly.
We spent a week planning out the boxes and how we were going to make it come together. We then hit the thrift stores for our wardrobe. It took us about two days to complete it.
On the 27th we went out to different bars to show off our costume and ended up winning 1000 dollars.
Every bar we went to we would have to stop and connect our boxes because everyone wanted pictures. We literally had to stand for 10 to 15 minutes for random people to take our picture. It was a great night and we had a blast!