Looking for an easy and recognizable girl's costume to make? Check out these cool Dora costume ideas for awesome Dora the Explorer DIY costume inspiration. You'll also find loads of homemade costume ideas and DIY Halloween costume inspiration.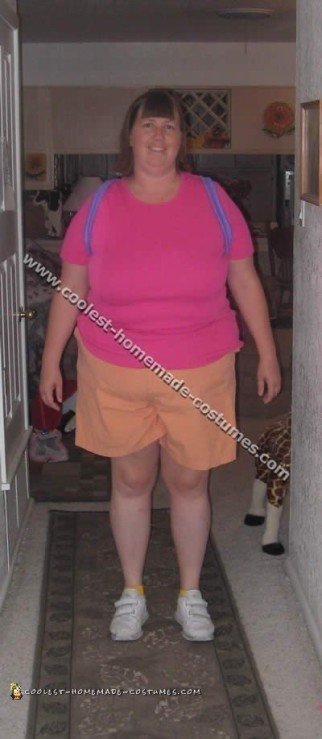 I work with kids from birth to three so I needed a costume that they would recognize. I figured a Dora costume would be pretty easy! So, I found a pink shirt, orange shorts and white shoes in my closet. (In New Mexico I was fine in shorts!) The hardest item to find was yellow socks. I think I spent $3 on the ones I found!
The backpack took a bit more creativity. I found some lavender fleece and made a simple backpack shape with a long flap to hang over the front. I included a small Map pocket on the side. The straps were a bit difficult to make since the material had a lot of "give". I sewed a long strip and turned it inside out then attached to the bag. Then, I made the Backpack face with felt. I hot glued them.
For the Map I used light brown "fun foam". I rolled it up and then hot glued appropriate colored foam in the shape of Map's face. I used sticky foam to keep the Map stuck in the pocket of Backpack. When I got to work several people asked why I didn't dress up. As soon as I turned around they realized who I was! You'll notice two Backpacks in the picture. My then three year old daughter was Dora too but I can't find a picture of her in costume.
Total Spent: $5
Easy Dora Costume for a Girl
Dora the Explorer costume by Jennifer F., White Pine, TN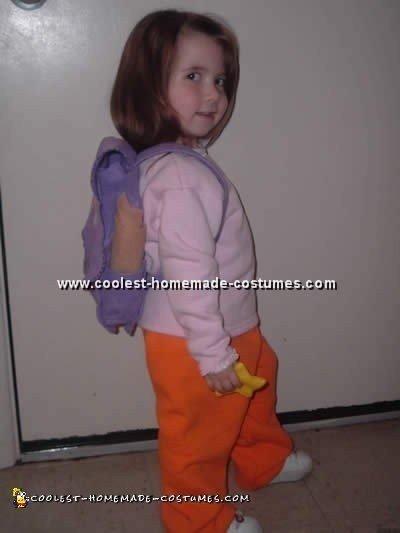 We live in Tennessee and around Halloween it gets pretty cold so the Dora costume at the store wouldn't do. My 3 year old little girl LOVES Dora and it was the only thing she wanted to be.
I picked up a pink sweatshirt and orange sweatpants at Wal-Mart used the white shoes she already had and her Grandma made her backpack using craft felt. She made the pattern and then sewed it all together. She even included pockets on the side for map and catching stars!
Total Spent: $13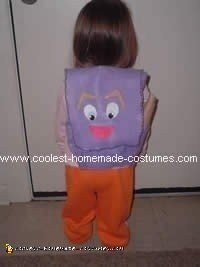 Cool Homemade Dora Costume
Dora the Explorer costume by Chris R., West Newbury, MA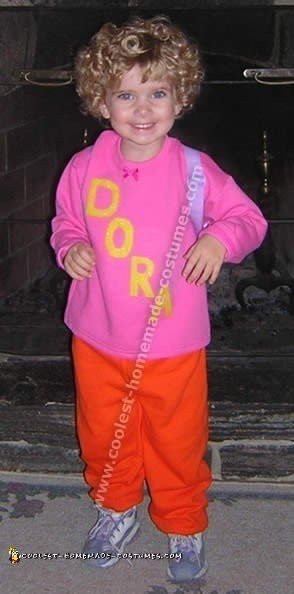 Megan is all about Dora and Diego. So last Halloween I made her a Dora costume (all the store bought costumes looked really creepy and cheap; and forget about a 2 1/2 year old wearing a black wig!!).
The costume is made out of sweatpants and a sweatshirt from Walmart. (I happened to find orange pants just like Dora as it was Halloween time). I used felt pieces to make the letters for Dora and hot glued it to the sweatshirt. She used the Backpack that she already owned. Instant Dora costume which was great for layering clothes under to go out trick-or-treating in cold New England, or wearing alone for kid's parties. Megan loved her Dora costume!
Total Spent: $20
Cute DIY Dora Costume
Dora the Explorer costume by JaKell I., Saint George, UT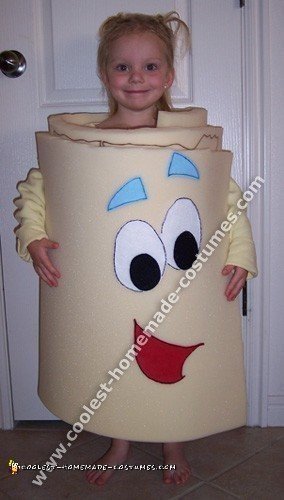 After searching for a Halloween costume for my 2-year-old son, he would say NO to every single one and kept saying, "Map" when asked what he wanted to be. So I decided I would try to create my own one of a kind Dora and Map costumes.
I bought a piece of rolled foam the color I needed and lots of felt and puff paint. I started cutting and this is what I came up with. It unrolls part way to show where the map takes them on their adventures. If anyone knows Dora, it's sure to be a hit costume.
I made three destinations and detailed them with puff paints to outline everything, and then I bought appliqués to add more detail with the animal at each place or baseball. Now my son and daughter are fighting over who gets to wear the Map costume for Halloween!
Total Spent: $20
Take a look at many more of the coolest ever Dora the Explorer costumes…