Enjoy this collection of the most adorable DIY dog costumes shared with us by costume enthusiasts from around the world. You'll also find loads of homemade costume ideas and DIY Halloween costume inspiration.
Latest Dog Costumes
---
---

---
Featured Dog Costumes
Dog costumes by Teresa M., Greenbrier, TN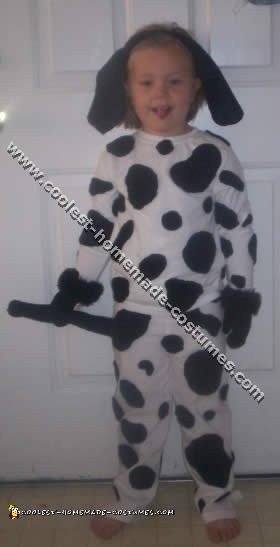 If you're looking to make dog costumes, this was a very easy no sew Dalmatian. I went to the Goodwill and got long shirt and pants in white for about $4. Went to Wal-Mart and got fuzziest black material about a yard of for about $3 and a black head band for $1.
We had a pair of fuzzy black mittens. I cut the fuzziest black material into random spots and patches and used my hot glue gun to attach them. I cut out dog ears from the fuzziest black material and hot glued them to the headband as well.
We went cheap and made extra things from around the house, her nose and whiskers were painted on with my mascara. Daddy had a cracked black leather belt we stole and cut to make our dog collar with.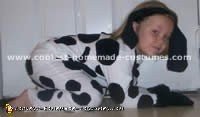 My daughter had a large coin type medallion that already had a hole so we made a dog tag from it by writing SPOT on shiny wrapping paper and gluing it on and then attaching it to dads old cut belt. If you want to make dog costumes, this one is very simple to make!,
Total Spent: $8
Adorable Box of Doggies
Dog costume by Mary E., Clinton
I saw many dog costumes online but nothing like this one. You will need: one small box dog treats, news paper and a roll of brown packaging paper, black marker, scissors, puppy dog ears and black Halloween make up, hot glue and stuffed doggies.
I took the box and hot glued the brown paper to the box then cut some holes in front of the top of box and added some stuffed doggies to the holes. Then cut a hole out for the child on top of the middle of the box. Next, I drew some puppy feet prints to the front of the box and wrote beware of dogs and added some dog treats with hot glue.
After that, I shredded some news paper and added around the child, took black Halloween make up and drew a circle around his eye and added the doggy ears to his head.
Total Spent: $12
Easy Dalmatian Costume
Dog costume by Angela N., Thomaston, GA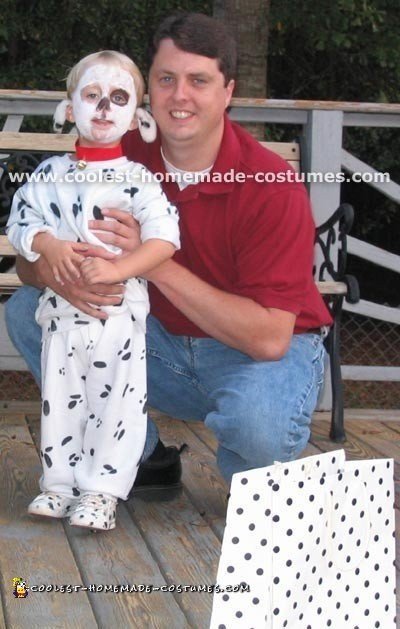 This type of costume is and easy crowd pleaser!! All this outfit needs is about 10 dollars and a little cute munchkin.
All you do is buy a white sweat suit, and color black dots on it, I used old white Keds and painted them too. I used an old stuffed animal and cut off his ears and hooked a little piece of dental floss to hold them on my son's ears.
I used Christmas ribbon and a bell for his collar. We had so many compliments. We even brought a leash and hooked it to his collar for an added funny touch. He loved barking at all the other costumes. I also bought some face paint and gave him a black nose and eye. It was a great night.
Cutest Dalmatian Puppy
Dog costume by Alisa S., Alamogordo, NM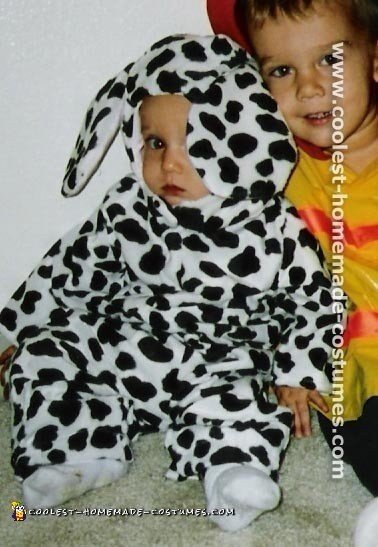 The Dalmatian costume was made with a furry fabric and the ears were lined with a soft pink poly/cotton blend. I found the pattern for this costume at our local fabric store. I just made a few modifications (the red ribbon).
Adorable Black Nosed Pup
Dog costume by Nicole T., Gilbert, AZ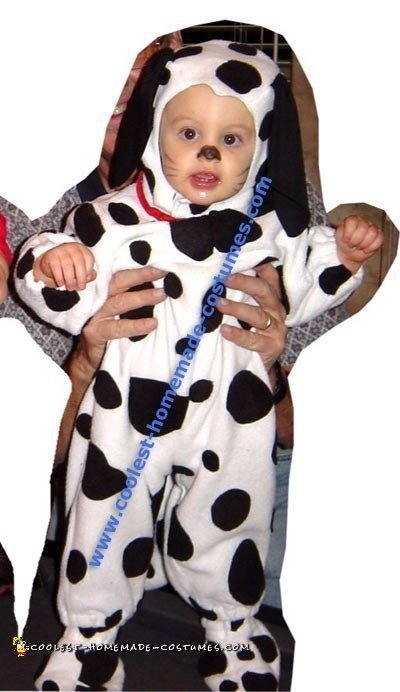 Because I have twins I tried to think of costumes that would go together, but would also be unique and out of the ordinary. I came up with the idea of a Dalmatian dog and a fire hydrant. To tell you the truth, I am not sure where the idea came from, but it was fun to do.
I simply purchased a pattern for the dog costume and made it out of white polar fleece. I couldn't find a pre-printed design, so I used fusible web and ironed on the black spots. It was time consuming but pretty easy.
I added a store bought red collar to the dog costume to add a little extra touch. They were a lot of fun to make and needless to say they were unique. Dog costumes are so much fun!
Fun Fire Hydrant and Dog Costumes
Dog costume by Alyson T., Bloomsburg, PA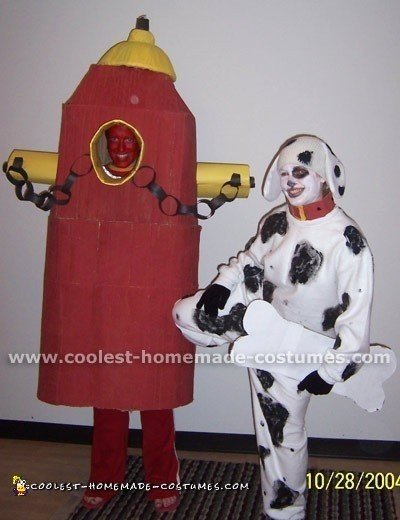 My roommate and I have been creating our own original costumes for 4 years now and entering the costume contests. We tried looking online for a picture of a hydrant costume (so that we had some ideas on how to create it), but no luck there.
Making the Dog
For dog costumes you can use an old white sweat suit and a white knit hat. We also got some face paint, which is VERY easy to find that time of the year. We used black paint and put random spots all over the hat and sweat suit. Dog costumes are very simple to make!
The entire process of making the hydrant and dog costume (more time for the hydrant) took us about one week – but it sure paid off! We won the most original contest and drew quite the crowd to check it out. We were also featured on the front page of the University Newspaper. Even one of the judges asked how we did it because she wanted to make it for her son!
It was inexpensive and very simple to make. We just used our heads and had a fun time doing it. Thanks for having this great site to post costumes and ideas on! It's just not right that these works of art get one day of glory and then are forgotten! Hopefully this will give someone else some ideas someday.
Total Spent: $15
Prize Winning Puppy
Dog costume by Jennifer F., Austin, TX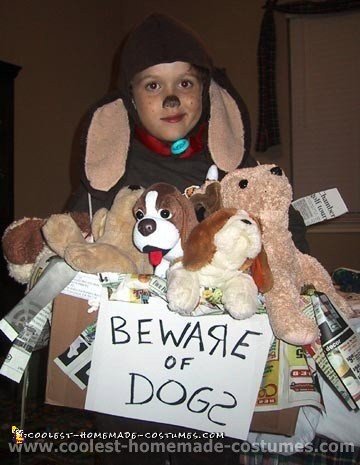 Dog costumes are so cute! With this costume my son won 1st prize at his school.
I dressed him in brown pants and t-shirt that he already owned. Next, I made a hood with ears that attached at the neck with Velcro. A grosgrain ribbon was added for the collar. I put a little black makeup on him- nose and freckles on his cheeks.
Next we picked a box that was the right size for him and cut a hole for him to stand through and pull up to his waist. We made rope suspenders and taped shredded newspaper in the inside, so that it "flowed" over. Next we secured his stuffed animal dogs with packing tape and added the sign "Beware of Dogs".
He is such a dog lover and it was the perfect costume for him!
Total Spent: Nothing = already had fabric, clothes, box, stuffed animals.
Doghouse Stroller
Dog costume by Laura M., Fairmont, WV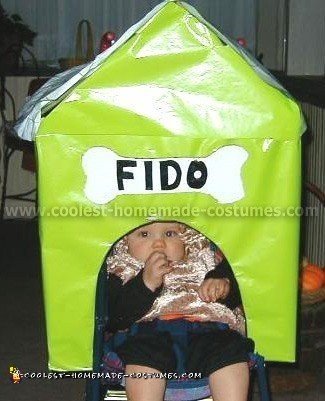 After enjoying a year of extended-by-me maternity leave, funds were low and my husband begged me not to go overboard for my baby's first Halloween. Realistically, it wasn't really going to show anyways since he'd be riding in his stroller and I had to put a blanket over him (a cool windy night had been predicted) – plus I was only walking around for fun with my friends who had older children.
So, off to the dollar store I went and bought a $6 puppy costume – sufficiently cute with my baby in it of course, :-) but lacking any pizzazz.
Fun and Fast Doghouse
Well, 2 hours before trick or treating started, I decided that the umbrella stroller could be decorated! Out came an old TV box stored in the attic. I simply cut the bottom out of the box and slipped it over the umbrella stroller, then based on where it rested itself, I cut out two slits in the back where the handles were and poked them through (also providing rear support for the box). A U-shaped entry hole was cut in front – I was extra careful to make it wide enough that my baby could see a lot of the activities going on (I didn't want to accidentally limit his fun).
Two of the flaps on top of the box were cut off and the remaining two were propped up (roof shaped) by a piece of cardboard that was folded in half lengthwise in an appropriate V-shape, which became the point of my roof. I covered the roof with some white wrapping paper I had on hand and drew shingles with a black marker (green or black would have been better but I was working with what I had).
I covered the main house with bright green paper (again, what I had on hand – Snoopy-house-red would have been awesome). The bone label was cut out from a leftover TV Box flap and added some dimension; it just happened to be white on one side and I quickly used a black marker to write a common dog name on the bone. Voila! 35 minutes later, a precious and cool costume accessory, which cost me pennies to make and it even kept my baby warm and blocked off from the wind!
Tips
1) Cute little paw feet hanging out would have been even cuter (like the paw slippers you can buy).
2) Put baby in stroller first then slip doghouse over.
3) Tufts of grass in green construction paper around the base of the doghouse would have been extra cool too. NOTE: *** My baby was 12 1/2 months old at the time of this picture *** and did absolutely fine being limited to the stroller – he didn't walk yet but a Toddler would likely have resented it.
I think I will now always intend to decorate the vehicle or accessory of the person I am costuming – be it a wheelchair, stroller, or walker. I got soooooo many compliments! But I forgot to take pictures until after we'd already come home (when my baby was very squirmy and uncooperative), but the doghouse is what I wanted to show anyways, not the store-bought costume.
Thanks for letting me post/share this dog costumes idea! Total Spent: $6