Feeling nostalgic for the Jurassic era? Hoping to terrify your neighborhood with a scary Halloween costume? Now is your chance with these awesome dinosaur costume ideas. From the ferocious to the adorable, you will find fantastic homemade costume ideas here. And, take a look at these cool tutorials for your most amazing DIY costume.
Also, homemade costume ideas here range from the realistic to the fantastical. Go with an authentic looking green dinosaur costume. The Halloween costumes in this collection seriously stun in their realism. Or go for a fun hot pink and purple dinosaur costume for a fun DIY costume.
In addition, there are so many unique homemade costume ideas here to spark your imagination.
So, whether you're looking for an elaborate or last minute DIY costume, this costume collection has you covered. Check out the photos and tear up Halloween with an epic homemade costume. Scare the whole neighborhood with your awesome dinosaur costume this year.
Latest Dinosaur Costumes
---
---

---
Featured Costumes
Dinosaur Costume by Michelle C., San Antonio, TX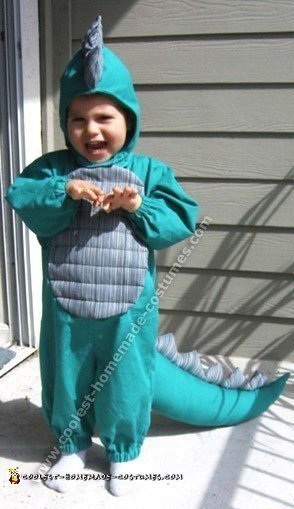 For this costume I followed McCall's Pattern # 2335, size 3-4.
This size was too big after all, so hopefully it will be next year's costume, too! My son had a blast being in his costume! He even willingly wore the hood. My friend gave me the green fabric and I bought the striped fabric for the spikes and belly.
The pattern for this costume isn't very difficult; I finished it in 3 weeks. Also, this costume was fun to make! I overstuffed the spikes, which made sewing it on a small battle, but it worked out. Total Spent: $7 (I had free fabric)
Frighteningly Awesome DIY Dinosaur Costume
Dinosaur Costume by Dawn C., Cleveland, OH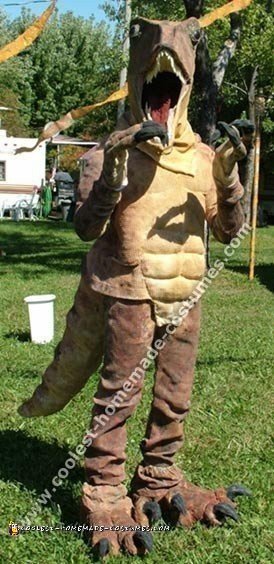 My son is really into Dinosaurs and wanted to be a Velociraptor. So with a lot of imagination I came up with this costume. The head is made from plastic canvas that I cut and sewed together to get the basic shape of the dinosaur costume head. I then used paper mache to form the eye sockets and covered the entire head in cut up t-shirts.
Using foam I created the tongue, teeth and mouth. The dinosaur costume suit is made from long johns. Then I cut and sculpted the chest and stomach muscles from foam and sewed it into the shirt.
The tail is made of foam covered in t-shirts. It is attached to my sons waist with a belt.
The costume feet are made from foam attached to an old pair of tennis shoes. The foam was then sculted into the toes and talons.
In order to complete the suit I painted it using a sea sponge. Due to the fact that I did not use any patterns and could not find any existing Velociraptor costumes to reference, this dinosaur costume was created by pure imagination.
In conclusion, it took about 2 months to make and cost about 50 dollars.
Total Spent: $50