Dressing up as a villain is wickedly fun! Check out the amazing 101 Dalmatians and Cruella de Vil costumes featured here and create your own cool DIY costume! You'll also find loads of homemade costume ideas and DIY Halloween costume inspiration.
Latest Cruella de Vil Costumes
---
---

---
Featured Costumes
Cruella de Vil costume submitted by: Mary W., Cocoa, FL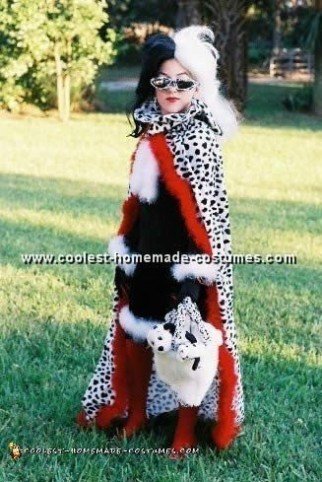 We came up with the idea for this Cruella de Vil costume after watching the 101 Dalmatian movies. I bought at a local costume store a wig, two yards of the Dalmatian material, two long pieces of the red fur and two of the white fur and red tights. At the second hand store I found a small piece a flux fur for the purse, a small tote bag and some Dalmatian animals.
I had cheap sunglasses, a black velvet skirt, black long sleeve velvet shirt and black and white high heel shoes. So, I took the Dalmatian material, folded the top and sewed a basic straight stitch and put a drawstring in to make a collar.
Then, I safety pinned the red fur around the material. In addition, I safety pinned the white fur around the black skirt and the sleeves of the shirt. I guess you could sew the fur if you prefer sewing. I glued the small piece of flux fur to a tote bag and put a small stuffed Dalmatian dog in it.
Next, I took scrap material I had left and glued it around the sunglasses and the handle of the tote bag. The extra white fur I just pinned to the front of her shirt.
Finally, she put RED lipstick and black and white eye shadow on.
It took me a few days of shopping for the material and then another two days of putting the costume together. This was a great Cruella devil costume!! She had many compliments.
Total Spent on this Cruella Deville costume: $45
Adorably Fierce Cruella de Vil Costume
Tiffany S., Hollywood, FL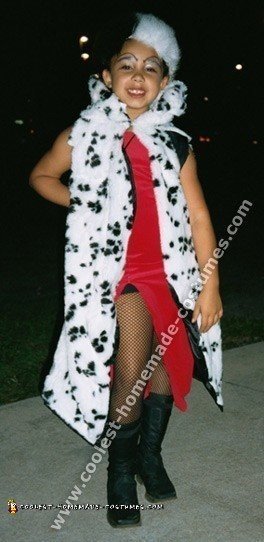 Pretty sure you can guess where the idea came from. My daughter loved the movie so much we decided to create a Cruella de Vil costume. I am not the best when it comes to sewing, but I love Halloween and I hate those store bought costumes.
For the costume I bought about 1 1/2 yards of stretchy red material and traced a pattern from one of my daughter's dresses. Then I bought 2 yards of Dalmatian fur material, I waited for 50% off coupons for both of the fabric purchases.
For the coat of the costume I traced a pattern from a cape we had. I sewed cardboard in the collar to make it more dramatic, and closed it with a rhinestone pin I had. For the hair I used a white pair of pantyhose, and cut the legs off, I tacked a white feather boa on one side and black on the other. That was the most expensive purchase.
Then one pack of fishnet stockings, and a pair of black boots, or shoes whatever we had in the closet. Then we put some make-up and that was it. I loved the costume so much I made it again when she was like 6yrs old, because the school was doing a Disney theme.
The second time around when making the costume was even cheaper because I had a lot of extra material left over from before, unfortunately she had grown too much for even the old wig to fit her.
Total Spent: $25