My husband and I were trying to come up with one of those cool and unique couple Halloween costume ideas for our town's Halloween dance. We wanted to dress up as something no one else would have thought of. So we went to Wal-Mart, bought some cheap night clothes and a huge over-exaggerated knife.
Then I mixed up cornstarch, water, syrup and red food paste and tried to mimic how the blood pattern may have gone if I was Lorraina Bobbit and cut off her man's.. you know what.
Then I put a sausage in a jar that I "bloodied" on one end. I had it sitting on the edge of our table all night. People loved it! They kept coming over to examine "Exhibit A", as I had the jar labeled. It was fun! We came in second place.
Total Spent: $15
Costume by Cathy & Dave S., New York, NY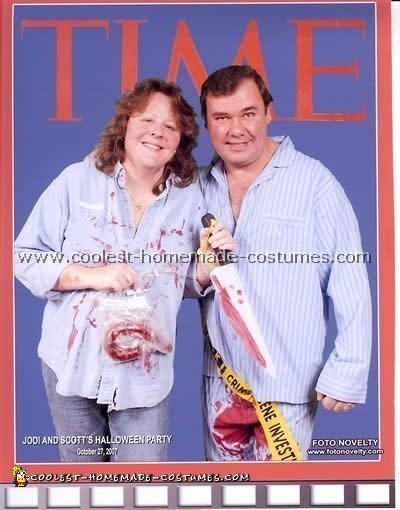 I thought of the idea for a couple Halloween costume and surfed the internet and found this web site. Gave me inspiration! Bought inexpensive PJs (about $12 at Target) for hubby ("John Bobbitt") and I ("Lorena") wore one of his old shirts. Bought plastic knife and red paint and "bloodied" it all up. Put crime scene/investigation tape ($1 from Dollar store) across "John Bobbitts" affected area and also on the back of his PJ shirt. I smeared "blood" ("blood" makeup) on my arms and face.
Then we used red paint on clothes to splatter "blood" in the areas most likely to be affected. The 'specimen' was a kielbasa ($3 from grocery store) with fake blood in a specimen bag labeled: Bobbitt – Evidence: Exhibit PP (get it??!!). We toyed with the idea of using cocktail wienies or a large kielbasa. The kielbasa won out and was a hit at the party. We won two prizes- Most original and The Funniest costume. It was a great party and everyone enjoyed our choice of costume!
Total Spent: $20