Every year for the past four years we have all dressed up as a family with each year bringing a fun, new theme.  The first year we were the cast of the Wizard of Oz, then we were the gang from Scooby Doo, followed by the Star Wars team, and this year we chose to be the Looney Tunes. 
Our family is very close and we look forward to Halloween every year because we get to show the world who we are as a family and a team.  I am a very creative mom but not a very crafty one.  I know how to sew by hand just enough to get by but it usually works out.  Plus, it's more about the journey than the end result for us. 
It took us about three weeks to finally decide on the Looney Tunes characters.  Much to my dismay there were not a lot of props and costume pieces available online for this theme because they are vintage cartoon characters; therefore, I was forced to construct/gather virtually every piece of our costumes myself. Thus began my journey toward the \"looney\" bin.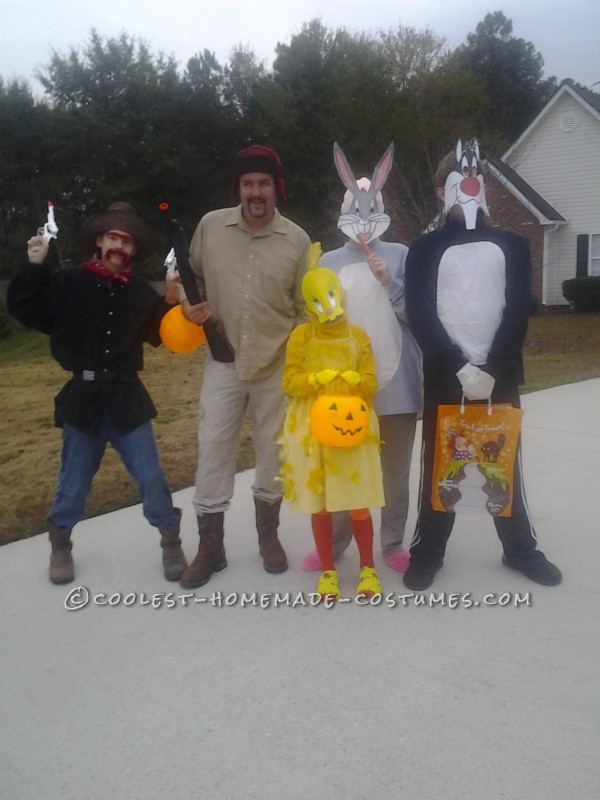 My "Looney" Family
The Many Faces of Family
Three of our costumes needed masks and they had to look exactly like the characters for our theme to work.  After realizing I wasn\'t able to find masks online for our costumes, I dediced to make them.  I put on my teacher cap (I teach preschool kids) and decided to look online for some coloring page templates of the Looney Tunes characters.  I then sent them to a local printer who enlarged them and printed them out for less than $2 – for three masks!  I was happy!  Then I brought the papers home, had my children help paint them, and let them dry.  Once dry, we covered them in clear contact paper and glued them to basic plastic eye masks.  All together I spent about $8 on three masks.
Bugs and Sylvester
Once we had the masks done, I pretty much built the rest of our costume pieces around them.  For Bugs Bunny and Sylvester I cut a large oval out of a white sheet and sewed them onto a black turtleneck and gray turtleneck for each.  Then I simply added some black and white striped athletic pants for Sylvester and some gray athletic pants for Bugs.  As Bugs Bunny I wore fuzzy pink slippers and my 16 year old son, (as Sylvester), wore white socks on his hands for the cat paws and black slippers on his feet.  I also didn't want my hair to show in the back so I covered it and pinned it up in a solid pink towel turban.  Worked great!  I barely had $10 in both of these costumes combined.  Most of the stuff, I had at home already.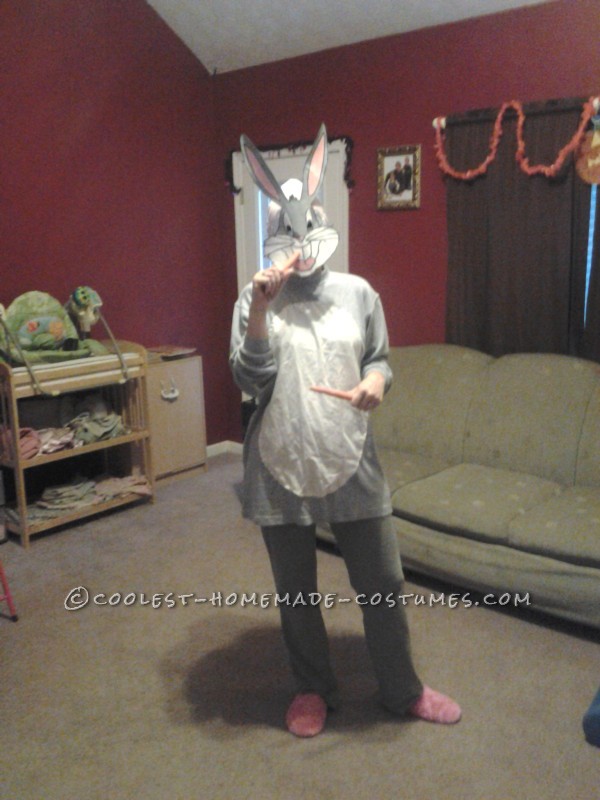 What's up Doc?

Thuffering Thuckatash
My Little
My 8 year old daughter was Tweety Bird.  Her costume was also built around the mask.  I already had a yellow shirt with a tight hoodie on it that she wore to cover her head.  Over that I placed a dark yellow turtleneck and a yellow terry cloth dress that tied in the back.  I threaded dark and light yellow feathers through very tiny safety pins and pinned them to various spots on the dress.  She wore orange leg warmers underneath with dark orange knee socks over them.  To make her feet appear bigger we placed yellow footie socks over her crock shoes.  To make her appear bigger at the waist like a bird, we also wrapped a headrest pillow around her waist and secured it.  We covered her hands with the same type of yellow socks as were on her feet.  Her costume cost around $12 because of the feathers and such I had to purchase but everyone flipped over this costume!!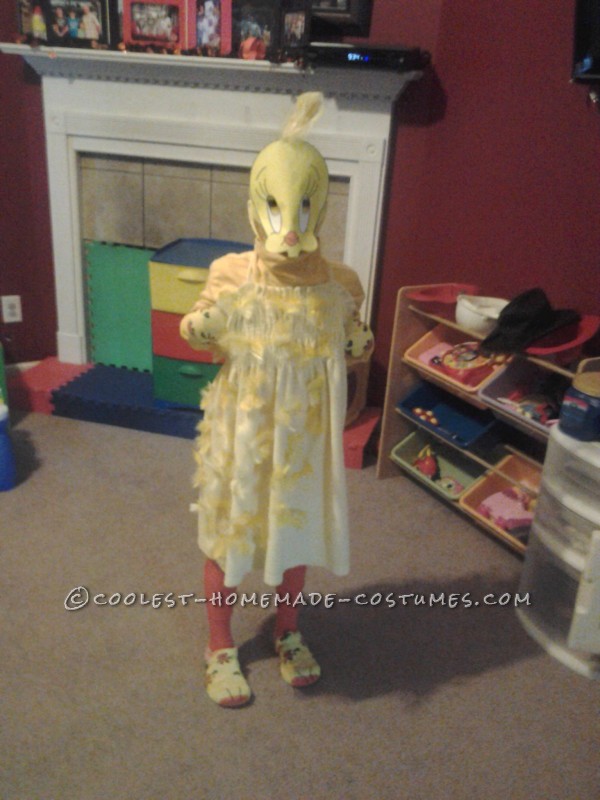 I tought I taw a putty-tat
Hunting Wascally Wabbits
My husband was Elmer Fudd and the only piece of his costume I had to make was the hat, which was NOT as easy as it looks.  I bought some red flannel material and an old dark brown ball cap at a thrift store and cut and layered several pieces of flannel stuffed with polyfill onto the hat and sewed it on by hand to the side and front until it was tall and poofy enough.  I had a total of $8 in this costume.  My husband already had the boots, pants, and toy shot gun.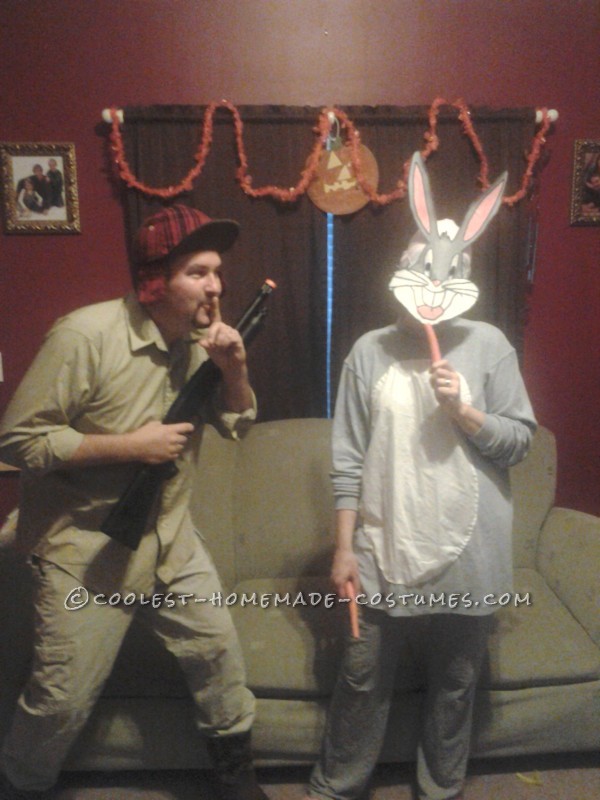 Shhhh! I'm hunting wascally wabbit
All
Finally my 13 year old son was Yosemite Sam.  This was probably the hardest costume to do.  We already had the jeans, shirt, boots,bandana, and belt.  It took me several hours and stores to find the red stuff to make his beard.  I also had to buy some fake eyelash glue to secure the red stuff to his face for the eyebrows and beard.  I had to layer it several times to get it thick enough.  I found an old cowboy hat at a thrift store and the kids helped me paint it dark brown – several layers.  I pinned it up so it would be flipped upward like Yosemite's hat.  I also purchased two cap guns at the dollar store.  All together I had about $15 in this costume.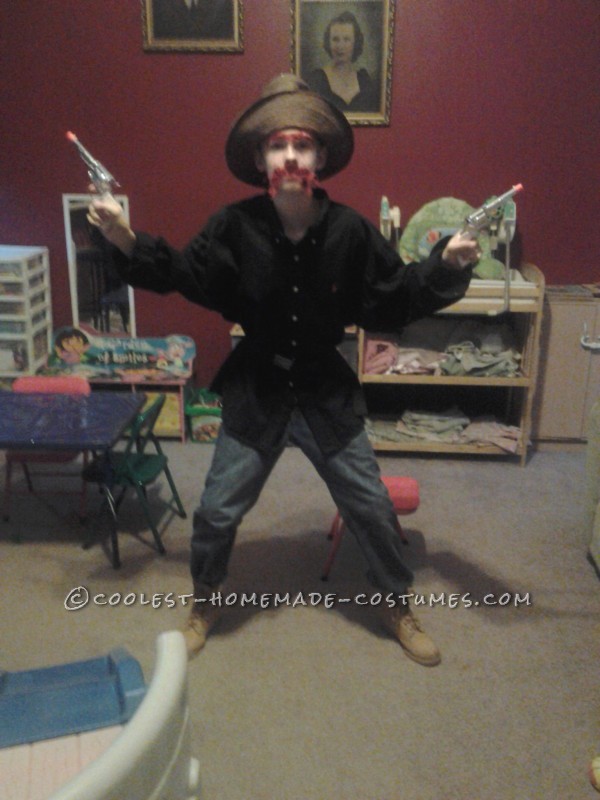 OOOhhhhh I hate that varmant!
Conclusion
Halloween night we always go around my neighborhood with the kids trick or treating.  Sometimes we have a party at our house as well because two of our kids have October birthdays but we didn't this year.  Everyone in the family looks forward to seeing what costume ideas we will come up with next and how we will pull it off.  The neighbors flipped over the realness of our masks and we had to educate some of the younger kids about who we were – guess we have SpongeBob to thank for them not knowing lol.
I was very pleased with the outcome of these costumes and all together I spent less than $60 for the materials for all five of our costumes, and we got some great reactions – especially from the people from "our" generation because they knew exactly who we were.
We figure we only have about two more years before our children won't agree to do the family dress up thing anymore so we are taking advantage of it now.
We may be "looney" but at least for now, we are all singing the same "tunes."