Know a mischievous pair who can channel the Cat in the Hat's blue-haired trouble makers? Then check out these awesome Cat in the Hat costumes for Halloween! For the ultimate twin costume, take a look at the fantastic Thing 1 and Thing 2 costumes here. The best part is that you can make these fun DIY costumes cheaply and easily.
A big red box can't contain the creativity of this costume collection. Take Dr. Suess' imagination to new places by looking at the different versions of these homemade costumes. Also, discover how grown men and women put their own spin on this couple costume. You will even see a pair of dogs as the trouble-making pair.
So fashion a couple of red outfits and be part of a devious duo this Halloween. Please share your homemade costume with us here and inspire others on their DIY costume journey!
Latest Cat in the Hat Costumes
---
---

---
Featured Cat in the Hat Costumes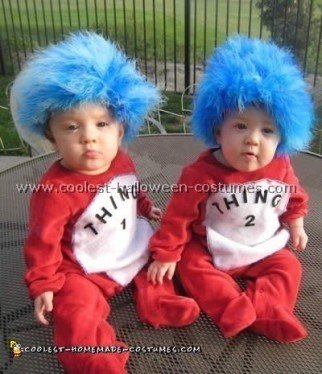 These are the cutest Cat in the Hat costumes – Thing 1 and Thing 2. I bought the onesie sleepers at Macy's. They had the cheesy plaid teddy bear with a Xmas present on the front but they also came with a little red hat. I went to Michael's and bought a blue boa and hot glued it to the hats.
Then I bought some white felt, cut an oval and hot glued that to the front of the sleeper. Finally with some felt letter that I had (you could easily use scrap booking letter) I glued "Thing 1" and "Thing 2" to each of the felt ovals. It was super easy – I actually did it the day of Halloween!! (I borrowed the Cat in the Hat costume from a friend.)
We had people who came by to trick or treat take pictures of the girls – they were so cute!
Cool Cat in the Hat Costumes – These Things Will Not Bite You…
Costume by Emily S., Newark, CA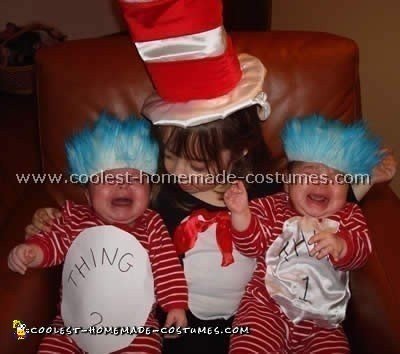 With three month old twins we thought it would be cute to do Thing 1 and Thing 2. As a big Dr Seuss fan my 3 1/2 year old was excited to be the Cat in the Hat costume.
Cat in the Hat
We already had a black leotard and black leggings so all I had to do was stitch some white fabric on the front and add the bow. Then the hat was made with a thick card stock (paper) base with batting over that and fabric sewn together to make the stripes. This picture doesn't do it justice it was really cute.
Thing 1 and Thing 2
We had striped (I know not authentic solid!) red and white pajamas so I secured the "Thing 1" and "Thing 2" patches on to them with double sided tape since I didn't want to ruin the Christmas jammies for the babies. Unfortunately Thing 2 spit up all over her patch right before we left to go trick-or-treating and the ink ran so I had to make another quick one out of paper for the photo op. By then Thing 1 and Thing 2 were really tired and as you can see from the photo they couldn't be consoled by the Cat in the Hat.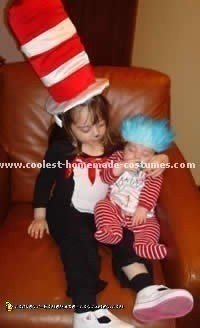 Total Spent: $30
…Then out of the Box…
Total Spent: $47 for two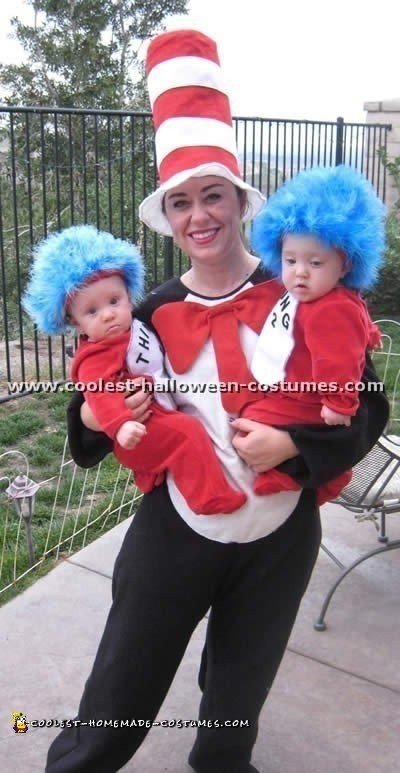 …Came Thing Two and Thing One!
Costume by Jennifer H., Des Moines, IA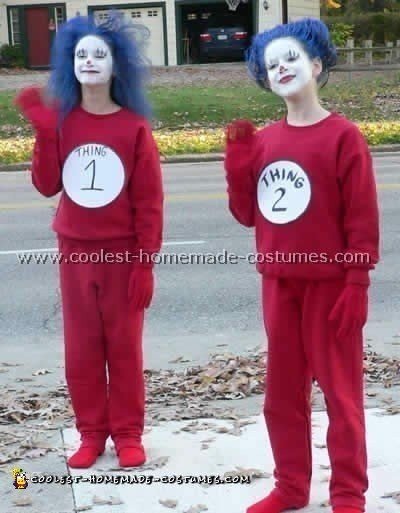 This was a last minute idea for my daughter and her BFF to wear to a costume party. We went out the night before and bought two jogging suits, two pair of red gloves, two pair of slipper socks and two cans of blue hair spray. We also bought two pieces of self stick felt (.97 at Wal-Mart). They loved the idea of the cat in the hat costume and we thought it turned out great!
Total Spent: $14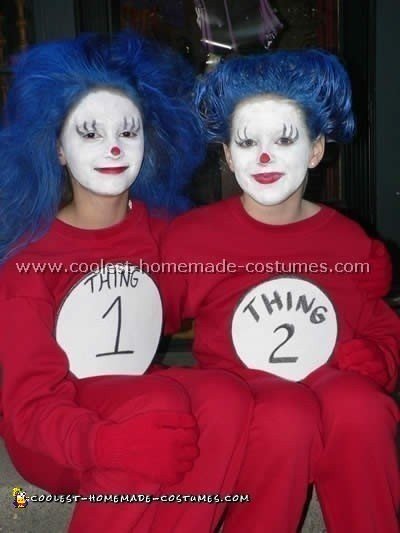 Double Trouble
Costume by Tara R., Pickerington, OH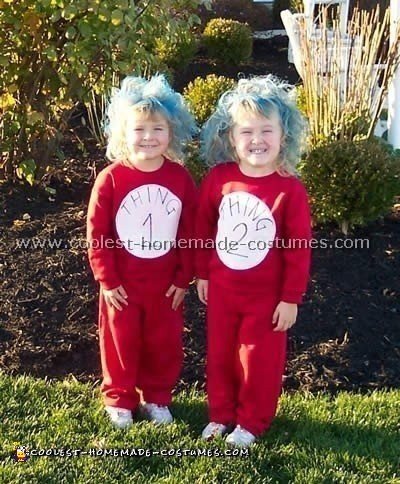 Super simple cat in the hat and got lots of raves. My twin girls were Thing One and Thing Two. The girls shirt emblems were from Wal-Mart – iron on decals that I decorated myself. Blue hair spray completed their look.
I did bits and pieces of their costumes over a period of time. Had I worked on them from start to finish it would have all been done in a day. I picked this as our theme because this was their favorite movie at that time. I also liked that the kids were cozy in their outfits because you never know what this time of year will be like in Ohio.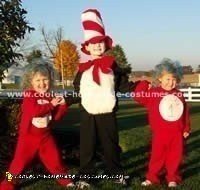 Total Spent: $15
Cute Cat in the Hat Costumes
Costume by Jessica S., Windsor, ON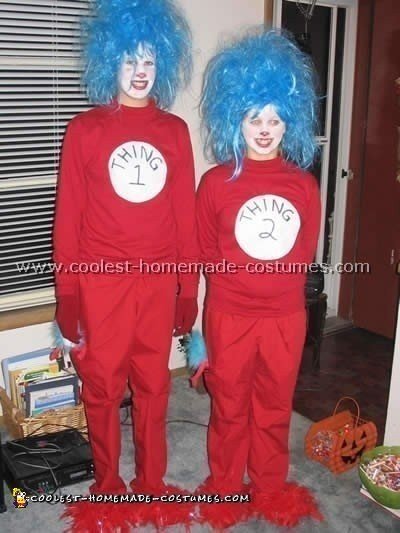 My friend and I wanted to be Thing 1 and 2 for Halloween so we decided to take stuff we had and turn it into a costume. We found blue wigs and white face paint. Then we used red scrubs for a store in the mall and added red feather slippers for the final touch.
We also referred to a Cat in the Hat movie book I had for costume ideas.
Total Spent: $20
Two Heads are Better Than One
Costume by Angela H., Bethlehem, PA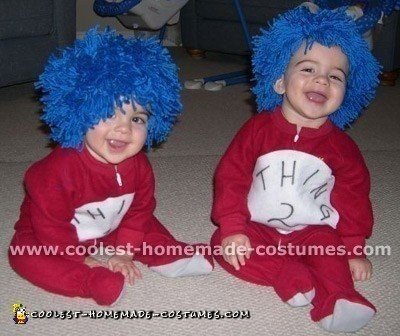 This was the easiest and cutest costume for Twins.
I found blue yarn wigs on Ebay. I then purchased red-footed pajamas, bought self-adhesive felt, which I cut into circles, then with a black marker wrote Thing 1 & Thing 2. Very simple to make and everyone went crazy for our Thing 1 & Thing 2!
We also put my 5 year old into a Cat in the Hat costume. They looked great!
Twinning it Up
Costume by Lisa W., Mooresville, IN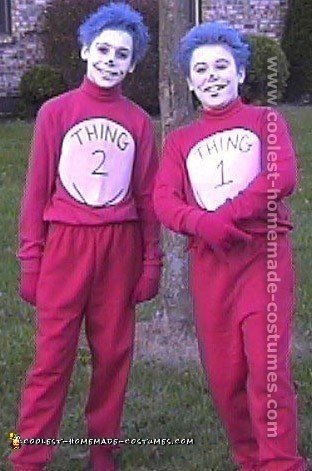 My boys are twins, so what better thing to be than Thing One and Thing Two!
I simply put these costumes together by purchasing red turtlenecks, red sweats, red slippers and red gloves. I bought some white material and iron on backing and cut out a circle, ironed it on the shirt and outlined it with black paint. Then, I carefully designed their shirts with black paint as well.
I spiked their hair with gel and hairspray, and painted it blue. The idea came from us going to Universal Studios, where my boys got their pictures taken with Thing One and Thing Two. I used that picture to create their costumes, fix their hair and paint their faces.
A Pair of Things
Costume by Susan M., Hazleton, PA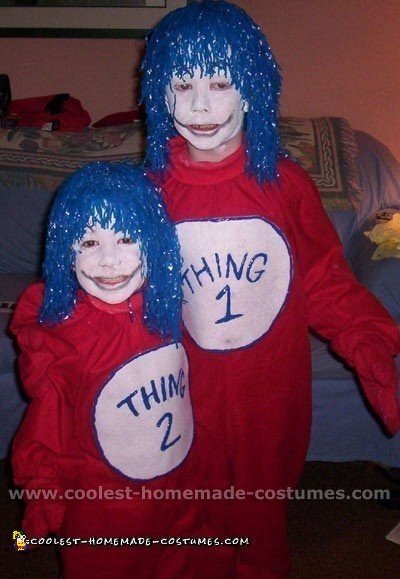 Here are my boys Jacob age 7 and Joseph age 5 as Thing 1 and Thing 2.
The costume was made from a pattern for an animal jumpsuit (it came with the pattern for the mittens and foot covers so it was perfect for this costume idea).
The names on the front are on sticky felt and written with fabric paint. The wigs are pom-poms, which I rolled up in some tin foil to give them that crinkle look.
It was a fairly easy and great costume to make. They were the hit of the city when they took "most original" in the parade. In our hometown everyone there just loved them!
Cat in the Hat Costume Ideas
Costume by Kati H., Bloomington, IL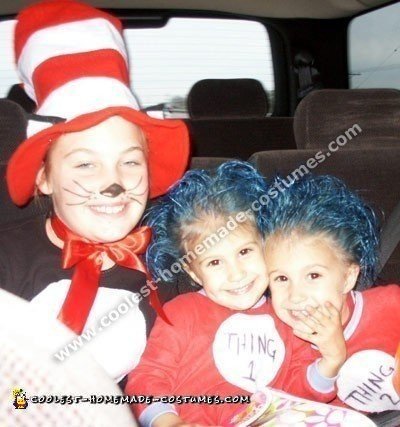 These costumes were inexpensive and very fun to make.
Thing 1 and Thing 2
I purchased red-footed sleepers ($5 a piece at Target), cut out 2 pieces of white felt in the shape of circles and wrote "Thing 1" & "Thing 2" in black marker, then safety-pinned them to the front of the sleepers.
For their hair, we purchased a bottle of blue hair gel ($6 Sally's Beauty Store) and teased it to stick straight up.
Cat in the Hat
We used a black pair of pants and long-sleeved shirt that was around the house (cost free ;) ), cut out an oblong piece of white felt and safety-pinned to the black shirt for the white belly of the Cat in the Hat.
We then borrowed a "Cat in the Hat" hat from a relative (can also be purchased at any party store for relatively cheap), cut triangles from black felt for the ears and pinned to the brim of the hat. The Cat in the Hat necktie was fashioned out of a piece of red ribbon, tied around her neck in a bow.
We used black eyeliner to draw whiskers and a nose on her face and used a cattail from previous years' costume (but can also be purchased in a set with ears for $5). We received many compliments for this ensemble!
Total Spent: $20
If you're looking for hilarious Cat in the Hat costume inspiration, check out the drunk group version of Thing 1 and Thing 2 here, you will not be disappointed!