Real men definitely wear tights. Especially in this collection of the coolest homemade Robin and Batman costume ideas. Get inspired by this dynamic duo for the ultimate couple costume. And check out the coolest DIY costumes for Halloween.
Feel like a true superhero, or his trusty sidekick, with the DIY costume ideas below. Get the brooding look of the caped crusader with these fantastically detailed homemade costumes. Check out the tutorials to break down the steps in creating an impressive DIY costume.
Also, don't forget about the Batmobile. Take a look at awesome wheelchair costumes for a fast getaway.
In addition, both men and women are in this section rocking their Batman and Robin costumes. Each costume is unique but they are all unquestionably the beloved Superhero and favorite pal.
So, this Halloween challenge yourself and create a DIY costume worthy of the Justice League. Then, share it with us here to inspire others with their homemade costumes!
Latest Batman Costume Ideas
---
---

---
Featured Batman and Robin Costumes
Batman costume submitted by: Steve R., Las Vegas, NV
Everything is glued down to an old scuba suit. Boots are latex coated motorcycle boots with Bats glued to them and sprayed in plasctidip.
This Batman costume looks good and moves well but is very hot.
Total Spent: $400
Holy Batman!
Jason C., Beavertown, PA.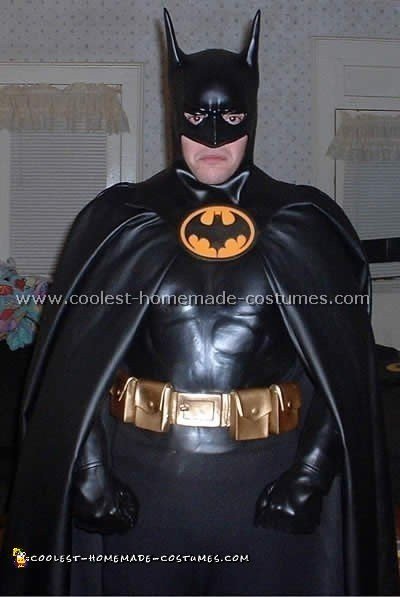 I have been obsessed with Batman since I was a little boy. I have created a Batman costume to resemble the 1989 Batman portrayed by Michael Keaton. The cowl was bought on EBay and I sprayed with plastic-dip and added a new resin 1989 bat emblem.
The cape is custom made by me and my wife. It is leather with dowel rods in the ends so that it can extend to max length.
The body suit and the chest piece gloves and boots are from Morris and I sprayed them all with plastic dip. And, as you can see, it really adds a nice shine. The belt is from Spencer's gifts and used to be yellow but I painted it gold.
So far I have been working this costume for about a year and spent almost $400.00. So far I am very happy with all the time spent and I can't wait till Halloween.
Total Spent: $375
Same Bat Time, Same Bat Place
Robin J., Lexington, KY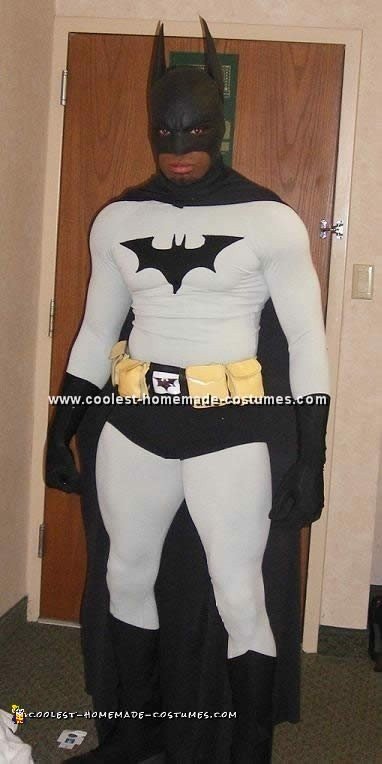 I love Super Heroes. So this Halloween I decided go for a Batman costume.
While the costume cost around $35, $20 of it was spent on the mask. I decided to get the mask from the Batman and Robin movie, not Batman Begins. Mainly because it fits me better and was $12 cheaper.
Batman Costume Body Suit
The grey material I purchased at Wal-Mart for $1 dollar a yard and the black material for $1 a yard.
In order to get a pattern for my body suit, I took some old tights that I had from my football years and cut them in half. Those I traced and sewed together. The gloves and boot covers I made from regular black material. I just measured with a measuring tape and cut them out. I sew, so that's how I put them together. If you don't, they do have fabric glue. And they have some good ones out there that really do work.
Bat Symbol and Belt
The symbol on the chest I just made from seeing Batman Begins and the comic book Batman.
In order to make the belt I used passport holders from the $1 store. I bought 5 and painted 4 of them yellow. The fifth one I turned right side out and drew a Batman symbol and put it inside the pocket. The belt I used was an old cargo belt. Also, I cut slits into each passport holder and put them on as seen.
Underwear
The under pants were easy due to the fact that I found them around the house.
The Cape
Finally, I made the cape. I got 3 individually cut pieces of 2yd fabric. Then I sewed the 3 together. I tapered the top to fit around my neck and let the bottoms be wide. It could actually fit 3 people under it. That's how wide I got it to be. I wanted my Batman costume as close to the comic book version as I could get.
What I Learned
In conclusion, it cost so much because of trial and error. I made two tops. But it really was dirt cheap compared to how it feels to say I actually made it from scratch. And I was the only person with that style of Batman costume. That made me happy and the costume didn't take long at all to make. Once you have the pattern it goes by pretty easy.
Total Spent: $35
Pint Sized Batman Costume
Kimberly M., Oxford, NY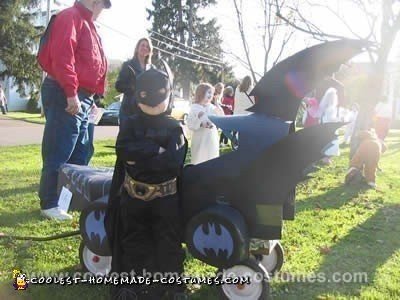 Once again it was time for the Halloween contest and my son wanted to be the same thing as every other little boy…BATMAN! I knew that his sister had a winning costume so if he wanted a Batman costume that was fine. But he had to at least have the Batmobile to go with it.
I used our old wooden wagon and covered it with lots and lots of poster board and staples!! Then I did the detail work with construction paper. Good thing I did it because not only did his sister win that year but so did he!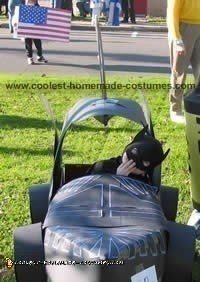 Total Spent: $30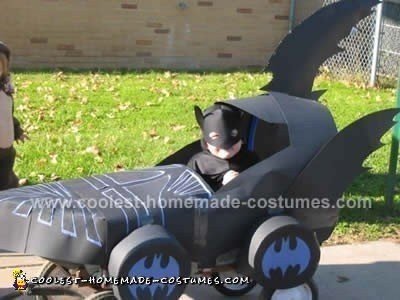 I am Batman
Amy A., Tucson, AZ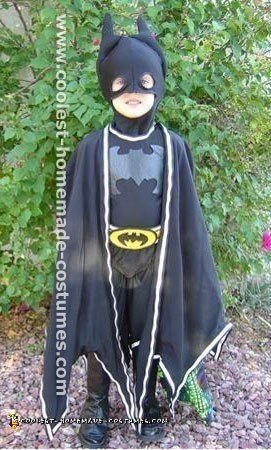 For this costume I used a pattern I bought off Ebay for the general design of the jumpsuit, cape, and briefs. The decoration and details of the Batman costume were all my creation. Aidan loves Batman, so I knew I could come up with a better quality batman costume than those sold at stores.
I used stretchy lycra-type fabric for the jumpsuit and briefs. The Batman costume cape is made of light taffeta that really makes a nice WHOOOSH-sound when the wind catches it. The cape is outlined in light reflective tape. This makes it safer as well as "cooler", according to Aidan.
In addition, his utility belt, boot covers, cuffs, and logo are made of vinyl.
The design of the mask and cowl of the costume was the most difficult. I had to make approximately 5 of them to get the fit just right.
The time it took to make this costume was a few months. I had started in June. However, I know it could have been done in about a week had I sewn everyday. I also made matching trick or treat bags.
Adorable Baby Batman Costume
Penny C., New Zealand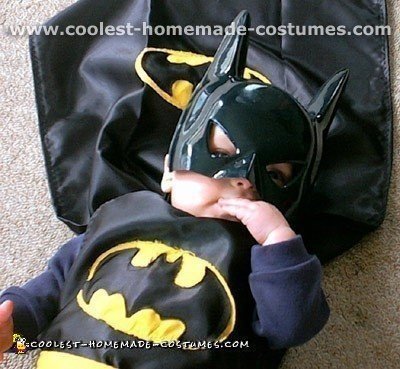 My son Jamal was invited to a three year old's superhero party. He was only 7 months old so there was nowhere to buy a costume for him. So, since I had some spare black material, we decided to dress him up as Batman.
First, we made little satin black trousers and top. Next we traced the batman logo onto yellow material and sewed this onto the top and the cape. In addition, we made a little yellow belt for him.
The cape was domed on to the little black top. We brought a little mask but had to cut it down a little. Jamal won best dressed in his costume. Also, he loved keeping the mask on all afternoon and even joined in playing pass the parcel.
We were so proud of the way he looked and behaved in his costume. He is our little Batman!!