Take a look at these cool homemade Astronaut costume ideas shared with us by costume enthusiasts from around the world. Along with the costumes here, you'll also find loads of homemade costume ideas and DIY Halloween costume inspiration for your next costume project. Enjoy!
Latest Astronaut Costume Ideas
---
---

---
Featured Costumes
Astronaut Costume by Diana W., Rocklin, CA

My nephew requested an astronaut costume for Halloween this year. (This was pretty lucky as it went well with his older brother's sun costume!) To make this homemade costume, I used a pattern. The material I used is vinyl. The patches were ordered off of the internet.
Total Spent: $25
One Small Step for Man
Astronaut Costume by Trina M., Duncan, OK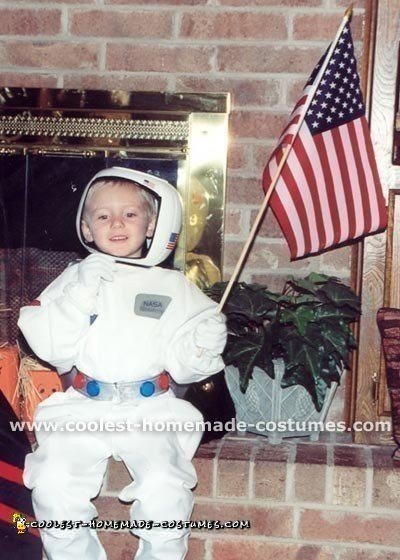 For this costume, I made a simple one piece jumpsuit. I found some clip art and made the patches for "NASA" and transferred them to iron on paper.
For the helmet, I used a plastic pumpkin and spray painted it white. I used a dremel tool to cut out the front for the face. I added some reflectors. (In addition, this is also great for seeing the child at night).
For the rocket booster backpack of the costume I used some shiny Capri pants I got at a garage sale and cut the legs off and sewed the end shut and stuffed it. I made two and attached them to the belt with more reflectors. Wow, looks like he could walk on the moon with his costume!