This year, my 8 year old son and I searched for a challenge for a Star Wars Halloween costume. He was looking for something unusual that would make people look twice.  We have seen some examples of Luke Skywalker riding on a Tauntaun and our challenge was to make ours the best.  He is also at the age now that I loved to see him sketching ideas and brainstorming ideas.
We had a lot of trial and error while making this Star Wars Halloween costume, including him wearing a Swiffer on a belt to be the base. That didn't work. My best lesson for my son was to problem solve.  We tried a few different cardboard ideas, but failed.  Eventually, we came up with the idea of using clear packing tape around his cousin's large toy horse.  We used sticky side out and then wrapped again with the sticky side in.  This built a light weight structure that we could use as a base.  We then started to wrap it in multiple layers of plaster gauze.  It eventually got enough layers that it became pretty strong.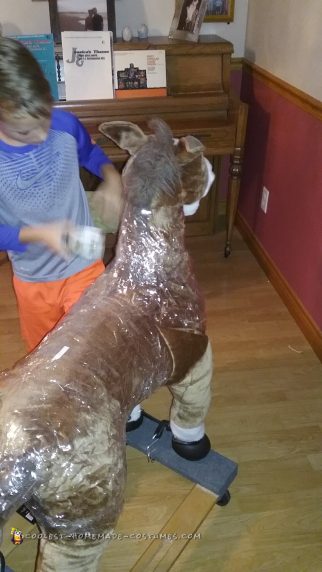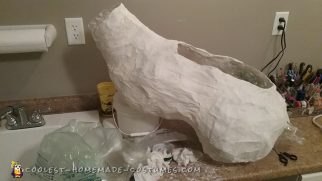 Making TanTaun's Head
I then started to work on the head as a separate piece.  My son said, of all the things, this had to be "movie quality."  I glued 4 pieces of 2" pink insulation foam together to build a base.  This is again, light weight, but dense and pretty strong.  As I carved it, I fit it to the body for proportion and accuracy.  After a rough carve, I used dry-wall compound to do finish work.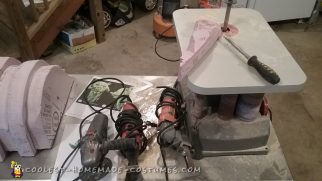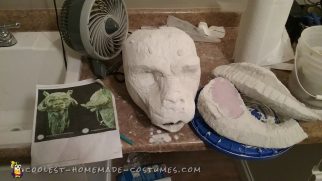 My son came up with the idea of using plastic Easter eggs as eyes.  I painted them and wasn't happy, so I poured epoxy resin over them and got the glass eyeball look I was going for.  They looked terrible in the face until I put on the eye lids.  I cut off the ends of balloons and painted for eye lids. I thought that these were some of my creative ideas.  During this same time, I was also focused on adding fur and creating some type of feet.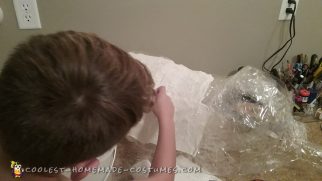 Making TanTaun's Feet
I found Styrofoam corners from a TV box and had my kid go out and play football in them to make sure that he could move around in them.  I put a pair of his shoes inside a grocery bag and then used the expanding foam to set them in these big feet.  These gave him big monster feet and also raised him up a few more inches to help with the optical illusion.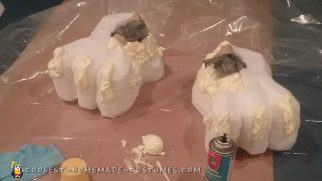 Star Wars Halloween Costume Accessories
We actually ended up going to 9 different Goodwill stores and other random cheap places looking for clothing and accessories.  Of course, they don't have binoculars that are used on Hoth, so we made some.  I used 3 pieces of PVC and some toilet flanges to make the binoculars.  We also cut some pieces of fabric to build a saddle along with parts of my old tool belt.
Last year, I had already 3-D printed a light saber,  but for the true Star Wars geeks like myself, yes it is not the right light saber that Luke had in The Empire Strikes Back.  Sorry.  We made little gauntlets out of foam and then I cut up an old Blackberrry that didn't work to make the messaging system on his arm.  The spray foam that they call fake snow is junk.  Don't use it.  It dries as a powder and made a mess.
Thank you to my wife for putting up with me putting in the hours to make this Star Wars Halloween costume and taking care of all sewing necessary.  Last was putting all of the pieces together.  Of course, my son with his high expectations (I try to blame him instead of myself), thought that the head had to turn and the arms had to move.  The arms were build separate and then had a PVC shoulder that slid into a slightly larger PVC.  I drilled a hole inside and created a cotter pin to hold in position but allow the arm to sway as he walked.
My son and I walked around Menards until he found the flexible metal heat duct and attached that to a toilet flange for the neck.  When it slid in to the body, he could turn the head as he walked.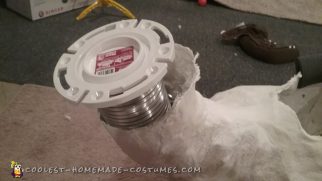 Problems that we ran into was the waist area getting too bulky and one leg being bent the wrong direction.  We also built straps inside and crossed to help distribute the weight, but my son said that it was still pretty heavy.  He did say it was totally worth it though because it was pretty movie quality.  One thing I didn't plan for was that part of our neighborhood was pretty hilly and he struggled walking up those driveways.  We did have a trailer full of kids driving around the neighborhood and he was so excited to be out with them.
Oh, don't forget a stool or some type of chair with no back for them to sit on as they will need a break!  Check it out and let me know what you think about our Star Wars Halloween costume.